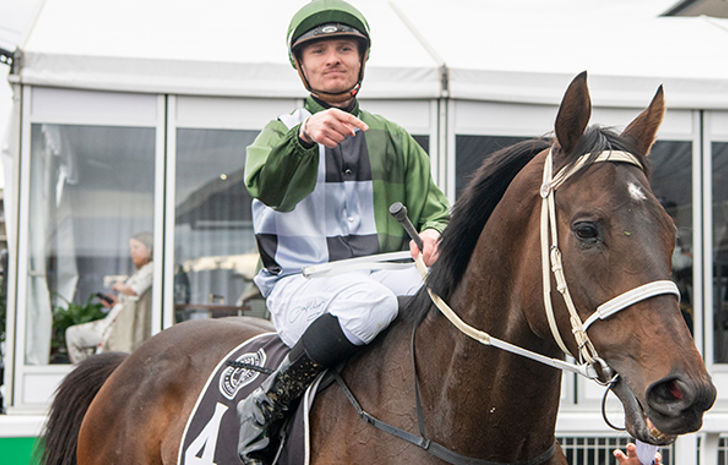 Allen can't see Incentivise losing
1 November 2021
•
Written by
Ben Sporle
Anthony Allen knows Incentivise better than most, having ridden him to five wins in the Sunshine State, but when the Melbourne Cup is run on Tuesday, he will be watching on from the Gold Coast races.
If anyone knows how Brett Prebble should be feeling it's the 29-year-old Queenslander, and while he admits to personally feeling some nerves already from the sidelines, it doesn't hinder his supreme confidence for the horse who he was only beaten aboard once - when finishing eighth, 16 lengths off the winner in March this year at Toowoomba.
"I can't see him not winning," Allen said. "I know that's probably too confident, but he just keeps showing them up.
"I'll be cheering him on all the way.
"I'd be lying if I said I wasn't nervous ... I'm nervous now.
"There's a lot of ads on TV and I didn't realise the publicity he was going to get.
"But I think I'm more nervous than the horse I reckon."
Allen's schedule hasn't enabled him to watch Incentivise without disruption.
On Tuesday he has a race ride nine minutes after they jump for the Melbourne Cup on the Gold Coast, but you can guarantee he will find any way to watch it as he did recently at the same track for the Caulfield Cup - on horseback!
"I ended up watching it in front of the TV at the Gold Coast, but we were in the process of riding our horses to the gates in the race coming up," Allen revealed.
"I just got to the gates slower than everyone else.
"Everyone did a left and cantered to the gates straight away and I went up the straight and sort of waited until half the race was done and slowly crept by the TV so I could catch the end of it.
"I haven't done the maths where I'll be (on Tuesday)."
Allen was thrown in the mix as a potential rider for Incentivise this campaign given his association with the horse but says while there is some disappointment not to be partnering him on the big stage, he's satisfied to have played his part.
"When I watch I'm cheering Team Incentivise obviously," he said.
"At the same time, it's a little bittersweet, but I'm not the first and won't be the last to be taken off a horse and that's just how the game goes.
"The horse has done everything I thought he'd be able to do but the Melbourne Cup is going to be a bonus.
"I didn't think in a million years I'd be playing a little part in history in a legendary horse like he's going to be.
"I'm going to be a little dirty on it thinking I missed my opportunity but at the same time this is a job where you move on and look for more opportunities and hopefully it's not the only one."
"When I was riding him, I was just trying to teach him to race but down there's he has been so professional and showing them all up," Allen observed.
"I don't think he's a horse that's going to stop.
"There might be a day where he might get knocked off, but Peter Moody has obviously trained Black Caviar and he's been under this pressure before and is probably the ideal person for this horse."
Allen last rode Incentivise to win his final Queensland start in late June, when he was a 12-length winner of the Tatt's Cup, but feels next preparation he will improve again, which is a scary thought for his rivals.
"The margins he was putting on them he was doing that easy and I was sitting up on him and he was still running through the line putting lengths on them," he said.
"There was just no limit with him I hadn't felt it before.
"Up here in my eyes we didn't really have great competition but down there the horses are elite and for him to still be putting them away confidently and he's still learning which is the best part."
Allen has two rides at the Gold Coast on Tuesday, one of them even in a 3200-metre race in a qualifying heat for the Jericho Cup.
"I've got quite an easy day for me tomorrow," he said.
"I think I'll be more excited to be watching the race to be honest.
"I keep in touch with (former trainer and part-owner) Steve (Tregea) and I'd just send him a message and say 'Congrats, good job'. nothing more than that, if he wins.
"He'd be getting 10 million calls a day, so I don't want to annoy him too much."
Allen has ridden 534 winners in his career.