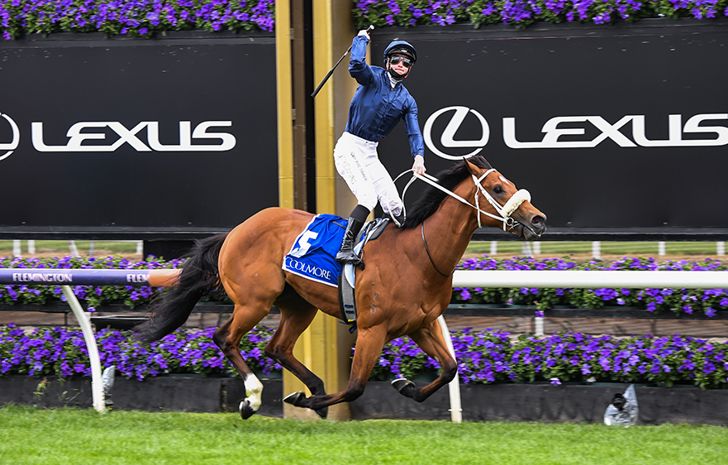 Exciting entries for Flemington's three Group 1 features
31 January 2022
•
Written by
VRC
Australia's best horses are set to converge on Headquarters for the Flemington Racing Spectacular after entries closed today for the Victoria Racing Club's (VRC) three Group 1 races in March.
The $1 million Australian Guineas (1600m) on Saturday, March 5 has attracted 111 nominees, while the $1.5 million Yulong Stud Newmarket Handicap (1200m) and the $1.5 million TAB Australian Cup (2000m) – set to headline Super Saturday on Saturday, March 12 have received 62 and 56 entrants respectively.
History could be made in the Australian Guineas with the first northern hemisphere-bred horse set to contest the autumn classic.
The Annabel Neasham-trained Gwan So, a Listed placegetter at Doncaster in September, concedes as many as eight months to his fellow three-year-olds and – with an April birthdate – will still technically be two when the Kennedy Australian Guineas is run.
He faces a tough task though as standing in his way are six Group 1 winners – Anamoe, Artorius, Captivant, Converge, Never Been Kissed and Hitotsu - with the latter, the Penfolds Victoria Derby hero, set to try and create his own slice of history by becoming the first horse to win the Australian Guineas first-up.
Also among entries are Melbourne Cup Carnival winners Espiona, Fangirl and Spirit Of Gaylard, while both Overpass and Pinstriped put themselves forward as potential Australian Guineas contenders with impressive wins last weekend.
The Yulong Stud Newmarket Handicap is one of Australia's most famous and historic sprints and it has achieved an entry list fitting of its status.
Defending champion Zoutori could face Chris Waller-trained pair Nature Strip and Home Affairs, who both won Group 1 races over the Melbourne Cup Carnival, as well as top-level victors Gytrash, Masked Crusader, In The Congo, September Run, Trekking and Wild Ruler.
Top Kiwi mare Levante, a last-start winner of the Group 1 Telegraph at Trentham, is aiming to become the first New Zealand-trained Yulong Stud Newmarket Handicap winner, while Melbourne Cup Carnival winners Minhaaj, Quantico and Profiteer are also firmly in the mix.
Group 3 Standish Handicap (1200m) winner Halvorsen and unbeaten mare Marabi, victorious the Group 2 Australia Stakes (1200m) on Saturday, have both earned ballot-exempt spots in the Yulong Stud Newmarket Handicap and are among the entries, as are Saturday's stakes winners Overpass and Kemalpasa.
Weights for the Newmarket Handicap, the world's most prestigious sprint handicap, will be released on March 1.
The TAB Australian Cup will be run for the 160th time in 2022 and features a star-studded honour roll that includes Makybe Diva, Lonhro, Northerly, Octagonal, Saintly, Let's Elope, Better Loosen Up, Vo Rogue, Bonecrusher and Dulcify in the last half-century alone.
Lexus Melbourne Cup winner Verry Elleegant could potentially join her fellow legends of the turf Makybe Diva and Let's Elope by adding the TAB Australian Cup in the same season as winning the 'race that stops the nation'™.
Verry Elleegant, who also leads early voting for the $5 million Seppelt Wines All-Star Mile (1600m) at Flemington on Saturday, March 19, is entered for a mouthwatering clash with Paramount+ Mackinnon Stakes hero Zaaki, as well as Group 1 winners like Cascadian, Dark Dream, Duais, Hungry Heart, Inspirational Girl and Think It Over.
TAB Empire Rose Stakes heroine Colette is also entered, along with Lexus Hotham Handicap scorer Great House, while Lexus Melbourne Cup third Spanish Mission could meet his November conqueror once more.
Also creating interest are eight classy three-year-olds, attempting to become just the second of their age group to win the weight-for-age contest in the past 25 years. Group 1 winners Anamoe, Converge and Hitotsu are joined by emerging talents Alegron, El Patroness, Forgot You, Silent Impact and Spirit Of Gaylard in a bid to join 2014 winner Super Cool as a three-year-old to take the Australian Cup.
The Chosen One, who has finished fourth and fifth in the Lexus Melbourne Cup the last two years, finally claimed his first Group 1 success in Saturday's Thorndon Mile at Trentham and he is entered to claim a trans-Tasman feature race double for trainers Murray Baker and Andrew Forsman.
VRC Chief Executive Officer Steve Rosich said that the Flemington Racing Spectacular marks an ideal blend of tradition and innovation.
"The Flemington Racing Spectacular is the culmination of the Melbourne autumn with three tremendous days of racing at Australia's finest course on 5, 12 and 19 March," Mr Rosich said.
"The entries we have received today are a magnificent endorsement of our feature races, with the last two Australian Horses of the Year in Verry Elleegant and Nature Strip among those heading for Flemington in March.
VRC Executive General Manager Racing Leigh Jordon also commented on the quality of the nominations.
"The TAB Australian Cup and the Yulong Stud Newmarket Handicap are two of Australia's oldest races, with the TAB Australian Cup celebrating its 160th running in 2022 and the Yulong Stud Newmarket Handicap to be run for the 149th time in 2022. They have both proven time and time again to be among the most important races on the Australian calendar and with such strong entries I know that will be the case once again."
The full list of nominations for the Group 1 Australian Guineas can be found here.
The full list of nominations for the Group 1 Yulong Stud Newmarket Handicap and Group 1 TAB Australian Cup can be found here.
---
Flemington Racing Spectacular - Race Day Program
Australian Guineas Day – Saturday 5 March 2022
Super Saturday – Saturday 12 March 2022
The Seppelt Wines All-Star Mile Race Day – Saturday 19 March 2022
---
System.Web.HttpException (0x80004005): Error executing child request for handler 'System.Web.Mvc.HttpHandlerUtil+ServerExecuteHttpHandlerAsyncWrapper'. ---> System.NullReferenceException: Object reference not set to an instance of an object.
   at ASP._Page_Views_Partials_googleAd_cshtml.Execute() in C:\home\site\wwwroot\Views\Partials\googleAd.cshtml:line 4
   at System.Web.WebPages.WebPageBase.ExecutePageHierarchy()
   at System.Web.Mvc.WebViewPage.ExecutePageHierarchy()
   at System.Web.WebPages.WebPageBase.ExecutePageHierarchy(WebPageContext pageContext, TextWriter writer, WebPageRenderingBase startPage)
   at System.Web.Mvc.RazorView.RenderView(ViewContext viewContext, TextWriter writer, Object instance)
   at System.Web.Mvc.BuildManagerCompiledView.Render(ViewContext viewContext, TextWriter writer)
   at Umbraco.Web.Mvc.ProfilingView.Render(ViewContext viewContext, TextWriter writer) in D:\a\1\s\src\Umbraco.Web\Mvc\ProfilingView.cs:line 25
   at System.Web.Mvc.ViewResultBase.ExecuteResult(ControllerContext context)
   at System.Web.Mvc.ControllerActionInvoker.InvokeActionResult(ControllerContext controllerContext, ActionResult actionResult)
   at System.Web.Mvc.ControllerActionInvoker.InvokeActionResultFilterRecursive(IList`1 filters, Int32 filterIndex, ResultExecutingContext preContext, ControllerContext controllerContext, ActionResult actionResult)
   at System.Web.Mvc.ControllerActionInvoker.InvokeActionResultFilterRecursive(IList`1 filters, Int32 filterIndex, ResultExecutingContext preContext, ControllerContext controllerContext, ActionResult actionResult)
   at System.Web.Mvc.ControllerActionInvoker.InvokeActionResultFilterRecursive(IList`1 filters, Int32 filterIndex, ResultExecutingContext preContext, ControllerContext controllerContext, ActionResult actionResult)
   at System.Web.Mvc.ControllerActionInvoker.InvokeActionResultFilterRecursive(IList`1 filters, Int32 filterIndex, ResultExecutingContext preContext, ControllerContext controllerContext, ActionResult actionResult)
   at System.Web.Mvc.ControllerActionInvoker.InvokeActionResultFilterRecursive(IList`1 filters, Int32 filterIndex, ResultExecutingContext preContext, ControllerContext controllerContext, ActionResult actionResult)
   at System.Web.Mvc.ControllerActionInvoker.InvokeActionResultWithFilters(ControllerContext controllerContext, IList`1 filters, ActionResult actionResult)
   at System.Web.Mvc.Async.AsyncControllerActionInvoker.<>c__DisplayClass3_6.<BeginInvokeAction>b__4()
   at System.Web.Mvc.Async.AsyncControllerActionInvoker.<>c__DisplayClass3_1.<BeginInvokeAction>b__1(IAsyncResult asyncResult)
   at System.Web.Mvc.Async.AsyncResultWrapper.WrappedAsyncResult`1.CallEndDelegate(IAsyncResult asyncResult)
   at System.Web.Mvc.Async.AsyncResultWrapper.WrappedAsyncResultBase`1.End()
   at System.Web.Mvc.Async.AsyncControllerActionInvoker.EndInvokeAction(IAsyncResult asyncResult)
   at System.Web.Mvc.Controller.<>c.<BeginExecuteCore>b__152_1(IAsyncResult asyncResult, ExecuteCoreState innerState)
   at System.Web.Mvc.Async.AsyncResultWrapper.WrappedAsyncVoid`1.CallEndDelegate(IAsyncResult asyncResult)
   at System.Web.Mvc.Async.AsyncResultWrapper.WrappedAsyncResultBase`1.End()
   at System.Web.Mvc.Controller.EndExecuteCore(IAsyncResult asyncResult)
   at System.Web.Mvc.Controller.<>c.<BeginExecute>b__151_2(IAsyncResult asyncResult, Controller controller)
   at System.Web.Mvc.Async.AsyncResultWrapper.WrappedAsyncVoid`1.CallEndDelegate(IAsyncResult asyncResult)
   at System.Web.Mvc.Async.AsyncResultWrapper.WrappedAsyncResultBase`1.End()
   at System.Web.Mvc.Controller.EndExecute(IAsyncResult asyncResult)
   at System.Web.Mvc.Controller.System.Web.Mvc.Async.IAsyncController.EndExecute(IAsyncResult asyncResult)
   at System.Web.Mvc.MvcHandler.<>c.<BeginProcessRequest>b__20_1(IAsyncResult asyncResult, ProcessRequestState innerState)
   at System.Web.Mvc.Async.AsyncResultWrapper.WrappedAsyncVoid`1.CallEndDelegate(IAsyncResult asyncResult)
   at System.Web.Mvc.Async.AsyncResultWrapper.WrappedAsyncResultBase`1.End()
   at System.Web.Mvc.MvcHandler.EndProcessRequest(IAsyncResult asyncResult)
   at System.Web.Mvc.MvcHandler.System.Web.IHttpAsyncHandler.EndProcessRequest(IAsyncResult result)
   at System.Web.Mvc.HttpHandlerUtil.ServerExecuteHttpHandlerAsyncWrapper.<>c__DisplayClass3_0.<EndProcessRequest>b__0()
   at System.Web.Mvc.HttpHandlerUtil.ServerExecuteHttpHandlerWrapper.<>c__DisplayClass5_0.<Wrap>b__0()
   at System.Web.Mvc.HttpHandlerUtil.ServerExecuteHttpHandlerWrapper.Wrap[TResult](Func`1 func)
   at System.Web.Mvc.HttpHandlerUtil.ServerExecuteHttpHandlerWrapper.Wrap(Action action)
   at System.Web.Mvc.HttpHandlerUtil.ServerExecuteHttpHandlerAsyncWrapper.EndProcessRequest(IAsyncResult result)
   at System.Web.HttpServerUtility.ExecuteInternal(IHttpHandler handler, TextWriter writer, Boolean preserveForm, Boolean setPreviousPage, VirtualPath path, VirtualPath filePath, String physPath, Exception error, String queryStringOverride)
   at System.Web.HttpServerUtility.ExecuteInternal(IHttpHandler handler, TextWriter writer, Boolean preserveForm, Boolean setPreviousPage, VirtualPath path, VirtualPath filePath, String physPath, Exception error, String queryStringOverride)
   at System.Web.HttpServerUtility.Execute(IHttpHandler handler, TextWriter writer, Boolean preserveForm, Boolean setPreviousPage)
   at System.Web.HttpServerUtility.Execute(IHttpHandler handler, TextWriter writer, Boolean preserveForm)
   at System.Web.HttpServerUtilityWrapper.Execute(IHttpHandler handler, TextWriter writer, Boolean preserveForm)
   at System.Web.Mvc.Html.ChildActionExtensions.ActionHelper(HtmlHelper htmlHelper, String actionName, String controllerName, RouteValueDictionary routeValues, TextWriter textWriter)
   at System.Web.Mvc.Html.ChildActionExtensions.Action(HtmlHelper htmlHelper, String actionName, String controllerName, RouteValueDictionary routeValues)
   at Our.Umbraco.DocTypeGridEditor.Web.Extensions.HtmlHelperExtensions.RenderDocTypeGridEditorItem(HtmlHelper helper, IPublishedElement content, String editorAlias, String viewPath, String previewViewPath, Boolean isPreview)
   at ASP._Page_app_plugins_doctypegrideditor_render_DocTypeGridEditor_cshtml.Execute() in C:\home\site\wwwroot\app_plugins\doctypegrideditor\render\DocTypeGridEditor.cshtml:line 34
   at System.Web.WebPages.WebPageBase.ExecutePageHierarchy()
   at System.Web.Mvc.WebViewPage.ExecutePageHierarchy()
   at System.Web.WebPages.WebPageBase.ExecutePageHierarchy(WebPageContext pageContext, TextWriter writer, WebPageRenderingBase startPage)
   at System.Web.Mvc.RazorView.RenderView(ViewContext viewContext, TextWriter writer, Object instance)
   at System.Web.Mvc.BuildManagerCompiledView.Render(ViewContext viewContext, TextWriter writer)
   at Umbraco.Web.Mvc.ProfilingView.Render(ViewContext viewContext, TextWriter writer) in D:\a\1\s\src\Umbraco.Web\Mvc\ProfilingView.cs:line 25
   at System.Web.Mvc.HtmlHelper.RenderPartialInternal(String partialViewName, ViewDataDictionary viewData, Object model, TextWriter writer, ViewEngineCollection viewEngineCollection)
   at System.Web.Mvc.Html.PartialExtensions.Partial(HtmlHelper htmlHelper, String partialViewName, Object model, ViewDataDictionary viewData)
   at System.Web.Mvc.Html.PartialExtensions.Partial(HtmlHelper htmlHelper, String partialViewName, Object model)
   at ASP._Page_Views_Partials_grid_editors_Base_cshtml.Execute() in C:\home\site\wwwroot\Views\Partials\grid\editors\Base.cshtml:line 20