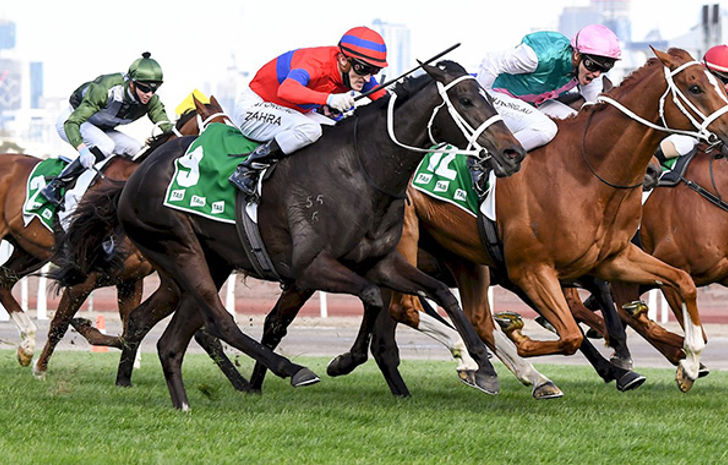 Kheir's terrific Turnbull trio
29 September 2021
•
Written by
Andrew Eddy
When Ozzie Kheir says Saturday's Turnbull Stakes will be the spring's defining moment, he speaks primarily as a thoroughbred racing fan.
Such a guise allows the owner to remove himself from the cycle of inner conflict and instead permits him to marvel and to honestly contemplate Saturday's stoush at Flemington between racing's heavyweights Verry Elleegant, Sir Dragonet and newcomer Incentivise.
He has shares in all three horses and so literally, Kheir won't know where to look in the final moments of the pivotal Group 1 that leads to all three spring majors in Melbourne.
"It's difficult because you don't know who to cheer for, so I am just going to enjoy it for what it is and hope here are no upsets," Kheir said on Wednesday.
"Incentivise is probably the exciting new horse on the block, so if he goes from the Makybe (Diva Stakes) and improves, that's going to be so exciting.
"He's that x-factor horse. We know where Sir Dragonet is and we know where Verry Elleegant is but with him we don't know and nobody does.
"He might come out and brain them, he might not. I don't know. I am just excited to watch it unfold. It will be a great contest.
"It will be very interesting to get a good measure of where they sit at the moment. Saturday's race is a great yardstick for where they all are at.
"Verry Elleegant, she's won nine Group 1s and more than $9 million in prizemoney and been a star of the track for three years now but she's up against the new kid on the block.
"Saturday will be a defining moment. They are not far off their grand finals and this race will be their last run before, so let's see how it pans out."
Some may think Kheir lucky to be part of such great horses and he acknowledges his fortune. But there is surely more than luck behind the success stories of Verry Elleegant, who was unearthed in New Zealand; Sir Dragonet, who was bought in the UK and Incentivise, who was purchased out of Toowoomba in Queensland.
Remarkably, of the trio, Sir Dragonet will go into the Turnbull as something of an underdog despite a super return when third in the Makybe Diva.
"I think that's because of his lacklustre autumn where he wasn't 100 per cent but his Makybe run was unbelievable and I think (trainer) Ciaron (Maher) has got him really well and I know he's extremely happy," Kheir said.
"I think he needs the race run to suit him but on his last performance, you couldn't say he couldn't upset them."
Ultimately, there can only be one winner and Kheir said victory for any one of his trio would prove to be special.
"I think on the financial side, I have a bigger stake in Incentivise than the others," he said. "But on the value of a stallion, we've got Sir Dragonet and then for champion status and legendary status, we've got a possible 10 Group 1s for Verry Elleegant."
Verry Elleegant winning the 2020 Turnbull Stakes (Image: Racing Photos)