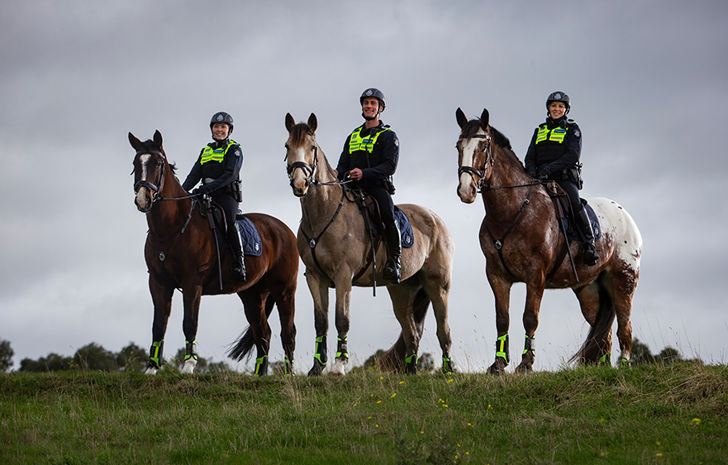 Protecting the community
26 May 2021
•
Written by
Robert Fedele
Controlling crowds at major city protests, searching for missing people, targeted patrols and gathering intelligence from the public on crimes, Victoria Police's Mounted Branch offers a bold presence on horseback.
The gold nuggets [police horses] that make it through all of the training are so versatile," beams Sergeant Michelle Turner, who has spent more than a decade as part of Victoria Police's Mounted Branch.
"One day they could be on a reassurance patrol getting their nose patted, the next at a confrontational protest in the city, and then the next searching the high country for a missing person."
The Mounted Branch provides 24-hour state-wide operational support to other units of Victoria Police and the community.
Its main role is public order management at large-scale protests and sporting events, targeted patrols in high-crime locations, searches for missing people and engagement with the public following serious crimes or incidents that affect community confidence.
As an example of the diversity of tasks, the specialist squad supported operational police at the Black Lives Matter protest in Melbourne last year and were deployed to the Victorian bushland at Mount Disappointment to help search for then-missing teenager with autism, William Callaghan.
"The Mounted Branch serves as formidable protection at public order management deployments, with one mounted police officer equal to 10 officers on foot."
Currently, the unit has 28 officers and about 30 horses, with Warmbloods, Clydesdales, Thoroughbreds and two Standardbreds making up the troop.
Members are paired up with their own horse, with newer and less experienced riders allocated the more experienced horses.
Historically, the branch bred its own Warmbloods and accepted donations of potential equine candidates, but it now purchases horses from a variety of sources.
Sergeant Turner, in charge of training and the acquisition process, said successful police horses need to be trainable and have a quiet disposition. They must be over 16 hands, be sound and have no vices.
Potential horses undergo a three-month trial prior to being purchased, and between six to 18 months of training before graduating to a fully operational troop horse.
The branch recruits horses aged between four and 12 years of age. If they remain healthy, their working life can extend until the age of 25, when they must retire.
No breed is rejected but according to Sergeant Turner, Clydesdale cross breeds typically make the best police horses.
"The good ones have a fabulous work ethic. They are strong, imposing and can carry people all day," she said.
"Thoroughbreds can make fabulous police horses, but good ones can be hard to find. They often display what we call a 'switch'. An example of this is how they remain calm and relaxed until we chase an offender across a car park and onto grass. Once the grass is under their feet, they can resort back to racing mode and find it hard to settle."
"The Mounted Branch serves as formidable protection at public order management deployments, with one mounted police officer equal to 10 officers on foot."
During the trial period, horses are exposed to more and more stimuli such as flags, banners and crowds to assess how they cope with confrontational situations. They are also introduced to cars, trucks, cement mixers and trams to ensure that they fit the bill.
Most members of the predominantly female Mounted Branch possess solid riding backgrounds and the job demands a profound understanding of the animal and the ability to forge a strong bond. In violent confrontations, members need to have control.
Sergeant Turner, who got her first pony when she was four and has trained and competed horses all her life, joined the branch because it combined her passions – training horses and the police force.
"Our members are required to be operational police first. If they come with a riding background it's a bonus. We do sometimes take non-riders and train them to ride," she said.
Horses at the Mounted Branch are kept in full work and spelled when their rider is on leave.
They are a resource deployed into the community daily, with officers assembled and briefed each morning before jobs. Their mounts, who are primarily left to graze about in lush and expansive paddocks, are brought into the stables, washed and primed for duty.
One of five trainers, Sergeant Turner describes the job as routine for 90 per cent of the time. It's the remaining 10 per cent when things can escalate and turn pear-shaped.
"Safety is our priority. Safety of ourselves, the other police, the public and the horses. The horses are our tools of trade, but we do love them."
Victoria Police has utilised horses since the 1800s, including many ex-racehorses. Former Melbourne Cup winner Black Knight became a police horse in 1986, two years after his victory, and remained with the branch for a decade before retiring.
Other notable racehorses include the Bart Cummings-trained Caulfield Guineas winner Alfa, who was offered to the branch at the end of his racing career and became the leading ceremonial horse in the state. There was also 2000 Melbourne Cup winner Brew, who ultimately didn't make the grade, due to his fear of trams, and was returned to the track.
"The job is routine for 99 per cent of the time. It's the remaining 10 per cent things can escalate and turn pear-shaped."
Sergeant Turner suggests many former racehorses have been exposed to crowded scenes like mounting yards, which helps, but many do not make ideal police horses because they're bred to run.
The current crop of four ex-racehorses in the Mounted Branch's troop include Rev, a 12-year-old gelding formerly trained by Mark Young who had eight starts when racing as Spanish Cross for two placings, and grey gelding Willy Wonka, a 13-year-old gelding who raced as Hainan Tyrant and managed just one placing from four starts before becoming an eventer.
"The good thing with him was he came from a really solid training background. He'd been trained to stand hitched to the horsefloat when he'd been taken to competitions; that sort of thing helps."
More credentialed recent stable acquisition London Fog, an eight-year-old gelding by Econsul, was trained by Symon Wilde and won five races from 42 starts, earning more than $220,000 in prizemoney.
London Fog began his trial at the Mounted Branch just a few days after his last race in June 2019 and is working his way up to becoming a fully-fledged troop horse.
"I had to eat a bit of humble pie because he was offered to us when I was on leave. I came back on the Sunday and was told 'We've got a horse coming in today for assessment that's just finished racing' and I was like 'Are you kidding me? Finished racing Wednesday and it probably hasn't had a big saddle on it since it was broken in'. I was really against the horse coming in," Sergeant Turner reflects.
"However, he unloaded from the float and went to sleep in the stripping stalls while they saddled him up. I rode him and thought, this is a nice horse. He hasn't really looked back."
Sergeant Turner believes the Mounted Branch's profile has never been greater and that the public genuinely values its unique work.
Mounted Branch members share a special bond, she said, with their love of horses at the forefront.
"I love training animals; I love the police and I love horses, so for me it's a win-win."
The Victoria Police Mounted Branch is currently at capacity and not accepting thoroughbred donations at this time.