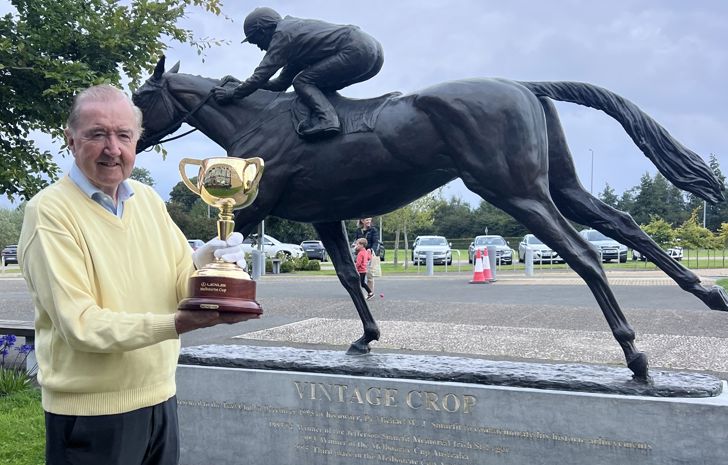 VRC celebrates Lexus Melbourne Cup's Irish milestone
22 August 2023
•
Written by
VRC
The Victoria Racing Club has celebrated 30 years since Irish-trained stayer Vintage Crop became the first international horse to win 'the race that stops a nation', visiting trainer Dermot Weld in Ireland as part of the 21st annual Lexus Melbourne Cup Tour.
Weld broke new ground when his Irish galloper won the 1993 Melbourne Cup, with the victory sparking the start of more overseas raiders making the journey to Flemington in search of racing's greatest crown.
Since Vintage Crop's win, only eight internationally trained horses have won the Lexus Melbourne Cup, including the Weld-trained Media Puzzle in 2002.
To mark the milestone, the $600,000 Lexus Melbourne Cup trophy visited Weld at The Curragh, with the legendary trainer reflecting on his extraordinary achievement in the shadows of the Vintage Crop statue.
"Most people in Australia thought it was impossible, most people in Europe thought it was equally impossible!" Weld said.
"I remember it well. The ground had been pretty firm, and we got a nice drop of rain that morning…I knew we had our horse in peak form…Michael Kinane had flown in from Hong Kong and he was very happy with him as well. On the day everything went according to plan and Michael took his time on him and rode him for speed because we had a stayer with speed and the rest is history.
"I said at the time that it would internationalise the Melbourne Cup and internationalise horse racing. I have been fortunate to win in Hong Kong, to win right across America, east coast, west coast and right across Europe and of course in Dubai but to win in Australia was very, very special."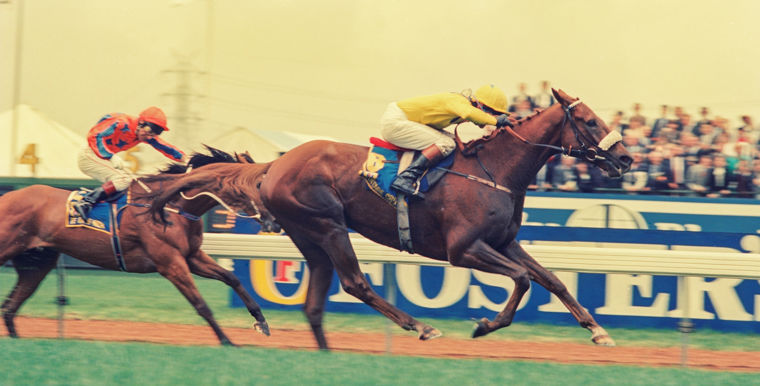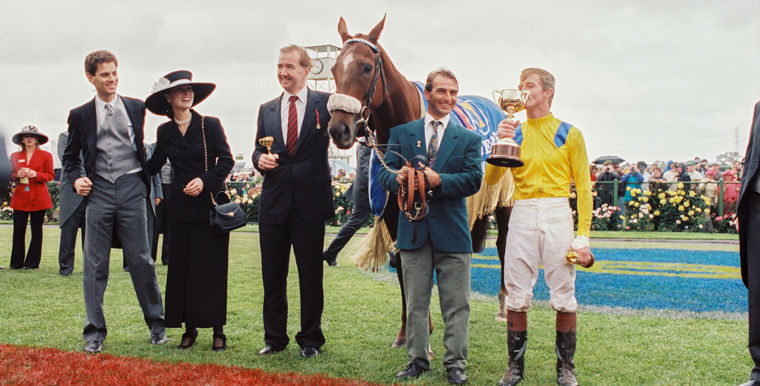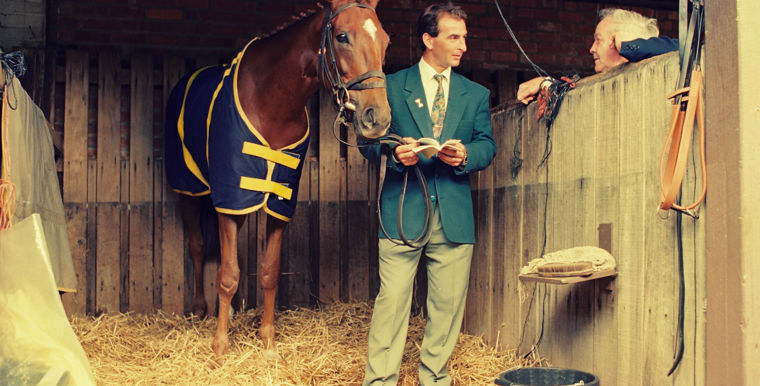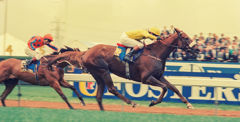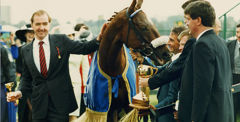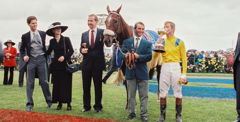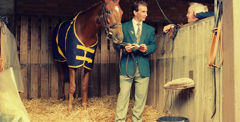 The seed for Weld's Melbourne Cup dream was sewn years before while working as a vet in Australia for the legendary late TJ Smith.
"I realised the importance of the Melbourne Cup to Australia and of course I believed that I might be fortunate enough to train a horse that would be good enough to one day win the Melbourne Cup, but I realised that was going to be a huge challenge, nobody had done it before," he said.
For a year before Vintage Crop's first appearance in Melbourne, Weld worked behind the scenes to change the quarantine system.
"The amount of work that we had to put in to bring a horse to Australia that people nowadays couldn't even begin to understand…of course you could bring horses or animals but they had to go in a quarantine facility in Sydney where they stayed for two weeks but they couldn't exercise and naturally this was a racehorse preparing for a race we had to exercise him on a daily basis hence the reason that everything had to change.
"So, we spent the next year with Canberra, Departments of Agriculture in Ireland, Brussels, we went through all the different possibilities and changed the flight paths of aeroplanes, changed the quarantine to Sandown and the rest is history."
Weld also reflected on his other Cup success with Media Puzzle, and his near miss with Vinnie Roe in 2004.
"Vinnie Roe, he ran second to Makybe Diva, he was probably the best horse I brought that didn't win a Melbourne Cup, but she was an exceptional mare. Media Puzzle and Vinnie Roe they both ran superb races for me," he said.
"They were both wonderful occasions. Whenever your fortunate to win a Melbourne Cup it's a great occasion, and with all the excitement and the drama of the first one, that it couldn't be done, I remember the great trainer Bart Cummings in an interview before the race saying you know Vintage Crop he hadn't raced for six weeks and this was unheard of in Australia and he'd never been over the distance and all the different reasons why he couldn't win. But Bart and I became very good friends, and we made up.
"And then of course with the sad tragedy of Damien losing his brother the week before the race and nobody knew if he was going to ride Media Puzzle or not. He'd ridden him for me and he won the Geelong Cup and naturally I wanted him to ride him in the Melbourne Cup. The tragedy happened and I waited and when I landed in Melbourne at your airport all the media wanted to know who was going to ride the favourite in the Melbourne Cup. Was it going to be an Australian jockey, was it going to be a European jockey? An Irish jockey? An English jockey? And I said no, let's wait, let's wait and see what Damien wants to do…give the man time and hopefully he may yet decide to ride. Damien fortunately watched that interview and he said afterwards that decided it for him.
"Both Melbourne Cups were very special."
Weld, one of Ireland's most successful racehorse trainers, said he was hopeful to one day return to Flemington with another Cup runner.
"I would love to come back for another one, definitely. We're working on it, I'll put it that way!"
The Lexus Melbourne Cup began its tour of Ireland on Wednesday, with the trophy also stopping in to visit Irish trainer Willie Mullins at Carlow, who is eyeing a Lexus Melbourne Cup return with his talented stayer Vauban.
"When we were buying Vauban the Melbourne Cup was top of our mind," Mullins said.
The current TAB favourite is owned by the Ricci family who raced another Mullins jumper-turned-Melbourne Cup performer in Max Dynamite, who placed twice in the Cup in 2015 and 2017.
Mullins said Vauban's last two wins at Ascot and Naas show he is on track to far exceed anything Max Dynamite achieved.
"I don't think Max Dynamite could ever have done what (Vauban) has done these last two flat races, to win a race like that at Ascot and then come back and win a Group 3 like that.
"I think he has the potential to be better, he's only five, he's improving…we'll need more improvement to win the Melbourne Cup, but I think it's there."
While in Ireland the Cup also visited Irish trainer Aidan O'Brien at Coolmore's Ballydoyle racing stables in Tipperary.
O'Brien confirmed Tower of London remains on a path towards this year's Lexus Melbourne Cup.
"At the moment, he looks the pick of all ours," O'Brien said.
"He's well handicapped, he's classy, he's probably a horse that's not exposed…he looks like an exciting prospect."
"The Melbourne Cup is a big part of it, and it is a race that the nation stops for which is very unusual in any country in the world, but it makes it very special."
VRC Chairman Neil Wilson said the club was pleased to celebrate the historic milestone as part of the Lexus Melbourne Cup Tour's European journey.
"Vintage Crop's win in the 1993 Melbourne Cup changed the race forever. The global appeal of the Lexus Melbourne Cup only continues to grow, not just for the race but for the entire event," Mr Wilson said.
The VRC also presented Irish thoroughbred breeder Jim Bolger with the Lexus Melbourne Cup Breeders Trophy for 2020 winner Twilight Payment.
The Lexus Melbourne Cup Tour continued its European adventure on the weekend, visiting Deauville in France. The Cup will attend the Ebor Festival in York this week, which will include the running of the Ebor Handicap on Saturday 27 August, which is the only international race to offer automatic entry into the Lexus Melbourne Cup.