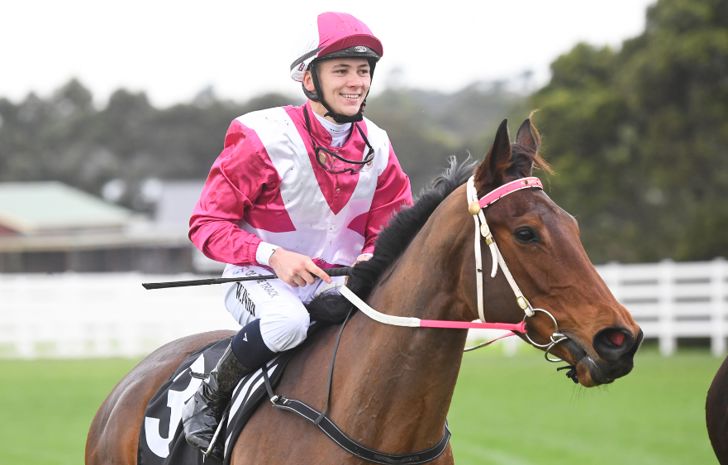 Wiremu Pinn's big race card at Flemington
2 June 2023
•
Written by
Gilbert Gardiner - Racenet
An embarrassing call to a new boss is nothing compared to the potential ramifications Wiremu Pinn faced for doing "silly things" in the past.
Pinn, 24, on a three-month loan to Cranbourne conditioner Michael Kent, is the first to admit he went "off the rails" as a youngster growing up in South Auckland, New Zealand's toughest neighbourhoods.
But tragedy, the loss of a best mate to suicide aged 15, put Pinn, then a pint-sized schoolboy rugby league halfback and hooker, on the unlikely path to becoming a jockey – not without further hiccups.
He quit the sport in 2019 but strong family support and real world experience, work on a dairy farm, served as a flashpoint for the Maori jockey once described by a former mentor "as good as Michael Walker on his best days and three times as bad on his worst".
"I went off the rails a little bit, but I guess it's a bad thing that's turned into a positive thing," Pinn said.
"I admit I probably haven't helped myself in the past but those days are over now, I've really put my head down, I'm knuckling down and I'm really focused, I really want to make a good career.
"I realised, when I did leave racing, how much harder it is, and how much I missed out on not being in racing, it made me come back and think twice about being a jockey.
"I've fallen in love with the sport now, my mind is locked into it and this what I want to do."
Pinn has a burgeoning record in New Zealand – 171 wins including a Group 1 and 11 other stakes races – but the chance to move to Melbourne and make the most of his final year as a junior with a valuable 3kg claim was too good to refuse.
He rode his first Australian winner last Wednesday at Mornington – in his seventh start in a race here.
Pinn has seven rides at Flemington on Saturday, including fancied Son Of Solly (race 5), and six mounts already next Saturday at Sandown.
Flemington is the sole focus, for now.
"It's what dreams are made of, to ride a winner there, where the Melbourne Cup is run, would be very special and I definitely wouldn't forget that moment," Pinn said.
Pinn will be among the first trackside on Saturday to walk the entire circuit with Kent, before attention turns to individual rides.
"I'm big on my homework, especially on these big metro meetings when you're racing around for $150,000 I think it's very important to do your homework," Pinn said.
The 24-year-old will realise another dream on Tuesday at Seymour, booked to ride for champion trainer and Kiwi expat Chris Waller, in a heat of the Rising Stars Race Series for apprentice jockeys.
A whirlwind fortnight in Melbourne and breakthrough winner has helped Pinn make good of a blunder on his first day at Cranbourne, when he went searching for Kent at the racecourse as opposed to the training centre, a bit further down the road.
He's not the first, or last, to make the same mistake.
"I didn't realise (they were separate places)," Pinn laughed.
"(I thought to myself) Mick is probably going to think I'm stupid or something."
Pinn would love to make the move permanent, enamoured with Victorian racing, trainers and jockeys.
"I'm just head down, focused, I'm here to learn and get better as a rider, ride as many winners as I can," Pinn said.
"I'm very grateful for the support, I don't want to let anyone down."