Meet the 2021 Myer Fashions on your Front Lawn Winners and Finalists
---
2021 Womens Racewear National Competition Winner - Viera Macikova (NSW)
Hearts and polka dots stamped Viera Macikova's red-and-white look with winning style in the Myer Fashions on you Front Lawn® National Women's Competition. Her pleated silk Rodarte midi dress gave timeless race wear a lively spring feel. Its waist cinching belt and elegant long sleeves read classic, while the high-energy print delivered a fun-loving vibe. The lively two-tone colour palette was echoed in polished accessories. With a sheer brim and red ribbon detailing, Viera's The Fillies Collection hat played the perfect accompaniment to her dress, impeccably matching its pretty collar and cuffs. Carefully selected vintage earrings provided a considered punctuation point to the head-turning ensemble.
2021 Mens Racewear National Competition Winner - Kalombo Ntumba  (NSW)
With a bold pop of colour and a sleek streamlined silhouette, Kalombo Ntumba has taken out the Myer Fashions on your Front Lawn® National Men's Competition. A YB Tailoring double breasted blazer was the hero of the look, splashed in a standout shade of turquoise that caught the judges' attention. Paired with slim leg suit pants in pale taupe, also by YB Tailoring, the look delivered a contemporary take on traditional racing codes. Kalombo added personality to his outfit with statement rings and bracelets in coordinating colours. A black silk pocket square, tucked into the blazer's breast pocket, delivered final flourish. Topped with a Rodd & Gunn Panama-style hat in felted wool, the result was a dapper spin on spring suiting.
---
Finalists
ACT FINALIST
Rogen Eulatic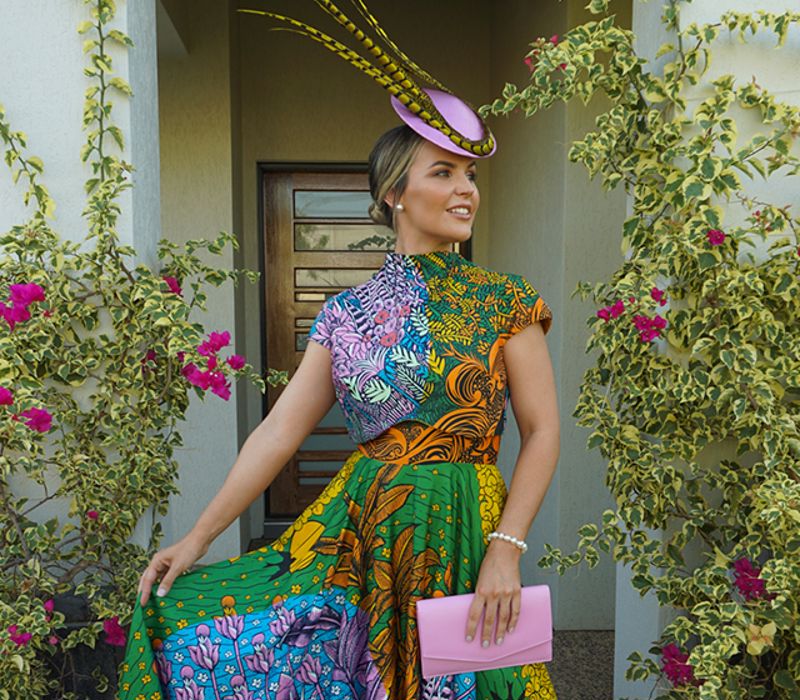 QLD FINALIST
Luke Faulkner
SA FINALIST
Jaimee Bruggemann
TAS FINALIST
Ellie Sheridan
TAS FINALIST
Myles Castley
VIC FINALIST
Alessandro Squadrito
WA FINALIST
Elizabeth Winlo
WA FINALIST
Anthony Councillor
WILDCARD FINALIST
Alana Richards
WILDCARD FINALIST
Tom Afonczenko