Phar Lap Club membership is complimentary for the 2021/22 racing season.
Phar Lap Club membership is for children under the age of 12 who are interested in finding out about horses and the people who work with them.
VRC Phar Lap Club privileges
Admission to the Members Enclosure on all race days including Melbourne Cup Carnival.*
Trackside Treats throughout the racing season, excluding the Melbourne Cup Carnival.
Receive priority access to kid's activities and events
Eligibility for VRC Junior Membership upon turning 12 years of age.
*Children aged 15 years and under are admitted free of charge when accompanied by an adult member on all four days of the Melbourne Cup Carnival, cards will not be scanned on these days.
Download the Phar Lap Club membership form above and return via: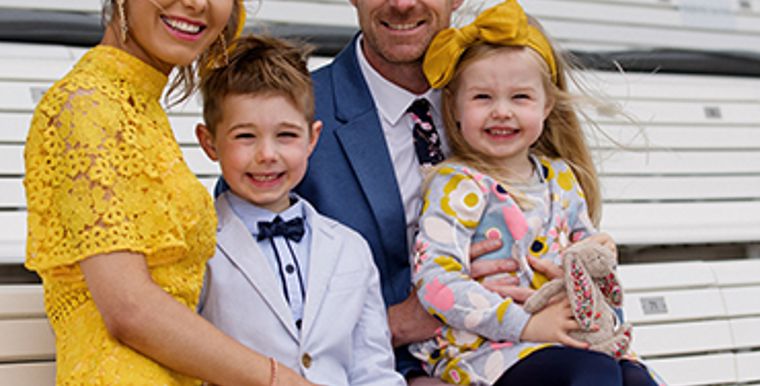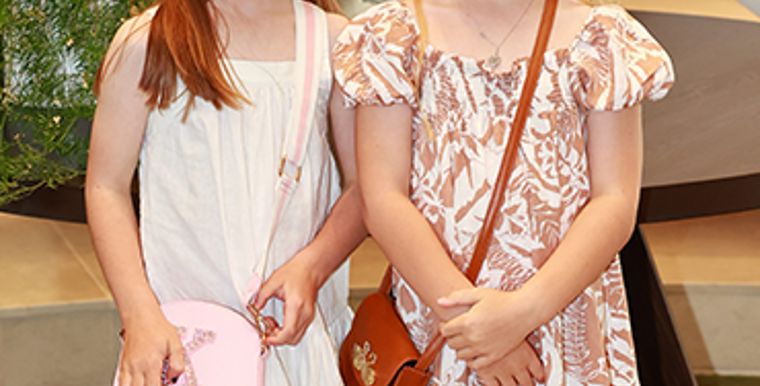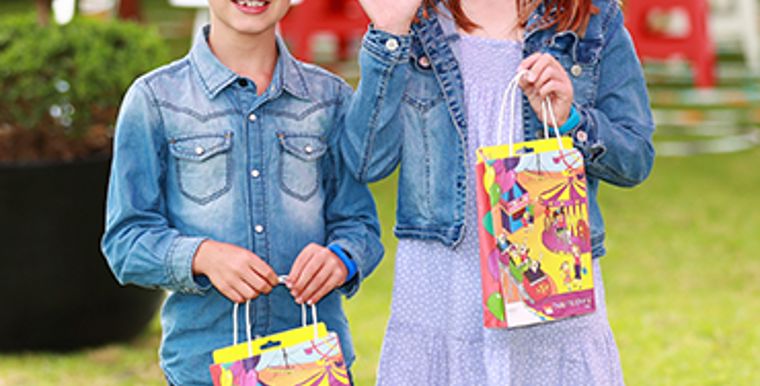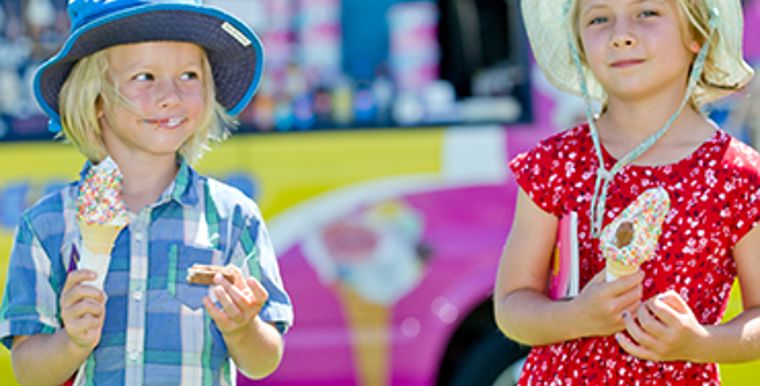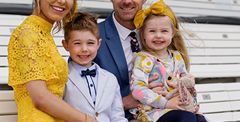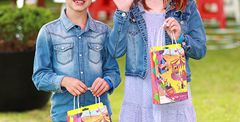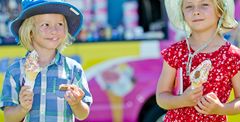 Horse racing fun facts
Phar Lap was bought as a yearling in 1928 by trainer Harry Telford. Phar Lap was foaled in New Zealand and carried the bloodlines of the great racehorse Carbine who had won the Melbourne Cup in 1890 as well as many other significant races.
When Phar Lap was a young horse he was considered to be plain looking yet he soon blossomed into one of the finest thoroughbreds known, standing 17.1 hands high. He had strong and powerful hind legs and his heart weighed 6.2 kgs which is nearly double the size of a normal horse!
Phar Lap's strapper was Tommy Woodcock. The two had a wonderful relationship, spending many hours together. Sometimes Tommy even slept beside him at night. Phar Lap was known to pull up at full gallop at track-work at Randwick when he caught a glimpse of Tommy at the side of the track.
Phar Lap was ridden by one of the best jockeys of all time, Jim Pike. Jim Pike was born in New South Wales in 1892 and rode his first winner at the age of 13. He won 27 races on Phar Lap from 30 rides.
After a convincing victory in the W.S. Cox Plate, Phar Lap looked towards the 1930 Melbourne Cup Carnival. After a frightening experience when someone tried to shoot him walking back from morning trackwork Phar Lap was still composed enough to win the Melbourne Stakes at Flemington racecourse that afternoon. Three days later he went on to win the Melbourne Cup, carrying 62.5 kgs over the two mile distance.
Two days later he returned to Flemington to win the Linlithgow Stakes and two days afterwards he returned to win the C.B. Fisher Plate on Final Day. This performance has not been matched again.
After these successes Phar Lap, his strapper Tommy Woodcock and fill-in rider Billy Elliott all travelled by boat to Mexico to compete in the 1932 Agua Caliente Handicap. This was the richest race in the world and Phar Lap won.
Less than two weeks later, Phar Lap appeared unwell and distressed in his stables at Menlo Park, California. His distraught strapper Tommy Woodcock comforted Phar Lap as they waited for the vet. Upon realising the seriousness of the situation, the vet left to seek further help, but by the time he came back Phar Lap was dead.
News of his death rocked the racing world, especially in Australia and New Zealand where he had become a household name. The reason for his death was noted as acute colic but many suspected foul play.
In his career, Phar Lap had 37 wins, 3 seconds and 2 thirds from 51 starts. He won 32 of his last 35 races.
Phar Lap's vital stats
| | |
| --- | --- |
| Race record | 51 starts: 37 wins, 3 seconds and 2 thirds |
| Prize money | £56,425, plus $US50,000 |
| Breeding | Night Raid - Entreaty (by Winkie) |
| Foaled | Timaru, New Zealand, 4 October 1926 |
| Died | Menlo Park, California, 5 April 1932 |
| Owners | David Davis & Harry Telford |
| Trainer | Harry Telford |
| Colour | Chestnut |
| Height | 17.1 |
A record-breaker and a crowd favourite
Phar Lap was often race favourite and in his Melbourne Cup victory of 1930 he was 8/11 favourite, the shortest price ever recorded by a winning favourite in a Melbourne Cup.
Phar Lap's victory in the Melbourne Cup was the first for jockey Jim Pike who was having his 14th ride in the Cup and the first for trainer Harry Telford.
Phar Lap won races on each of the four days of the 1930 Flemington Cup Carnival, an amazing performance for any horse.
Timeline of Phar Lap's life
| | |
| --- | --- |
| 4 October 1926 | Chestnut colt foaled at Timaru in New Zealand. |
| 24 January 1928 | The unnamed Phar Lap was sold for 160 guineas to Hugh Telford on behalf of Hugh's brother Harry at the Trentham Yearling sale. |
| 23 February 1929 | Phar Lap begins racing career. |
| 27 April 1929 | Phar Lap wins first race at Rosehill, NSW. |
| 5 October 1929 | Phar Lap wins AJC (Australian Jockey Club) Derby in NSW. |
| 5 November 1929 | Phar Lap comes 3rd in the Melbourne Cup. |
| 25 October 1930 | Phar Lap wins the W.S. Cox Plate. |
| 1 November 1930 | Attempt made on Phar Lap's life at Caulfield racetrack. |
| 4 November 1930 | Phar Lap wins the Melbourne Cup. |
| 24 October 1931 | Phar Lap wins the WS Cox Plate again. |
| 20 November 1931 | Phar Lap shipped to New Zealand for a spell and then on to America. |
| 20 March 1932 | Phar Lap wins the Agua Caliente Handicap in Mexico in record time. |
| 5 April 1932 | Phar Lap dies at Menlo Park in California. |
Carbine was perhaps the greatest racehorse ever bred in the southern hemisphere. Carbine was born in New Zealand in 1885, and while he had some early racing there, his great racing achievements were in Sydney and Melbourne.
When Carbine won the Melbourne Cup in 1890 he beat the largest field of 39 starters and carried the greatest winning weight ever (66kgs). No horse had ever won with this huge weight, and many believed that this would more than test the great horse, but in the end he won with authority. No horse has ever equalled this weight since.
He also won back to back Sydney Cups in 1889-90 before becoming an outstanding stallion and sire of other winners.
Carbine was a horse with a unique personality. He was usually a very gentle horse however he disliked being beaten in races, and when this happened his attendants would keep out of his way. He hated rain and would refuse to train in the wet and so would be taken to the track with an umbrella over his head. This lead to his trainer developing an elaborate contraption similar to a miniature umbrella that fitted over Carbine's ears keeping his head dry in wet weather.
Career race record: 43 starts, 33 wins, 6 seconds, 3 thirds, 1 unplaced.
Carbine and Phar Lap: a family connection
Phar Lap's bloodline can be traced back to Carbine through both his sire (father) and dam (mother)!
Makybe Diva is considered to be one of the greatest mares of all time being the only horse to win three Melbourne Cups in a row in 2003, 2004 and 2005. In her 2005 Emirates Melbourne Cup win, the bay mare carried a huge weight of 58 kilos, the heaviest weight ever carried by a mare.
In her amazing career she won 16 races. Her best wins were her last two runs where she won the W.S. Cox Plate and the Emirates Melbourne Cup.
Her trainer Lee Freedman said Makybe Diva had been the best horse he had trained in his career. After her third Emirates Melbourne Cup win in 2005, Makybe Diva was retired.
How Makybe Diva got her name
Makybe Diva got her name when her owner Tony Santic combined the first two letters from the names of five women who worked in one of his offices!
Bart Cummings
Bart Cummings is one of Australia's finest horse trainers.
Bart first tasted the experience of Melbourne Cup success when he was strapper for his father's horse Comic Court in 1950. It was Light Fingers in 1965 who gave Bart his first win in the Melbourne Cup. In 2008 Viewed gave Cummings his 12th Emirates Melbourne Cup win, seven more than the next best record which is shared by Etienne de Mestre and Lee Freedman.
Adelaide born Cummings as a child was advised that he had an allergy to horses and chaff. This didn't stop his passion and now dubbed the "Cups King" because of his amazing record in such races, Cummings has won the Melbourne Cup with Light Fingers (1965); Galilee (1966); Red Handed (1967); Think Big 1974-75); Gold And Black (1977); Hyperno (1979); Kingston Rule (1990); Let's Elope (1991); Saintly (1996) Rogan Josh (1999) and Viewed (2008).
His record of Melbourne Cups wins will be difficult to break. Lee Freedman has won five Melbourne Cups -Tawrrific (1989), Subzero (1992), Doriemus (1995) and Maykbe Diva (2004 & 2005), but has a long way to go to beat Bart's record.
In the 1800s Etienne de Mestre had 5 winners, Archer (1861-1862), Tim Whiffler (1867) Chester (1877) and Calamia (1878).
Lee Freedman
Lee Freedman is from a well-known racing family and his involvement in the day-to-day running of the family's thoroughbred business soon became his passion.
Tawrrific was Freedman's first Melbourne Cup runner in 1988, finishing 12th behind Empire Rose. In 1989, Tawrrific beat stablemate Super Impose in the Melbourne Cup, which Freedman cites as his most memorable moment in racing.
Lee had an incredible season in 1992-1993, winning the Caulfield Cup (Mannerism), W.S. Cox Plate (Super Impose) and Subzero gave him his second Melbourne Cup.
In 2004, Freedman took over 2003 Melbourne Cup winner Makybe Diva, training the wonder mare to win another two Melbourne Cups, a W.S. Cox Plate, Australian Cup and a BMW Stakes. Until Makybe Diva, Freedman regarded his best horses as Super Impose but he has also trained wonderful horses including Paris Lane, Doriemus, Don Eduardo, Serenade Rose, Benicio, Mummify and Miss Andretti.
His tally of five Melbourne Cup wins sees him equal with Etienne de Mestre, and second only to Bart Cummings (12 wins).
Jim Johnson
Adelaide-born Jim Johnson was one of Australia's most successful jockeys.
Born in 1929, Johnson quit the saddle in 1976 after a stellar 32-year career which yielded more than 2,100 winners - among them three Melbourne Cups and two Cox Plates.
Johnson's Melbourne Cup successes came first on Gatum Gatum in 1963 and then in successive years on Rain Lover in 1968-69. Of all the rides he had, Tobin Bronze and Rain Lover were the two best horses he rode.
Late in his career, Johnson rode in Singapore and won the jockeys' premiership there in 1972 and 1973.
Johnson is still very active in the racing industry today and his advice is regularly sought from current senior and apprentice jockeys.
The Lexus Melbourne Cup is Australia's richest and most famous horse race. This spectacular event is held every year on the first Tuesday in November and it is run over 3200 metres. In 2010, the Cup was run for the 150th time.
In 1877, the Cup was run on the first Tuesday in November and everyone got the day off work and school and we still do all these years later.
The Melbourne Cup is known as the 'the race that stops a nation™'. This is because many people attend the racecourse and millions of people around Australia and around the world get together to watch the race on the television.
The Lexus Melbourne Cup is made of 18 carat gold and is worth $200,000 dollars. It has a very special design with three handles which represent the trainer, the jockey and the owner.
Melbourne Cup records
Fastest time ever:
3.16.30 Kingston Rule (1990)
Biggest win ever: 
8 lengths by Archer in 1862 and Rain Lover in 1968 
Heaviest weight carried:
Carbine in 1890 won the race with 65.5 kg.
Makybe Diva holds the record for a winning mare with 58 kg in 2005.
The horse to carry the heaviest weight of all time was Phar Lap in 1931 when he carried 68kg and ran 8th. 
Favourites record: 
34 of 149 favourites (23%) have won the Melbourne Cup.
Most horses in the race: 
39 (1890) won by Carbine
Fewest horses in the race:
7 (1863) won by Banker 
Most attempts to win: 
Shadow King made six attempts to win the Cup in seven years between 1929 and 1935. He ran 6th, 3rd, 2nd, 3rd, 2nd and 4th. How unlucky!
The Lexus Melbourne Cup Trophy
The Lexus Melbourne Cup Trophy is a stunning 18 carat gold trophy valued at $200,000.
Noted for its "Loving Cup" design, the trophy is one of the most identifiable sporting trophies anywhere in the world. It is a national icon embedded in Australia's cultural fabric and strikes many emotions with all ages around the country.
The Cup, as we know it today, was first designed by Mr James Steeth in readiness for the 1919 Melbourne Cup won by Artilleryman. He was commissioned by the VRC to design the trophy which would be in keeping with the prestige of the race. Little did the committee, or Steeth for that matter, realise that they would develop the icon we know today.
In 1980, the making of the Cup was then entrusted to Hardy Brothers Jewellers and the same processes commenced in 1919 are still adopted today. It is made of 34 pieces of gold metal hand beaten over 250 hours.
The Lexus Melbourne Cup Tour
Every year the Melbourne Cup trophy goes on an adventure around Australia and New Zealand before it is handed over to the lucky winner of the Lexus Melbourne Cup at Flemington.
The tour every year travels to over 30 communities around Australia and New Zealand, it might just be coming to your home town or even your school!
Over the past 10 years, the 18-carat gold Lexus Melbourne Cup has travelled more than 325,000 kilometres, visiting 236 towns and cities, and meeting tens of thousands of people!
It visits various destinations in an effort to unite communities by engaging councils, schools, hospitals, aged-care and racing groups in events to raise funds for local causes.
Living up to its status as the 'People's Cup', in 2012 the Tour visited 35 schools and 22 hospitals and aged care facilities, participating in more than 87 community events, including street parades, civic receptions, charity dinners, community barbeques and cocktail parties.
Some fast facts about the Cup:
It weighs 4kgs.
It is worth $200,000.
It takes 250 hours to make.
There have only been 4 different people who have made the Cup trophy since 1919.
It is made out of 18ct gold.
It is 360mm tall.
Test your horse racing knowledge
Barrier: A gate which is used to keep horses in line before the start of a race.
Binoculars: An instrument used to magnify images at a distance. Used by race callers to see horses during a race.
Dead heat: A race in which two or more horses finish together at the same time.
Equitime: A timing system specifically designed to time horse races (equine races).
Finishing post: The end point of a race.
Hand: A unit of measure used to determine the height of a horse. One hand is equal to 10cm.
Handicap race: A race in which certain disadvantages or advantages of weight are placed upon competitors to equalise their chances of winning.
Handicapper: The person who assigns handicaps to competitors.
Jockey: A person who rides horses in races.
Length: A unit of measure used in racing, measured from one end of a horse to the other.
Mounting yard: The place where a jockey gets on his/her horse before a race.
Penetrometer: A device used for measuring the hardness of the track by measuring the extent to which it penetrates the ground.
Race caller: A person who verbally describes a race.
Racetrack: A track where races are held.
Stablehand: A person who attends and grooms racehorses in stables.
Stall: A compartment for the accommodation of one horse.
Stopwatch: A watch that can be stopped or started in an instant, used to time races.
Straight: The part of the track which is not curved but straight. The finishing post is located at the end of the straight.
Thoroughbred: A breed of horse which is used specifically for racing.
Track rating: A reading that identifies the condition of the track, e.g. soft, hard, dead.
Trainer: Someone who teaches a horse how to race.
Wither: A point on the horse above its shoulder.
Whether it be riding around the track, or standing in the mounting yard waiting to jump on a horse for the next race, jockeys are always dressed in brightly coloured racing clothes. These clothes are called 'colours'.
No two jockeys wear the same colours in a race. The colours are always very different so the owner of the horse and fans can identify all the different horses when racing.
If the colours are similar the jockeys wear a different coloured cap. The idea of jockeys wearing colours dates all the way back to ancient times when chariot drivers wore different coloured capes so everyone could identify them. It was only in the 17th century that jockeys started to wear them on the race tracks as there were more horses in each race and the fans became confused when watching the races.
Maybe one day you will be an owner of a race horse and can have your own special jockey colours!
There are over 350 breeds of horses and ponies but only one breed is used in horse racing. These are called thoroughbreds.
All thoroughbreds' birthdays are celebrated on the same day – the 1st of August.
Horses only sleep between two and three hours a day. Most of this is done standing up.
Horses use more energy lying down than standing up.
Horses can't breathe through their mouths.
Horses lose their baby teeth, just like humans do.
A horse can drink 40 litres of water a day.
Horses have four speeds: they can walk, trot, canter and gallop.
he height of a human is usually measured in centimetres, while the height of a horse is traditionally measured in hands. One hand is equal to the width of an adult's palm (approximately 10 cm).
Humans are measured from the tops of their heads to the ground, but horses are measured not from their heads, but from their shoulders to the ground. This area is known as the withers.
There is no recorded evidence revealing the origins of why a horse is measured in hands. The existence of horses preceded our currently recognised forms of measurement such as feet, inches, and centimeters. The use of the hand to measure was a useful guide and this form of measurement has endured.
A horse is measured to its withers and not to its head because they are difficult to measure to the top of their ears. As a horse's head is on an angle to the rest of its body and horses often move their heads around, it is easier to measure them to their withers.
When a foal is born, it is often given a name that combines the names of the foal's father and mother.
An example is 1968 Melbourne Cup winner Rain Lover. His sire (father) was Latin Lover and his dam (mother) was Rain Spot. Combine the two and you get Rain Lover.
Did you know ... the name of a racehorse can contain no more than 18 letters?
Trainers
For a trainer the day is long and busy, starting very early in the morning. Each day the trainer prepares the track work which will be done by each horse. They oversee each horses grooming, feeding and care, especially if a horse is injured or sick.
The trainers advise and discuss riding techniques with the jockeys in preparation for race days and ensure they are ready for each meeting.
Strappers
Strappers assist the trainers in the care of each horse. They groom the horse, clean and check riding gear and constantly attend to each horse. Many horses become over excited on race day and familiar care and attention of their strapper can settle them down in order to produce their best performance.
Jockeys
Jockeys begin training at a very early age. Their racing skills are developed by riding many different horses on different race tracks. Apprentices attend apprentice school which educates them in all areas of racing. The rewards for successful jockeys are great but when galloping at such high speeds the job is dangerous.
Many jockeys have to watch their weight so they follow strict diets and exercise regularly. Generally jockeys are around 160-170cm high and weigh 49-57 kgs.
Stewards
The Victoria Racing Club appointed the first full time Stipendiary Steward in October 1890. The stewards are responsible for running race meetings and enforcing the Rules of Racing. They make sure the race is run fairly and that each horse is given the opportunity to win. Stewards are positioned around the course in towers and after the race return to the scales to supervise jockeys weighing-in, review the race and to hear protests if there are any.
Clerk-of-Course
The Clerk-of-Course is easily recognisable by his red 'huntsman's' jacket and black cap and he usually rides a grey horse. There are three Clerks-of-Course and they escort the field from the mounting yard to the starting barrier and are responsible for making sure strappers are punctual bringing the horses up to the mounting yard.
Clerks-of-Course may be called upon to lead a young horse to the barrier or on some occasions to catch a horse which has galloped out of control.
Judges
The judge determines where each horse placed at the end of the race. When the finish is so close that they cannot tell who won, they consult the photo finish to make sure.
Track Manager
Each racecourse has a Track Manager. The Track Manager is in charge of preparing the track for race meetings, accurately reporting the track condition on race days, repairing the track following race meetings and maintaining the training facilities.
Handicapper
The majority of races held in Victoria are called handicaps. The object is to give every horse an equal chance of winning by giving some horses more weight to carry than others. The handicapper will look at the horses past and current performances, the form of other horses in the race, the sex of the horse, and then decide how much weight each horse will carry.
Racecaller
Racecallers describe the race by memorising the colours that the jockeys wear.
Racegoer
The racegoer is a very imported person on race day. The crowds provide an exciting atmosphere as they follow the fortunes of their favourite horse.
A big part of racing, especially in the springtime, is the fashion. Both men and women take the opportunity to dress up in colourful and stylish clothes. Women in particular often wear hats as part of their outfit for attending the races.