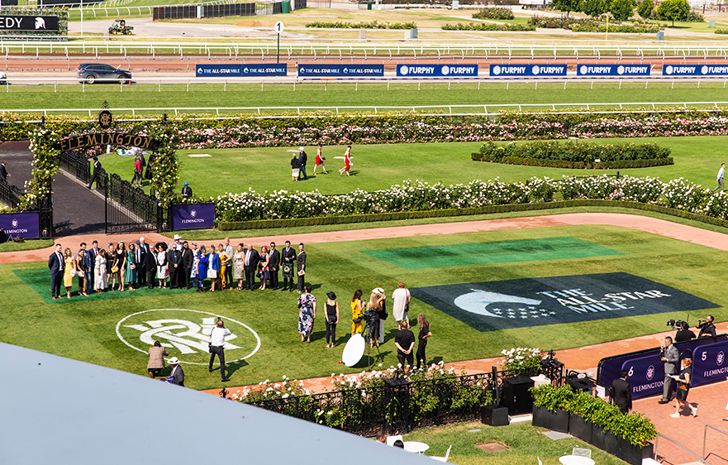 2022 Country Mile Series launched with new conditions
14 December 2021
•
Written by
Racing Victoria
Racing Victoria (RV), in conjunction with Country Racing Victoria (CRV), have today launched the second annual $700,000 Country Mile Race Series with revamped conditions that retain the opportunity for smaller stables to taste success.
The 2022 Country Mile Race Series will again feature five heats of $75,000 at country Victorian tracks throughout February and March and culminate with a $250,000 final on All-Star Mile Raceday at Flemington on Saturday, 19 March 2022.
With the move from The Valley – where the inaugural Country Mile in March 2021 was won by Fontein Diamond for Wangaratta trainer Ben Brisbourne – to Flemington, the field size for the final will increase from 15 to 16 starters.
As a result, a $75,000 wildcard race has been added to the qualifying rounds at Bendigo on Friday, 11 March 2022 where the winner will gain the final spot in the 16-horse field. 
Last season's inaugural Country Mile Race Series was open to country trainers only, however the recent relocation of Caulfield trainers to country venues necessitated a review of the race conditions with updated eligibility criteria announced today. 
To be eligible for the 2022 Country Mile Race Series, a trainer must:
Only be licensed in Victoria; and
Have trained less than 15 Victorian metropolitan winners in the previous racing season (2020/21).
In addition, a horse must be in the care of its eligible trainer on or before 1 January 2022 as per an official stable return to take its place in the heats and final.
As per 2021, the first three placegetters in each of the five heats will automatically qualify for the final which will be conducted as a Benchmark 80 race on All-Star Mile Day. 
The 15 horses who have qualified via the heats will be ineligible to contest the wildcard race at Bendigo with the first spots given to those horses who have contested a heat and failed to qualify for the final. Priority in the ballot will be given in order of unplaced finishing position in the heats (fourth placegetters in first, then fifth placegetters and so on).
Eligible horses will be permitted to make their series debut in the wildcard race, but only if there are any available positions remaining in the field after the unplaced horses from heats one to five have accepted.
The schedule for the 2022 Country Mile Race Series is as follows:
| | | | |
| --- | --- | --- | --- |
| Race | Date | Venue | Conditions |
| Heat 1 | Fri 11 Feb | Colac (Cup Day) | $75,000 BM64 1600m |
| Heat 2 | Thurs 24 Feb | Pakenham (Night) | $75,000 BM64 1400m |
| Heat 3 | Sun 27 Feb | Ballarat | $75,000 BM70 1400m |
| Heat 4 | Fri 4 March | Ararat | $75,000 BM64 1600m |
| Heat 5 | Sat 5 March | Wangaratta (Cup Day) | $75,000 BM70 1590m |
| Wildcard (Heat 6) | Fri 11 March | Bendigo | $75,000 MB70 1500m |
| Final | Sat 19 March | Flemington | $250,000 BM80 1600m |
Quotes attributable to RV Executive General Manager – Racing, Greg Carpenter
"The inaugural Country Mile Series was a terrific success with Ben Brisbourne enjoying the biggest moment of his training career winning an enthralling final at The Valley where we saw heat winners fill four of the first five placings.
"We're excited to launch the 2022 Country Mile Race Series and do so with the intention of ensuring that it remains an attractive target for smaller stables through an important amendment to the eligibility criteria.
"Any trainer who prepared 15 or more metro winners last season or is licensed outside Victoria is ineligible to compete which paves the way for smaller stables to grab their moment in the spotlight as Wangaratta trainer Ben Brisbourne did in March.
"The introduction of a wildcard race for the 16th position in the 2022 final will create some extra theatre and provide connections with a further opportunity to secure their place in the $250,000 final which will again be one of the highlights on All-Star Mile Day.
"With the All-Star Mile carrying a minimum handicap rating of 80 for older horses, the Country Mile Final serves to again complement that with a Benchmark 80 rating which will ensure a highly competitive race and I look forward to some great storylines emerging."
Image: The All-Star Mile Race Day was held at Flemington in 2019.