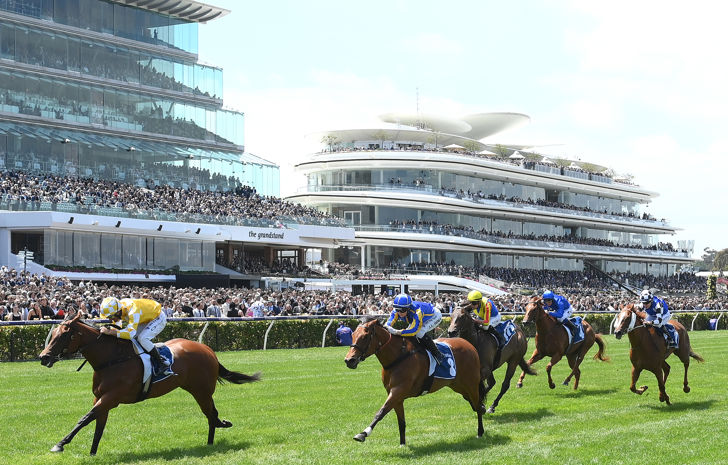 A brief look back at the Penfolds Victoria Derby Day card
4 November 2023
•
Written by
Racing & Sports
A look at some of the races on Victoria Derby Day at Flemington.
Flatmates celebrate Flemington success 
Former flatmates Michael Freedman and Damien Oliver celebrated success together when Queen Of The Ball took out the Group 3 Furphy Sprint (1100m). 
When Oliver first crossed from Perth to join Lee Freedman as an apprentice in the last 1980's, the jockey shared a room in a house just behind the Flemington grandstand with Michael. 
"There was probably seven or eight of us in the house, wives and girlfriends, and Damien and I shared a room downstairs," Freedman recalled. 
"It's a huge buzz. We've got a lot of history. 
"Our family and Damien go back 35, nearly 40 years, so this being his last Derby Day and one of my first runners on Derby Day, it's a great thrill." 
Oliver is riding at his last Melbourne Cup Carnival and after scoring earlier on Kalapour in the Archer Stakes (2500m) has now ridden 87 Carnival winners over his long career. 
After an unsuccessful campaign in Sydney during the spring, Freedman said he saw this race on the calendar. 
"I always felt she was going as well as she was ever going and when we saw this race down here, we pulled the pin on the back end of the Sydney Carnival and just targeted this race." 
'Nerdy' Kaizad lands Carbine Club 
A horse co-trainer Gai Waterhouse has called 'Nerdy' has learned from previous trips to the races to win the Group 3 Carbine Club Stakes (1600m). 
A winner two starts ago in maiden grade at Warwick Farm, Kaizad made his way to Melbourne following that run to finish third at Caulfield. 
Jockey Tim Clark took Kaizad straight to the front in the race for three-ear-olds and defied the opposition to run him down. 
Waterhouse said Kaizad was 'Nerdy' due to behaviour when asked to do something, he would invariably do the opposite, until he was gelded. 
"He's improved out of sight," Waterhouse said. 
"He was the most nerdy two-year-old and then the moment he was gelded he changed his attitude and he's never looked back. 
"This is a really good win today. It is a hard race to win, the Carbine Club, and it is nice to win it with a nice horse, so I'm really pleased." 
Spacewalk lands Rising Fast Stakes 
Jamie Kah said she would love it if Najem Suhail was in every race that she rides Spacewalk in after guiding the sprinter to victory in the Group 3 Rising Fast Stakes (1200m). 
Najem Suhail went out at a strong gallop and opened up an eight-length lead by the time the half-way point was reached. 
There was those on-course wondering if Najem Suhail could be reeled in, but Kah was confident of over-hauling the leader. 
Kah had been winless in the metropolitan area since October 1 before scoring at Moonee Valley on Friday night and doubling up on Saturday. 
"I'd love it if that horse was in every one of his (Spacewalk) races," Kah said. 
"He just needs a bum to follow and horses to chase down. 
"I knew Najem Suhail couldn't maintain that, so I was just being patient and waiting. 
"We love riding winners and especially on Derby Day. 
"It is fantastic." 
Patience no Cause For Concern for Kah 
Jamie Kah was rewarded for her patience in guiding Cause For Concern to victory in the Group 2 The Damien Oliver (1400m). 
Withdrawn by trainer Shawn Mathrick from the Group 3 Rising Fast Stakes (1200m) earlier in the program, Kah needed to be patient when held up behind runners in the straight. 
Kah was able to weave a late passage and dive between runners where she drove No Cause For Concern home to victory over Bandersnatch. 
The win completed a double for Kah who, ironically, won the Rising Fast Stakes aboard Spacewalk. 
"It's very nice," Kah said of her double. 
"I had to be very patient, (but) I think it helped this horse in the end. 
"I'm not saying he needs to be saved for the last minute, but it definitely helped him today. 
"I think when he's exposed too early, he might think about it a little bit, but today he had to be brave, and it paid off."