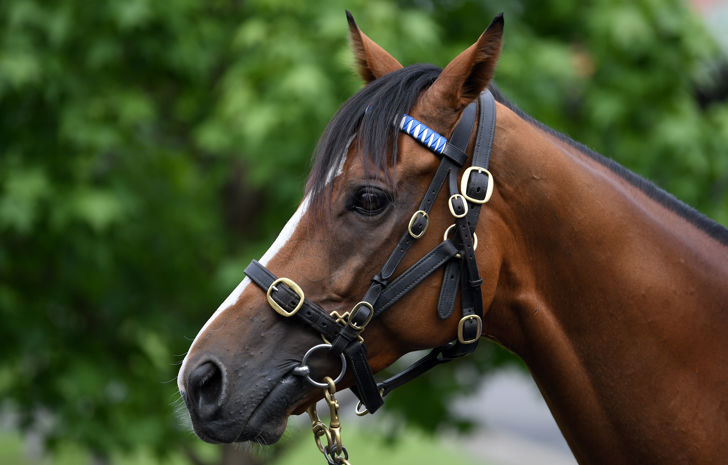 A dedication like no other
31 May 2022
•
Written by
VRC
Reg Fleming loves horses, and this was recognised recently at the Godolphin Stud and Stable Awards, where he was crowned the overall winner of the Thoroughbred Excellence Award, as well as being the recipient of the Dedication to Racing Award. And one particular horse has captured his heart – the great Hartnell.
Hartnell was the courageous and versatile horse on the track that captured hearts, and looks to do the same in his new equestrian career. Fortunately, Hartnell has not moved too far away from the Flemington action, and is still visited almost daily by his greatest fan of all, Reg.
Even after labouring from early morning until dusk in the stables of Godolphin at Flemington, one of its long-time lieutenants still has an important job to do when the last of their horses have been fed.
Reg Fleming, former dedicated foreman for Cups King Bart Cummings and now a valuable component in Godolphin, headed up by Bart's grandson James, always finds time most days to visit some of their former champions.
Fleming joined the Cummings family in the late 1980s and has been an ardent supporter of horses' needs and welfare during and after their careers.
On most days Fleming travels to the Patterson family's stables, friends of the former Queenslander, who are looking after weight-for-age hero Hartnell who retired from racing in 2019.
Hartnell was a winner of four Group 1 races and was also second to Australia's greatest race mare Winx in four of their eight meetings.
"He was very special, he loved a cuddle, he loved a pat, he was so kind and yet at the races he was so brave and so honest. I call in and see him most days, give him a pat, [and] have a talk to him, but I try to catch up with so many of our horses to see that they're going okay," Fleming said.
Fleming has been a long-time advocate that horses should be cared for and respected in training and then looked after in their retirement.
"With Hartnell he gave his all. He was a winner at 1400m in Australia and two miles in England. He gave us everything (winner of $7.4 million in prizemoney) so we've got to return the kindness he showed us.
"A racehorse's career may be just a few years from being a yearling to a three-year-old. They get little niggles and problems that can sometimes end their time on the track.
"But I can tell you that as a man who has been with horses all my career and watched my father also give a lifetime to racing, the lesson is that...
"...we should never forget that without the horses and their courage and brilliance we would have nothing."
"No horse, no employment and the world would miss out on seeing a wonderful animal," Fleming said.
Hartnell is enjoying his new life as a show horse, a role he began in February 2022, and, with a placid temperament, clean legs and a stunning coat, he is no doubt the envy of all of that fraternity that see him.
Fleming believes that Hartnell's future in the equestrian world will be a successful one, and has adapted quickly to the new lifestyle.
"He's got a physique, he's got an ability to be quick on his feet, he's got intelligence and strength to be extremely successful in his life in the show ring.
"He was always a lovely horse. He ran in an era of some truly great horses such as Winx, and probably if she wasn't around at the same time, his record would be even more imposing.
"But it's his new life now, a life he really seems to enjoy. With Reg Fleming very much in his life, Hartnell will be looked after," James Cummings said.
The Patterson family has been long associated with racing and show horses and are also firm believers that horses like Hartnell must have a good foundation at learning the basics of show work, before being sent to some of the biggest and strongest show competitions we have in Australia. Sheralee Patterson is responsible for Hartnell's re-training, and rides him at shows.
"The Patterson family often say to me, 'Reg, you were given the job of seeing how fast Hartnell can go and now we've got the job of making him look as beautiful as we can," he said.
Fleming is also fond of tough stayer Precedence who arrived at Bart Cummings' stable as a yearling and left a 10-year-old. Considered by Fleming to be a horse with so much bravery, he is now enjoying a show horse career with Off The Track re-trainer, Fiona McIntyre, who also received a Godolphin Stud and Stable Award, the Thoroughbred Care and Welfare Award.
"He never shirked the issue. He was a great stayer and he's now enjoying a new life. He's happy, content and that's all you can ask for," he said.
Such is his love for the animals he has worked with, Fleming has a metal dipper that he uses to dispense the feed to the horses every morning and night, and has had every outstanding horse that he's looked after engraved on the side of the metal tin.
"I feel very passionate about the horses. I know how much they give us and I know how much we owe them. If I could, I'd take them all home and look after them in their retirement."
System.Web.HttpException (0x80004005): Error executing child request for handler 'System.Web.Mvc.HttpHandlerUtil+ServerExecuteHttpHandlerAsyncWrapper'. ---> System.NullReferenceException: Object reference not set to an instance of an object.
   at ASP._Page_Views_Partials_googleAd_cshtml.Execute()
   at System.Web.WebPages.WebPageBase.ExecutePageHierarchy()
   at System.Web.Mvc.WebViewPage.ExecutePageHierarchy()
   at System.Web.WebPages.WebPageBase.ExecutePageHierarchy(WebPageContext pageContext, TextWriter writer, WebPageRenderingBase startPage)
   at System.Web.Mvc.RazorView.RenderView(ViewContext viewContext, TextWriter writer, Object instance)
   at System.Web.Mvc.BuildManagerCompiledView.Render(ViewContext viewContext, TextWriter writer)
   at Umbraco.Web.Mvc.ProfilingView.Render(ViewContext viewContext, TextWriter writer) in D:\a\1\s\src\Umbraco.Web\Mvc\ProfilingView.cs:line 25
   at System.Web.Mvc.ViewResultBase.ExecuteResult(ControllerContext context)
   at System.Web.Mvc.ControllerActionInvoker.InvokeActionResult(ControllerContext controllerContext, ActionResult actionResult)
   at System.Web.Mvc.ControllerActionInvoker.InvokeActionResultFilterRecursive(IList`1 filters, Int32 filterIndex, ResultExecutingContext preContext, ControllerContext controllerContext, ActionResult actionResult)
   at System.Web.Mvc.ControllerActionInvoker.InvokeActionResultFilterRecursive(IList`1 filters, Int32 filterIndex, ResultExecutingContext preContext, ControllerContext controllerContext, ActionResult actionResult)
   at System.Web.Mvc.ControllerActionInvoker.InvokeActionResultFilterRecursive(IList`1 filters, Int32 filterIndex, ResultExecutingContext preContext, ControllerContext controllerContext, ActionResult actionResult)
   at System.Web.Mvc.ControllerActionInvoker.InvokeActionResultFilterRecursive(IList`1 filters, Int32 filterIndex, ResultExecutingContext preContext, ControllerContext controllerContext, ActionResult actionResult)
   at System.Web.Mvc.ControllerActionInvoker.InvokeActionResultFilterRecursive(IList`1 filters, Int32 filterIndex, ResultExecutingContext preContext, ControllerContext controllerContext, ActionResult actionResult)
   at System.Web.Mvc.ControllerActionInvoker.InvokeActionResultWithFilters(ControllerContext controllerContext, IList`1 filters, ActionResult actionResult)
   at System.Web.Mvc.Async.AsyncControllerActionInvoker.<>c__DisplayClass3_6.<BeginInvokeAction>b__4()
   at System.Web.Mvc.Async.AsyncControllerActionInvoker.<>c__DisplayClass3_1.<BeginInvokeAction>b__1(IAsyncResult asyncResult)
   at System.Web.Mvc.Async.AsyncResultWrapper.WrappedAsyncResult`1.CallEndDelegate(IAsyncResult asyncResult)
   at System.Web.Mvc.Async.AsyncResultWrapper.WrappedAsyncResultBase`1.End()
   at System.Web.Mvc.Async.AsyncControllerActionInvoker.EndInvokeAction(IAsyncResult asyncResult)
   at System.Web.Mvc.Controller.<>c.<BeginExecuteCore>b__152_1(IAsyncResult asyncResult, ExecuteCoreState innerState)
   at System.Web.Mvc.Async.AsyncResultWrapper.WrappedAsyncVoid`1.CallEndDelegate(IAsyncResult asyncResult)
   at System.Web.Mvc.Async.AsyncResultWrapper.WrappedAsyncResultBase`1.End()
   at System.Web.Mvc.Controller.EndExecuteCore(IAsyncResult asyncResult)
   at System.Web.Mvc.Controller.<>c.<BeginExecute>b__151_2(IAsyncResult asyncResult, Controller controller)
   at System.Web.Mvc.Async.AsyncResultWrapper.WrappedAsyncVoid`1.CallEndDelegate(IAsyncResult asyncResult)
   at System.Web.Mvc.Async.AsyncResultWrapper.WrappedAsyncResultBase`1.End()
   at System.Web.Mvc.Controller.EndExecute(IAsyncResult asyncResult)
   at System.Web.Mvc.Controller.System.Web.Mvc.Async.IAsyncController.EndExecute(IAsyncResult asyncResult)
   at System.Web.Mvc.MvcHandler.<>c.<BeginProcessRequest>b__20_1(IAsyncResult asyncResult, ProcessRequestState innerState)
   at System.Web.Mvc.Async.AsyncResultWrapper.WrappedAsyncVoid`1.CallEndDelegate(IAsyncResult asyncResult)
   at System.Web.Mvc.Async.AsyncResultWrapper.WrappedAsyncResultBase`1.End()
   at System.Web.Mvc.MvcHandler.EndProcessRequest(IAsyncResult asyncResult)
   at System.Web.Mvc.MvcHandler.System.Web.IHttpAsyncHandler.EndProcessRequest(IAsyncResult result)
   at System.Web.Mvc.HttpHandlerUtil.ServerExecuteHttpHandlerAsyncWrapper.<>c__DisplayClass3_0.<EndProcessRequest>b__0()
   at System.Web.Mvc.HttpHandlerUtil.ServerExecuteHttpHandlerWrapper.<>c__DisplayClass5_0.<Wrap>b__0()
   at System.Web.Mvc.HttpHandlerUtil.ServerExecuteHttpHandlerWrapper.Wrap[TResult](Func`1 func)
   at System.Web.Mvc.HttpHandlerUtil.ServerExecuteHttpHandlerWrapper.Wrap(Action action)
   at System.Web.Mvc.HttpHandlerUtil.ServerExecuteHttpHandlerAsyncWrapper.EndProcessRequest(IAsyncResult result)
   at System.Web.HttpServerUtility.ExecuteInternal(IHttpHandler handler, TextWriter writer, Boolean preserveForm, Boolean setPreviousPage, VirtualPath path, VirtualPath filePath, String physPath, Exception error, String queryStringOverride)
   at System.Web.HttpServerUtility.ExecuteInternal(IHttpHandler handler, TextWriter writer, Boolean preserveForm, Boolean setPreviousPage, VirtualPath path, VirtualPath filePath, String physPath, Exception error, String queryStringOverride)
   at System.Web.HttpServerUtility.Execute(IHttpHandler handler, TextWriter writer, Boolean preserveForm, Boolean setPreviousPage)
   at System.Web.HttpServerUtility.Execute(IHttpHandler handler, TextWriter writer, Boolean preserveForm)
   at System.Web.HttpServerUtilityWrapper.Execute(IHttpHandler handler, TextWriter writer, Boolean preserveForm)
   at System.Web.Mvc.Html.ChildActionExtensions.ActionHelper(HtmlHelper htmlHelper, String actionName, String controllerName, RouteValueDictionary routeValues, TextWriter textWriter)
   at System.Web.Mvc.Html.ChildActionExtensions.Action(HtmlHelper htmlHelper, String actionName, String controllerName, RouteValueDictionary routeValues)
   at Our.Umbraco.DocTypeGridEditor.Web.Extensions.HtmlHelperExtensions.RenderDocTypeGridEditorItem(HtmlHelper helper, IPublishedElement content, String editorAlias, String viewPath, String previewViewPath, Boolean isPreview)
   at ASP._Page_app_plugins_doctypegrideditor_render_DocTypeGridEditor_cshtml.Execute()
   at System.Web.WebPages.WebPageBase.ExecutePageHierarchy()
   at System.Web.Mvc.WebViewPage.ExecutePageHierarchy()
   at System.Web.WebPages.WebPageBase.ExecutePageHierarchy(WebPageContext pageContext, TextWriter writer, WebPageRenderingBase startPage)
   at System.Web.Mvc.RazorView.RenderView(ViewContext viewContext, TextWriter writer, Object instance)
   at System.Web.Mvc.BuildManagerCompiledView.Render(ViewContext viewContext, TextWriter writer)
   at Umbraco.Web.Mvc.ProfilingView.Render(ViewContext viewContext, TextWriter writer) in D:\a\1\s\src\Umbraco.Web\Mvc\ProfilingView.cs:line 25
   at System.Web.Mvc.HtmlHelper.RenderPartialInternal(String partialViewName, ViewDataDictionary viewData, Object model, TextWriter writer, ViewEngineCollection viewEngineCollection)
   at System.Web.Mvc.Html.PartialExtensions.Partial(HtmlHelper htmlHelper, String partialViewName, Object model, ViewDataDictionary viewData)
   at System.Web.Mvc.Html.PartialExtensions.Partial(HtmlHelper htmlHelper, String partialViewName, Object model)
   at ASP._Page_Views_Partials_grid_editors_Base_cshtml.Execute()