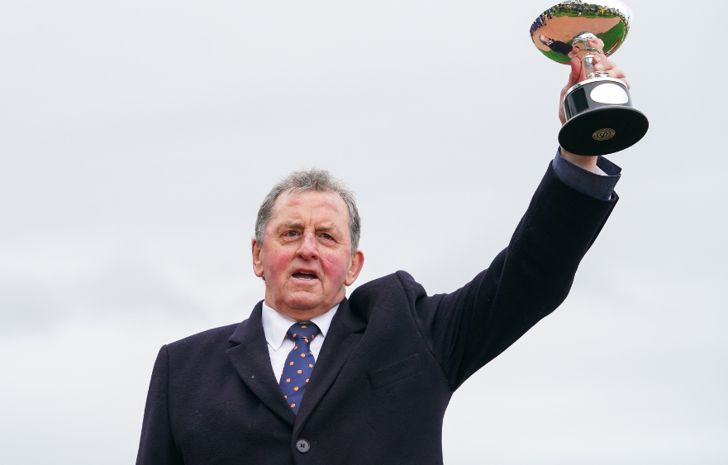 A Derby win to remember
20 October 2023
•
Written by
Michael Lynch
Denis Pagan had a dream come true when his horse Johnny Get Angry won the 2020 Penfolds Victoria Derby. No racing fan can forget the emotional scenes when the trainer and jockey Lachie King took out one of Australia's great races. Two years later, the gelding was retired to Living Legends, where he has settled happily into a new home and a new career.
Success in one sporting sphere doesn't guarantee that you will be a winner in another.
But the determination, planning, painstaking attention to detail and empathy with elite athletes – key qualities required to become an AFL premiership coach – are a strong platform for transitioning from one "game" to another.
And Denis Pagan, the premiership-winning former North Melbourne mentor has certainly shown that neither age nor a late switch in professions is any barrier to success in the ultra-competitive world of racing.
Pagan "lived the dream" when he won the $1 million Penfolds Victoria Derby with his fan favourite Johnny Get Angry in 2020.
After the excitement and emotion had settled following his Derby triumph, however, Pagan decided to spell the horse for several months. In so doing he missed the chance to run in multi-million dollar derbies in Sydney, Adelaide and Brisbane, but the trainer was optimistic. His high regard for the young stayer made it an easy decision not to run him in the autumn, to allow him time to develop with spring 2021 in mind.
However, the gelding struggled to find form after his stunning Derby win, and has been retired after two starts in 2022.
He now enjoys a post-racing life and career at Living Legends, amongst many other champions, including fellow Victoria Derby winner, Efficient, who won the prestigious staying event in 2006. 
Living Legends CEO Andrew Clarke and the team love having him as part of the Living Legends family, describing him as very gentle who enjoys attention from his carers and visitors and loves hanging out with his paddock mates. His sweet nature makes him easy to handle and work with. 
"Johnny is our biggest kid on the block and is both our tallest and youngest. He shares a paddock with Santa Ana Lane, Tom Melbourne, Pakistan Star and Behemoth," said Clarke. 
"Johnny is the boss of the paddock, except when it comes to his bestie Pakistan Star. Johnny is also one of our Legends Under Saddle. He came with a message from Denis Pagan that he "…jumps like a buck…" and that is what we've seen here, a showjumper in the making."
Enjoy this clip of Johnny Get Angry (aka. Johnny), Prince of Penzance (aka. POP) and Behemoth (Bear) galloping with pure joy in the warm winter sun. In the far paddock, you'll see Santa Ana Lane (aka. Santa), Tom Melbourne (aka. Tom) and Pakistan Star (aka. Stan) getting in on the action.