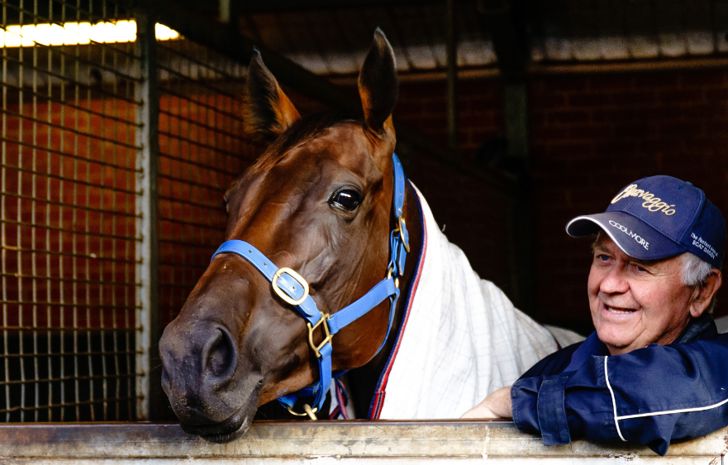 A dream come true for Ken Kelso
5 July 2023
•
Written by
Danny Russell
From a Kiwi stable of just a dozen horses, trainers Bev and Ken Kelso have produced the 2023 Australian Guineas winner, Legarto, making history as the first New Zealand-trained horse to take out the top honours.
They told Ken Kelso he was coming to Australia to run second.
"You won't beat Jacquinot in the Australian Guineas" the naysayers and so-called experts said.
But Kelso thought otherwise. The no nonsense, straight-shooting Kiwi trainer was quietly confident his horse could prove them wrong.
He and his co-trainer wife, Bev Kelso, had a lot of faith in Legarto.
They had seen the Proisir filly do things at home that no other horse had done in their 45-year training partnership. She could finish a race like a runaway train. But sometimes even trains can hit dead ends.
In the home straight, the Kelsos would have happily settled for second – or even third. "It looked like we were getting held up and we were only going to run fourth, fifth or sixth," Kelso recalls.
"I remember my wife screaming at the TV in the trainer's room at Flemington: 'run third, run third', which, obviously, was for us to try and get some black type." By the 200m mark of the 1600m Group 1 Guineas, Attrition had hit the front and Legarto was still waiting for clear room – she was spotting the leader two lengths and was only just beginning to start a run.
The naysayers and so-called experts appeared to be right: she was never going to win. Even history was against her – no Kiwi-trained galloper had ever saluted in the Australian Guineas.
Then Legarto unleashed something special. Jockey Michael Dee was able to navigate his way out from behind Japanese Emperor and then let the runaway train loose.
Incredibly, Legarto passed Attrition in the shadows of the post. Japanese Emperor finished second and Jacquinot crossed the line in sixth.
Kelso was right: Legarto could do things other horses could not do. "The way she picked herself up in that last 100m, it was really outstanding," Kelso said. "I was stunned. I said to the TV presenter, I think it was Bruce McAvaney, 'Can you pinch me to make sure I'm not dreaming?'."
Kelso was far from dreaming. He had witnessed his filly make history – the first New Zealand-trained galloper to win the race, and the first Group 1 victory in Australia for the husband and wife team.
Even months later, the significance of the achievement is not lost on the Kiwi pair. "I think what hit home to me about the importance of the race was when someone posted on a website all the winners of the race, and I think I counted something like 17 or 18 stallions – horses of the calibre of Zabeel and Pins," Kelso said.
The Kelsos seemed destined to train Legarto, just as Philip Brown seemed destined to own her.
They had already been racing Levante with great success. So much so that Brown, the owner of Ancroft Stud in Matamata, was determined to buy and race another Proisir filly. "We had Levante, she was our first Proisir mare," Kelso explained.
"She was such an outstanding mare with great temperament and great ability. So we thought we'd go back and look for another one and that's where we found Legarto. So, we were quite lucky."
Kelso might be overplaying their luck and underplaying their ability to pinpoint a standout yearling.
The pair had traveled to the Karaka Sales in 2021 with two Proisir fillies in mind. Their first choice turned out to be Prowess in "book 1", but they didn't have the buying power to match fellow Kiwi trainer Roger James.
James bought her for $230,000 and in March this year she won the Group 1 Vinery Stud Stakes (2000m) at Rosehill.
Their second choice was Legarto in "book 2". They bought her for $90,000 and split the ownership between eight couples – the Kelsos took a 10% share.
It was not long before they knew they had something special.
"I think it was when she went to the Soliloquy Stakes (1400m) at Te Rapa (in October last year), which was a Group 3, and she won it by three lengths – Prowess (3rd) was in that race as well," Kelso explains.
"She won it with so much authority and I turned to Philip Brown who was sitting beside me, and I said, 'it's hard to believe, but lightning might have struck twice'. And he said: "I think it just has'. Obviously, we were referring to Levante.
"So that was when we thought, 'gee, this thing might be something special'. And, of course, her next start after that was at Riccarton when she won the Thousand Guineas, the Group 1."
The Kelsos were heavily involved in the show jumping scene during the 1970s and almost stumbled into training because of Bev's success with a struggling,
second-hand horse.
At the time, Ken was working in the civil engineering department of a hydroelectric scheme, while Bev "pre-trained the odd racehorse".
"She got offered a horse to train that hadn't done very well in the stable," Kelso explained. "She didn't have a license, so the owner said, 'go and get one'. That horse won at its second start for Bev. In 1977."
Buoyed by the success, Ken Kelso obtained his training license 12 months later. In 1979 they bought their existing 10-acre property, complete with stables, at Matamata – about two hours south of Auckland on New Zealand's North Island. The pair are now in their mid-70s, employ between one and two full-time staff,
and train a dozen horses at any one time.
"It works because we both love horses," Kelso said.
"We are both hands-on. It is pretty hard to work together, too, at times, but we both complement each other. Bev's got a very good eye for detail.
"At times you think it's getting tough but then you get a horse like Legarto or Levante, and you keep going."
The Kelsos have won 13 Group 1 races in New Zealand and now one in Australia. He insists there are no secrets to their success.
"Let's face it, training is not rocket science," Kelso said down the phone from New Zealand.
"I don't care who it is – no one can make a slow one go faster. I think it's attention to detail. Horsemanship, that's all it is."
Legarto's historic victory in the Australian Guineas was her sixth win from seven starts and pushed her prize money over the $1 million mark.
Straight after the Flemington race she was flown home and sent to a spelling paddock at Brown's Ancroft Stud in anticipation of the coming spring.
"The intention was to give her a six-to eight-week spell. We don't believe in letting them get too fat," Kelso said.
"We will get her boxed up and then make a plan on what we will do in spring."
Options include the $10 million Golden Eagle at Rosehill or the $5 million Cox Plate at Moonee Valley.
"Philip Brown has bred a Cox Plate winner (El Segundo), so he would love to win a Cox Plate," Kelso said.
"Whether she is a Cox Plate type of horse, I don't know, but we've got so many options."