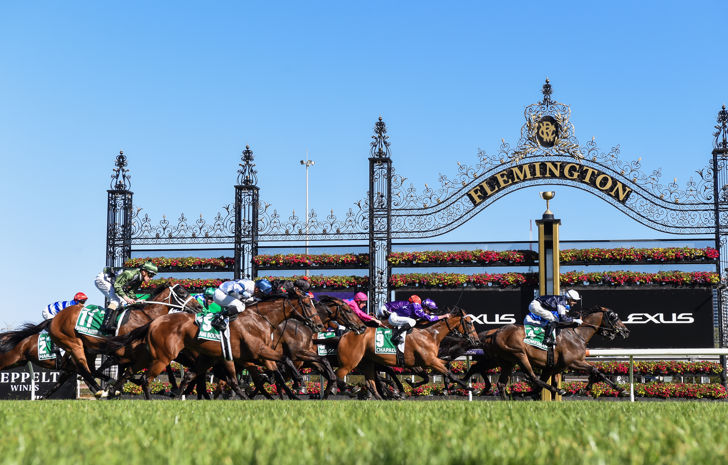 A fairy tale finish
9 March 2022
•
Written by
Michael Manley
Twelve months on from now-retired Homesman's emotional win in the 2021 Australian Cup, owner Nick Williams reflects on the first anniversary of losing his great friend, Michael Gudinsksi, and why the victory was just so special.
Nick Williams put it aptly when he said racing had a happy knack of delivering wins at the right moments.
Williams was reflecting recently on the gallant win by Homesman in last year's TAB Australian Cup which carried with it an outpouring of emotions due to the sudden passing of one his part-owners Michael Gudinski at the age of 68, five days before the race.
Gudinski was Australia's most successful music promoter who founded Mushroom records and was pivotal to the careers of local music icons such as Kylie Minogue, Jimmy Barnes, Skyhooks as well as English superstar, Ed Sheeran.
Williams, also a part-owner of Homesman said such was racing's way that they should have expected a victory, as Hall Of Fame trainer Lee Freedman pointed out to him in a congratulatory phone call the day after the win.
"Racing has this uncanny habit of delivering those fairy tales," Williams said.
"It's extraordinary how racing delivers in these moments. I think Homesman was around 20-1. I was talking to Lee Freedman the day after the race and he said he was a certainty as it just always happens. You think about it, it's true."
Two high-profile moments come to mind that back up that assertion. They are Damien Oliver's victory on Media Puzzle in the 2002 Melbourne Cup in a week in which his brother Jason had died from injuries incurred in a race fall.
And in 2009 Craig Newitt came a close second in the Futurity Stakes just hours after discovering his father had been killed in a car accident. He then won the Australian Guineas just a week later on Heart Of Dreams in an emotional victory.
The style of Homesman's win in the Australian Cup also seemed to suggest that there were greater powers in play.
Homesman sat wide for the last 1000 metres and even when he joined the leaders with 300 metres to go, the logical thought was that he would tire.
"It was amazing. About the 300-metre mark it looked as if he had peaked. Even Jye (McNeil, jockey) said after the race it seemed as if he had an angel on his shoulders giving him a push along. He toughed it out … he didn't have the easiest run in the race," Williams said.
"But what he did, he got into a rhythm. He's a tough old horse, Homesman – that was his pet distance. Anthony (Freedman) had him perfect on the day. He just kept on finding."
Williams said the win gave Gudinski's family and friends some much-needed respite during a tough week.
"It was a dreadful week for the Gudinski family and all of us who were close to Michael. The win provided a couple of minutes of light in an otherwise terrible week.
"Michael's son Matt came and led the horse in and was delivered the trophy. Michael would have been ecstatic," he said.
"It certainly was one of the most emotional times I've ever had on a racecourse. It's not often you go through a situation like that with one of your close friends. I was pleased he won for Michael, he won for his family, and he won for all of us.
"That first weekend in March will be something that will be etched in my memory for life," Williams said.
"He was a terrific friend. Our families were immensely close. We travelled the world together a number of times, we holidayed together, a day never went by when we weren't having contact in some shape or form. He's left a huge hole in my life – he was an amazing man.
"We had some amazing times together – I can continue to have some good times with his family, [but] we all miss his irreplaceable presence.
"Matt, Sue (Gudinski's wife), Kate (Gudinski's daughter) and I and the partners and so forth, our families are thick as thieves. There's not too many days go by when we are not in contact."
Williams also lauded racing commentator Matt Hill for capturing the moment as Homesman hit the line, narrowly defying Best Of Days: "With the music man cheering above!"
"Matt Hill's call was a gem. I don't know how he can come up with those lines, but he always does and he times them so perfectly. He's the best caller in Australia, the world, maybe the best we've had."
Homesman was purchased by Team Williams from America as a three-year-old and gave Lloyd Williams his seventh win in the race.
Now an eight-year-old gelding, Homesman was retired after he finished ninth in the Mackinnon Stakes last November.
"He is now at Macedon Lodge. He's a beautiful horse. He's amazing, and anyone who had anything to do with him in any capacity has asked whether he can spend his retirement with them.
"He could have 16 different homes. We'll work that out, but he's going to make a fantastic riding horse for someone. We'll make sure he is in the right hands for a thoroughly enjoyable retirement."
Williams said racegoers could expect the blue-and-white colours of Team Williams to be to the fore again in races shortly.
"We've got a bunch of younger horses that will start to appear over the autumn.
"I wish Homesman was there to defend his crown. Regardless, we will all be thinking of Michael when this year's Australian Cup is run."
System.Web.HttpException (0x80004005): Error executing child request for handler 'System.Web.Mvc.HttpHandlerUtil+ServerExecuteHttpHandlerAsyncWrapper'. ---> System.NullReferenceException: Object reference not set to an instance of an object.
   at ASP._Page_Views_Partials_googleAd_cshtml.Execute()
   at System.Web.WebPages.WebPageBase.ExecutePageHierarchy()
   at System.Web.Mvc.WebViewPage.ExecutePageHierarchy()
   at System.Web.WebPages.WebPageBase.ExecutePageHierarchy(WebPageContext pageContext, TextWriter writer, WebPageRenderingBase startPage)
   at System.Web.Mvc.RazorView.RenderView(ViewContext viewContext, TextWriter writer, Object instance)
   at System.Web.Mvc.BuildManagerCompiledView.Render(ViewContext viewContext, TextWriter writer)
   at Umbraco.Web.Mvc.ProfilingView.Render(ViewContext viewContext, TextWriter writer) in D:\a\1\s\src\Umbraco.Web\Mvc\ProfilingView.cs:line 25
   at System.Web.Mvc.ViewResultBase.ExecuteResult(ControllerContext context)
   at System.Web.Mvc.ControllerActionInvoker.InvokeActionResult(ControllerContext controllerContext, ActionResult actionResult)
   at System.Web.Mvc.ControllerActionInvoker.InvokeActionResultFilterRecursive(IList`1 filters, Int32 filterIndex, ResultExecutingContext preContext, ControllerContext controllerContext, ActionResult actionResult)
   at System.Web.Mvc.ControllerActionInvoker.InvokeActionResultFilterRecursive(IList`1 filters, Int32 filterIndex, ResultExecutingContext preContext, ControllerContext controllerContext, ActionResult actionResult)
   at System.Web.Mvc.ControllerActionInvoker.InvokeActionResultFilterRecursive(IList`1 filters, Int32 filterIndex, ResultExecutingContext preContext, ControllerContext controllerContext, ActionResult actionResult)
   at System.Web.Mvc.ControllerActionInvoker.InvokeActionResultFilterRecursive(IList`1 filters, Int32 filterIndex, ResultExecutingContext preContext, ControllerContext controllerContext, ActionResult actionResult)
   at System.Web.Mvc.ControllerActionInvoker.InvokeActionResultFilterRecursive(IList`1 filters, Int32 filterIndex, ResultExecutingContext preContext, ControllerContext controllerContext, ActionResult actionResult)
   at System.Web.Mvc.ControllerActionInvoker.InvokeActionResultWithFilters(ControllerContext controllerContext, IList`1 filters, ActionResult actionResult)
   at System.Web.Mvc.Async.AsyncControllerActionInvoker.<>c__DisplayClass3_6.<BeginInvokeAction>b__4()
   at System.Web.Mvc.Async.AsyncControllerActionInvoker.<>c__DisplayClass3_1.<BeginInvokeAction>b__1(IAsyncResult asyncResult)
   at System.Web.Mvc.Async.AsyncResultWrapper.WrappedAsyncResult`1.CallEndDelegate(IAsyncResult asyncResult)
   at System.Web.Mvc.Async.AsyncResultWrapper.WrappedAsyncResultBase`1.End()
   at System.Web.Mvc.Async.AsyncControllerActionInvoker.EndInvokeAction(IAsyncResult asyncResult)
   at System.Web.Mvc.Controller.<>c.<BeginExecuteCore>b__152_1(IAsyncResult asyncResult, ExecuteCoreState innerState)
   at System.Web.Mvc.Async.AsyncResultWrapper.WrappedAsyncVoid`1.CallEndDelegate(IAsyncResult asyncResult)
   at System.Web.Mvc.Async.AsyncResultWrapper.WrappedAsyncResultBase`1.End()
   at System.Web.Mvc.Controller.EndExecuteCore(IAsyncResult asyncResult)
   at System.Web.Mvc.Controller.<>c.<BeginExecute>b__151_2(IAsyncResult asyncResult, Controller controller)
   at System.Web.Mvc.Async.AsyncResultWrapper.WrappedAsyncVoid`1.CallEndDelegate(IAsyncResult asyncResult)
   at System.Web.Mvc.Async.AsyncResultWrapper.WrappedAsyncResultBase`1.End()
   at System.Web.Mvc.Controller.EndExecute(IAsyncResult asyncResult)
   at System.Web.Mvc.Controller.System.Web.Mvc.Async.IAsyncController.EndExecute(IAsyncResult asyncResult)
   at System.Web.Mvc.MvcHandler.<>c.<BeginProcessRequest>b__20_1(IAsyncResult asyncResult, ProcessRequestState innerState)
   at System.Web.Mvc.Async.AsyncResultWrapper.WrappedAsyncVoid`1.CallEndDelegate(IAsyncResult asyncResult)
   at System.Web.Mvc.Async.AsyncResultWrapper.WrappedAsyncResultBase`1.End()
   at System.Web.Mvc.MvcHandler.EndProcessRequest(IAsyncResult asyncResult)
   at System.Web.Mvc.MvcHandler.System.Web.IHttpAsyncHandler.EndProcessRequest(IAsyncResult result)
   at System.Web.Mvc.HttpHandlerUtil.ServerExecuteHttpHandlerAsyncWrapper.<>c__DisplayClass3_0.<EndProcessRequest>b__0()
   at System.Web.Mvc.HttpHandlerUtil.ServerExecuteHttpHandlerWrapper.<>c__DisplayClass5_0.<Wrap>b__0()
   at System.Web.Mvc.HttpHandlerUtil.ServerExecuteHttpHandlerWrapper.Wrap[TResult](Func`1 func)
   at System.Web.Mvc.HttpHandlerUtil.ServerExecuteHttpHandlerWrapper.Wrap(Action action)
   at System.Web.Mvc.HttpHandlerUtil.ServerExecuteHttpHandlerAsyncWrapper.EndProcessRequest(IAsyncResult result)
   at System.Web.HttpServerUtility.ExecuteInternal(IHttpHandler handler, TextWriter writer, Boolean preserveForm, Boolean setPreviousPage, VirtualPath path, VirtualPath filePath, String physPath, Exception error, String queryStringOverride)
   at System.Web.HttpServerUtility.ExecuteInternal(IHttpHandler handler, TextWriter writer, Boolean preserveForm, Boolean setPreviousPage, VirtualPath path, VirtualPath filePath, String physPath, Exception error, String queryStringOverride)
   at System.Web.HttpServerUtility.Execute(IHttpHandler handler, TextWriter writer, Boolean preserveForm, Boolean setPreviousPage)
   at System.Web.HttpServerUtility.Execute(IHttpHandler handler, TextWriter writer, Boolean preserveForm)
   at System.Web.HttpServerUtilityWrapper.Execute(IHttpHandler handler, TextWriter writer, Boolean preserveForm)
   at System.Web.Mvc.Html.ChildActionExtensions.ActionHelper(HtmlHelper htmlHelper, String actionName, String controllerName, RouteValueDictionary routeValues, TextWriter textWriter)
   at System.Web.Mvc.Html.ChildActionExtensions.Action(HtmlHelper htmlHelper, String actionName, String controllerName, RouteValueDictionary routeValues)
   at Our.Umbraco.DocTypeGridEditor.Web.Extensions.HtmlHelperExtensions.RenderDocTypeGridEditorItem(HtmlHelper helper, IPublishedElement content, String editorAlias, String viewPath, String previewViewPath, Boolean isPreview)
   at ASP._Page_app_plugins_doctypegrideditor_render_DocTypeGridEditor_cshtml.Execute()
   at System.Web.WebPages.WebPageBase.ExecutePageHierarchy()
   at System.Web.Mvc.WebViewPage.ExecutePageHierarchy()
   at System.Web.WebPages.WebPageBase.ExecutePageHierarchy(WebPageContext pageContext, TextWriter writer, WebPageRenderingBase startPage)
   at System.Web.Mvc.RazorView.RenderView(ViewContext viewContext, TextWriter writer, Object instance)
   at System.Web.Mvc.BuildManagerCompiledView.Render(ViewContext viewContext, TextWriter writer)
   at Umbraco.Web.Mvc.ProfilingView.Render(ViewContext viewContext, TextWriter writer) in D:\a\1\s\src\Umbraco.Web\Mvc\ProfilingView.cs:line 25
   at System.Web.Mvc.HtmlHelper.RenderPartialInternal(String partialViewName, ViewDataDictionary viewData, Object model, TextWriter writer, ViewEngineCollection viewEngineCollection)
   at System.Web.Mvc.Html.PartialExtensions.Partial(HtmlHelper htmlHelper, String partialViewName, Object model, ViewDataDictionary viewData)
   at System.Web.Mvc.Html.PartialExtensions.Partial(HtmlHelper htmlHelper, String partialViewName, Object model)
   at ASP._Page_Views_Partials_grid_editors_Base_cshtml.Execute()
Next race day