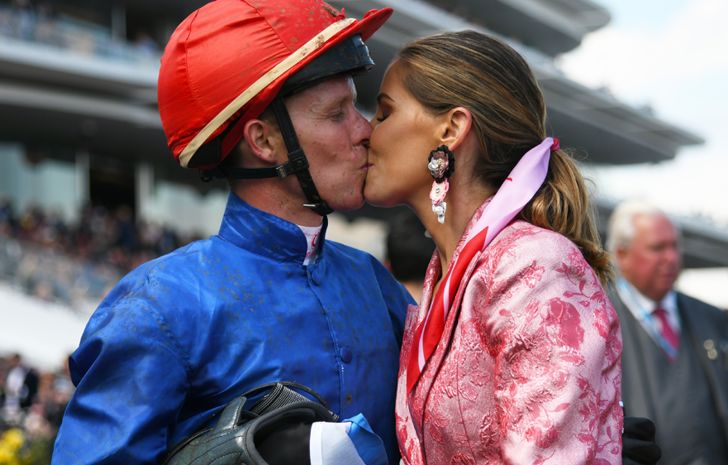 A shared love
24 June 2021
•
Written by
Patrick Bartley
Despite their family ties to the great race, for the children of Kerrin and Cathy McEvoy it is not a Melbourne cup-winning horse that captures their hearts, but a retired racehorse that they call their own.
Just a few hours after the frenetic Sydney morning traffic subsides, you'll often see two former Victorian racehorses weaving their way through beautiful Centennial Park, sometimes playfully indulging in jumping the odd log.
On most mornings, Angelology, who enjoyed much success over the jumps, links up with an imported Flemington winner named Little White Cloud.
Angelology is ridden by Cathy McEvoy (nee Payne) – wife of three-time Melbourne Cup-winning jockey Kerrin McEvoy. Little White Cloud is ridden by Katelyn Mallyon – herself from a racing dynasty and a Group 1-winning rider, these days in the media and the partner of premier Sydney jockey James McDonald.
The story of these two horses – and hundreds like them – is tangible evidence of a successful welfare program that is sweeping Australia.
Ten years ago, after Kerrin's successful stint as number two rider behind Frankie Dettori for the Godolphin racing empire, the couple arrived back in Australia with Cathy pregnant with their second child.
They settled in Sydney after Sheikh Mohammed, the driving force behind Godolphin and principal of Darley Racing and breeding in Australia, appointed Kerrin as his stable jockey for the world-class operation in the southern hemisphere.
While Kerrin had his hands full getting to know the horses, a racing interest for Cathy was timely.
"We didn't know many people when we arrived back in Sydney. We'd been away for a while but then (Cathy's brother) Paddy rang me and offered me a share in a young horse called Angelology, which my older sister Maree (living in Hong Kong) was going to go in as well," Cathy said.
"Angelology won 22 races and I always knew that, while Paddy trained the horse, he also had a very soft spot for him. So, it was no surprise that one morning, he rang me and said I'd like you to take him to Sydney with you.
"He said there was probably a little bit more left in him but he decided that he'd been such a good horse to us that he would call it quits and let him enjoy his retirement," she said.
Angelology arrived in the Harbour City and was stabled at Centennial Parklands, where some of the nation's most gifted show horses are housed. The Equestrian Centre at Centennial Parklands, located just minutes from Sydney's CBD, provides accommodation for hundreds of horses, comprising riding school and privately owned. Pony rides and riding lessons are provided at the site, and facilities include three arenas, a covered lunge yard, stables, wash bay facilities, sand rolls and onsite float parking.
Cathy recalled the first day she and her four children Charlie (11), Jake (10), Rhys (7) and Eva (3), were going to see Angelology for the first time.
"Horses like Angelogy have been given a second chance, but it also gives families like ours the chance to have a common bond.Something we look forward to. Something we share"
"It was extraordinary. Paddy had said that Angelology had a beautiful temperament and he wasn't wrong," Cathy recalled.
"The whole family crowded into his stall and the kids slowly and tentatively began to pat him, and he responded by not flinching a muscle. From that day the kids grew to love him.
"We've even got a film of Rhys sitting on his back singing a song about how much he loved Angelology and the horse turns around as if to give his nod of approval.
"Horses like Angelology have been given a second chance, but it also gives families like ours the chance to have a common bond. Something we look forward to. Something we share. Something we talk about all week," she said.
"Kerrin might come home from Rosehill disappointed that he'd made a mistake in a race that afternoon. We look at it together and he may well have made an error, but we discuss it and forget it and won't let that ruin our Sunday with the horses."
The introduction of Angelology to the McEvoy family has now seen three more ponies added to the Centennial Park stables.
"They have differing interests. Charlie and Jake love their sport and we'll often go out for a ride just the three of us, and there's Rhys who claimed at three years of age that he was born to be a jockey and is now a walking encyclopedia on racing, but we're doing it together which is the important thing."
Cathy's family, the famous Payne clan, has a unique family bond, forged from tragedy but strengthened through love, determination, and resolve. Some three decades ago, Cathy's mother Mary Payne died in a car accident. There were 10 children altogether, with eventual Cup-winning jockey, sister Michelle, only a baby.
At that time, it was generally accepted that single fathers were in no position to take care of their children – let alone a baby and a family of 10. It had even been suggested that the children be split into three groups and fostered to new families. However, their father Patrick Payne Senior promised that they would stay together. That they would each have chores and tasks to do, and that as a family unit they would make it through. And that they did – and then some.
Of the 10 children, eight – including Cathy – have ridden professionally and enjoyed varying degrees of success. Cathy joined sisters Bridget [dec.], Therese, Maree, Bernadette, and Michelle riding around Victoria. Her brothers Patrick and Andrew were also outstanding horsemen.
Cathy is not unlike her children, with her passion for show riding being ignited largely by the presence of Angelology.
The former Victorian is now seriously contemplating a career in the show ring and has already had lessons from Jess Bott, the wife of Adrian Bott, Gai Waterhouse's training partner. But like so many of us, the outbreak of COVID-19 changed everything, and plans had to be redrawn.
"Despite having a lot of lessons, things were put on hold following the lockdown that hit Australia," she said.
"But I still get out to Centennial Park and go for a ride. I've teamed up with Katelyn Mallyon who's riding a former Lloyd Williams horse, Long White Cloud."
Cathy McEvoy and her family have made a life in racing, but the love of the horse doesn't stop for them at the track or after all the races are won. Their devotion to retired racehorses, and in particular Angelology, is proof of their commitment to the equine.