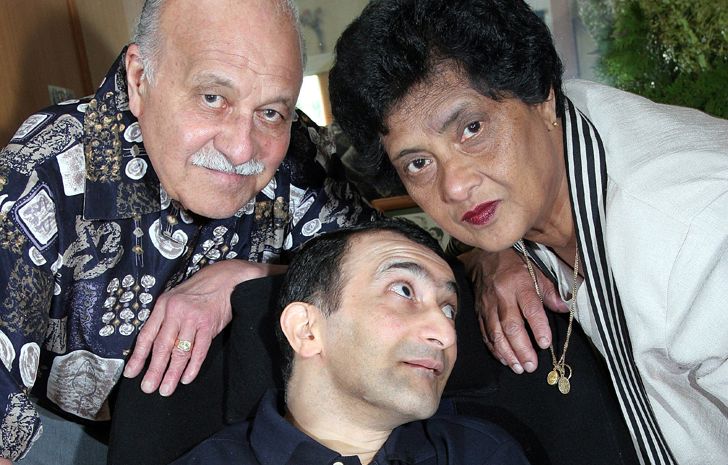 A story of love and dedication
17 May 2022
•
Written by
Michael Sharkie
Following a race fall in the VATC Easter Cup of 1980, beloved jockey Ricky Thurgood sustained a brain injury that would end his career and change life as he and his family knew it. With the love and support of his family and the racing industry, he surpassed all expectations and lived a long and happy life.
When Des O'Keeffe took over the role of Chief Executive of the Victorian Jockeys Association in 2005, he'd heard of Ricky Thurgood but had never met him.
Ricky – born Elvis Thurgood – was something of a Victorian racing legend despite having his last ride in 1980. Sadly, his story was a tragic one rather than a tale of glory.
Thurgood was riding Taras Regent in the Easter Cup at Caulfield when his mount suffered a heart attack, hurling the 21-year-old into the turf.
Earlier that day he had asked champion jockey Roy Higgins for advice on the ride, Higgins having pulled Taras Regent out of a race just a week before feeling all was not right underneath him.
Higgins told the young jockey that the vets had found nothing wrong with the horse, but if he felt anything even slightly unusual, to pull him up immediately. But so sudden was the incident that Thurgood never had the chance to act on that advice.
Suffering catastrophic injuries that left him a quadriplegic and unable to communicate, Thurgood's young life was turned upside down.
It was in 2005 at the Thurgood family home in Caulfield where parents Noel and Doris had cared for their son since his accident, that O'Keeffe first met Ricky.
"I still can't describe it…it is nearly impossible to describe properly," said O'Keeffe.
"The home was basically untouched, a shrine to the 1980s, it was as if time stopped for the family when Ricky had his fall because largely it did. Noel and Doris both quit their jobs to provide round-the-clock care for their son. They prayed for a miracle, they never left his side. Ricky's story is truly extraordinary, the love and care that his family gave is unfathomable."
From the moment Ricky Thurgood left the Alfred Hospital, Noel and Doris cared for their son every moment, from that first day until his last on 20 August 2021 at 62 years of age. An incredible act of selflessness in the face of insurmountable anguish that the family described as "a blessing"; the mere fact that their son had survived a fall that should have taken his life was enough for them.
By default, the Thurgood family became a beacon of kindness and compassion. Noel, Doris and Ricky's siblings Derek and Debbie didn't ask for any recognition other than that a jockey's life was as worthy as any other, and that jockeys and their families deserved a certain standard of care and support in the aftermath of a serious accident.
In his role with the Victorian Jockeys Association, O'Keeffe was charged with providing this support and in his role he had the unenviable task of supporting a number of families through the loss of a loved one, as well as countless incidents of serious injury.
Two months before O'Keeffe took the role, Victorian racing lost young jockeys Adrian Ledger and Gavin Lisk in separate race falls in the space of 24 hours.
The reality of the danger of the profession was all too real and for O'Keeffe, Ricky Thurgood and his family were a benchmark for care.
"When you met Ricky, he'd put his arm out, he'd sort of smile and turn his head towards you. I like to think that he knew that we were there to support him and his family. Those meetings really set the standard in my mind for how jockeys and the families of jockeys who have been seriously injured or tragically lost should be looked after, the industry owes them that," O'Keeffe said.
"And that was his sacrifice. His life forever changed and his parents' incredible love and sacrifice of their own lives, all they asked is that Ricky wasn't forgotten. And I'm proud to say that he wasn't, Ricky was never forgotten."
Ricky Thurgood was apprenticed to champion trainer Angus Armanasco at Caulfield who also showed great compassion over a long period of time to the Thurgood family post accident.
Thurgood was injured in a time that pre-dates modern Work Cover insurances. The Victoria Racing Club and, from 2001, Racing Victoria looked after his care and wellbeing, with former RV Chief Executive Officers Bernard Saundry and Giles Thompson visiting the Thurgoods to assure them that the care would continue.
"It was enormous, and it gave Noel and Doris such relief to know that the entire industry recognised their son and the greater impact that his story had on the sport," O'Keeffe explained.
"I didn't realise the role we could play until I met Ricky. The creation of the Critical Incident Response Protocol became our action plan for serious falls; we wanted to ensure that if a jockey had a serious fall, it didn't matter whether it was Damien Oliver or Joe Bloggs, the standard of care and support would be sustained."
Before his accident, Ricky Thurgood was a young jockey known for his humility and cheeky sense of humour, a bright spark in the lives of those who knew him. Little did he know the lasting impact that his story would have on the sport he loved so much.
The National Jockeys Trust (NJT) was established in 2004 by the AJA, providing appropriate support, financial or otherwise to those jockeys past or present.  
For further information visit njt.org.au
Image caption: Noel and Doris Thurgood with their ex-jockey son Elvis Thurgood (Norm Oorloff/News Limited)
System.Web.HttpException (0x80004005): Error executing child request for handler 'System.Web.Mvc.HttpHandlerUtil+ServerExecuteHttpHandlerAsyncWrapper'. ---> System.NullReferenceException: Object reference not set to an instance of an object.
   at ASP._Page_Views_Partials_googleAd_cshtml.Execute() in C:\home\site\wwwroot\Views\Partials\googleAd.cshtml:line 4
   at System.Web.WebPages.WebPageBase.ExecutePageHierarchy()
   at System.Web.Mvc.WebViewPage.ExecutePageHierarchy()
   at System.Web.WebPages.WebPageBase.ExecutePageHierarchy(WebPageContext pageContext, TextWriter writer, WebPageRenderingBase startPage)
   at System.Web.Mvc.RazorView.RenderView(ViewContext viewContext, TextWriter writer, Object instance)
   at System.Web.Mvc.BuildManagerCompiledView.Render(ViewContext viewContext, TextWriter writer)
   at Umbraco.Web.Mvc.ProfilingView.Render(ViewContext viewContext, TextWriter writer) in D:\a\1\s\src\Umbraco.Web\Mvc\ProfilingView.cs:line 25
   at System.Web.Mvc.ViewResultBase.ExecuteResult(ControllerContext context)
   at System.Web.Mvc.ControllerActionInvoker.InvokeActionResult(ControllerContext controllerContext, ActionResult actionResult)
   at System.Web.Mvc.ControllerActionInvoker.InvokeActionResultFilterRecursive(IList`1 filters, Int32 filterIndex, ResultExecutingContext preContext, ControllerContext controllerContext, ActionResult actionResult)
   at System.Web.Mvc.ControllerActionInvoker.InvokeActionResultFilterRecursive(IList`1 filters, Int32 filterIndex, ResultExecutingContext preContext, ControllerContext controllerContext, ActionResult actionResult)
   at System.Web.Mvc.ControllerActionInvoker.InvokeActionResultFilterRecursive(IList`1 filters, Int32 filterIndex, ResultExecutingContext preContext, ControllerContext controllerContext, ActionResult actionResult)
   at System.Web.Mvc.ControllerActionInvoker.InvokeActionResultFilterRecursive(IList`1 filters, Int32 filterIndex, ResultExecutingContext preContext, ControllerContext controllerContext, ActionResult actionResult)
   at System.Web.Mvc.ControllerActionInvoker.InvokeActionResultFilterRecursive(IList`1 filters, Int32 filterIndex, ResultExecutingContext preContext, ControllerContext controllerContext, ActionResult actionResult)
   at System.Web.Mvc.ControllerActionInvoker.InvokeActionResultWithFilters(ControllerContext controllerContext, IList`1 filters, ActionResult actionResult)
   at System.Web.Mvc.Async.AsyncControllerActionInvoker.<>c__DisplayClass3_6.<BeginInvokeAction>b__4()
   at System.Web.Mvc.Async.AsyncControllerActionInvoker.<>c__DisplayClass3_1.<BeginInvokeAction>b__1(IAsyncResult asyncResult)
   at System.Web.Mvc.Async.AsyncResultWrapper.WrappedAsyncResult`1.CallEndDelegate(IAsyncResult asyncResult)
   at System.Web.Mvc.Async.AsyncResultWrapper.WrappedAsyncResultBase`1.End()
   at System.Web.Mvc.Async.AsyncControllerActionInvoker.EndInvokeAction(IAsyncResult asyncResult)
   at System.Web.Mvc.Controller.<>c.<BeginExecuteCore>b__152_1(IAsyncResult asyncResult, ExecuteCoreState innerState)
   at System.Web.Mvc.Async.AsyncResultWrapper.WrappedAsyncVoid`1.CallEndDelegate(IAsyncResult asyncResult)
   at System.Web.Mvc.Async.AsyncResultWrapper.WrappedAsyncResultBase`1.End()
   at System.Web.Mvc.Controller.EndExecuteCore(IAsyncResult asyncResult)
   at System.Web.Mvc.Controller.<>c.<BeginExecute>b__151_2(IAsyncResult asyncResult, Controller controller)
   at System.Web.Mvc.Async.AsyncResultWrapper.WrappedAsyncVoid`1.CallEndDelegate(IAsyncResult asyncResult)
   at System.Web.Mvc.Async.AsyncResultWrapper.WrappedAsyncResultBase`1.End()
   at System.Web.Mvc.Controller.EndExecute(IAsyncResult asyncResult)
   at System.Web.Mvc.Controller.System.Web.Mvc.Async.IAsyncController.EndExecute(IAsyncResult asyncResult)
   at System.Web.Mvc.MvcHandler.<>c.<BeginProcessRequest>b__20_1(IAsyncResult asyncResult, ProcessRequestState innerState)
   at System.Web.Mvc.Async.AsyncResultWrapper.WrappedAsyncVoid`1.CallEndDelegate(IAsyncResult asyncResult)
   at System.Web.Mvc.Async.AsyncResultWrapper.WrappedAsyncResultBase`1.End()
   at System.Web.Mvc.MvcHandler.EndProcessRequest(IAsyncResult asyncResult)
   at System.Web.Mvc.MvcHandler.System.Web.IHttpAsyncHandler.EndProcessRequest(IAsyncResult result)
   at System.Web.Mvc.HttpHandlerUtil.ServerExecuteHttpHandlerAsyncWrapper.<>c__DisplayClass3_0.<EndProcessRequest>b__0()
   at System.Web.Mvc.HttpHandlerUtil.ServerExecuteHttpHandlerWrapper.<>c__DisplayClass5_0.<Wrap>b__0()
   at System.Web.Mvc.HttpHandlerUtil.ServerExecuteHttpHandlerWrapper.Wrap[TResult](Func`1 func)
   at System.Web.Mvc.HttpHandlerUtil.ServerExecuteHttpHandlerWrapper.Wrap(Action action)
   at System.Web.Mvc.HttpHandlerUtil.ServerExecuteHttpHandlerAsyncWrapper.EndProcessRequest(IAsyncResult result)
   at System.Web.HttpServerUtility.ExecuteInternal(IHttpHandler handler, TextWriter writer, Boolean preserveForm, Boolean setPreviousPage, VirtualPath path, VirtualPath filePath, String physPath, Exception error, String queryStringOverride)
   at System.Web.HttpServerUtility.ExecuteInternal(IHttpHandler handler, TextWriter writer, Boolean preserveForm, Boolean setPreviousPage, VirtualPath path, VirtualPath filePath, String physPath, Exception error, String queryStringOverride)
   at System.Web.HttpServerUtility.Execute(IHttpHandler handler, TextWriter writer, Boolean preserveForm, Boolean setPreviousPage)
   at System.Web.HttpServerUtility.Execute(IHttpHandler handler, TextWriter writer, Boolean preserveForm)
   at System.Web.HttpServerUtilityWrapper.Execute(IHttpHandler handler, TextWriter writer, Boolean preserveForm)
   at System.Web.Mvc.Html.ChildActionExtensions.ActionHelper(HtmlHelper htmlHelper, String actionName, String controllerName, RouteValueDictionary routeValues, TextWriter textWriter)
   at System.Web.Mvc.Html.ChildActionExtensions.Action(HtmlHelper htmlHelper, String actionName, String controllerName, RouteValueDictionary routeValues)
   at Our.Umbraco.DocTypeGridEditor.Web.Extensions.HtmlHelperExtensions.RenderDocTypeGridEditorItem(HtmlHelper helper, IPublishedElement content, String editorAlias, String viewPath, String previewViewPath, Boolean isPreview)
   at ASP._Page_app_plugins_doctypegrideditor_render_DocTypeGridEditor_cshtml.Execute() in C:\home\site\wwwroot\app_plugins\doctypegrideditor\render\DocTypeGridEditor.cshtml:line 34
   at System.Web.WebPages.WebPageBase.ExecutePageHierarchy()
   at System.Web.Mvc.WebViewPage.ExecutePageHierarchy()
   at System.Web.WebPages.WebPageBase.ExecutePageHierarchy(WebPageContext pageContext, TextWriter writer, WebPageRenderingBase startPage)
   at System.Web.Mvc.RazorView.RenderView(ViewContext viewContext, TextWriter writer, Object instance)
   at System.Web.Mvc.BuildManagerCompiledView.Render(ViewContext viewContext, TextWriter writer)
   at Umbraco.Web.Mvc.ProfilingView.Render(ViewContext viewContext, TextWriter writer) in D:\a\1\s\src\Umbraco.Web\Mvc\ProfilingView.cs:line 25
   at System.Web.Mvc.HtmlHelper.RenderPartialInternal(String partialViewName, ViewDataDictionary viewData, Object model, TextWriter writer, ViewEngineCollection viewEngineCollection)
   at System.Web.Mvc.Html.PartialExtensions.Partial(HtmlHelper htmlHelper, String partialViewName, Object model, ViewDataDictionary viewData)
   at System.Web.Mvc.Html.PartialExtensions.Partial(HtmlHelper htmlHelper, String partialViewName, Object model)
   at ASP._Page_Views_Partials_grid_editors_Base_cshtml.Execute() in C:\home\site\wwwroot\Views\Partials\grid\editors\Base.cshtml:line 20