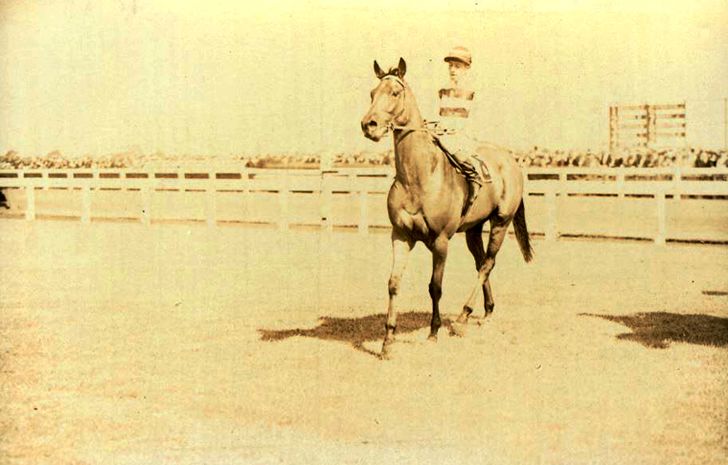 Aurie's Star – Hero of the Straight Six
2 August 2023
•
Written by
Andrew Lemon
Flemington's famous "Straight Six" track – home to the historic Group 1s the Yulong Stud Newmarket Handicap, the Coolmore Stud Stakes and the TAB Champions Sprint – is the only straight 1200 metre racetrack in Australia.
Many Australian champion racehorses have found glory up this spectacular course. In recent decades we've seen amazing performances of the unbeaten Black Caviar, superstars Takeover Target, Miss Andretti and Nature Strip, and the brilliant Exceed And Excel.
Going back in time, wins up the Straight Six confirmed the reputations of champions. Vain, Century, Royal Gem, Ajax and the turf legend Bernborough are just a few on a list stretching back to Heroic, Gothic, Wakeful and 1884 Melbourne Cup winner Malua. Phar Lap never raced up the straight course but his great-great-grandsire Carbine did, finishing third in the 1889 Newmarket.
And yet it is little Aurie's Star, a bay gelding bred in South Australia (descended from Carbine), whose name became synonymous with the Straight Six. The VRC honours him annually with this winter sprint. Eighty-three years ago, on 7 September 1940, Aurie's Star as an eight-year-old set a time record that was never broken – and never will be.
For the next three decades, observant racegoers saw the name in their racebooks - Flemington six-furlong course record: Aurie's Star, 1 minute 8¼ seconds.
When Australia replaced imperial measures with metric, this six-furlong course (3/4 mile) was shortened by 7 metres to 1200, the nearest round number.
Mathematicians calculated 'pacesetter times' for all race distances. They converted Aurie's Star's time to 1 minute 7.8 seconds. It was a theoretical number, and even this proved impossible to match.
Eventually, in 1991 Final Card equalled Aurie's Star's pacesetter time. No horse beat it until the spring of 1996 when Gold Ace (his half-brother) ran the 1200 in 1:07.5. Five years later, on New Year's Day 2001, Iglesia set a new benchmark of 1:07.16. And – shades of Aurie's Star – Iglesia's dazzling wind-assisted time has remained unbroken for more than twenty years.
Unless the VRC ever holds races over 1207 metres, Aurie's Star's "Straight Six" record will remain for eternity. He recorded this time in a bread-and-butter race, the Whittier Handicap, against an undistinguished field. Sceptics declared the timekeeper was mistaken. They said the feat was impossible. Of course, it wasn't.
Norm Creighton rode him that day. He said the horse was 'never off the bit' and that wind was not a factor. Harold Badger, a regular rider of Ajax, said no Newmarket winner would have got near Aurie's Star that day. Most remarkable was the weight he carried – 10 stone 2 pounds. In metrics that is 64.4 kilograms.
Aurie's Star was great by any standards. He won the 1937 VRC Newmarket and was second under a big weight in 1939. He won the Oakleigh Plate twice at Caulfield and Adelaide's Goodwood Handicap. His long career made him a racetrack idol. His final win was as a 12-year-old, after a two-year break, at Morphettville. The crowd cheered throughout the entire race. His owner George Badman retired Aurie's Star to his farm.

AURIE'S STAR – Career Record
Stardrift (GB) - Aurie Anton
Bay Gelding - Foaled in 1932 (Hamley Bridge, SA)
89 Starts - 28 Wins, 12 Seconds, 4 Thirds
Prizemoney £13,678
7 Wins down the Flemington Straight Six
Highest weight he carried to victory 11st 4lb (approximately 71.67kg)
---
THE RACE
The Group 3 Aurie's Star Handicap is an important race on the Victorian Racing Calendar. It more or less signifies the emergence of the spring horses; it is the first Group race of the new racing season.
Over the years the importance of the Aurie's Star Handicap has shifted with changing training regimes and programming for spring horses.
In the old days, it was the race that the great Bart Cummings would use to kick off a number of his stayers heading into a Melbourne Cup preparation. It gave trainers a good opportunity to let their horses sight Flemington in advance of future races and to do so on an excellent straight galloping surface. Hyperno, who won the Cup in 1979, started his long road to the Cup in the Aurie's Star Handicap.
The race did get its recognition in recent years and was upgraded to Listed status in 2005 and has been a Group 3 since 2010. Prior to 2005, it was the most competitive 1200-metre race run in Victoria with no black type status.
The honour roll is evidently dominated by specialist sprinters, however when you look a little deeper, the race has produced spring contenders, and some future stars.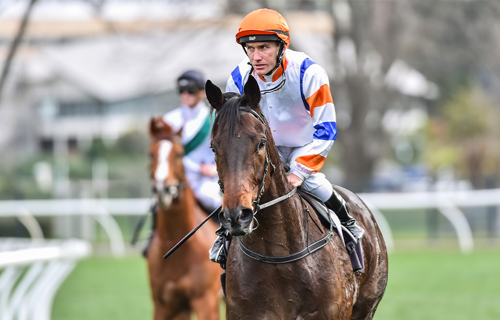 Hey Doc after winning the 2018 Aurie's Star Handicap. (John Donegan/Racing Photos)

Fields Of Omagh won the Aurie's Star Handicap first-up in 2002, going on to place in both the Turnbull Stakes and Caulfield Cup before competing in his first of five Cox Plate attempts, being successful twice, in 2003 and 2006.
Niconero won the race in 2005 at his first start Lindsay Park trainer, David Hayes, who had returned from a training stint in Hong Kong. He won the Group 2 Crystal Mile (1600m) on Cox Plate Day, before capping off a successful spring with a close fourth to Valedictum in the Group 1 Cantala Stakes (now known as the Kennedy Champions Mile).
He would go on to win the 2009 Group 1 Australian Cup at Flemington and finish his racing career as a five-time Group 1 winner.
El Segundo began four of his spring campaigns in the Aurie's Star Handicap, placing three times in 2006, 2007 and 2009, before heading on to loftier heights. He chased home Fields Of Omagh in the 2006 Cox Plate before claiming the race himself a year later.
The 2006 edition was a star-studded affair featuring Flemington Group 1 winners, Apache Cat, Zipping and Valedictum. Zipping's follow-up Flemington runs in the spring included a barnstorming fifth in the Turnbull Stakes before finishing fourth behind the dominant Japanese duo of Delta Blues and Pop Rock in the Melbourne Cup.
Impressive juvenile All American began his spring in the 2009 Aurie's Star Handicap when second to the Greg Eurell-trained Mic Mac down the straight six. He finished third in the 2008 Coolmore Stud Stakes the previous spring but hadn't won a race since claiming the 2008 Group 3 Skyline Stakes as a two-year-old, a traditional lead-up to the Golden Slipper.
That all changed with his upset victory over champion So You Think in the 2009 Cantala Stakes.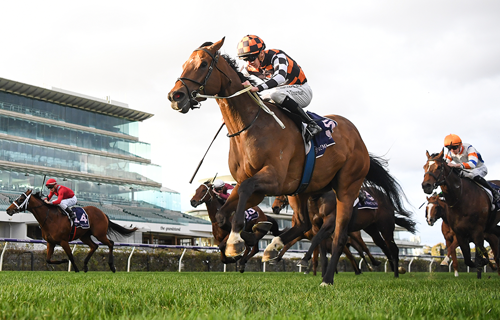 The Astrologist winning the 2021 Aurie's Star Handicap. (Pat Scala/Racing Photos)
Others include 2012 Melbourne Cup hero Green Moon kicked off his Australian racing career in the Aurie's Star Handicap. 2017 Australian Guineas winner Hey Doc returned to win the race before claiming the Group 1 Manikato Stakes at his final run in the spring.
This year's Australian globetrotter, The Astrologist, won the 2021 renewal and has a liking for the Flemington straight. He's taken on the six-furlong course eleven times for two wins, and five placings including a second-placed finish behind Roch 'N' Horse in the 2022 Group 1 Yulong Stud Newmarket Handicap.
System.Web.HttpException (0x80004005): Error executing child request for handler 'System.Web.Mvc.HttpHandlerUtil+ServerExecuteHttpHandlerAsyncWrapper'. ---> System.NullReferenceException: Object reference not set to an instance of an object.
   at ASP._Page_Views_Partials_googleAd_cshtml.Execute()
   at System.Web.WebPages.WebPageBase.ExecutePageHierarchy()
   at System.Web.Mvc.WebViewPage.ExecutePageHierarchy()
   at System.Web.WebPages.WebPageBase.ExecutePageHierarchy(WebPageContext pageContext, TextWriter writer, WebPageRenderingBase startPage)
   at System.Web.Mvc.RazorView.RenderView(ViewContext viewContext, TextWriter writer, Object instance)
   at System.Web.Mvc.BuildManagerCompiledView.Render(ViewContext viewContext, TextWriter writer)
   at Umbraco.Web.Mvc.ProfilingView.Render(ViewContext viewContext, TextWriter writer) in D:\a\1\s\src\Umbraco.Web\Mvc\ProfilingView.cs:line 25
   at System.Web.Mvc.ViewResultBase.ExecuteResult(ControllerContext context)
   at System.Web.Mvc.ControllerActionInvoker.InvokeActionResult(ControllerContext controllerContext, ActionResult actionResult)
   at System.Web.Mvc.ControllerActionInvoker.InvokeActionResultFilterRecursive(IList`1 filters, Int32 filterIndex, ResultExecutingContext preContext, ControllerContext controllerContext, ActionResult actionResult)
   at System.Web.Mvc.ControllerActionInvoker.InvokeActionResultFilterRecursive(IList`1 filters, Int32 filterIndex, ResultExecutingContext preContext, ControllerContext controllerContext, ActionResult actionResult)
   at System.Web.Mvc.ControllerActionInvoker.InvokeActionResultFilterRecursive(IList`1 filters, Int32 filterIndex, ResultExecutingContext preContext, ControllerContext controllerContext, ActionResult actionResult)
   at System.Web.Mvc.ControllerActionInvoker.InvokeActionResultFilterRecursive(IList`1 filters, Int32 filterIndex, ResultExecutingContext preContext, ControllerContext controllerContext, ActionResult actionResult)
   at System.Web.Mvc.ControllerActionInvoker.InvokeActionResultFilterRecursive(IList`1 filters, Int32 filterIndex, ResultExecutingContext preContext, ControllerContext controllerContext, ActionResult actionResult)
   at System.Web.Mvc.ControllerActionInvoker.InvokeActionResultWithFilters(ControllerContext controllerContext, IList`1 filters, ActionResult actionResult)
   at System.Web.Mvc.Async.AsyncControllerActionInvoker.<>c__DisplayClass3_6.<BeginInvokeAction>b__4()
   at System.Web.Mvc.Async.AsyncControllerActionInvoker.<>c__DisplayClass3_1.<BeginInvokeAction>b__1(IAsyncResult asyncResult)
   at System.Web.Mvc.Async.AsyncResultWrapper.WrappedAsyncResult`1.CallEndDelegate(IAsyncResult asyncResult)
   at System.Web.Mvc.Async.AsyncResultWrapper.WrappedAsyncResultBase`1.End()
   at System.Web.Mvc.Async.AsyncControllerActionInvoker.EndInvokeAction(IAsyncResult asyncResult)
   at System.Web.Mvc.Controller.<>c.<BeginExecuteCore>b__152_1(IAsyncResult asyncResult, ExecuteCoreState innerState)
   at System.Web.Mvc.Async.AsyncResultWrapper.WrappedAsyncVoid`1.CallEndDelegate(IAsyncResult asyncResult)
   at System.Web.Mvc.Async.AsyncResultWrapper.WrappedAsyncResultBase`1.End()
   at System.Web.Mvc.Controller.EndExecuteCore(IAsyncResult asyncResult)
   at System.Web.Mvc.Controller.<>c.<BeginExecute>b__151_2(IAsyncResult asyncResult, Controller controller)
   at System.Web.Mvc.Async.AsyncResultWrapper.WrappedAsyncVoid`1.CallEndDelegate(IAsyncResult asyncResult)
   at System.Web.Mvc.Async.AsyncResultWrapper.WrappedAsyncResultBase`1.End()
   at System.Web.Mvc.Controller.EndExecute(IAsyncResult asyncResult)
   at System.Web.Mvc.Controller.System.Web.Mvc.Async.IAsyncController.EndExecute(IAsyncResult asyncResult)
   at System.Web.Mvc.MvcHandler.<>c.<BeginProcessRequest>b__20_1(IAsyncResult asyncResult, ProcessRequestState innerState)
   at System.Web.Mvc.Async.AsyncResultWrapper.WrappedAsyncVoid`1.CallEndDelegate(IAsyncResult asyncResult)
   at System.Web.Mvc.Async.AsyncResultWrapper.WrappedAsyncResultBase`1.End()
   at System.Web.Mvc.MvcHandler.EndProcessRequest(IAsyncResult asyncResult)
   at System.Web.Mvc.MvcHandler.System.Web.IHttpAsyncHandler.EndProcessRequest(IAsyncResult result)
   at System.Web.Mvc.HttpHandlerUtil.ServerExecuteHttpHandlerAsyncWrapper.<>c__DisplayClass3_0.<EndProcessRequest>b__0()
   at System.Web.Mvc.HttpHandlerUtil.ServerExecuteHttpHandlerWrapper.<>c__DisplayClass5_0.<Wrap>b__0()
   at System.Web.Mvc.HttpHandlerUtil.ServerExecuteHttpHandlerWrapper.Wrap[TResult](Func`1 func)
   at System.Web.Mvc.HttpHandlerUtil.ServerExecuteHttpHandlerWrapper.Wrap(Action action)
   at System.Web.Mvc.HttpHandlerUtil.ServerExecuteHttpHandlerAsyncWrapper.EndProcessRequest(IAsyncResult result)
   at System.Web.HttpServerUtility.ExecuteInternal(IHttpHandler handler, TextWriter writer, Boolean preserveForm, Boolean setPreviousPage, VirtualPath path, VirtualPath filePath, String physPath, Exception error, String queryStringOverride)
   at System.Web.HttpServerUtility.ExecuteInternal(IHttpHandler handler, TextWriter writer, Boolean preserveForm, Boolean setPreviousPage, VirtualPath path, VirtualPath filePath, String physPath, Exception error, String queryStringOverride)
   at System.Web.HttpServerUtility.Execute(IHttpHandler handler, TextWriter writer, Boolean preserveForm, Boolean setPreviousPage)
   at System.Web.HttpServerUtility.Execute(IHttpHandler handler, TextWriter writer, Boolean preserveForm)
   at System.Web.HttpServerUtilityWrapper.Execute(IHttpHandler handler, TextWriter writer, Boolean preserveForm)
   at System.Web.Mvc.Html.ChildActionExtensions.ActionHelper(HtmlHelper htmlHelper, String actionName, String controllerName, RouteValueDictionary routeValues, TextWriter textWriter)
   at System.Web.Mvc.Html.ChildActionExtensions.Action(HtmlHelper htmlHelper, String actionName, String controllerName, RouteValueDictionary routeValues)
   at Our.Umbraco.DocTypeGridEditor.Web.Extensions.HtmlHelperExtensions.RenderDocTypeGridEditorItem(HtmlHelper helper, IPublishedElement content, String editorAlias, String viewPath, String previewViewPath, Boolean isPreview)
   at ASP._Page_app_plugins_doctypegrideditor_render_DocTypeGridEditor_cshtml.Execute()
   at System.Web.WebPages.WebPageBase.ExecutePageHierarchy()
   at System.Web.Mvc.WebViewPage.ExecutePageHierarchy()
   at System.Web.WebPages.WebPageBase.ExecutePageHierarchy(WebPageContext pageContext, TextWriter writer, WebPageRenderingBase startPage)
   at System.Web.Mvc.RazorView.RenderView(ViewContext viewContext, TextWriter writer, Object instance)
   at System.Web.Mvc.BuildManagerCompiledView.Render(ViewContext viewContext, TextWriter writer)
   at Umbraco.Web.Mvc.ProfilingView.Render(ViewContext viewContext, TextWriter writer) in D:\a\1\s\src\Umbraco.Web\Mvc\ProfilingView.cs:line 25
   at System.Web.Mvc.HtmlHelper.RenderPartialInternal(String partialViewName, ViewDataDictionary viewData, Object model, TextWriter writer, ViewEngineCollection viewEngineCollection)
   at System.Web.Mvc.Html.PartialExtensions.Partial(HtmlHelper htmlHelper, String partialViewName, Object model, ViewDataDictionary viewData)
   at System.Web.Mvc.Html.PartialExtensions.Partial(HtmlHelper htmlHelper, String partialViewName, Object model)
   at ASP._Page_Views_Partials_grid_editors_Base_cshtml.Execute()