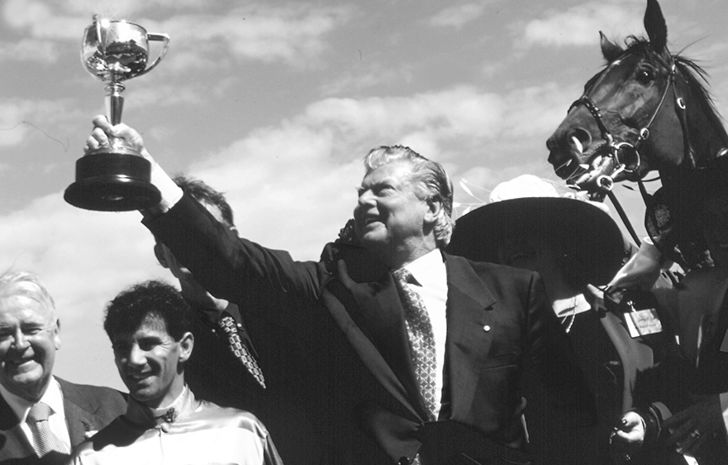 Bart Cummings, AM
25 August 2020
•
Written by
VRC
James Bartholomew Cummings, AM, will be remembered as the greatest trainer Australia has ever seen.
His 268 Group 1 wins included an unparalleled 12 Melbourne Cups, 13 Australian Cups, 11 Mackinnon Stakes, nine VRC Oaks, eight Newmarket Handicaps and five Victoria Derbies.
Horses were his vocation, from the start, and racing was in his blood. An asthmatic, at the age of 16 he was warned by his doctor to stay away from horses but destiny awaited.
Cummings strapped his father's Melbourne Cup winner Comic Court in 1950 and notched his first Cup win of his own in 1965 with Light Fingers. His life and the history of the race were intertwined ever since.
His horsemanship and training achievements were respected and admired by his peers and he transcended racing to capture the hearts and imagination of the Australian public.
He obtained his trainer's licence in 1953 and set up stables in Glenelg. In 1958 he won his first Group 1 race – the South Australian Derby with Stormy Passage. Seven years later he made headlines with his horses Light Fingers and Ziema running first and second respectively in the 1965 Melbourne Cup. It was the beginning of a pattern, and a legend.
The next Melbourne Cup win was with Galilee (1966), then Red Handed (1967), Think Big (1974 and 1975), Gold and Black (1977), Hyperno (1979), Kingston Rule (1990), Let's Elope (1991), Saintly (1996), Rogan Josh (1999) and Viewed (2008). In five of his Melbourne Cup wins he won both first and second places. Cummings truly was the Cups King.
He remained active and trained winners all his life, overcoming challenges and adversities which included business reversals and health problems. His ability to pick and train future champions won him international recognition and honours in his own country.
In 1982, Cummings was appointed a Member of the Order of Australia for his services to the racing industry, and in 1991 he was inducted into the Sport Australia Hall of Fame. In 1997 the National Trust named him a Living Treasure, in 2001 he was inducted into the Australian Racing Hall of Fame and his likeness appeared on an Australia Post stamp as part of its Australian Legends series in 2007.
Cummings died peacefully in his sleep at his home at Princes Farm, Castlereagh on Sunday 30 August, 2015, at age 87.
At the time of his passing he was survived by his wife Valmae, children Margaret, Sharon, Anthony and Anne Marie, and 14 grandchildren including his training partner since 2013, James Cummings.
His passing was marked with great sadness by the Victoria Racing Club and his presence is greatly missed not just at Flemington or by the industry as a whole, but by the nation. We shall not see his like again.