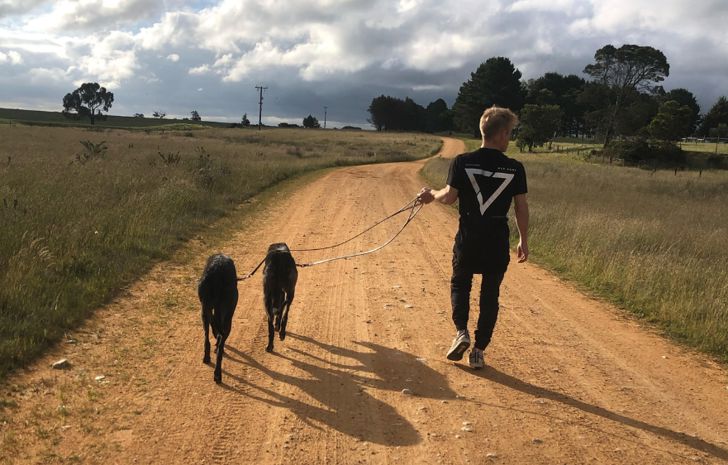 Beyond the track: An inside look into jockeys' lives after race day.
28 March 2023
•
Written by
Michael Sharkie
A job as physically and mentally demanding as a jockey's, coupled with a lot of travelling, means that having other interests outside of work is essential. So, what do some jockeys do after they hop off their last mount for the day?
When it comes to the life of a professional jockey, it's often a matter of when, not if the rigours of a career in the saddle will start to take a mental and physical toll.
The endless early morning starts, the unpredictability of their thoroughbred work mates, the competition for rides and the battle for many to make weight are ever-present factors that come with the job.
Finding an outlet to escape and maintain work-life balance is a must.
Some, like champion hoop Damien Oliver, take respite in the ocean. Oliver is a familiar face in line-ups from Point Leo to Torquay and surfs not only for fun, but as a way to keep his body fit and supple after a long career and numerous injuries.
French native Remi Tremsall turned his hobby kitchen into a thriving boutique business and now sells luxurious French caramel to restaurants and hotels in between racing commitments.
Group 1 winner Dean Yendall's passion for golf has grown to a point that he has applied for a professional golf program that will see him contest the PGA Legends tour in 2024, which should make for some entertaining victory speeches if he happens to win a tournament.
Jarrod Fry loves greyhounds. From the age of 12, he and his brother would hang around Geelong and the Meadows on Friday and Saturday nights and volunteer their services in the catching pen, collecting greyhounds after races and returning them to their trainer.
"It was a great way to make pocket money; we loved dogs and loved being around them. I reckon we caught dogs at the races for three or four years, right up until I moved to Ballarat and started my apprenticeship with Darren Weir when I turned 16," he said.
"Racing took my focus away from the dogs for a few years, but I was always going to get back involved somehow, and breeding my own dogs was always a dream."
That dream was realised thanks to a dog named Rico Bale, which Fry bought from renowned greyhound breeder Paul Wheeler. The plan was to breed a litter or two and enjoy the experience of racing his own stock, but Rico Bale delivered more than her new owner expected.
"She had nine pups in her first litter and six of them won in town. The litter won more than $250,000 so it was an amazing start. That sort of thing doesn't happen all the time," he explained.
"I was hooked again, I'd done the research and planned it all out. When that litter was successful, it really proved that I could do it."
On his property at Haddon, about 10 kilometres west of Ballarat where Fry does the majority of his riding, dogs roam happily while the ones that are of racing age are in work with trainers around the state. His hobby is turning into a little empire.
"The dogs take me away from riding, away from that day-to-day grind, and that's so important for any jockey."
"And having a connection with an animal is such a bonus. The thing that surprised me most about greyhounds is how chilled out they are at home. When they go to the track they get wound up and the competitive energy is flowing, but at home they're just couch potatoes, so they're the perfect companion for a jockey in that way."