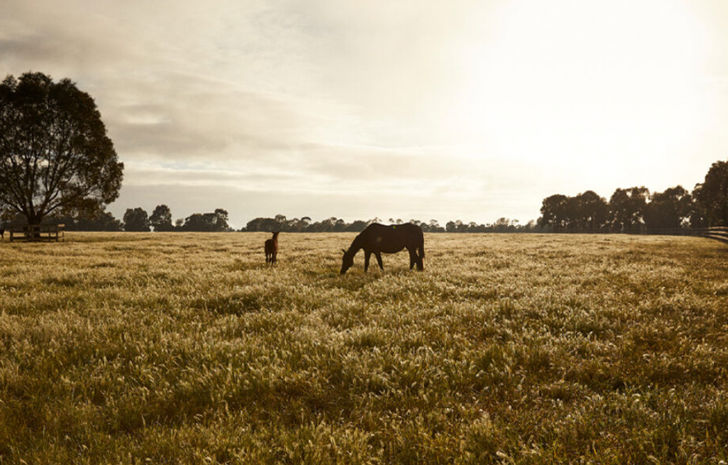 Blood, sweat and cheers
10 January 2023
•
Written by
Robert Fedele
With stallions the calibre of superstar Shamus Award and Hanseatic headlining its roster, Victoria's Rosemont Stud has emerged as a formidable player in the unending quest to breed elite horses.
Australian-bred global champion sprinter Starspangledbanner was a dud in the breeding barn – or so it was first thought.
In 2011, his limited fertility rate as a first-season stallion drove breeding giants Coolmore to cut their losses and return him to the racetrack.
Enter Anthony Mithen, a prominent AFL sports journalist-turned racehorse breeder, Stud Principal at Victoria's then fledgling Rosemont Stud, Mithen had been clever enough to purchase a modest equity in Starspangledbanner, who was in fact born at the Rosemont Gnarwarre property, after he finished racing.
Fortuitously, in hindsight, Mithen convinced Coolmore's plans to geld the horse, eventually convincing them to give Rosemont a chance to unlock his potential.
"Understandably, Coolmore are a huge stallion operation and would have seen many young stallions come and go that are infertile. Thankfully however, the decision was to allow him more time to mature reproductively and as it turned out that is ultimately what he needed," Mithen recalls thinking.
Standing at Rosemont in 2013, the initial goal was to cover 50 mares and get half in foal. Not long after, Starspangledbanner's first runners were making waves in the UK where, amazingly, with just a small northern hemisphere-bred crop racing, he sired featured race wins at the famed Royal Ascot Carnival. The newfound appeal instantly moved the goalposts. Starspangledbanner, as history shows, kicked on to become a sire sensation while shuttling between Rosemont and Coolmore for the past decade.
That includes countless topline performers, like 2021 Cox Plate winner State Of Rest.
"I wonder whether it was maturity," ponders Mithen, when asked to pinpoint the turnaround. "We all mature at different rates and while he looked like a mature horse, maybe he was a boy inside a man's body there for a while and his reproductive system hadn't, for one reason or another, kicked in."
The fairytale marks just one chapter in the rise of Rosemont Stud's boutique breeding operation. The late Grant Austin, Mithen's father-in-law, and his wife Heather, who ran a cattle and sheep farm near Geelong, pioneered Rosemont. The first horse fence went up in 1991, with Grant's lifelong passion for racehorses leading him to continually expand the property over the years to accommodate a burgeoning band of broodmares.
After Grant's tragic passing from brain cancer in 2003, the family contemplated getting out of horses altogether and renewing focus on running cattle and sheep. Instead, Mithen tabled a plan to create a full-scale commercial horse operation.
For Mithen, whose media roles have included hosting the Prime Time Sports program during weekday mornings on Sport 927 with former AFL footballer Michael Christian, the pitch was as much about lifestyle as feeding his own love for the game.
Rosemont quickly positioned itself as a commercial agistment operation, bought some new mares, and got busy rustling up fresh clients. Breeding was the next step.
In those early days, Mithen walked weanlings around the farm and got up at all hours of the night to foal down mares. It was always chaotic but allowed him to learn on the job.
"I think each step opened my eyes to what we could do better, what we could do to be more profitable and how we could breed a better class of racehorse." - Anthony Mithen
Standing stallions was the next logical step in Rosemont's trajectory. When an opportunity came up to buy former Golden Slipper winner Danzero, Mithen couldn't resist.
Danzero, aged 18 and with his best days behind him, stood for just one season out of a converted machinery shed. His impact on Rosemont, however, was far more profound.
"He was a great old horse for us to learn with and there was no trouble, as he knew his job and we could get a handle on whether or not we were going to go down this track or not," said Mithen.
"I fell in love with the idea of having stallions at our farm and standing stallions and developing that side of the business, right from conception through to the racetrack."
During this time, Mithen's brother-in-law Nigel, founder of major clothing label Cotton On, joined the business, both financially and philosophically, to help take it forward. This included snapping up 1400 acres of Makybe Diva owner Tony Santic's nearby farm.
Popular racehorse Toorak Toff was the next stallion to join Rosemont's roster, giving the stud the opportunity to launch the career of a new sire rather than finish it. He didn't reach any great heights yet produced plenty of winners.
A more recent Rosemont success story was the 2019 acquisition of buzz stallion Shamus Award, sire of last year's Caulfield Cup winner Incentivise and emerging stayer Duais. He currently stands for a service fee of $88,000.
Mithen's interest in Shamus Award traces back to his admiration of champion New Zealand sire Savabeel and stallions that can produce horses to win classic staying races.
Put up against higher profile stallions in the Hunter Valley in NSW, Shamus Award got off to a slow start in the breeding stakes. After learning that his owners had decided to send him back to Victoria for a change of luck, Rosemont pitched the farm as his next best home.
"I did a bit of digging and worked out that his statistics were comparable, if not better, to Savabeel in his early stallion career. I remember Savabeel not being terribly warm in the commercial market early on. In fact, they were giving yearlings away for half what it cost to breed, and some of those went on to be very good racehorses."
In his first year with the stud, he covered 149 mares. With his stocks rising, that jumped to 177 in 2020 and more than 200 in 2021.
"I did a bit of digging and worked out that his statistics were comparable, if not better, to Savabeel in his early stallion career." - Anthony Mithen
"We're extremely excited to see what he can do with a better class of mare producing foals for him," Mithen said.
"Our catchcry is 'Snitzel speed but Cox Plate strength' and that's sort of what he gives you. He can put some speed into his progeny but they can stretch out and win a classic race as well, so he's a very important horse for the Australian breeding scene."
Younger stallions recently added to Rosemont's roster include Hanseatic, an explosive two-year-old who finished second in the Blue Diamond, and Extreme Warrior, a talented son of superstar stallion Extreme Choice.
Mithen is optimistic both can make an imprint on the breeding scene.
Last year, Hanseatic covered the greatest number of mares ever for a first-season stallion in Victoria.
"I think it just sort of tells the tale that everyone's looking for speed, speed, speed, and he had it in abundance."
As for Extreme Warrior, while some sceptics may have questioned his departure to stud, Mithen doesn't subscribe to the theory that only horses who win Group 1s on the racetrack can become champion stallions. He points to Australia's sire tables as proof.
"It's littered with horses that didn't necessarily reach the pinnacle of success on the racetrack but they clearly had something going for them genetically to produce talented racehorses," explained Mithen.
"I'm talking about I Am Invincible right at the top of the tree, Written Tycoon, Not A Single Doubt, Deep Field, they're all extremely successful stallions that have produced Group 1 winning horses and there's not a Group 1 among them."
These days, Rosemont foals down around sales. The original farm is now used specifically for spelling racehorses.
Rosemont's signature red silks are ubiquitous on the racetrack, with horses such as Iconoclasm, Brooklyn Hustle and Sneaky Five flying the flag. Meanwhile, the honour roll of horses born, bred, or sold by Rosemont includes the likes of Santa Ana Lane, Mr Quickie, and Hey Doc.
The stud farm lives by the motto "Winning Together" and believes working together drives success.
"That's winning together as a staff team, or winning together with our partners in horses, or winning together at a sale ring where we knock one out of the park and sell one for good money for either ourselves or clients," said Mithen.
A proud Victorian, Mithen recently took the mantra further by establishing the Victorian Alliance. In year one, the syndicate spent more than $7 million on buying a team of 12 high priced colts in a bid to unearth some of the leading stallion prospects of the future.
Owners decided to name them all after Victorian football legends, with the likes of Brereton and Millane already hitting the track, and Doull, a Snitzel colt who fetched $1.2 million, installed early favourite for this year's Coolmore Stud Stakes.
Mithen admits part of the push was about demonstrating that Victorian breeders can match it with the best.
"I am proudly putting up the flag for Victoria, saying we can do it as well, if not better, given our climate, our conditions, our strength of farms, and given the operations that are now behind some of the best farming land in Australia. I've got every faith Victoria will once again rise to be the number-one place to stand a stallion and breed a horse."
Looking ahead, Mithen is keen to put more energy towards finding like-minded people to join Rosemont's journey and experience that side-by-side winning feeling.
"You're making new friends with people that are ultimately your clients, but they're more than that because they share your philosophy and they want to do it the right way and breed a good horse and have a good time doing it."
System.Web.HttpException (0x80004005): Error executing child request for handler 'System.Web.Mvc.HttpHandlerUtil+ServerExecuteHttpHandlerAsyncWrapper'. ---> System.NullReferenceException: Object reference not set to an instance of an object.
   at ASP._Page_Views_Partials_googleAd_cshtml.Execute() in C:\home\site\wwwroot\Views\Partials\googleAd.cshtml:line 4
   at System.Web.WebPages.WebPageBase.ExecutePageHierarchy()
   at System.Web.Mvc.WebViewPage.ExecutePageHierarchy()
   at System.Web.WebPages.WebPageBase.ExecutePageHierarchy(WebPageContext pageContext, TextWriter writer, WebPageRenderingBase startPage)
   at System.Web.Mvc.RazorView.RenderView(ViewContext viewContext, TextWriter writer, Object instance)
   at System.Web.Mvc.BuildManagerCompiledView.Render(ViewContext viewContext, TextWriter writer)
   at Umbraco.Web.Mvc.ProfilingView.Render(ViewContext viewContext, TextWriter writer) in D:\a\1\s\src\Umbraco.Web\Mvc\ProfilingView.cs:line 25
   at System.Web.Mvc.ViewResultBase.ExecuteResult(ControllerContext context)
   at System.Web.Mvc.ControllerActionInvoker.InvokeActionResult(ControllerContext controllerContext, ActionResult actionResult)
   at System.Web.Mvc.ControllerActionInvoker.InvokeActionResultFilterRecursive(IList`1 filters, Int32 filterIndex, ResultExecutingContext preContext, ControllerContext controllerContext, ActionResult actionResult)
   at System.Web.Mvc.ControllerActionInvoker.InvokeActionResultFilterRecursive(IList`1 filters, Int32 filterIndex, ResultExecutingContext preContext, ControllerContext controllerContext, ActionResult actionResult)
   at System.Web.Mvc.ControllerActionInvoker.InvokeActionResultFilterRecursive(IList`1 filters, Int32 filterIndex, ResultExecutingContext preContext, ControllerContext controllerContext, ActionResult actionResult)
   at System.Web.Mvc.ControllerActionInvoker.InvokeActionResultFilterRecursive(IList`1 filters, Int32 filterIndex, ResultExecutingContext preContext, ControllerContext controllerContext, ActionResult actionResult)
   at System.Web.Mvc.ControllerActionInvoker.InvokeActionResultFilterRecursive(IList`1 filters, Int32 filterIndex, ResultExecutingContext preContext, ControllerContext controllerContext, ActionResult actionResult)
   at System.Web.Mvc.ControllerActionInvoker.InvokeActionResultWithFilters(ControllerContext controllerContext, IList`1 filters, ActionResult actionResult)
   at System.Web.Mvc.Async.AsyncControllerActionInvoker.<>c__DisplayClass3_6.<BeginInvokeAction>b__4()
   at System.Web.Mvc.Async.AsyncControllerActionInvoker.<>c__DisplayClass3_1.<BeginInvokeAction>b__1(IAsyncResult asyncResult)
   at System.Web.Mvc.Async.AsyncResultWrapper.WrappedAsyncResult`1.CallEndDelegate(IAsyncResult asyncResult)
   at System.Web.Mvc.Async.AsyncResultWrapper.WrappedAsyncResultBase`1.End()
   at System.Web.Mvc.Async.AsyncControllerActionInvoker.EndInvokeAction(IAsyncResult asyncResult)
   at System.Web.Mvc.Controller.<>c.<BeginExecuteCore>b__152_1(IAsyncResult asyncResult, ExecuteCoreState innerState)
   at System.Web.Mvc.Async.AsyncResultWrapper.WrappedAsyncVoid`1.CallEndDelegate(IAsyncResult asyncResult)
   at System.Web.Mvc.Async.AsyncResultWrapper.WrappedAsyncResultBase`1.End()
   at System.Web.Mvc.Controller.EndExecuteCore(IAsyncResult asyncResult)
   at System.Web.Mvc.Controller.<>c.<BeginExecute>b__151_2(IAsyncResult asyncResult, Controller controller)
   at System.Web.Mvc.Async.AsyncResultWrapper.WrappedAsyncVoid`1.CallEndDelegate(IAsyncResult asyncResult)
   at System.Web.Mvc.Async.AsyncResultWrapper.WrappedAsyncResultBase`1.End()
   at System.Web.Mvc.Controller.EndExecute(IAsyncResult asyncResult)
   at System.Web.Mvc.Controller.System.Web.Mvc.Async.IAsyncController.EndExecute(IAsyncResult asyncResult)
   at System.Web.Mvc.MvcHandler.<>c.<BeginProcessRequest>b__20_1(IAsyncResult asyncResult, ProcessRequestState innerState)
   at System.Web.Mvc.Async.AsyncResultWrapper.WrappedAsyncVoid`1.CallEndDelegate(IAsyncResult asyncResult)
   at System.Web.Mvc.Async.AsyncResultWrapper.WrappedAsyncResultBase`1.End()
   at System.Web.Mvc.MvcHandler.EndProcessRequest(IAsyncResult asyncResult)
   at System.Web.Mvc.MvcHandler.System.Web.IHttpAsyncHandler.EndProcessRequest(IAsyncResult result)
   at System.Web.Mvc.HttpHandlerUtil.ServerExecuteHttpHandlerAsyncWrapper.<>c__DisplayClass3_0.<EndProcessRequest>b__0()
   at System.Web.Mvc.HttpHandlerUtil.ServerExecuteHttpHandlerWrapper.<>c__DisplayClass5_0.<Wrap>b__0()
   at System.Web.Mvc.HttpHandlerUtil.ServerExecuteHttpHandlerWrapper.Wrap[TResult](Func`1 func)
   at System.Web.Mvc.HttpHandlerUtil.ServerExecuteHttpHandlerWrapper.Wrap(Action action)
   at System.Web.Mvc.HttpHandlerUtil.ServerExecuteHttpHandlerAsyncWrapper.EndProcessRequest(IAsyncResult result)
   at System.Web.HttpServerUtility.ExecuteInternal(IHttpHandler handler, TextWriter writer, Boolean preserveForm, Boolean setPreviousPage, VirtualPath path, VirtualPath filePath, String physPath, Exception error, String queryStringOverride)
   at System.Web.HttpServerUtility.ExecuteInternal(IHttpHandler handler, TextWriter writer, Boolean preserveForm, Boolean setPreviousPage, VirtualPath path, VirtualPath filePath, String physPath, Exception error, String queryStringOverride)
   at System.Web.HttpServerUtility.Execute(IHttpHandler handler, TextWriter writer, Boolean preserveForm, Boolean setPreviousPage)
   at System.Web.HttpServerUtility.Execute(IHttpHandler handler, TextWriter writer, Boolean preserveForm)
   at System.Web.HttpServerUtilityWrapper.Execute(IHttpHandler handler, TextWriter writer, Boolean preserveForm)
   at System.Web.Mvc.Html.ChildActionExtensions.ActionHelper(HtmlHelper htmlHelper, String actionName, String controllerName, RouteValueDictionary routeValues, TextWriter textWriter)
   at System.Web.Mvc.Html.ChildActionExtensions.Action(HtmlHelper htmlHelper, String actionName, String controllerName, RouteValueDictionary routeValues)
   at Our.Umbraco.DocTypeGridEditor.Web.Extensions.HtmlHelperExtensions.RenderDocTypeGridEditorItem(HtmlHelper helper, IPublishedElement content, String editorAlias, String viewPath, String previewViewPath, Boolean isPreview)
   at ASP._Page_app_plugins_doctypegrideditor_render_DocTypeGridEditor_cshtml.Execute() in C:\home\site\wwwroot\app_plugins\doctypegrideditor\render\DocTypeGridEditor.cshtml:line 34
   at System.Web.WebPages.WebPageBase.ExecutePageHierarchy()
   at System.Web.Mvc.WebViewPage.ExecutePageHierarchy()
   at System.Web.WebPages.WebPageBase.ExecutePageHierarchy(WebPageContext pageContext, TextWriter writer, WebPageRenderingBase startPage)
   at System.Web.Mvc.RazorView.RenderView(ViewContext viewContext, TextWriter writer, Object instance)
   at System.Web.Mvc.BuildManagerCompiledView.Render(ViewContext viewContext, TextWriter writer)
   at Umbraco.Web.Mvc.ProfilingView.Render(ViewContext viewContext, TextWriter writer) in D:\a\1\s\src\Umbraco.Web\Mvc\ProfilingView.cs:line 25
   at System.Web.Mvc.HtmlHelper.RenderPartialInternal(String partialViewName, ViewDataDictionary viewData, Object model, TextWriter writer, ViewEngineCollection viewEngineCollection)
   at System.Web.Mvc.Html.PartialExtensions.Partial(HtmlHelper htmlHelper, String partialViewName, Object model, ViewDataDictionary viewData)
   at System.Web.Mvc.Html.PartialExtensions.Partial(HtmlHelper htmlHelper, String partialViewName, Object model)
   at ASP._Page_Views_Partials_grid_editors_Base_cshtml.Execute() in C:\home\site\wwwroot\Views\Partials\grid\editors\Base.cshtml:line 20