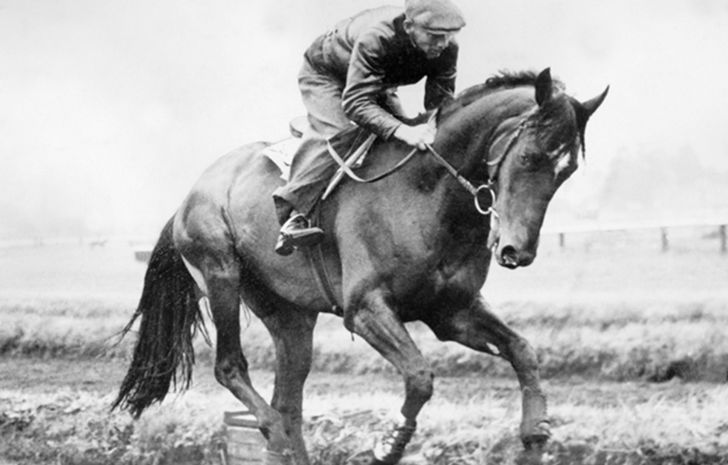 Brilliant Bernborough
13 February 2020
•
Written by
Andrew Lemon
The day that Bernborough won the Newmarket in 1946 was one many have never forgotten.
His near-perfect record may have only lasted a year, but it was a year etched in the history books for all racing fans.
Bernborough was the sort of horse with whom everyone falls in love. It was not just his good looks, though he was powerful and handsome. It was not just his exceptional racing record: he recorded 15 successive top-class victories, a feat few Australian horses have ever exceeded. None did so after him until Black Caviar and Winx came along. And it was not just the chequered history that saw too much of his racing career confined to war-time rural Queensland. It was the manner of his wins in one brilliant year, 1946, that excited Australia.
The late Andrew Ramsden (VRC Chairman 1998-2003) loved Bernborough. Chris Jenkins (VRC committeeman 1985-93) loved Bernborough. Both men saw the horse race, and never forgot the thrill. Bobbie Lewis, who won four Melbourne Cups and once rode Phar Lap (but lost on him) wondered if Bernborough was the greatest horse he had ever seen. Trainer Harry Plant said Bernborough was as near perfect as a horse can be. Racing journalist Warwick Hobson, thirty years ago, placed Bernborough in his all-time top bracket with Carbine, Phar Lap, Tulloch, Peter Pan and Kingston Town. Few disagreed.
Bill Sigley grew up in the same era and in the same part of Queensland's Darling Downs where Bernborough was bred, foaled, reared and where the colt first raced. Cut-out racehorse pictures galloped their hearts out across his family's living room, he recalled. 'Bernborough always won'. Sigley later spent years researching and writing the book he called Mighty Bernborough (1990).
Another Queenslander, Bill Stokes, was not old enough to see the champion compete. Through long correspondence with those who knew the stories, he set about to unravel more of the continuing myths and mysteries surrounding the horse's parentage, ownership and racing career. He called his 2008 book The Controversial Bernborough. Its subtitle: 'Was he Australia's greatest racehorse?'
What this horse might have achieved if he had been given proper opportunities! Dodgy dealings over his ownership left him disqualified from racing at every racecourse except Clifton Park, Toowoomba from age two to five. Here he won 11 of his 19 starts, mostly sprints under heavy weights. Finally sold at auction in Sydney to flamboyant restaurateur Azzalin Romano, Bernborough went to trainer Harry Plant, one of the best. After a first-up fourth at Canterbury he began that unbeaten sequence, ridden in all his wins by Athol George Mulley.
The VRC Newmarket Handicap on 2 March 1946 was the fifth of those fifteen triumphs. The first three were at Randwick, and then he seized the Futurity at Caulfield by five lengths carrying 64 kilograms. He was called a champion, sent out as the hottest Newmarket favourite on record.
The blue ribbon sprint on the Victorian racing calendar, the rich and time-honoured Newmarket Handicap has been run down Flemington's famous Straight Six 1200 metre course since Dr Bathe's mare Maid of Avenel won in 1874 in a field of nine. The race name paid tribute to the straight track at the English home of racing. From that time, the Newmarket has been a race of champions. Look through the roll call. Pick any decade: Malua won the race in the autumn before he won the Melbourne Cup. Wakeful, Gothic, Ajax, Aurie's Star, Baguette and Century, Maybe Mahal, Shaftesbury Avenue – the line goes on to recent time, to Exceed and Excel, Takeover Target, Miss Andretti and Black Caviar at her brilliant best in 2011.
The racing memories of some in 1946 stretched back the 72 years to Maid of Avenel. There are many with us today whose racing memories go back to Bernborough. Was there ever a better finish, before or since? In the days before starting stalls, it was just the barrier machine. Rain had fallen the day before. On a dead track, twenty-eight starters thundered down the straight, the racecaller's proverbial nightmare. Jim Carroll who commentated on course and for ABC radio lamented half way through, 'I just cannot find the favourite!'
Orange, purple sleeves, black cap, 63 kilograms. How could Bernborough be so far back? When the horses neared the course proper 500 metres from home, Bernborough was in a pack, worse than midfield with fifteen horses ahead. Three hundred metres out he was still six lengths behind the leaders, nine horses in front.
Young Des Hoysted, in time a fine racecaller himself, was in the crowd: 'And then through a great heap of horses – as though he wanted to make as dramatic an enterprise as possible – exploded the massive form of Bernborough – mane flying and head extended.'
'Here's Bernborough!' yelled Jim – but it seemed a hopeless task. Mulley rode the favourite down the centre of the track, hands and heels. They got up in the last stride to beat Four Freedoms by half a head.
The reign of Bernborough lasted just that one glorious year. After taking the weight-for-age Rawson, Chipping Norton and All-Aged Stakes in Sydney he cemented his fame with two sensational handicap wins in Brisbane in the Doomben Ten Thousand and the Doomben Cup, in the latter carrying 68.5 kilograms. Five further weight-for-age wins including the Melbourne (now Turnbull) Stakes at Flemington boosted his reputation to such an extent that 107,000 fans turned up to see the 1946 Caulfield Cup. The big field, the weight of expectations on the jockey and 68 kilograms on the horse finally defeated him. He finished a gallant fifth.
Two weeks later in the LKS Mackinnon Stakes on Derby Day, Bernborough broke down on the home turn at Flemington. The crowd fell silent. The VRC vets hurried to his aid and miraculously the fracture responded to treatment. The best news, at least for Bernborough, was that the Queensland colt whose origins and ownership had once cast a shadow over his career ended his days in luxury at stud, at movie magnate Louis B. Mayer's Spendthrift Farm in bluegrass territory in Lexington, Kentucky. He sired a generation of champion American sprinters.