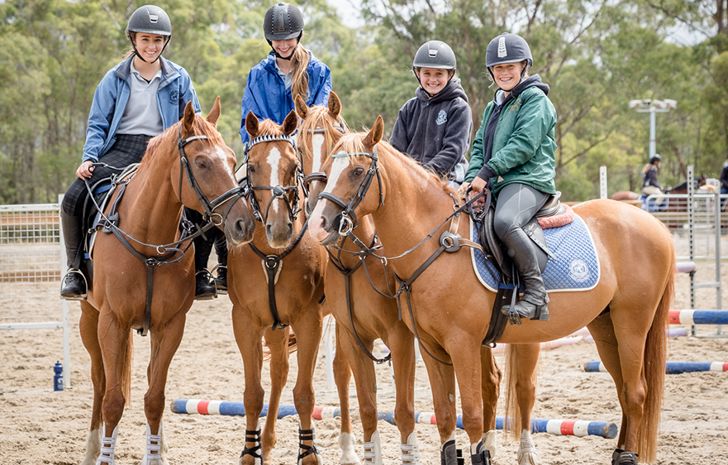 Building firm foundations
17 January 2022
•
Written by
Sarah Marinos
There are more than 800 Pony Clubs across Australia and they have contributed to many successful racing industry careers. Just ask Jamie Kah …
In 2021, Jamie Kah made racing history when she won 105 races in a season in metropolitan Victoria. Sailing across the finishing line at Caulfield on Deep Speed in July to break the magical 100 mark, Kah's achievements in the saddle have inspired countless young riders.
Many of those hopefuls who dream of emulating her success belong to Pony Club Australia. Australia's first Pony Club was founded in 1939 in Ingleburn, New South Wales, and since then the sporting organisation has grown to have 800-plus clubs dotted across the country with more than 40,000 members.
Kah told Pony Club Australia that her journey began at One Tree Hill Pony Club as a tot, and continued at Mount Pleasant Pony Club near her family home in South Australia. In 2010, at the age of 14, Kah was selected for the Pony Club Australia International Mounted Games team and competed in the UK.
"Once you join Pony Club, you sort of start knowing all the Pony Clubs around the area and start making more friends and more connections. That's how I got into racing as well – a girl in Pony Club introduced me to the racing stable," Kah said.
"I'm lucky enough to have gotten to compete in games when I was younger. A lot of people go right into being a jockey, but I think the games teach a lot about balance. Being a jockey is very difficult, so being able to be part of a Pony Club my whole life and grow up with horses has helped me massively."
Dr Catherine Ainsworth, Chief Executive Officer of Pony Club Australia, says the organisation builds riding skills and knowledge about how best to care for horses, and reinforces the responsibilities that come with horse ownership. Taking part in riding-based sports and competitions and building friendships are also part and parcel of Pony Clubs up and down the country.
"Pony Club is about fun, friendship and having a go at different sports while learning about safety and developing riding skills," said Dr Ainsworth.
"Pony Club riders work towards achieving certificates that start at the basic level of learning how to put on a halter and get on and off a pony to how to feed a pony a carrot without getting your fingers bitten!
"By the time members reach the higher certificate levels they can take a horse and do its foundation training, ride unfamiliar horses and they have strong veterinary knowledge. We aim to help all our members build their knowledge in horse care, nutrition and horse behaviour while developing their riding skills."
In 2019, to further enhance the knowledge of young riders, Pony Club Australia added equitation science to its syllabus.
"People are going to be safer and better around horses if they understand the way a horse behaves and we start building that understanding with our youngest riders," said Dr Ainsworth.
Pony Clubs hold monthly or fortnightly rallies when members meet and take part in activities on and off their horses. Rachael Edwards has been involved with Pony Clubs in Victoria for more than 35 years, initially joining as a horse-mad 13-year-old in Melbourne's outer eastern suburbs.
In 2020, Edwards was named Pony Club Australia Coach of the Year and she coaches at a number of clubs, including Seville Pony Club in the Yarra Valley.
"I kept nagging my Mum and Dad about getting a horse and every weekend I looked in the classified section of The Saturday Age. I circled which horses might be best for me and eventually my parents realised this wasn't just a phase," said Edwards.
"They contacted our local Pony Club at Box Hill that had a program for unmounted riders where I learned more about horses. Six months after joining Pony Club, I got my first beautiful pony, a Welsh Mountain pony called Chevy. I've been addicted to horses ever since."
Edwards' 13-year-old daughter, Emily, joined Pony Club when she was four and she is part of the state national Quiz team. Pony Club offers a range of sports and the Quiz category allows members to test their equestrian knowledge at state, national and international levels.
Other sports include show jumping, dressage, eventing, mounted games and tetrathlon where riders compete in a four-phase show jumping, running, shooting and swimming event. Pony Club members can also learn how to Ride to Time, which is learning how to ride at a certain pace and judge how fast your horse is travelling. In Stockman's Challenge events, competitors have to navigate their horses through an obstacle course as quickly and carefully as possible.
Edwards said the combination of perfecting riding skills and gaining an in-depth knowledge of how to care for a horse and understand their behaviour places Pony Club members in good stead to work within the worlds of racing and equestrian. Pony Club Australia has a partnership with Thoroughbred Industry Careers that is a conduit for enthusiastic riders to join the thoroughbred racing and breeding industry. Racing Victoria is also involved with Pony Club, supporting the Pony Club National Championships later in 2021. They are also connected through the Off The Track (OTT) program.
The OTT program places retired thoroughbred horses with new owners so horses can enjoy a life after racing. The Racing Victoria initiative helps retired racehorses retrain and find new enjoyment in equestrian sports or trail and pleasure riding. A network of Acknowledged Retrainers work with the horses to ready them for venues such as the many Pony Clubs across the state.
"One of the greatest rewards for me as a coach is to see riders challenge themselves and to witness the partnerships that develop between horse and rider," said Edwards.
"They might start with a Shetland pony and end up training Off The Track thoroughbreds ... their love of horses lasts a lifetime.
System.Web.HttpException (0x80004005): Error executing child request for handler 'System.Web.Mvc.HttpHandlerUtil+ServerExecuteHttpHandlerAsyncWrapper'. ---> System.NullReferenceException: Object reference not set to an instance of an object.
   at ASP._Page_Views_Partials_googleAd_cshtml.Execute() in C:\home\site\wwwroot\Views\Partials\googleAd.cshtml:line 4
   at System.Web.WebPages.WebPageBase.ExecutePageHierarchy()
   at System.Web.Mvc.WebViewPage.ExecutePageHierarchy()
   at System.Web.WebPages.WebPageBase.ExecutePageHierarchy(WebPageContext pageContext, TextWriter writer, WebPageRenderingBase startPage)
   at System.Web.Mvc.RazorView.RenderView(ViewContext viewContext, TextWriter writer, Object instance)
   at System.Web.Mvc.BuildManagerCompiledView.Render(ViewContext viewContext, TextWriter writer)
   at Umbraco.Web.Mvc.ProfilingView.Render(ViewContext viewContext, TextWriter writer) in D:\a\1\s\src\Umbraco.Web\Mvc\ProfilingView.cs:line 25
   at System.Web.Mvc.ViewResultBase.ExecuteResult(ControllerContext context)
   at System.Web.Mvc.ControllerActionInvoker.InvokeActionResult(ControllerContext controllerContext, ActionResult actionResult)
   at System.Web.Mvc.ControllerActionInvoker.InvokeActionResultFilterRecursive(IList`1 filters, Int32 filterIndex, ResultExecutingContext preContext, ControllerContext controllerContext, ActionResult actionResult)
   at System.Web.Mvc.ControllerActionInvoker.InvokeActionResultFilterRecursive(IList`1 filters, Int32 filterIndex, ResultExecutingContext preContext, ControllerContext controllerContext, ActionResult actionResult)
   at System.Web.Mvc.ControllerActionInvoker.InvokeActionResultFilterRecursive(IList`1 filters, Int32 filterIndex, ResultExecutingContext preContext, ControllerContext controllerContext, ActionResult actionResult)
   at System.Web.Mvc.ControllerActionInvoker.InvokeActionResultFilterRecursive(IList`1 filters, Int32 filterIndex, ResultExecutingContext preContext, ControllerContext controllerContext, ActionResult actionResult)
   at System.Web.Mvc.ControllerActionInvoker.InvokeActionResultFilterRecursive(IList`1 filters, Int32 filterIndex, ResultExecutingContext preContext, ControllerContext controllerContext, ActionResult actionResult)
   at System.Web.Mvc.ControllerActionInvoker.InvokeActionResultWithFilters(ControllerContext controllerContext, IList`1 filters, ActionResult actionResult)
   at System.Web.Mvc.Async.AsyncControllerActionInvoker.<>c__DisplayClass3_6.<BeginInvokeAction>b__4()
   at System.Web.Mvc.Async.AsyncControllerActionInvoker.<>c__DisplayClass3_1.<BeginInvokeAction>b__1(IAsyncResult asyncResult)
   at System.Web.Mvc.Async.AsyncResultWrapper.WrappedAsyncResult`1.CallEndDelegate(IAsyncResult asyncResult)
   at System.Web.Mvc.Async.AsyncResultWrapper.WrappedAsyncResultBase`1.End()
   at System.Web.Mvc.Async.AsyncControllerActionInvoker.EndInvokeAction(IAsyncResult asyncResult)
   at System.Web.Mvc.Controller.<>c.<BeginExecuteCore>b__152_1(IAsyncResult asyncResult, ExecuteCoreState innerState)
   at System.Web.Mvc.Async.AsyncResultWrapper.WrappedAsyncVoid`1.CallEndDelegate(IAsyncResult asyncResult)
   at System.Web.Mvc.Async.AsyncResultWrapper.WrappedAsyncResultBase`1.End()
   at System.Web.Mvc.Controller.EndExecuteCore(IAsyncResult asyncResult)
   at System.Web.Mvc.Controller.<>c.<BeginExecute>b__151_2(IAsyncResult asyncResult, Controller controller)
   at System.Web.Mvc.Async.AsyncResultWrapper.WrappedAsyncVoid`1.CallEndDelegate(IAsyncResult asyncResult)
   at System.Web.Mvc.Async.AsyncResultWrapper.WrappedAsyncResultBase`1.End()
   at System.Web.Mvc.Controller.EndExecute(IAsyncResult asyncResult)
   at System.Web.Mvc.Controller.System.Web.Mvc.Async.IAsyncController.EndExecute(IAsyncResult asyncResult)
   at System.Web.Mvc.MvcHandler.<>c.<BeginProcessRequest>b__20_1(IAsyncResult asyncResult, ProcessRequestState innerState)
   at System.Web.Mvc.Async.AsyncResultWrapper.WrappedAsyncVoid`1.CallEndDelegate(IAsyncResult asyncResult)
   at System.Web.Mvc.Async.AsyncResultWrapper.WrappedAsyncResultBase`1.End()
   at System.Web.Mvc.MvcHandler.EndProcessRequest(IAsyncResult asyncResult)
   at System.Web.Mvc.MvcHandler.System.Web.IHttpAsyncHandler.EndProcessRequest(IAsyncResult result)
   at System.Web.Mvc.HttpHandlerUtil.ServerExecuteHttpHandlerAsyncWrapper.<>c__DisplayClass3_0.<EndProcessRequest>b__0()
   at System.Web.Mvc.HttpHandlerUtil.ServerExecuteHttpHandlerWrapper.<>c__DisplayClass5_0.<Wrap>b__0()
   at System.Web.Mvc.HttpHandlerUtil.ServerExecuteHttpHandlerWrapper.Wrap[TResult](Func`1 func)
   at System.Web.Mvc.HttpHandlerUtil.ServerExecuteHttpHandlerWrapper.Wrap(Action action)
   at System.Web.Mvc.HttpHandlerUtil.ServerExecuteHttpHandlerAsyncWrapper.EndProcessRequest(IAsyncResult result)
   at System.Web.HttpServerUtility.ExecuteInternal(IHttpHandler handler, TextWriter writer, Boolean preserveForm, Boolean setPreviousPage, VirtualPath path, VirtualPath filePath, String physPath, Exception error, String queryStringOverride)
   at System.Web.HttpServerUtility.ExecuteInternal(IHttpHandler handler, TextWriter writer, Boolean preserveForm, Boolean setPreviousPage, VirtualPath path, VirtualPath filePath, String physPath, Exception error, String queryStringOverride)
   at System.Web.HttpServerUtility.Execute(IHttpHandler handler, TextWriter writer, Boolean preserveForm, Boolean setPreviousPage)
   at System.Web.HttpServerUtility.Execute(IHttpHandler handler, TextWriter writer, Boolean preserveForm)
   at System.Web.HttpServerUtilityWrapper.Execute(IHttpHandler handler, TextWriter writer, Boolean preserveForm)
   at System.Web.Mvc.Html.ChildActionExtensions.ActionHelper(HtmlHelper htmlHelper, String actionName, String controllerName, RouteValueDictionary routeValues, TextWriter textWriter)
   at System.Web.Mvc.Html.ChildActionExtensions.Action(HtmlHelper htmlHelper, String actionName, String controllerName, RouteValueDictionary routeValues)
   at Our.Umbraco.DocTypeGridEditor.Web.Extensions.HtmlHelperExtensions.RenderDocTypeGridEditorItem(HtmlHelper helper, IPublishedElement content, String editorAlias, String viewPath, String previewViewPath, Boolean isPreview)
   at ASP._Page_app_plugins_doctypegrideditor_render_DocTypeGridEditor_cshtml.Execute() in C:\home\site\wwwroot\app_plugins\doctypegrideditor\render\DocTypeGridEditor.cshtml:line 34
   at System.Web.WebPages.WebPageBase.ExecutePageHierarchy()
   at System.Web.Mvc.WebViewPage.ExecutePageHierarchy()
   at System.Web.WebPages.WebPageBase.ExecutePageHierarchy(WebPageContext pageContext, TextWriter writer, WebPageRenderingBase startPage)
   at System.Web.Mvc.RazorView.RenderView(ViewContext viewContext, TextWriter writer, Object instance)
   at System.Web.Mvc.BuildManagerCompiledView.Render(ViewContext viewContext, TextWriter writer)
   at Umbraco.Web.Mvc.ProfilingView.Render(ViewContext viewContext, TextWriter writer) in D:\a\1\s\src\Umbraco.Web\Mvc\ProfilingView.cs:line 25
   at System.Web.Mvc.HtmlHelper.RenderPartialInternal(String partialViewName, ViewDataDictionary viewData, Object model, TextWriter writer, ViewEngineCollection viewEngineCollection)
   at System.Web.Mvc.Html.PartialExtensions.Partial(HtmlHelper htmlHelper, String partialViewName, Object model, ViewDataDictionary viewData)
   at System.Web.Mvc.Html.PartialExtensions.Partial(HtmlHelper htmlHelper, String partialViewName, Object model)
   at ASP._Page_Views_Partials_grid_editors_Base_cshtml.Execute() in C:\home\site\wwwroot\Views\Partials\grid\editors\Base.cshtml:line 20