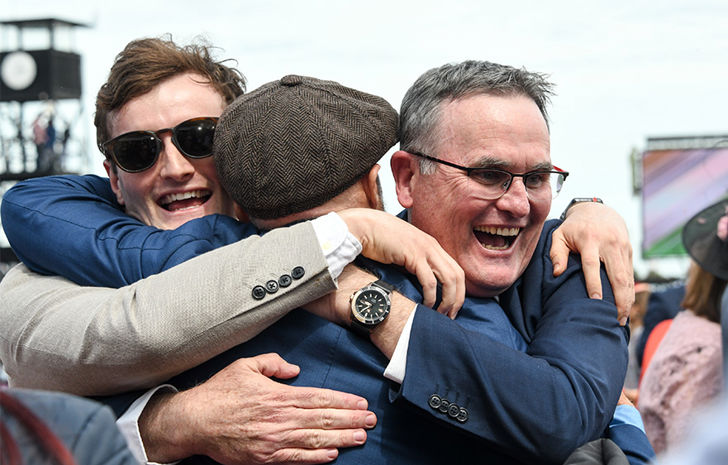 Buying into a dream
3 August 2022
•
Written by
Michael Lynch
Having a share in a racehorse not only takes its owners on a wild ride, it is also a chance to become part of a team, and gain insight into just how dedicated the trainers are to having their horses not just win, but thrive in a healthy, and happy environment.
In the competitive world that is racing, it takes a brave man or woman to set up as a trainer.
You need cash reserves, a wealthy backer or a friendly financial manager, a strong work ethic and an equally strong stomach to handle the myriad of disappointments that come your way.
But a trainer must also now have great empathy and what, in any other business sector, would be called "customer relations skills".
In the digital era, with information available at the click of a button or keystroke, instantaneous and regular communication is essential.
Owners pay a lot of money for horses, and gone are the days when they were given the "mushroom treatment" – kept in the dark.
They now look for videos, texts, audio messages and emails updating them on their horse's progress, what their targets are, how they are shaping up and whether they have met with any setbacks.
They are also keen to hear an instant debrief following their horse's race – which is why you so often see trainers or their assistants shooting interviews with the riders immediately when the contest is over so they can get the word out straight away, celebrating or commiserating on an excellent or disappointing run.
We spoke to three Flemington-based stables asking trainers and the owner of the biggest race winner of all – the Lexus Melbourne Cup – to see what the owners' experience is, how they look to keep their clients informed, involved and entertained when their horse is in training or spelling.
Simon Zahra has recently set up on his own after spending most of his training career in partnership with Mathew Ellerton, another Flemington handler.
The pair enjoyed great success, finishing in high positions on the metropolitan trainer's premiership as well as winning a host of Group 1 races including the Golden Slipper with Crystal Lily.
He has 40 boxes at Flemington and admits that his task is akin to reinventing the wheel.
"I have to go out and prove myself again. Fortunately, I have got some good backing from Donald's Winners, which is a young syndicating company, so I have really gone out and spent a bit of money this year. They bought 25 yearlings this year and all are with me. It was a big boost for me and it came at the right time."
He ensures the syndicators and their owners are kept in the loop.
"We have barbecues regularly to show off the yearlings, sometimes with 100 people coming. Our communication is second-to none – owners get a video every Tuesday, [and] an extensive update on their horses. We send them pictures in the paddock if they are spelling, or information if they are with the pre-trainer.
"We are marketing a golf day later in the year and we always try to do things to make sure owners are involved to make it as social as possible, too.
"We would have a drink after the races. I play golf with a couple of the owners, and we invite people to the stables a lot. We try to keep the doors open for everyone to come down when they are in the area or fly in from interstate."
One of the youngest trainers at Flemington is former champion jockey Nick Ryan, who won the Jockeys' Premiership while still an apprentice in the 2004/05 season with 83 winners, seeing off the likes of Damien Oliver and Craig Williams in the process. In the last 50 years only he and the legendary Darren Gauci managed such a feat.
Increasing weight forced Ryan out of the saddle but he took up training eight years ago.
Now aged 35, he moved in at Flemington in April 2021 and is delighted that he made the switch from Caulfield.
"It's been very straightforward. The VRC has been super, the facilities are first class and everyone has been very helpful. I haven't missed a beat," said Ryan, who describes his business – with some 32 horses in work during the winter months – as a 'boutique operation'.
"I have got my strong loyal supporters who have been with me since day one. As we are expanding and the stable is getting bigger I am getting a few more owners. Myself and my assistant Toby Lake are very hands on. We ride a lot of our own track work. We are not a factory; we are very involved in what we do."
It is his riding ability – and there can't be any better track workers – which is one of the key services he offers clients.
"I provide really in-depth analysis and I think that is one of my biggest attributes, the fact that I can and do ride work. It's essential to getting a real feel of the horse and then I can use my judgement about when they are going to perform and when they should be going to the races – or shouldn't be going to the races. Then I can keep my clients fully informed and across what is happening.
"We have our normal procedures during the week, we do video updates on Tuesdays, a lot of pre-race, post-race communication and I give my thoughts about where the horses are at, what stage of the prep we have reached, where the horse is physically and mentally.
"We have an open day every year and I am very approachable. A lot of my owners come to the stables whenever they want to see their horses or have a chat, a coffee or a beer."
Multiple Group 1-winning trainer Danny O'Brien has a much more mature business than his two counterparts, but that does not mean he can take owners for granted.
Like the others, he and his staff – particularly stable manager Matt Harrington – are involved in extensive communication with owners and would-be clients, letting them know how their charges are progressing or talking to potential owners about opportunities.
O'Brien won the greatest race of all, the Lexus Melbourne Cup, with Vow And Declare in 2019 and Geoff Corrigan and his wife Sue, the principal owners in the champion stayer, say the service they get from the O'Brien camp could not be better.
"Early on, Vow And Declare wasn't very impressive. I was a bit downcast after his first run over 1500m, but Danny cheered me up. He said, 'Don't worry, he's a stayer, he's done what we wanted, see him running on at the end of the race.'
"Vow And Declare didn't make the Derby field as a spring 3YO, but was going well enough to win a race on Oaks Day. After that, Danny planted the dream. He said, 'we will set this horse for the Melbourne Cup next year'.
"We all looked at him and said, 'Sure, Danny, that's pretty ambitious, just because he won one or two races' … but his judgement was absolutely right," said the NSW-based Corrigan.
"Danny was very good. He was always letting us know how the horse was going. We would get updates regularly, and when he was going so well before the 2019 Caulfield Cup [where he finished second] we got three updates in one week. As the time got closer to the big races you could tell Danny was getting excited although he tried to keep the excitement out of his voice.
"He was always good with any owner, any of us could ring him and have a chat. I think he was one of the leaders in providing video updates. It was fabulous the information we got.
"I can say that our ownership experience in Melbourne with Danny has been just great, you can't beat it. We have made friends who will be friends for life. And Danny, Ben Gleeson, his assistant trainer, Matt Harrington and the staff that run the stable, they are easy to get on with."
Main photo caption: Owners of the 2019 Lexus Melbourne Cup Vow And Declare were ecstatic after winning Australia's greatest race (Alice Laidlaw/Racing Photos)
System.Web.HttpException (0x80004005): Error executing child request for handler 'System.Web.Mvc.HttpHandlerUtil+ServerExecuteHttpHandlerAsyncWrapper'. ---> System.NullReferenceException: Object reference not set to an instance of an object.
   at ASP._Page_Views_Partials_googleAd_cshtml.Execute() in C:\home\site\wwwroot\Views\Partials\googleAd.cshtml:line 4
   at System.Web.WebPages.WebPageBase.ExecutePageHierarchy()
   at System.Web.Mvc.WebViewPage.ExecutePageHierarchy()
   at System.Web.WebPages.WebPageBase.ExecutePageHierarchy(WebPageContext pageContext, TextWriter writer, WebPageRenderingBase startPage)
   at System.Web.Mvc.RazorView.RenderView(ViewContext viewContext, TextWriter writer, Object instance)
   at System.Web.Mvc.BuildManagerCompiledView.Render(ViewContext viewContext, TextWriter writer)
   at Umbraco.Web.Mvc.ProfilingView.Render(ViewContext viewContext, TextWriter writer) in D:\a\1\s\src\Umbraco.Web\Mvc\ProfilingView.cs:line 25
   at System.Web.Mvc.ViewResultBase.ExecuteResult(ControllerContext context)
   at System.Web.Mvc.ControllerActionInvoker.InvokeActionResult(ControllerContext controllerContext, ActionResult actionResult)
   at System.Web.Mvc.ControllerActionInvoker.InvokeActionResultFilterRecursive(IList`1 filters, Int32 filterIndex, ResultExecutingContext preContext, ControllerContext controllerContext, ActionResult actionResult)
   at System.Web.Mvc.ControllerActionInvoker.InvokeActionResultFilterRecursive(IList`1 filters, Int32 filterIndex, ResultExecutingContext preContext, ControllerContext controllerContext, ActionResult actionResult)
   at System.Web.Mvc.ControllerActionInvoker.InvokeActionResultFilterRecursive(IList`1 filters, Int32 filterIndex, ResultExecutingContext preContext, ControllerContext controllerContext, ActionResult actionResult)
   at System.Web.Mvc.ControllerActionInvoker.InvokeActionResultFilterRecursive(IList`1 filters, Int32 filterIndex, ResultExecutingContext preContext, ControllerContext controllerContext, ActionResult actionResult)
   at System.Web.Mvc.ControllerActionInvoker.InvokeActionResultFilterRecursive(IList`1 filters, Int32 filterIndex, ResultExecutingContext preContext, ControllerContext controllerContext, ActionResult actionResult)
   at System.Web.Mvc.ControllerActionInvoker.InvokeActionResultWithFilters(ControllerContext controllerContext, IList`1 filters, ActionResult actionResult)
   at System.Web.Mvc.Async.AsyncControllerActionInvoker.<>c__DisplayClass3_6.<BeginInvokeAction>b__4()
   at System.Web.Mvc.Async.AsyncControllerActionInvoker.<>c__DisplayClass3_1.<BeginInvokeAction>b__1(IAsyncResult asyncResult)
   at System.Web.Mvc.Async.AsyncResultWrapper.WrappedAsyncResult`1.CallEndDelegate(IAsyncResult asyncResult)
   at System.Web.Mvc.Async.AsyncResultWrapper.WrappedAsyncResultBase`1.End()
   at System.Web.Mvc.Async.AsyncControllerActionInvoker.EndInvokeAction(IAsyncResult asyncResult)
   at System.Web.Mvc.Controller.<>c.<BeginExecuteCore>b__152_1(IAsyncResult asyncResult, ExecuteCoreState innerState)
   at System.Web.Mvc.Async.AsyncResultWrapper.WrappedAsyncVoid`1.CallEndDelegate(IAsyncResult asyncResult)
   at System.Web.Mvc.Async.AsyncResultWrapper.WrappedAsyncResultBase`1.End()
   at System.Web.Mvc.Controller.EndExecuteCore(IAsyncResult asyncResult)
   at System.Web.Mvc.Controller.<>c.<BeginExecute>b__151_2(IAsyncResult asyncResult, Controller controller)
   at System.Web.Mvc.Async.AsyncResultWrapper.WrappedAsyncVoid`1.CallEndDelegate(IAsyncResult asyncResult)
   at System.Web.Mvc.Async.AsyncResultWrapper.WrappedAsyncResultBase`1.End()
   at System.Web.Mvc.Controller.EndExecute(IAsyncResult asyncResult)
   at System.Web.Mvc.Controller.System.Web.Mvc.Async.IAsyncController.EndExecute(IAsyncResult asyncResult)
   at System.Web.Mvc.MvcHandler.<>c.<BeginProcessRequest>b__20_1(IAsyncResult asyncResult, ProcessRequestState innerState)
   at System.Web.Mvc.Async.AsyncResultWrapper.WrappedAsyncVoid`1.CallEndDelegate(IAsyncResult asyncResult)
   at System.Web.Mvc.Async.AsyncResultWrapper.WrappedAsyncResultBase`1.End()
   at System.Web.Mvc.MvcHandler.EndProcessRequest(IAsyncResult asyncResult)
   at System.Web.Mvc.MvcHandler.System.Web.IHttpAsyncHandler.EndProcessRequest(IAsyncResult result)
   at System.Web.Mvc.HttpHandlerUtil.ServerExecuteHttpHandlerAsyncWrapper.<>c__DisplayClass3_0.<EndProcessRequest>b__0()
   at System.Web.Mvc.HttpHandlerUtil.ServerExecuteHttpHandlerWrapper.<>c__DisplayClass5_0.<Wrap>b__0()
   at System.Web.Mvc.HttpHandlerUtil.ServerExecuteHttpHandlerWrapper.Wrap[TResult](Func`1 func)
   at System.Web.Mvc.HttpHandlerUtil.ServerExecuteHttpHandlerWrapper.Wrap(Action action)
   at System.Web.Mvc.HttpHandlerUtil.ServerExecuteHttpHandlerAsyncWrapper.EndProcessRequest(IAsyncResult result)
   at System.Web.HttpServerUtility.ExecuteInternal(IHttpHandler handler, TextWriter writer, Boolean preserveForm, Boolean setPreviousPage, VirtualPath path, VirtualPath filePath, String physPath, Exception error, String queryStringOverride)
   at System.Web.HttpServerUtility.ExecuteInternal(IHttpHandler handler, TextWriter writer, Boolean preserveForm, Boolean setPreviousPage, VirtualPath path, VirtualPath filePath, String physPath, Exception error, String queryStringOverride)
   at System.Web.HttpServerUtility.Execute(IHttpHandler handler, TextWriter writer, Boolean preserveForm, Boolean setPreviousPage)
   at System.Web.HttpServerUtility.Execute(IHttpHandler handler, TextWriter writer, Boolean preserveForm)
   at System.Web.HttpServerUtilityWrapper.Execute(IHttpHandler handler, TextWriter writer, Boolean preserveForm)
   at System.Web.Mvc.Html.ChildActionExtensions.ActionHelper(HtmlHelper htmlHelper, String actionName, String controllerName, RouteValueDictionary routeValues, TextWriter textWriter)
   at System.Web.Mvc.Html.ChildActionExtensions.Action(HtmlHelper htmlHelper, String actionName, String controllerName, RouteValueDictionary routeValues)
   at Our.Umbraco.DocTypeGridEditor.Web.Extensions.HtmlHelperExtensions.RenderDocTypeGridEditorItem(HtmlHelper helper, IPublishedElement content, String editorAlias, String viewPath, String previewViewPath, Boolean isPreview)
   at ASP._Page_app_plugins_doctypegrideditor_render_DocTypeGridEditor_cshtml.Execute() in C:\home\site\wwwroot\app_plugins\doctypegrideditor\render\DocTypeGridEditor.cshtml:line 34
   at System.Web.WebPages.WebPageBase.ExecutePageHierarchy()
   at System.Web.Mvc.WebViewPage.ExecutePageHierarchy()
   at System.Web.WebPages.WebPageBase.ExecutePageHierarchy(WebPageContext pageContext, TextWriter writer, WebPageRenderingBase startPage)
   at System.Web.Mvc.RazorView.RenderView(ViewContext viewContext, TextWriter writer, Object instance)
   at System.Web.Mvc.BuildManagerCompiledView.Render(ViewContext viewContext, TextWriter writer)
   at Umbraco.Web.Mvc.ProfilingView.Render(ViewContext viewContext, TextWriter writer) in D:\a\1\s\src\Umbraco.Web\Mvc\ProfilingView.cs:line 25
   at System.Web.Mvc.HtmlHelper.RenderPartialInternal(String partialViewName, ViewDataDictionary viewData, Object model, TextWriter writer, ViewEngineCollection viewEngineCollection)
   at System.Web.Mvc.Html.PartialExtensions.Partial(HtmlHelper htmlHelper, String partialViewName, Object model, ViewDataDictionary viewData)
   at System.Web.Mvc.Html.PartialExtensions.Partial(HtmlHelper htmlHelper, String partialViewName, Object model)
   at ASP._Page_Views_Partials_grid_editors_Base_cshtml.Execute() in C:\home\site\wwwroot\Views\Partials\grid\editors\Base.cshtml:line 20