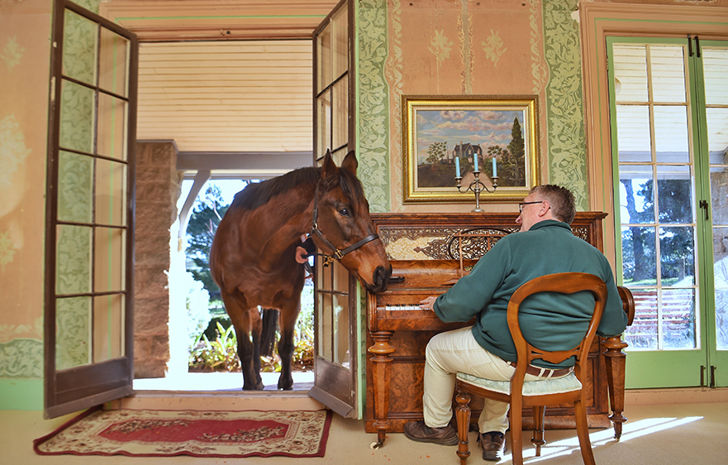 Chief De Beers
15 July 2020
•
Written by
VRC
Chief De Beers was a star of Queensland racing in the mid to late 1990s, earning prize money in 42 of his 51 starts under trainer Bill Calder.
All 20 of his wins took place in Brisbane at Doomben, including winning two Group 1 Doomben 10,000s (three years apart) and nine other feature races at the track. However, he was a widely travelled horse and contested Group races at Eagle Farm, Gold Coast, Caulfield, Flemington and Moonee Valley, with black-type placings at three of these five famous tracks.
"He's a terribly relaxed horse ... nothing ever gets him stirred up and I think that's one of his main attributes," owner Barry Greenup in 1997.
He was renowned for his tough performances through his long and sustained career. Despite not having a big build, he won races carrying up to 64.5kg, an impressive feat for his size.
Chief De Beers shared his 20 victories among six different jockeys: Alan Russell won eight races on him, Mick Dittman seven, Ken Waller two, and Brad Richardson, Chris Maund, and Gavan Duffy each won one race on him.
Chief De Beers was known around the stables as, 'The Chief', which fit his post-racing career as a mounted police horse for the Queensland Mounted Police after his retirement from the track on 14 July 1999.
His decade-long career in the police force was similar to that on the track – distinguished and impressive. He completed a number of ceremonial escorts, such as the Royal Queensland Show opening, the appointment of the Queensland Governor, and additional events within the community, but his most noteworthy duty was being the designated Governor's police horse.
In December 2012, 'The Chief' was given a vice regal send off prior to his arrival at Living Legends, where he resided happily until his death in July, 2020, aged 28.
"Chief was only small in stature but he was big on attitude and spark and kept us laughing right until the end," Living Legends CEO & Veterinary Director, Dr Andrew Clarke said in a statement.
"He will be sorely missed at Living Legends and his unique achievements as a champion both on and off the track will be his lasting legacy."
De Beers will be cremated and laid to rest in the memorial garden at Living Legends alongside past champions including Might And Power, Better Loosen Up and Doriemus.