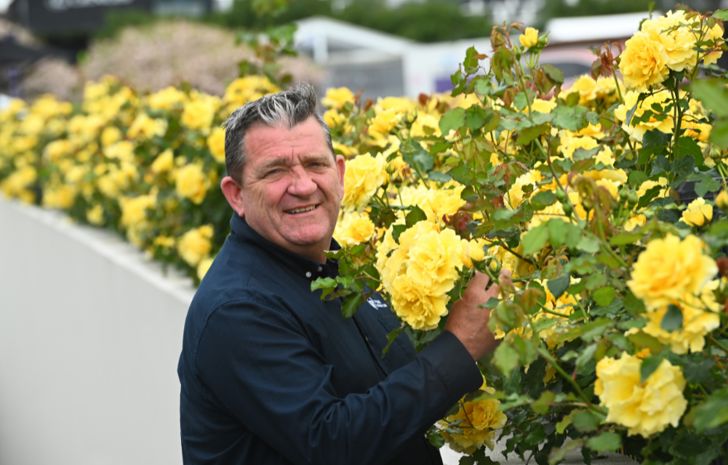 Coming up roses
6 November 2023
•
Written by
VRC
At Flemington Racecourse, Mick Ryan is a name that resonates with dedication. As the Senior Manager of Grounds and Gardens, his role carries significant responsibility and a deep-rooted commitment to uphold the timeless beauty of the venue. Ryan's genuine love for his work and connection to the track that has literally become his second home is evident everywhere you look.
An integral part of the Flemington family since 1989, Ryan still derives the greatest satisfaction seeing his and his team's hard work coming to fruition. "I just love coming to Flemington each day and working with like-minded people who also have a passion for the place," he said.
Of course, it's not all smooth sailing in the world of gardening, especially in Melbourne's unpredictable weather. Ryan highlights the challenge of perfecting the timing of the iconic Flemington roses, a task complicated by the ever-shifting climate. However, it's these very challenges that drive Ryan, making his role dynamic and ever-engaging.
Becoming the Senior Manager of Grounds and Gardens was a career highlight for him and a testament to his expertise and dedication. Arriving at Flemington for work experience in 1989 and offered an apprenticeship the following year, he couldn't have dreamed he would still be here 34 years later. Since then, he has remained steadfastly loyal to the course.
Behind every successful journey, there's often a guiding hand. For Ryan, that person is Terry Freeman, who played a pivotal role in his life. "He guided me when I lost my father when I was young. He gave me a start here at Flemington and taught me everything he knew."
The duo have created nothing less than world-class excellence in the Flemington gardens. Upon Terry's retirement in 2019 after 43 years in the top job, Ryan took the reins in a natural succession. He has since made his own mark, ensuring that the grounds continue to captivate all who visit.
It's not all about the gardens for Ryan, though. He also loves the horses and their incredible athleticism. "There is nothing like being along the Flemington straight and listening to the thunder of their hooves as they accelerate past you. It gives me goosebumps."
Cup Week Updates
Having had the hottest and driest September on record, Ryan has understandably been a little nervous about those iconic roses blooming right on time. "I've been seeing lots of roses peaking outside the racecourse in various gardens, which made me a bit worried, but thankfully ours have not done the same thing yet. I'm very happy that we have had some colder days lately," he said.
While the famous rose arbour – the scene of so many memorable photographic moments – has undergone a renovation this year and won't be blooming as much as usual, Ryan assures us that it is displaying lots of lovely colour, and will be more magnificent than ever when fully grown in.
The grandstand will also be a vibrant spectacle of colour, with 3500 hydroponic flowers planted along the front.
Other updates include the new Subzero memorial garden in the pre-parade ring, a beautiful tribute to Subbie and his best friend, Graham Salisbury, which will no doubt be popular throughout the Carnival.
Members will be greeted by a sweeping panorama of the course as they drive into the course along Members Drive, thanks to a meticulous refurbishment that enhances the view and elevates the sense of arrival. To the right, a lush camellia hedge has been planted, adding an extra layer of beauty to the entrance.
Beyond the weather, preparations do have their other challenges, as Ryan and his team work around the construction sites of The Birdcage, The Park, Palooza, corporate areas and car parks. With so much experience under his belt, however, Ryan takes it in his stride. With the addition of casual workers and the understanding that hours will increase – the team will work 12 to 14 days straight – it will be an enormous, but successful, project.
As busy as Cup Week and its lead up is, as the eyes of the world fall on the course, the weeks and months following will also be hectic.
Restoring the grounds back to their original glory after four days of crowds, marquees and other structures is a huge job, considering there is the equivalent of eight MCGs to look after. With a number of events such as musical festivals, concerts and Cirque du Soleil solidly booked on racecourse grounds throughout 2024, the gardens team will not have a spare weekend until May.
There are no complaints for Ryan and his team, however, as they proudly ensure that the gardens and grounds of Flemington continue to be a source of awe and inspiration for everyone who comes through those grand gates during Cup Week and beyond, and for generations to come.
---
Experience the Magic of the 2023 Melbourne Cup Carnival
Prepare for a truly unforgettable Cup Week, where equine athleticism meets Melbourne style in a spectacular showcase of thoroughbred excellence. Be there to experience the magic trackside as new champions etch their names into racing folklore. Tickets still available, don't miss out!.