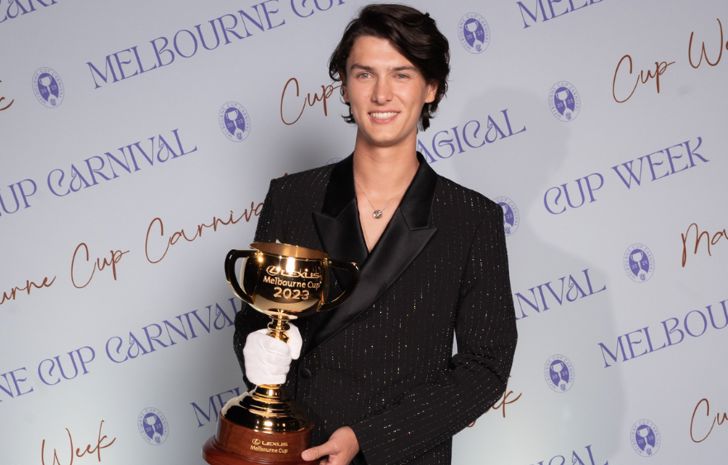 Count Nikolai of Monpezat, a special guest at Melbourne Cup Carnival
20 September 2023
•
Written by
VRC
The official launch of Melbourne Cup Week in Sydney in early September gathered a who's who of racing, entertainment, business and society at Mimi's in Coogee. Count Nikolai of Monpezat, a 24-year-old member of the Danish Royal family and nephew of Crown Princess Mary of Denmark, was one special guest.
The eldest son of Prince Joachim and his first wife, Alexandra, Countess of Frederiksborg, and eldest grandchild of Queen Margrethe II, Nikolai has moved to Sydney for a short time to study at the University of Technology Sydney (UTS). His girlfriend, Benedikte Thoustrup, who is also studying at UTS, has accompanied him.
Nikolai's Australian adventure follows in the footsteps of his father, who spent time in Australia as a young man working on a farm in Wagga Wagga.
In a recent interview, the Danish royal shared his initial impressions of Australia, and it's clear he's taken to the laid-back atmosphere and the friendly, talkative locals. "I hope to bring some Aussie back home to Denmark and then I hope to set my own handprint, footprint, in Australia," he said. "I like that it is laid back here, people are just so friendly, so nice, talkative, I really enjoy that."
As Nikolai's visit coincides with the Melbourne Cup Carnival, he will attend Penfold's Victoria Derby Day as a guest of the VRC. The fashionable side of Cup Week will be a familiar world for Nikolai, who has already had a successful modelling career in Europe. He made his debut at Burberry's show during London Fashion Week in 2018 and has also worked with other luxury brands such as Dior.
Beyond the fashion, Nikolai is also looking forward to the horses, having been introduced to the equine world by his girlfriend, an avid show jumper. "She has been show jumping ever since she was young and she has shown me her horse world, taught me how to ride a horse amateurly," he said of his girlfriend. "I have been to horse racing in Hong Kong before but never anything as grand as the Cup in Melbourne. I hope to get an authentic experience."
Nikolai is not the first Danish royal to grace Flemington and the Birdcage Enclosure. He's following in his Australian aunt's footsteps, Mary Donaldson as she was then known, and Crown Prince Frederik of Denmark attended the Melbourne Cup in 2002 and saw Damien Oliver secure his second Melbourne Cup aboard Media Puzzle for Irish trainer Dermot Weld.