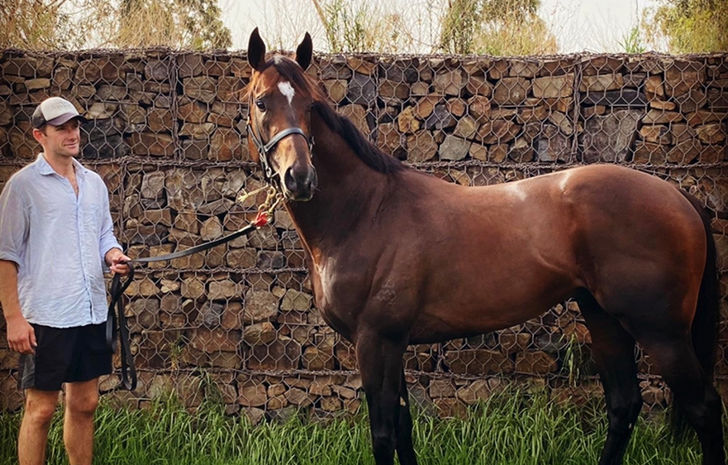 Country ties
9 June 2021
•
Written by
VRC
As Assistant Trainer to Mike Moroney at Ballymore Stables, Jack Turnbull appreciates all that comes with the job, including being based at Flemington. His grassroots are firmly in the country, however, with ties to Mornington and Wagga Wagga, where his career in racing all began.
When Jack Turnbull was at school on the Mornington Peninsula, he became best friends with a kid called Jake Noonan. Jake had just started riding trackwork in preparation for his apprenticeship with his father, Tony Noonan. "The first night I stayed there, I got up around 8am the next morning. I took a look outside and was captivated by what was happening. From then on, every time I stayed, I got up for trackwork and went around with Tony until I was old enough to work on the yard."
This was when he was just shy of fifteen. Turnbull then worked for Noonan ("a role model") until he was nineteen, before setting off to Wagga Wagga to complete a Bachelor in Equine Science at Charles Sturt University. "I studied in Wagga for three years, where I worked for Chris Heywood and Gary Colvin for 18 months each." It was here that he experienced the "rawness" of country racing. "The characters that allow country racing to function are generally some of the most genuine and down-to-earth people you are likely to meet. They're passionate about racing and thoroughbreds, and that becomes infectious."
During university holidays whilst still studying, Turnbull also worked for trainers Mick Kent, Tony Noonan, and Chris Waller at his Rosehill base. After completing his degree, he travelled to the UK where he worked for Andrew Balding at Kingsclere for three months before taking up the Assistant Trainer's role for David Simcock at Newmarket. This broadened his experience and knowledge and provided him with the most memorable moment in his career to date. "It was training a Britannia winner in 2017 with Bless Him at Royal Ascot, while I was Assistant to David Simcock in Newmarket. This is closely followed by Alabama Express winning the G1 CF Orr Stakes, in February 2020."
Turnbull has now worked with Mike Moroney for three and half years, overseeing the training, management, and staff within the stable environment. It is a job he loves.
"Being assistant to Mike is very rewarding as we're positioned at a premier training precinct. We are also lucky enough to be supported by loyal clients, and as a result, get to work with well-bred and performed racehorses."
Working at Flemington, and centrally to all of the racetracks around Victoria, is something that Turnbull also appreciates. And, while it is no secret that a trainer's job can be a challenging one, he wouldn't have it any other way.
"Most facets of my life now are horse-orientated due to having friends in the industry and a passion for racing myself. If you're not at the track, you're generally checking results, catching up on news, or spending time with others talking about racing. It sounds ridiculous, but it's the way it goes." Watching Winx win her third Cox Plate with a good group of friends is just one of these moments that he cherishes, and probably his favourite as a racing fan.
When Turnbull does carve out some time outside of work, he enjoys running and sampling the wineries around his old stomping ground along the Mornington Peninsula.
Racing is what drives him, though, with goals set for himself that he is working hard to attain. "I'd like to train myself one day, and in doing so would obviously love to win a Cox Plate or Melbourne Cup. Having experienced working in England, I would also love to return to Royal Ascot with a runner of my own."
For now, he is more than content immersing himself in the industry, celebrating the highs and the lows.
"What I love about racing is that it is so diverse. From trackwork at 4am, to being in the winner's room celebrating with owners, it really allows you to experience all emotions. It can be an awfully tough job, but at the same time equally rewarding when things go your way."