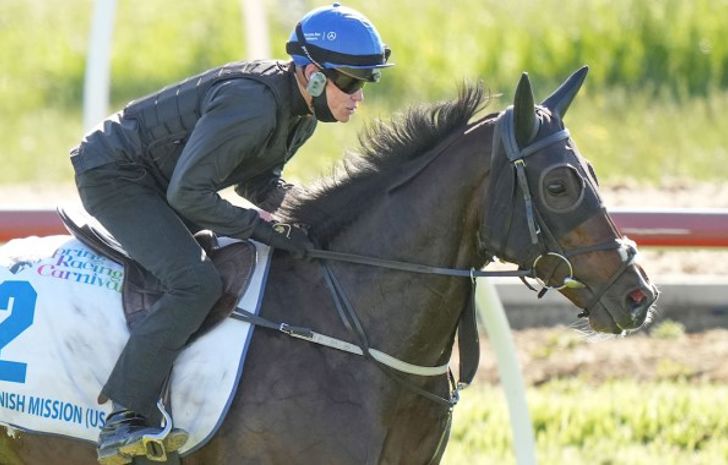 Cup Mission near completion
1 November 2021
•
Written by
Andrew Eddy
Incentivise will start one of the shortest-priced Lexus Melbourne Cup favourites for many years on Tuesday but, for some, there is one issue still to be sorted.
Trainer Peter Moody said Incentivise will go into the Cup in the same order as he did when he romped home in the Caulfield Cup, prompting many to declare him a certain winner. But the Lexus Melbourne Cup contains a horse the likes of which Incentivise has not yet seen.
Those who saw import Spanish Mission's gallop at the Werribee International Horse Centre on Saturday morning, where he had to prove his fitness after a minor injury scare, said it indicated the Cup is not yet won.
Tom Noonan, who has been looking after Spanish Mission along with his father Tony for Newmarket-based trainer Andrew Balding, did not hold back when asked if indeed his horse was the one to beat in the Cup.
"I think he is. I think he is a true champion. He's shown world class obviously," said Noonan.
"I think it's going to be a real interesting day tomorrow. Incentivise is a fantastic horse and the horse to beat as well, but I think we'll give him a run for his money."
Spanish Mission's Lexus Melbourne Cup journey could have been set for an abrupt end just last week when it appeared the horse knocked his right foreleg after it showed signs of swelling. But Noonan said the galloper has thrown off the issue.
"It was, for us, a minor issue," he said. "We weren't too concerned. Once we'd sorted out what the problem was and where it was stemming from, we were quite confident that we were going to get it under control.
"He wouldn't have galloped on Saturday if he wasn't feeling well."
Noonan could barely contain his admiration for Spanish Mission that at his previous start in August he stretched the neck of great stayer Stradivarius at York.
"He definitely is a real athlete," Noonan said. "He's just a gentleman. For a six-year-old colt - it can be hard work sometimes dealing with colts - but his nature and temperament is world class.
"It has been an absolute privilege and honour to work with this horse and to work for Andrew."
Noonan said Saturday's workout proved plenty to him.
"His work was really, really good Saturday and Craig (Williams) came in on Sunday for a trot and a canter and just boled him around but got a really good feel for him. His work was just super."
Noonan said Tuesday's forecast of 28 degrees does not bother him.
"This horse has travelled quite a lot," he said. "He's been to America and he's been to Dubai. He's a seasoned horse in those terms. I think he will handle tomorrow's heat.
"He's had some experience in the heat and the thing going in his favour is that he has such a good temperament and he doesn't stress.
"We will be on top of it as far as keeping an eye on cooling him down and giving him plenty of hoses if he does show signs.
"But the fact he is so well travelled and has that experience overseas in those heat conditions, I don't see it being too much of a problem."