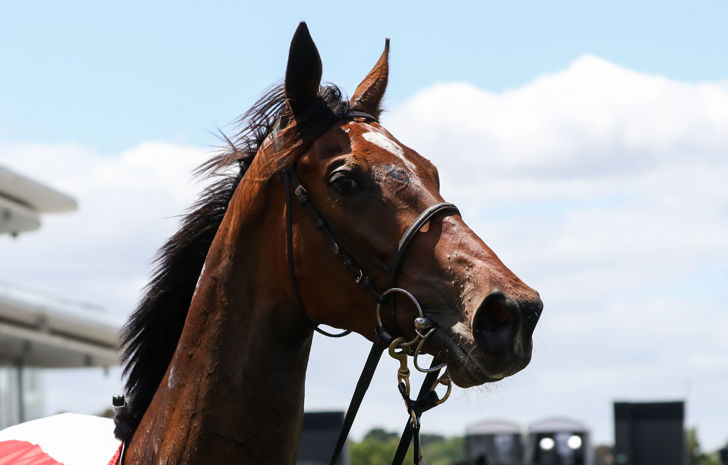 Dream not over for Tralee Rose
7 December 2021
•
Written by
Mick Sharkie
She was the great Lexus Melbourne Cup hope for Warrnambool trainer Symon Wilde and his team, as well as his hometown of Warrnambool, a town steeped in racing history. Tralee Rose may not have returned with the trophy, but did them proud with a 2021 Geelong Cup victory. And it seems her star is set to shine again in 2022.
When trainer Symon Wilde showed his dad Bill an immature, gawky yearling filly by Tavistock at the 2018 Karaka yearling sale, he thought she might one day make a decent stayer.
The filly was at least worth taking a punt on, at the right price of course. She was lean, immature and pretty flat across the wither, she looked like a horse that would need all of her two-year-old season to develop, and then some. But the Wildes mulled over the filly with the big loose walk, drawn to a pedigree that included 2005 VRC Oaks and ATC Australian Oaks winner, Serenade Rose.
"I said to dad if we can steal her, it might pay off in the long run if we give her time. Well, we gave her the time and look at what she's done," said Wilde.
A lack of international competition and an unusually high fallout rate in the weeks leading up to the Cup saw Tralee Rose slowly climb the ballot order, and the Wilde Racing team rode every rung of the ladder with anticipation.
"Every time one dropped out and we got a little closer the staff would be up and about, and the excitement just kept building from there. Once she won the Geelong Cup it was a celebration," Wilde said.
The Geelong Cup wasn't part of the original plan for Tralee Rose, but when the mare fell just short of claiming a golden ticket to the Cup via the Bart Cummings Stakes, won by Grand Promenade, Wilde decided he had to make a good thing of making the field.
"And thankfully she won and we got that little prizemoney boost we needed to put her ahead of a few. What she showed me at Geelong was that she was ready for two miles, dropping down to 51 kilos and getting out to a distance that will suit her, she got her chance."
And Wilde got his, too. By no means an overnight success story, the 41-year old has honed his craft alongside his father and then with his own stable, training horses that most Melbourne Cup trainers would deem below average on the score of talent.
"I cut my teeth on those horses and there have been some pretty ordinary ones, but they are harder to train. You learn so much more with those horses that lack ability, you have to try and work them out, work out how to get those wins out of them – it makes you a better trainer," he said.
"It feels like I'm ready, the family is ready. We have developed this property here at my mum and dad's farm over ten years, the uphill sand track, the walkers, yards, paddocks, we have everything we need but it has taken time."
Just as Tralee Rose has. A headstrong filly that lacked the patience that most stayers require to fulfill their pedigrees, Tralee Rose wanted to get everything done in a hurry as a young horse, towing her work rider around the track in morning work but showing enough strength to suggest she could live up to her pedigree.
"We told the owners that she would take time, but if they were prepared to wait she could take us for a ride. In those early days patience was required, she just wanted to get on with it," Wilde said.
"She's improved a lot as she's matured, physically and mentally. She's a lot calmer now and if she wasn't she might not be the horse she is. She's filled that frame out too. She's quite imposing when you stand next to her, she's long and strong and has huge levers that give her an enormous stride. When you watch her in work and her races, sometimes her rivals are taking two strides to her one."
Wilde has never had the budget to go and play in the overseas market that seems to generate most of the horses running around in the elite Australian staying races these days. Nor has the latest fad of European yearling sales been a scene that he wanted to be involved in, not when he could pluck horses like Tralee Rose from paddocks much closer to home.
"I'm actually surprised that more of the wealthy owners that are buying these tried horses and yearlings out of Europe aren't doing more here in Australia or New Zealand, they could probably spend less money and a little more time and get a sounder, better horses that is more suitable to Australian racing," he said.
"I don't think the success of European horses in Australia has changed the way we breed, but I reckon it has influenced the way Australian trainers prepare their stayers. We don't give them 25 trials and 10 races in a prep before they are ready now, you see more and more young staying horses kicking off 1800m or 2000m, they're given time to develop which is more in line with those European methods."
Unfortunately, Melbourne Cup Day didn't quite go to plan, with the mare galloped on during the race and sustaining a laceration on her left hind leg as a result. As a precaution, she was transported to the U-Vet Equine Centre in Werribee for further examination which confirmed that the mare sustained no structural injuries during the race, only the laceration.
Wilde and the horse's owners were relieved to find she had escaped tendon damage, and she was given at least a month's box rest and rehab before heading into the paddock for a spell.
While an autumn campaign may not be on the cards, Wilde is looking forward to next spring, where another Cup campaign may be on the cards.
"This is such a good story for Australian racing, a little stable like ours with a chance in Australia's greatest race, it's just fantastic."