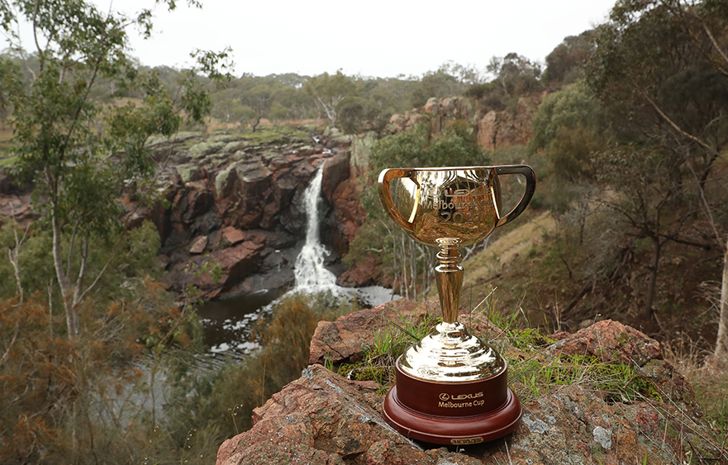 Final field for Lexus Melbourne Cup Tour National Sweep locked in
26 October 2021
•
Written by
VRC
The final field for the Lexus Melbourne Cup Tour National Sweep has been locked in, following the official barrier draw event today.
Hosted by Network 10's Natalie Yoannidis, the barrier draw saw 24 rural and regional Lexus Melbourne Cup Tour destinations allocated a barrier for this year's Lexus Melbourne Cup. 
The town that draws the barrier of the eventual Lexus Melbourne Cup-winning horse will be presented with a cash prize of $50,000 to put towards a registered charity for a local community initiative.
Representatives from each of the 24 destinations dialled in virtually to select their barrier, with Victoria Racing Club (VRC) Chairman Neil Wilson assisting in the proceedings.
Lexus Melbourne Cup Tour Ambassador and legendary racecaller Greg Miles also assisted in proceedings along with former Chief Steward of Racing Victoria Des Gleeson.
Residents of Cairns in Far North Queensland were left cheering when they drew barrier 11, the most successful barrier in Cup history with eight winners so far.
Despite not yet having produced a winner, Coleraine in regional Victoria will be hoping to make history on Lexus Melbourne Cup Day after drawing barrier 18.
Muswellbrook in the Hunter Valley selected barrier 12, which was the barrier of last year's Lexus Melbourne Cup winner Twilight Payment.
While residents in Kerang will be hoping hometown hero and last year's Lexus Melbourne Cup-winning jockey Jye McNeil will jump from their barrier 22.
West Australian destination Jennacubbine drew the widest gate, selecting barrier number 24.
Destinations will be eagerly awaiting this Saturday's official Lexus Melbourne Cup Barrier Draw following the conclusion of Penfolds Victoria Derby Day to see which horse will compete for their town.
The bushfire-ravaged community of Kangaroo Island in South Australia took home the $50,000 donation last year for the Royal Flying Doctors after Twilight Payment led from start to finish to win the 160th running of the Cup.  
Inspired by the initiative, the ownership group behind Twilight Payment matched the prize to make the total contribution $100,000.
The 2021 Melbourne Cup Carnival begins with Penfolds Victoria Derby Day on Saturday 30 October, followed by Lexus Melbourne Cup Day on Tuesday 2 November, Kennedy Oaks Day on Thursday 4 November, and Paramount+ Stakes Day on Saturday 6 November.
All the action from the 2021 Melbourne Cup Carnival can be seen live and free on Network 10 and 10 Play on demand with our website also home to exciting and exclusive content and competitions. 
TOWN

BARRIER

CHARITY

Taree, NSW

1

The Trustee for Jockeys Benefit Scheme Trust

Broome, WA

2

Channel 7 Telethon Trust

Gayndah, QLD

3

Cancer Council Queensland

Nagambie, VIC

4

Nagambie Healthcare

Warra, QLD

5

Drought Angels

Noosa, QLD

6

Noosa Chances

Kaniva, VIC

7

Dialysis and Transplant Association of Victoria Incorporated

Kalgoorlie, WA

8

Royal Flying Doctor Service Western Operations

Port Augusta, SA

9

Royal Flying Doctor Service of Australia  Central Operations

Longford, TAS

10

Helping Hand Association Incorporated Longford Tasmania

Cairns, QLD

11

Far North Queensland Hospital Foundation

Muswellbrook, NSW

12

Cancer Council Australia

Merbein, VIC

13

Rural Care Australia Ltd  Merbein

Sapphire Coast, NSW

14

Social Justice Advocates of the Sapphire Coast

Gold Coast, QLD

15

Griffith University
(Institute Glycomics's - Equine Influenza and Hendra Virus Research)
50% split with Gold Coast Turf Club

Apollo Bay, VIC

16

Apollo Bay Surf Life Saving Club

Richmond, QLD

17

Royal Flying Doctor Service of Australia (Queensland Section)

Coleraine, VIC

18

Coleraine Men's Shed Inc.

Bendigo/Fosterville, VIC

19

Sunshine Bendigo

Newman, WA

20

Royal Flying Doctor of Australia

Kandanga, QLD

21

Hope Reins Inc.

Kerang, VIC

22

Northern District Community Health

Warwick, QLD

23

Endeavour Foundation Learning & Lifestyle - Warwick

Jennacubbine, WA

24

Royal Flying Doctor of Australia
System.Web.HttpException (0x80004005): Error executing child request for handler 'System.Web.Mvc.HttpHandlerUtil+ServerExecuteHttpHandlerAsyncWrapper'. ---> System.NullReferenceException: Object reference not set to an instance of an object.
   at ASP._Page_Views_Partials_googleAd_cshtml.Execute() in C:\home\site\wwwroot\Views\Partials\googleAd.cshtml:line 4
   at System.Web.WebPages.WebPageBase.ExecutePageHierarchy()
   at System.Web.Mvc.WebViewPage.ExecutePageHierarchy()
   at System.Web.WebPages.WebPageBase.ExecutePageHierarchy(WebPageContext pageContext, TextWriter writer, WebPageRenderingBase startPage)
   at System.Web.Mvc.RazorView.RenderView(ViewContext viewContext, TextWriter writer, Object instance)
   at System.Web.Mvc.BuildManagerCompiledView.Render(ViewContext viewContext, TextWriter writer)
   at Umbraco.Web.Mvc.ProfilingView.Render(ViewContext viewContext, TextWriter writer) in D:\a\1\s\src\Umbraco.Web\Mvc\ProfilingView.cs:line 25
   at System.Web.Mvc.ViewResultBase.ExecuteResult(ControllerContext context)
   at System.Web.Mvc.ControllerActionInvoker.InvokeActionResult(ControllerContext controllerContext, ActionResult actionResult)
   at System.Web.Mvc.ControllerActionInvoker.InvokeActionResultFilterRecursive(IList`1 filters, Int32 filterIndex, ResultExecutingContext preContext, ControllerContext controllerContext, ActionResult actionResult)
   at System.Web.Mvc.ControllerActionInvoker.InvokeActionResultFilterRecursive(IList`1 filters, Int32 filterIndex, ResultExecutingContext preContext, ControllerContext controllerContext, ActionResult actionResult)
   at System.Web.Mvc.ControllerActionInvoker.InvokeActionResultFilterRecursive(IList`1 filters, Int32 filterIndex, ResultExecutingContext preContext, ControllerContext controllerContext, ActionResult actionResult)
   at System.Web.Mvc.ControllerActionInvoker.InvokeActionResultFilterRecursive(IList`1 filters, Int32 filterIndex, ResultExecutingContext preContext, ControllerContext controllerContext, ActionResult actionResult)
   at System.Web.Mvc.ControllerActionInvoker.InvokeActionResultFilterRecursive(IList`1 filters, Int32 filterIndex, ResultExecutingContext preContext, ControllerContext controllerContext, ActionResult actionResult)
   at System.Web.Mvc.ControllerActionInvoker.InvokeActionResultWithFilters(ControllerContext controllerContext, IList`1 filters, ActionResult actionResult)
   at System.Web.Mvc.Async.AsyncControllerActionInvoker.<>c__DisplayClass3_6.<BeginInvokeAction>b__4()
   at System.Web.Mvc.Async.AsyncControllerActionInvoker.<>c__DisplayClass3_1.<BeginInvokeAction>b__1(IAsyncResult asyncResult)
   at System.Web.Mvc.Async.AsyncResultWrapper.WrappedAsyncResult`1.CallEndDelegate(IAsyncResult asyncResult)
   at System.Web.Mvc.Async.AsyncResultWrapper.WrappedAsyncResultBase`1.End()
   at System.Web.Mvc.Async.AsyncControllerActionInvoker.EndInvokeAction(IAsyncResult asyncResult)
   at System.Web.Mvc.Controller.<>c.<BeginExecuteCore>b__152_1(IAsyncResult asyncResult, ExecuteCoreState innerState)
   at System.Web.Mvc.Async.AsyncResultWrapper.WrappedAsyncVoid`1.CallEndDelegate(IAsyncResult asyncResult)
   at System.Web.Mvc.Async.AsyncResultWrapper.WrappedAsyncResultBase`1.End()
   at System.Web.Mvc.Controller.EndExecuteCore(IAsyncResult asyncResult)
   at System.Web.Mvc.Controller.<>c.<BeginExecute>b__151_2(IAsyncResult asyncResult, Controller controller)
   at System.Web.Mvc.Async.AsyncResultWrapper.WrappedAsyncVoid`1.CallEndDelegate(IAsyncResult asyncResult)
   at System.Web.Mvc.Async.AsyncResultWrapper.WrappedAsyncResultBase`1.End()
   at System.Web.Mvc.Controller.EndExecute(IAsyncResult asyncResult)
   at System.Web.Mvc.Controller.System.Web.Mvc.Async.IAsyncController.EndExecute(IAsyncResult asyncResult)
   at System.Web.Mvc.MvcHandler.<>c.<BeginProcessRequest>b__20_1(IAsyncResult asyncResult, ProcessRequestState innerState)
   at System.Web.Mvc.Async.AsyncResultWrapper.WrappedAsyncVoid`1.CallEndDelegate(IAsyncResult asyncResult)
   at System.Web.Mvc.Async.AsyncResultWrapper.WrappedAsyncResultBase`1.End()
   at System.Web.Mvc.MvcHandler.EndProcessRequest(IAsyncResult asyncResult)
   at System.Web.Mvc.MvcHandler.System.Web.IHttpAsyncHandler.EndProcessRequest(IAsyncResult result)
   at System.Web.Mvc.HttpHandlerUtil.ServerExecuteHttpHandlerAsyncWrapper.<>c__DisplayClass3_0.<EndProcessRequest>b__0()
   at System.Web.Mvc.HttpHandlerUtil.ServerExecuteHttpHandlerWrapper.<>c__DisplayClass5_0.<Wrap>b__0()
   at System.Web.Mvc.HttpHandlerUtil.ServerExecuteHttpHandlerWrapper.Wrap[TResult](Func`1 func)
   at System.Web.Mvc.HttpHandlerUtil.ServerExecuteHttpHandlerWrapper.Wrap(Action action)
   at System.Web.Mvc.HttpHandlerUtil.ServerExecuteHttpHandlerAsyncWrapper.EndProcessRequest(IAsyncResult result)
   at System.Web.HttpServerUtility.ExecuteInternal(IHttpHandler handler, TextWriter writer, Boolean preserveForm, Boolean setPreviousPage, VirtualPath path, VirtualPath filePath, String physPath, Exception error, String queryStringOverride)
   at System.Web.HttpServerUtility.ExecuteInternal(IHttpHandler handler, TextWriter writer, Boolean preserveForm, Boolean setPreviousPage, VirtualPath path, VirtualPath filePath, String physPath, Exception error, String queryStringOverride)
   at System.Web.HttpServerUtility.Execute(IHttpHandler handler, TextWriter writer, Boolean preserveForm, Boolean setPreviousPage)
   at System.Web.HttpServerUtility.Execute(IHttpHandler handler, TextWriter writer, Boolean preserveForm)
   at System.Web.HttpServerUtilityWrapper.Execute(IHttpHandler handler, TextWriter writer, Boolean preserveForm)
   at System.Web.Mvc.Html.ChildActionExtensions.ActionHelper(HtmlHelper htmlHelper, String actionName, String controllerName, RouteValueDictionary routeValues, TextWriter textWriter)
   at System.Web.Mvc.Html.ChildActionExtensions.Action(HtmlHelper htmlHelper, String actionName, String controllerName, RouteValueDictionary routeValues)
   at Our.Umbraco.DocTypeGridEditor.Web.Extensions.HtmlHelperExtensions.RenderDocTypeGridEditorItem(HtmlHelper helper, IPublishedElement content, String editorAlias, String viewPath, String previewViewPath, Boolean isPreview)
   at ASP._Page_app_plugins_doctypegrideditor_render_DocTypeGridEditor_cshtml.Execute() in C:\home\site\wwwroot\app_plugins\doctypegrideditor\render\DocTypeGridEditor.cshtml:line 34
   at System.Web.WebPages.WebPageBase.ExecutePageHierarchy()
   at System.Web.Mvc.WebViewPage.ExecutePageHierarchy()
   at System.Web.WebPages.WebPageBase.ExecutePageHierarchy(WebPageContext pageContext, TextWriter writer, WebPageRenderingBase startPage)
   at System.Web.Mvc.RazorView.RenderView(ViewContext viewContext, TextWriter writer, Object instance)
   at System.Web.Mvc.BuildManagerCompiledView.Render(ViewContext viewContext, TextWriter writer)
   at Umbraco.Web.Mvc.ProfilingView.Render(ViewContext viewContext, TextWriter writer) in D:\a\1\s\src\Umbraco.Web\Mvc\ProfilingView.cs:line 25
   at System.Web.Mvc.HtmlHelper.RenderPartialInternal(String partialViewName, ViewDataDictionary viewData, Object model, TextWriter writer, ViewEngineCollection viewEngineCollection)
   at System.Web.Mvc.Html.PartialExtensions.Partial(HtmlHelper htmlHelper, String partialViewName, Object model, ViewDataDictionary viewData)
   at System.Web.Mvc.Html.PartialExtensions.Partial(HtmlHelper htmlHelper, String partialViewName, Object model)
   at ASP._Page_Views_Partials_grid_editors_Base_cshtml.Execute() in C:\home\site\wwwroot\Views\Partials\grid\editors\Base.cshtml:line 20