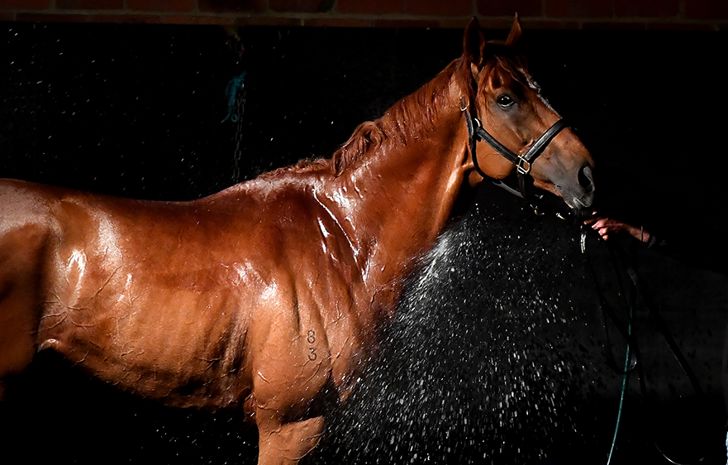 Finche's new path
20 October 2021
•
Written by
Michael Lynch
After a racehorse's last race is run, they are by no means forgotten by those who worked with them daily. Chris Waller and his stable are fierce advocates of their horses living a long, and healthy life in a variety of new careers. Three-time Melbourne Cup runner and 2020 Turnbull Stakes third-place getter, Finche, is one of his lucky charges who is going on to even greener pastures.
Over the centuries, responsible horse owners and trainers, who are also inevitably horse lovers, have ensured that those who have served them in the racing industry have fulfilled careers when they finish racing.
Many leading stables have established their own extensive protocols for rehoming ex-racehorses, with top men such as Chris Waller, the nation's leading trainer, taking a hands-on role in ensuring the welfare of former charges is of paramount importance, often paying vets bills and related costs themselves as part of the process.
His staff, headed by Executive Assistant Sophie Baker, works tirelessly to match the right horses to the right owners for post-racing careers, making sure that the physical capabilities and temperament of each galloper is suited to the task it will be required to carry out.
These can be many and varied. Some former racing stars like Group 3 winner McCreery end up in equestrian competition, others, like Group 1 Coolmore Stakes-winning sprinter Japonisme and Group 1 winner Foreteller work at studs as "mentors" for yearlings and young horses as they prepare for a future career on the track.
Some end up as attractions at places like Living Legends in Victoria, where that grand old stayer and Melbourne Cup regular Who Shot The Barman now resides.
Waller has been the dominant force in Australian racing for over a decade now, but he knows more than most that his success cannot be maintained if racing loses its allure with the general public.
"These horses have been given to us, so it is our job and responsibility to make sure they are getting what we got from them – a beautiful life after racing."
Waller is upfront with his clients that owning a horse is a whole-of-life responsibility, not just a racing investment. And anyone who takes on an ex-racehorse to rehome it is given full details of any issues or injuries that the horse may have had, either recently or in the past.
Baker plays a major role in stable administration and management, particularly the rehoming process.
"Before Chris worked with horses, he worked with animals (on a dairy farm in New Zealand) so he has always been someone who cared a lot about them and their wellbeing.
"He is a big believer that the horses have been so good to us, we need to be good to them."
Decisions on retirement are driven by the trainer, she explains.
"When horses either get an injury or get older to the point where we don't want to put them under more pressure by continuing to race them on – they are not machines – Chris will discuss it with the owners, and they will retire them.
"The vet will have a look and give me an idea of any issues the horse has now or has had in the past and recovered from, and from that he will do up a vet report and we will put our feelers out.
"We do have a couple of contacts with a lot of equestrian people who put me in touch with potential new owners.
"We will filter through those people, ask questions about their background, references, where they would keep the horse, their intentions with the horse. We want the horses to go somewhere where they can have forever home."
One recent retiree heading off to his forever home is the stayer Finch. Although the Turnbull Stakes, Caulfield Cup and Melbourne Cup will not quite feel the same this year without the presence of the ex-French galloper, he now has a future as a showjumper and eventing horse ahead of him.
Trained at Chantilly by the master Andrew Fabre for Prince Khaled Abdulla before heading to Australia, Finche ran in the past two editions of all three races. In each case he acquitted himself with great honour after finishing fourth to Cross Counter in the 2018 Melbourne Cup at just his second Australian start.
He subsequently finished seventh to Vow And Declare and then ninth last year to Twilight Payment in the Melbourne Cup, having previously run fifth to both Mer De Glace (2019) and Verry Elleegant (2020) in the Caulfield Cup.
His Turnbull Stakes record was also excellent as he ran a short head second to Kings Will Dream in 2019 and a head third to Verry Elleegant in 2020.
Before coming to Australia, Finche had raced against some high-class middle-distance gallopers in Europe, including the likes of multiple Group 1 winner Cracksman and subsequent Prix de l'Arc de Triomphe hero Waldgeist.
But those days are behind him, and he will be trading in the famous pink, green and white colours of the Juddmonte Racing brand for the black coat of his equestrian partner, Serena Cox, when he begins his new career.
Serena is an equine physiotherapist who works a lot for the Waller stable in Sydney, so she was familiar with the son of Frankel during his racing days. Having only leased riding horses in the past, she jumped at the chance to take on Finche when offered the gelding following his retirement.
She is currently in Melbourne helping keep Waller's horses in tip-top shape for the spring carnival while Finche is adjusting to his new life and home base at the Hedgerow Performance Horse centre on the Central Coast of NSW.
"We are just allowing him to settle in, get used to his surroundings and enjoy being in the paddock running around and letting down. After that we will begin his re-education process," she explains.
"My main goal for him is to turn him into a showjumper and eventer. I used to lease a horse for that, but I wanted to further my riding and have a horse with really good ability so I could go into the competition side of things.
"It will be quite a long process, but because he has done such good work at the Waller stable, with small dressage work as part of their usual training off the track, I think it will be a really nice transition for him. Being such a big boy, I think he would have good jumping capabilities.
"I think he will be a quite outstanding dressage, showjumping type, a perfect equestrian horse once he learns the ropes and it will be a good journey to go on with him."
Image: (Quinn Rooney/Getty Images)