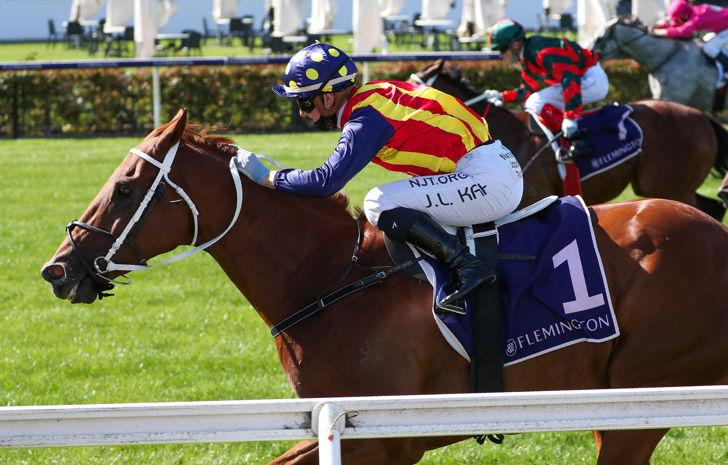 Force of Nature
9 February 2022
•
Written by
Mick Sharkie
Will lightning strike twice for 2021 Black Caviar Lightning winner and star sprinter, Nature Strip? We take a look at how the 'world's best sprinter' and 2019/20 Australian racehorse of the Year got to where he is today.
On the eve of the return of the world's best sprinter Nature Strip to Flemington for the Black Caviar Lightning, part-owner Rod Lyons is at home on the exercise bike, building back to fitness after enduring a bout of COVID-19.
"I think everyone is going to get it eventually mate," he said while spinning the wheels.
"At least it's out of the way and I can get to the races."
And that's important when you own the fastest horse in the world. Nature Strip has taken Lyons and a group of mates on the ride of their lives and for a man who recognises that he's enjoyed more than his share of luck as a racehorse owner, watching his horse in person is a privilege never to be underestimated.
"My dad and uncle used to take me to The Flat at Caulfield as a kid, watching those horses as a young bloke, I dreamed that one day I might own my own," said Lyons.
During a hugely successful career in carpet manufacturing, Lyons began to dabble in a few shares, but wins were few and far between. Eventually, a friendship with trainer Tony Vasil led to horses like Group 1 winners Super Elegant, Under The Louvre and multiple stakes winners Lucky Secret and Under The Eiffel. Most racehorse owners would happily retire on that group.
"To think that after those horses I'd have one like Nature Strip, well what do you say? It's the stuff of wildest dreams, absolutely a dream come true," he said.
Already the winner of more than $16 million in prizemoney with seven Group 1 wins and The Everest to his name, Nature Strip is incredibly set for even more glory in 2022; in Lyons' opinion, the horse is far from finished. 
"Look he's got better in the last two seasons there's no doubt about that, but you look at the way he won the (VRC) Classic and the way he's trialled up this time in, he might be better again," he said.
 A raw free-running speedball bordering on uncontrollable early in his career, Nature Strip has matured under the tutelage of Chris Waller who, along with champion jockey James McDonald and track rider Stuart Williams, have taught the chestnut how to harness his power.
"Chris insisted from day one that if we could harness that raw speed, he would be something really special and that's what has happened. Chris is the conductor of the band, but James and Stuey have been a huge part of the story," Lyons said.
The Nature Strip story might have been written entirely differently if not for a chance meeting at the Adelaide Magic Millions Sale in 2016.
Nature Strip, previously known as Lot 378 at the 2016 Inglis Premier Sale, passed in for $90,000 as a part of the Golden Grove farm draft. Trainer John Sadler bought the horse after the sale and quickly sold 15 percent to stable clients, with a new owner committing to the remaining eight percent.
But that owner – who Sadler has never outed – never came up with the cash, and the trainer was left with the horse in his lap.
"I was in Adelaide selling a couple that I had bred when I ran into John and we organised to catch up for dinner," Lyons recalled.
"John told me the predicament, explained that the horse broke in well and looked fast enough, he said he guaranteed we'd win a race and we'd be able to get him away to Hong Kong. So we thought OK, what have we got to lose, and we bought him."
Nature Strip lined up for his maiden start at Mornington as a $2.25 favourite. Lyons and his crew wanted to have "a good bet" but were gun shy at the short odds, but in Sadler's view the horse was "unbeatable" and so he was, winning, albeit by a narrow margin.
"There were times early on that we could have sold to Hong Kong, but we just kept thinking maybe this bloke is the one we've been waiting for. We held on, and I'm bloody glad we did!"
Reflecting on his ownership journey, Lyons still has fond memories of those early days watching his horses punching around Tocumwal, Berrigan and Holbrook, albeit without much success.
"They were fun times those road trips, but I'd much rather be at Flemington," he said.
"It's a dream to have a horse like this that can run in and win these big Flemington sprints. When you go racing at Flemington you know you're racing the very best, the elite. I've been to Chantilly to Royal Ascot, to racetracks around the world and I can tell you that Flemington is as good as it gets."
If Nature Strip returns at his best in the Black Caviar Lightning, Lyons and the ownership group have designs on a Royal Ascot campaign, with a majority of the ownership in agreeance that the time is right for an international test. The final call will be in the hands of Chris Waller, but it would take a brave trainer to deny Lyons the chance to showcase his horse in full flight.
"Who wouldn't want that experience? To take the fastest horse in the world to Royal Ascot with a bunch of mates, talk about life-long dreams. It's up to the horse,  if he's at his best then I'd say we will be there and what an incredible chapter of his story that would be," he said.
System.Web.HttpException (0x80004005): Error executing child request for handler 'System.Web.Mvc.HttpHandlerUtil+ServerExecuteHttpHandlerAsyncWrapper'. ---> System.NullReferenceException: Object reference not set to an instance of an object.
   at ASP._Page_Views_Partials_googleAd_cshtml.Execute() in C:\home\site\wwwroot\Views\Partials\googleAd.cshtml:line 4
   at System.Web.WebPages.WebPageBase.ExecutePageHierarchy()
   at System.Web.Mvc.WebViewPage.ExecutePageHierarchy()
   at System.Web.WebPages.WebPageBase.ExecutePageHierarchy(WebPageContext pageContext, TextWriter writer, WebPageRenderingBase startPage)
   at System.Web.Mvc.RazorView.RenderView(ViewContext viewContext, TextWriter writer, Object instance)
   at System.Web.Mvc.BuildManagerCompiledView.Render(ViewContext viewContext, TextWriter writer)
   at Umbraco.Web.Mvc.ProfilingView.Render(ViewContext viewContext, TextWriter writer) in D:\a\1\s\src\Umbraco.Web\Mvc\ProfilingView.cs:line 25
   at System.Web.Mvc.ViewResultBase.ExecuteResult(ControllerContext context)
   at System.Web.Mvc.ControllerActionInvoker.InvokeActionResult(ControllerContext controllerContext, ActionResult actionResult)
   at System.Web.Mvc.ControllerActionInvoker.InvokeActionResultFilterRecursive(IList`1 filters, Int32 filterIndex, ResultExecutingContext preContext, ControllerContext controllerContext, ActionResult actionResult)
   at System.Web.Mvc.ControllerActionInvoker.InvokeActionResultFilterRecursive(IList`1 filters, Int32 filterIndex, ResultExecutingContext preContext, ControllerContext controllerContext, ActionResult actionResult)
   at System.Web.Mvc.ControllerActionInvoker.InvokeActionResultFilterRecursive(IList`1 filters, Int32 filterIndex, ResultExecutingContext preContext, ControllerContext controllerContext, ActionResult actionResult)
   at System.Web.Mvc.ControllerActionInvoker.InvokeActionResultFilterRecursive(IList`1 filters, Int32 filterIndex, ResultExecutingContext preContext, ControllerContext controllerContext, ActionResult actionResult)
   at System.Web.Mvc.ControllerActionInvoker.InvokeActionResultFilterRecursive(IList`1 filters, Int32 filterIndex, ResultExecutingContext preContext, ControllerContext controllerContext, ActionResult actionResult)
   at System.Web.Mvc.ControllerActionInvoker.InvokeActionResultWithFilters(ControllerContext controllerContext, IList`1 filters, ActionResult actionResult)
   at System.Web.Mvc.Async.AsyncControllerActionInvoker.<>c__DisplayClass3_6.<BeginInvokeAction>b__4()
   at System.Web.Mvc.Async.AsyncControllerActionInvoker.<>c__DisplayClass3_1.<BeginInvokeAction>b__1(IAsyncResult asyncResult)
   at System.Web.Mvc.Async.AsyncResultWrapper.WrappedAsyncResult`1.CallEndDelegate(IAsyncResult asyncResult)
   at System.Web.Mvc.Async.AsyncResultWrapper.WrappedAsyncResultBase`1.End()
   at System.Web.Mvc.Async.AsyncControllerActionInvoker.EndInvokeAction(IAsyncResult asyncResult)
   at System.Web.Mvc.Controller.<>c.<BeginExecuteCore>b__152_1(IAsyncResult asyncResult, ExecuteCoreState innerState)
   at System.Web.Mvc.Async.AsyncResultWrapper.WrappedAsyncVoid`1.CallEndDelegate(IAsyncResult asyncResult)
   at System.Web.Mvc.Async.AsyncResultWrapper.WrappedAsyncResultBase`1.End()
   at System.Web.Mvc.Controller.EndExecuteCore(IAsyncResult asyncResult)
   at System.Web.Mvc.Controller.<>c.<BeginExecute>b__151_2(IAsyncResult asyncResult, Controller controller)
   at System.Web.Mvc.Async.AsyncResultWrapper.WrappedAsyncVoid`1.CallEndDelegate(IAsyncResult asyncResult)
   at System.Web.Mvc.Async.AsyncResultWrapper.WrappedAsyncResultBase`1.End()
   at System.Web.Mvc.Controller.EndExecute(IAsyncResult asyncResult)
   at System.Web.Mvc.Controller.System.Web.Mvc.Async.IAsyncController.EndExecute(IAsyncResult asyncResult)
   at System.Web.Mvc.MvcHandler.<>c.<BeginProcessRequest>b__20_1(IAsyncResult asyncResult, ProcessRequestState innerState)
   at System.Web.Mvc.Async.AsyncResultWrapper.WrappedAsyncVoid`1.CallEndDelegate(IAsyncResult asyncResult)
   at System.Web.Mvc.Async.AsyncResultWrapper.WrappedAsyncResultBase`1.End()
   at System.Web.Mvc.MvcHandler.EndProcessRequest(IAsyncResult asyncResult)
   at System.Web.Mvc.MvcHandler.System.Web.IHttpAsyncHandler.EndProcessRequest(IAsyncResult result)
   at System.Web.Mvc.HttpHandlerUtil.ServerExecuteHttpHandlerAsyncWrapper.<>c__DisplayClass3_0.<EndProcessRequest>b__0()
   at System.Web.Mvc.HttpHandlerUtil.ServerExecuteHttpHandlerWrapper.<>c__DisplayClass5_0.<Wrap>b__0()
   at System.Web.Mvc.HttpHandlerUtil.ServerExecuteHttpHandlerWrapper.Wrap[TResult](Func`1 func)
   at System.Web.Mvc.HttpHandlerUtil.ServerExecuteHttpHandlerWrapper.Wrap(Action action)
   at System.Web.Mvc.HttpHandlerUtil.ServerExecuteHttpHandlerAsyncWrapper.EndProcessRequest(IAsyncResult result)
   at System.Web.HttpServerUtility.ExecuteInternal(IHttpHandler handler, TextWriter writer, Boolean preserveForm, Boolean setPreviousPage, VirtualPath path, VirtualPath filePath, String physPath, Exception error, String queryStringOverride)
   at System.Web.HttpServerUtility.ExecuteInternal(IHttpHandler handler, TextWriter writer, Boolean preserveForm, Boolean setPreviousPage, VirtualPath path, VirtualPath filePath, String physPath, Exception error, String queryStringOverride)
   at System.Web.HttpServerUtility.Execute(IHttpHandler handler, TextWriter writer, Boolean preserveForm, Boolean setPreviousPage)
   at System.Web.HttpServerUtility.Execute(IHttpHandler handler, TextWriter writer, Boolean preserveForm)
   at System.Web.HttpServerUtilityWrapper.Execute(IHttpHandler handler, TextWriter writer, Boolean preserveForm)
   at System.Web.Mvc.Html.ChildActionExtensions.ActionHelper(HtmlHelper htmlHelper, String actionName, String controllerName, RouteValueDictionary routeValues, TextWriter textWriter)
   at System.Web.Mvc.Html.ChildActionExtensions.Action(HtmlHelper htmlHelper, String actionName, String controllerName, RouteValueDictionary routeValues)
   at Our.Umbraco.DocTypeGridEditor.Web.Extensions.HtmlHelperExtensions.RenderDocTypeGridEditorItem(HtmlHelper helper, IPublishedElement content, String editorAlias, String viewPath, String previewViewPath, Boolean isPreview)
   at ASP._Page_app_plugins_doctypegrideditor_render_DocTypeGridEditor_cshtml.Execute() in C:\home\site\wwwroot\app_plugins\doctypegrideditor\render\DocTypeGridEditor.cshtml:line 34
   at System.Web.WebPages.WebPageBase.ExecutePageHierarchy()
   at System.Web.Mvc.WebViewPage.ExecutePageHierarchy()
   at System.Web.WebPages.WebPageBase.ExecutePageHierarchy(WebPageContext pageContext, TextWriter writer, WebPageRenderingBase startPage)
   at System.Web.Mvc.RazorView.RenderView(ViewContext viewContext, TextWriter writer, Object instance)
   at System.Web.Mvc.BuildManagerCompiledView.Render(ViewContext viewContext, TextWriter writer)
   at Umbraco.Web.Mvc.ProfilingView.Render(ViewContext viewContext, TextWriter writer) in D:\a\1\s\src\Umbraco.Web\Mvc\ProfilingView.cs:line 25
   at System.Web.Mvc.HtmlHelper.RenderPartialInternal(String partialViewName, ViewDataDictionary viewData, Object model, TextWriter writer, ViewEngineCollection viewEngineCollection)
   at System.Web.Mvc.Html.PartialExtensions.Partial(HtmlHelper htmlHelper, String partialViewName, Object model, ViewDataDictionary viewData)
   at System.Web.Mvc.Html.PartialExtensions.Partial(HtmlHelper htmlHelper, String partialViewName, Object model)
   at ASP._Page_Views_Partials_grid_editors_Base_cshtml.Execute() in C:\home\site\wwwroot\Views\Partials\grid\editors\Base.cshtml:line 20