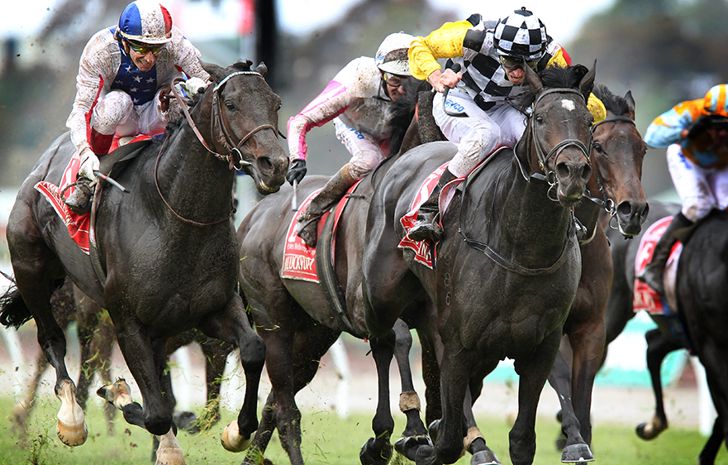 From Alice Springs to Royal Ascot
25 October 2021
•
Written by
Sarah Marinos
Former jockey Steven Arnold enjoyed a career that took him around the world and to the Melbourne Cup.
Spending his life in the saddle was inevitable for Steven Arnold. He was born in Alice Springs to parents who were both jockeys and Arnold's mother, Sheila, was also a trainer. He started his jockey apprenticeship with her when he was 14 and it was the start of a journey from Alice Springs to Adelaide and on to Flemington and several Melbourne Cups, before a season in Mauritius.
Arnold retired as a professional jockey in 2018 but now rides trackwork for Chris Waller Racing at Flemington. He also spends time each week riding at Lloyd Williams' Macedon Lodge.
"I enjoy trackwork. As a jockey you have to constantly watch your weight. I like keeping fit and I'm still riding some pretty nice horses these days, but I don't have the same constraints on my time and lifestyle," says Arnold.
"I have three boys and I wanted to spend more time with them. I love watching them play their sport on Saturday and we enjoy doing the simple things as a family. But I could never step away completely from racing."
After getting his start in Alice Springs, Arnold moved to Adelaide at 15 and then to Melbourne to continue his apprenticeship.
"My mother taught me the basics of riding a pony, looking after the horses and the discipline that you need to work with horses. She showed me the importance of learning about the animal before racing and that was a great grounding," said Arnold.
As his name and ability became known in racing circles, Arnold found himself riding for respected trainers including Bart Cummings. He had four Group 1 victories on the Cummings-trained So You Think, including the Cox Plate in 2010. So You Think was one of his most impressive partnerships.
"He won the Cox Plate that year, but then he missed the autumn and came back for the spring and we didn't know how he'd go. He'd had a throat operation, too," said Arnold.
"But I won four Group 1s on him and we ran third in the Melbourne Cup in 2010. He was a genuine top-class horse – strong and straightforward and you didn't need much luck. When you got on him, you knew you were in for a good ride."
Riding in the Melbourne Cup remains a career highlight for Arnold.
"I grew up watching tapes of the Melbourne Cup. I remember being five or six and watching those tapes so many times that they wore out. For a boy from Alice Springs to get a ride in that race was unbelievable. It was disappointing not to win one but I still feel very lucky."
Arnold also found himself riding a winner at Royal Ascot in 2009 on Scenic Blast. It's another highlight.
"Mum is from the UK and grew up in racing over there. We'd get the Cheltenham Gold Cup sent out on VCR tapes. Royal Ascot is similar in profile to our Spring Carnival so to win a Group 1 race there was a real experience. I love the way they do racing at Royal Ascot – it's very traditional and elegant," said Arnold. 
In 2017 he headed to Mauritius – a country where racing is the only national sport. As a taller jockey, Arnold said managing his weight was always difficult and he was able to ride a little heavier there. He rode with the leading Gujadhur Stable and won the Mauritian equivalent of the Melbourne Cup – the Maiden Cup.
"It was a good way to go out. I raced on one of the oldest racecourses in the world and the people there were very passionate about racing. But the day of my last ride in Mauritius I thought, 'that might be it'. I knew it was time to stop."
For this Carnival, Arnold feels Incentivise is looking 'unbeatable'.
"He is a freak and has a definite edge on him. He looks good for the Cup this year," said Arnold.
"Out of the Waller yard, I've got my eye on Selino. He won the Sydney Cup and I think he'll sneak into a place in Flemington."
Image: Steven Arnold riding 'So You Think' finishes third in the 2010 Melbourne Cup. (Photo by David Caird/Newspix)