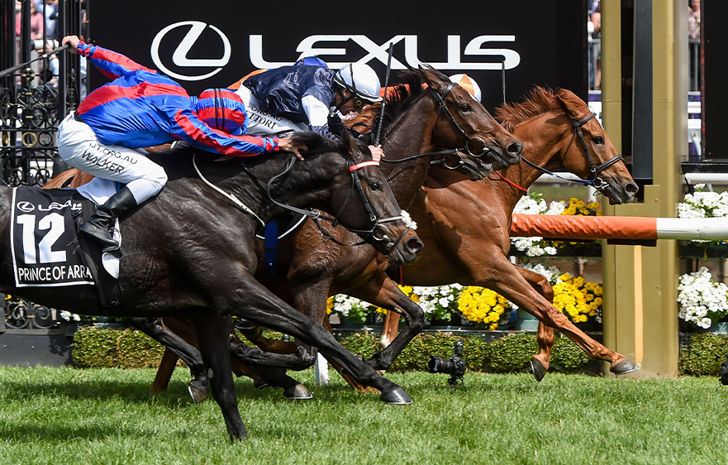 From far-flung to Flemington folklore
15 June 2023
•
Written by
Brad Bishop – Racing & Sports
Flemington is the grandest stage in Australian racing, but the careers of many of those responsible for some of the course's most famous moments began at venues all over the state.
In the week the VRC celebrates its connection with country racing in Victoria, we look at some of the horses who registered their first win in the country but went on to outstanding careers.
BETTER LOOSEN UP – Bendigo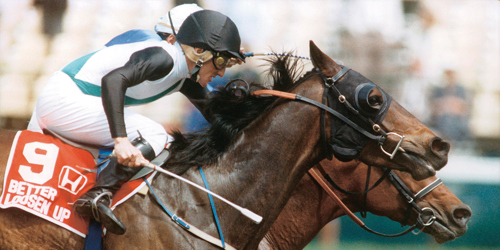 Better Loosen Up winning the 1989 Honda Stakes on the last day of the Melbourne Cup carnival. (The Age Research Library/Fairfax Publications)
Bendigo is known as the 'Nursery of Champions' and no other Bendigo graduate has gone on to achieve the greatness of Better Loosen Up, whose first win came in a 2YO Handicap at his second start. Best remembered for his Japan Cup win, three of his Group 1 wins came at Flemington, in the Australian Cup, Mackinnon Stakes (now Champions Stakes) and Cantala Stakes (now Champions Mile). Melbourne Cup winners Hyperno and Shocking also broke their maiden at Bendigo, as did Victoria Derby winners Star Of The Realm and Benicio together with VRC Oaks winners Miami Bound, Hollow Bullet and Grand Archway and VRC Sprint Classic winner Santa Ana Lane.
SCHILLACI – Kyneton
Schillaci winnning the 1992 Newmarket Handicap. (Matthew Absalom-Wong/Fairfax)
Rivals of the grey gelding who was on debut in the 3YO maiden at Kyneton on 22 October 1991 didn't know it at the time, but they never really stood a chance. Schillaci streeted his rivals in that 1100m event and less than four months later won the first of two Lightnings at just his fourth start, and two starts after that won a Newmarket Handicap. He is not the only Newmarket champion to win their maiden at Kyneton with Rubitano and Zoutori having done likewise.
HAREEBA – Yarra Valley
As proud as Yarra Valley is of Mookta, he is not that venue's most famous graduate. Hareeba, a two-time Group 1 winner down the Flemington straight, won a division of the 1200m maiden by eight lengths on 28 October 1993. Remarkably, another division at the same meeting was won by Paris Lane, who is most famous for Caulfield Cup victory but also won a Mackinnon Stakes and finished runner-up in the 1994 Melbourne Cup.
MAKYBE DIVA – Wangaratta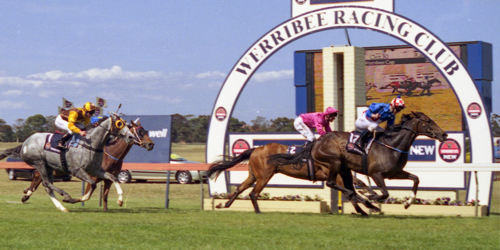 A year before the first of three successive Melbourne Cups, Makybe Diva won the 2002 Werribee Cup with Luke Currie aboard. (Racing Photos)
Perhaps the most famous Melbourne Cup winner of all launched her career with a tour of country Victoria. After an inauspicious debut fourth placing at Benalla, she won a 1600m maiden at Wangaratta at start number two before wins at Sale and Ballarat ahead of her metropolitan debut.
ELVSTROEM – Swan Hill
Elvstroem won five Group 1s, one of which was the Victoria Derby, and competed with distinction on three continents but a measure of the impression he made in his Swan Hill maiden win on debut is that it is the race many still readily associate with him. That race is now named in his honour and is a feature event at the famous June long weekend carnival.
EFFICIENT (NZ) – Ballarat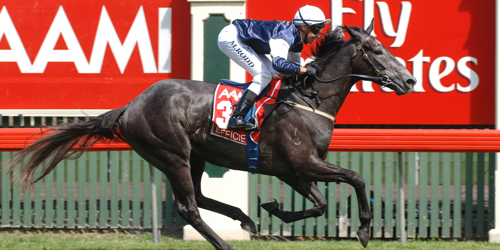 Efficient winning the 2006 Victoria Derby at Flemington. (Racing Photos)
Like its goldfields arch-rival Bendigo, Ballarat has produced many Group 1 winners, including Efficient. Beaten at Ballarat on debut, he returned to win at the second start of a debut campaign that culminated with Victoria Derby success. The popular grey went on to win a Melbourne Cup and Turnbull Stakes. Tarzino is another Derby winner who won his maiden at Ballarat. Miss Finland, Set Square and Brazilian Pulse won the Oaks after maiden wins at Ballarat, while Fawkner was another Flemington Group 1 winner who broke his maiden there.
WEEKEND HUSSLER – Cranbourne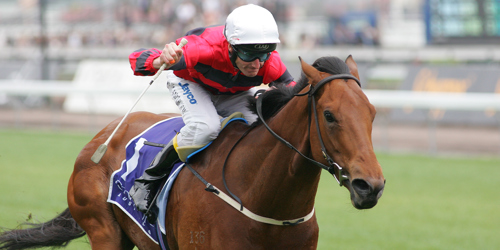 Weekend Hussler ridden by Brad Rawiller wins the 2007 Group 1 Coolmore Stud Stakes at Flemington. (Racing Photos)
Kyneton is not the only country venue that has proven a springboard for Newmarket success with several other recent winners of Australia's most prestigious sprint race winning their first race at a regional track. Weekend Hussler, who also won a Coolmore Stud Stakes and Makybe Diva Stakes at Flemington, broke his maiden at Cranbourne, as did Lankan Rupee. The Quarterback won for the first time at Bairnsdale and Mookta at Yarra Valley.
PRINCE OF PENZANCE – Stawell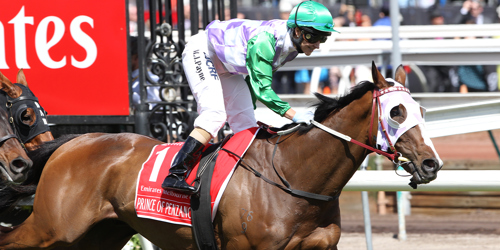 Prince Of Penzance winning the 2015 Melbourne Cup at 100-1. (Racing Photos)
The 2015 Melbourne Cup winner was trained out of Ballarat but was taken 115km west to Stawell for his debut, where he won a 1300m 3YO maiden. His former stablemate Palentino, whose two Group 1 wins came at Flemington, is another who registered their first win at Stawell.
CHAUTAUQUA – Geelong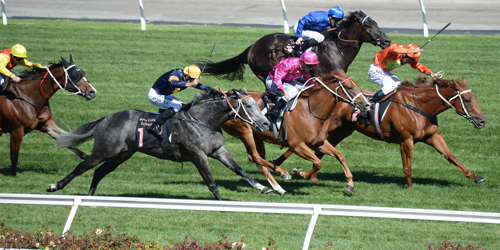 The grey flash Chautauqua with his signature finishing burst to win the 2016 Black Caviar Lightning. (Racing Photos)
He took in more country maidens than the Hawkes stable, and punters, expected but 'The Grey Flash' won for the first time at Geelong at start number three. It followed second placings at Seymour and Kyneton (when a $1.20 favourite) for the gelding who counted a Black Caviar Lightning win among his many highlights.
NATURE STRIP – Mornington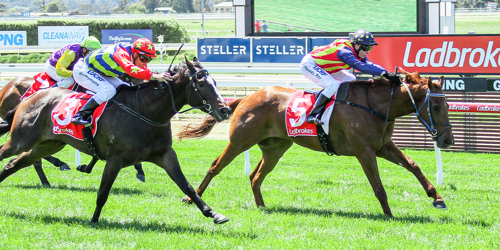 Nature Strip, ridden by Michael Poy, wins his maiden at Mornington in 2017. (Leonie Grbic/Racing Photos)
He has conquered the world, with a King's Stand Stakes victory at Royal Ascot, but it all started with victory in a 1000m 3YO maiden at Mornington. Now a nine-time Group 1 winner, Nature Strip's wins include two VRC Sprint Classics and a Black Caviar Lightning.
VOW AND DECLARE – Warrnambool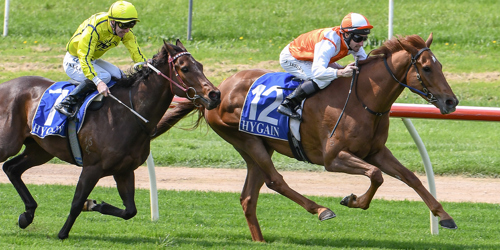 Vow And Declare wins his maiden at Warrnambool over 2381m back in October 2018. (Alice Laidlaw/Racing Photos)
Vow And Declare did not hit his straps until he got out over a trip, and it was a nondescript 2381m maiden at 'The Bool' that provided him with his first win. One year and two weeks later, the big chestnut was a Melbourne Cup winner.
HITOTSU – Donald
Hitotsu, ridden by John Allen, wins impressively at Donald in his first start for Ciaron Maher & David Eustace. (Brendan McCarthy/Racing Photos)
Also in the Wimmera, Donald will forever figure in the formcard for one of the most remarkable three-year-olds we've seen this century. The now-stallion's final five starts read; Donald maiden win, Caulfield Guineas fifth, Victoria Derby win, Australian Guineas win, ATC Australian Derby win.
System.Web.HttpException (0x80004005): Error executing child request for handler 'System.Web.Mvc.HttpHandlerUtil+ServerExecuteHttpHandlerAsyncWrapper'. ---> System.NullReferenceException: Object reference not set to an instance of an object.
   at ASP._Page_Views_Partials_googleAd_cshtml.Execute() in C:\home\site\wwwroot\Views\Partials\googleAd.cshtml:line 4
   at System.Web.WebPages.WebPageBase.ExecutePageHierarchy()
   at System.Web.Mvc.WebViewPage.ExecutePageHierarchy()
   at System.Web.WebPages.WebPageBase.ExecutePageHierarchy(WebPageContext pageContext, TextWriter writer, WebPageRenderingBase startPage)
   at System.Web.Mvc.RazorView.RenderView(ViewContext viewContext, TextWriter writer, Object instance)
   at System.Web.Mvc.BuildManagerCompiledView.Render(ViewContext viewContext, TextWriter writer)
   at Umbraco.Web.Mvc.ProfilingView.Render(ViewContext viewContext, TextWriter writer) in D:\a\1\s\src\Umbraco.Web\Mvc\ProfilingView.cs:line 25
   at System.Web.Mvc.ViewResultBase.ExecuteResult(ControllerContext context)
   at System.Web.Mvc.ControllerActionInvoker.InvokeActionResult(ControllerContext controllerContext, ActionResult actionResult)
   at System.Web.Mvc.ControllerActionInvoker.InvokeActionResultFilterRecursive(IList`1 filters, Int32 filterIndex, ResultExecutingContext preContext, ControllerContext controllerContext, ActionResult actionResult)
   at System.Web.Mvc.ControllerActionInvoker.InvokeActionResultFilterRecursive(IList`1 filters, Int32 filterIndex, ResultExecutingContext preContext, ControllerContext controllerContext, ActionResult actionResult)
   at System.Web.Mvc.ControllerActionInvoker.InvokeActionResultFilterRecursive(IList`1 filters, Int32 filterIndex, ResultExecutingContext preContext, ControllerContext controllerContext, ActionResult actionResult)
   at System.Web.Mvc.ControllerActionInvoker.InvokeActionResultFilterRecursive(IList`1 filters, Int32 filterIndex, ResultExecutingContext preContext, ControllerContext controllerContext, ActionResult actionResult)
   at System.Web.Mvc.ControllerActionInvoker.InvokeActionResultFilterRecursive(IList`1 filters, Int32 filterIndex, ResultExecutingContext preContext, ControllerContext controllerContext, ActionResult actionResult)
   at System.Web.Mvc.ControllerActionInvoker.InvokeActionResultWithFilters(ControllerContext controllerContext, IList`1 filters, ActionResult actionResult)
   at System.Web.Mvc.Async.AsyncControllerActionInvoker.<>c__DisplayClass3_6.<BeginInvokeAction>b__4()
   at System.Web.Mvc.Async.AsyncControllerActionInvoker.<>c__DisplayClass3_1.<BeginInvokeAction>b__1(IAsyncResult asyncResult)
   at System.Web.Mvc.Async.AsyncResultWrapper.WrappedAsyncResult`1.CallEndDelegate(IAsyncResult asyncResult)
   at System.Web.Mvc.Async.AsyncResultWrapper.WrappedAsyncResultBase`1.End()
   at System.Web.Mvc.Async.AsyncControllerActionInvoker.EndInvokeAction(IAsyncResult asyncResult)
   at System.Web.Mvc.Controller.<>c.<BeginExecuteCore>b__152_1(IAsyncResult asyncResult, ExecuteCoreState innerState)
   at System.Web.Mvc.Async.AsyncResultWrapper.WrappedAsyncVoid`1.CallEndDelegate(IAsyncResult asyncResult)
   at System.Web.Mvc.Async.AsyncResultWrapper.WrappedAsyncResultBase`1.End()
   at System.Web.Mvc.Controller.EndExecuteCore(IAsyncResult asyncResult)
   at System.Web.Mvc.Controller.<>c.<BeginExecute>b__151_2(IAsyncResult asyncResult, Controller controller)
   at System.Web.Mvc.Async.AsyncResultWrapper.WrappedAsyncVoid`1.CallEndDelegate(IAsyncResult asyncResult)
   at System.Web.Mvc.Async.AsyncResultWrapper.WrappedAsyncResultBase`1.End()
   at System.Web.Mvc.Controller.EndExecute(IAsyncResult asyncResult)
   at System.Web.Mvc.Controller.System.Web.Mvc.Async.IAsyncController.EndExecute(IAsyncResult asyncResult)
   at System.Web.Mvc.MvcHandler.<>c.<BeginProcessRequest>b__20_1(IAsyncResult asyncResult, ProcessRequestState innerState)
   at System.Web.Mvc.Async.AsyncResultWrapper.WrappedAsyncVoid`1.CallEndDelegate(IAsyncResult asyncResult)
   at System.Web.Mvc.Async.AsyncResultWrapper.WrappedAsyncResultBase`1.End()
   at System.Web.Mvc.MvcHandler.EndProcessRequest(IAsyncResult asyncResult)
   at System.Web.Mvc.MvcHandler.System.Web.IHttpAsyncHandler.EndProcessRequest(IAsyncResult result)
   at System.Web.Mvc.HttpHandlerUtil.ServerExecuteHttpHandlerAsyncWrapper.<>c__DisplayClass3_0.<EndProcessRequest>b__0()
   at System.Web.Mvc.HttpHandlerUtil.ServerExecuteHttpHandlerWrapper.<>c__DisplayClass5_0.<Wrap>b__0()
   at System.Web.Mvc.HttpHandlerUtil.ServerExecuteHttpHandlerWrapper.Wrap[TResult](Func`1 func)
   at System.Web.Mvc.HttpHandlerUtil.ServerExecuteHttpHandlerWrapper.Wrap(Action action)
   at System.Web.Mvc.HttpHandlerUtil.ServerExecuteHttpHandlerAsyncWrapper.EndProcessRequest(IAsyncResult result)
   at System.Web.HttpServerUtility.ExecuteInternal(IHttpHandler handler, TextWriter writer, Boolean preserveForm, Boolean setPreviousPage, VirtualPath path, VirtualPath filePath, String physPath, Exception error, String queryStringOverride)
   at System.Web.HttpServerUtility.ExecuteInternal(IHttpHandler handler, TextWriter writer, Boolean preserveForm, Boolean setPreviousPage, VirtualPath path, VirtualPath filePath, String physPath, Exception error, String queryStringOverride)
   at System.Web.HttpServerUtility.Execute(IHttpHandler handler, TextWriter writer, Boolean preserveForm, Boolean setPreviousPage)
   at System.Web.HttpServerUtility.Execute(IHttpHandler handler, TextWriter writer, Boolean preserveForm)
   at System.Web.HttpServerUtilityWrapper.Execute(IHttpHandler handler, TextWriter writer, Boolean preserveForm)
   at System.Web.Mvc.Html.ChildActionExtensions.ActionHelper(HtmlHelper htmlHelper, String actionName, String controllerName, RouteValueDictionary routeValues, TextWriter textWriter)
   at System.Web.Mvc.Html.ChildActionExtensions.Action(HtmlHelper htmlHelper, String actionName, String controllerName, RouteValueDictionary routeValues)
   at Our.Umbraco.DocTypeGridEditor.Web.Extensions.HtmlHelperExtensions.RenderDocTypeGridEditorItem(HtmlHelper helper, IPublishedElement content, String editorAlias, String viewPath, String previewViewPath, Boolean isPreview)
   at ASP._Page_app_plugins_doctypegrideditor_render_DocTypeGridEditor_cshtml.Execute() in C:\home\site\wwwroot\app_plugins\doctypegrideditor\render\DocTypeGridEditor.cshtml:line 34
   at System.Web.WebPages.WebPageBase.ExecutePageHierarchy()
   at System.Web.Mvc.WebViewPage.ExecutePageHierarchy()
   at System.Web.WebPages.WebPageBase.ExecutePageHierarchy(WebPageContext pageContext, TextWriter writer, WebPageRenderingBase startPage)
   at System.Web.Mvc.RazorView.RenderView(ViewContext viewContext, TextWriter writer, Object instance)
   at System.Web.Mvc.BuildManagerCompiledView.Render(ViewContext viewContext, TextWriter writer)
   at Umbraco.Web.Mvc.ProfilingView.Render(ViewContext viewContext, TextWriter writer) in D:\a\1\s\src\Umbraco.Web\Mvc\ProfilingView.cs:line 25
   at System.Web.Mvc.HtmlHelper.RenderPartialInternal(String partialViewName, ViewDataDictionary viewData, Object model, TextWriter writer, ViewEngineCollection viewEngineCollection)
   at System.Web.Mvc.Html.PartialExtensions.Partial(HtmlHelper htmlHelper, String partialViewName, Object model, ViewDataDictionary viewData)
   at System.Web.Mvc.Html.PartialExtensions.Partial(HtmlHelper htmlHelper, String partialViewName, Object model)
   at ASP._Page_Views_Partials_grid_editors_Base_cshtml.Execute() in C:\home\site\wwwroot\Views\Partials\grid\editors\Base.cshtml:line 20