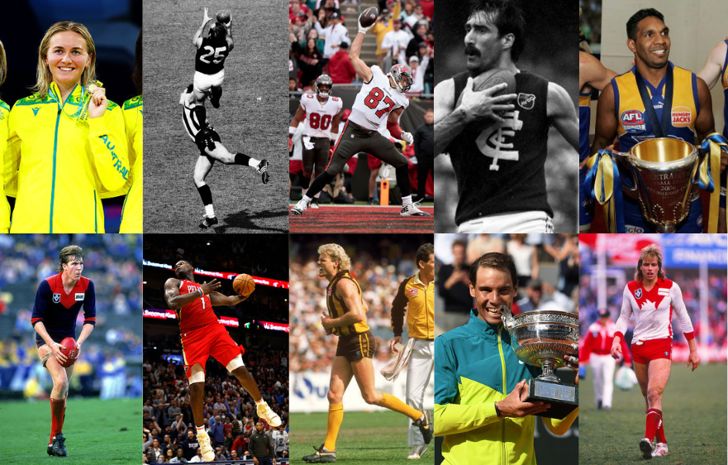 From sporting legends to equine stars
1 June 2023
•
Written by
VRC
There are some famous sporting names getting around the racing world at the moment and many of them were nominated for this Saturday's Flemington meeting. We take a look at some of the horses whose names have sporty origins.
Race 1 #5 – BIG JIMMA (Dundeel (NZ) – Gunawati)
The two-year-old colt is trained by former Demons player Robert Hickmott, owned by former Melbourne players and officials and named in honour of Irish-born, Brownlow medallist and Melbourne legend, Jim Stynes OAM. Stynes lost his long and courageous battle with Melanoma in 2012 but not before a Hall of Fame career on the field and an even more impactful career off it as a Melbourne administrator and his youth work as a co-founder of The Reach Foundation (Reach). Considering his origin, the feats of 'Jimmy' are nothing short of spectacular. He was a courageous, hard-running player, which was not your stereotypical prototype for an Australian Rules ruckman. He played 264 games for the Demons in twelve years and was awarded the Brownlow Medal in 1991. Stynes became Melbourne President in 2008 and was instrumental with his efforts to get the club out of debt. A bronze statue of Jim Stynes was erected unveiled at the MCG in 2014. The horse will carry Melbourne colours, navy blue with a red V and a little touch of Ireland, a green shamrock on the sleeves.
Race 1 #6 – PEROVIC (Pierro – Breakfast In Bed)
Croatian-born Vladimir Antonio Perovic played thirteen years in the VFL for St Kilda and Carlton. Emigrating to Australia at the age of four, Val was famous for his impressive moustache and booming right foot. He was involved in the trade that saw Alex Jesaulenko traded to St Kilda, and Perovic to the Blues. He would be a part of the premiership sides of 1981 and 1982 and was a favourite amongst the Carlton faithful where his kicks out of the back pocket would be met with a 'WOOF!' supposedly mimicking the grunt that Perovic would make when booting the football.
Race 4 #1 – TYPHOON TITMUS (Headwater – Little Indian)
Tasmanian-born swimmer Ariarne Titmus OAM, captured the hearts of the Australian public due to her achievements at the Tokyo Olympics, held in 2021. A dual Olympic gold medallist at 20 years of age, her two victories were the only time to that point that American Katie Ledecky had ever been beaten in three Olympic appearances. She also broke Ledecky's stranglehold on the 400m Freestyle world record when she bettered the mark last year, only to be surpassed herself by Canadian, Summer McIntosh, in recent months. Titmus, a horse lover from a young age, was a VRC ambassador at the 2022 Melbourne Cup Carnival. She is also a part-owner of the horse and was thrilled when the horse finished second in the Group 2 Edward Manifold Stakes at Flemington.
Race 6 #20 – GRONKOWSKI (Starcraft (NZ) – Silver Haze (GB))
Former NFL star Rob 'Gronk' Gronkowski is arguably one of the greatest tight ends to play American football. His 6ft 6in, 120kg frame made him a formidable force over the middle of the field, not to mention having one of the greatest of all time throwing him the ball for much of his 11-year career, Tom Brady. There was another horse named Gronkowski (Gronk owned a share in the horse) trained in the US, sired by Australian superstar Lonhro. He strung four wins together before chasing home Justify in the final leg of his Triple Crown, the 2018 G1 Belmont Stakes. He would later finish a close second in the 2019 G1 Dubai World Cup.
Race 9 #12 – ZION (NZ) (Rubick – Kim Dynasty)
Drafted No. 1 in the 2019 NBA Draft by the New Orleans Pelicans, Zion Williamson had the size to be a force in the NBA. He was dominant at college level for Duke University being named College Player of the Year. Known for his spectacular dunks, along with aggressive and athletic playing style, Zion became the one to watch in the college ranks and even got his own camera when NCAA broadcast partner CBS devoted a camera to him named "Zion Cam".
Race 9 #16 – JEZOULENKO (Zoustar – Heart To Fear)
A different take on the spelling of the Carlton legend Alex Jesaulenko, incorporating the horse's sire Zoustar, connections are hoping the mare can be a highflyer like her namesake. So far she's hitting the mark, earning $182,000 across fifteen starts but is yet to race at Flemington. 'Jezza' played 279 games for Carlton and St Kilda, won four flags at the Blues and was the last player-coach to win a VFL/AFL Premiership. Ironically he was part of the trade that saw Val Perovic head to Carlton. He will always be remembered for his towering mark in the 1970 VFL Grand Final over Collingwood ruckman Graeme Jenkin. The moment forever immortalised by the Mike Williamson call, "McKay......to the wing position on the Members Stand side.....OOOOOHHHHH!! JESAULENKO.....YOU BEAUTY!"
Other horses who were nominated but did not accept;
CAPPER THIRTYNINE (Vancouver – Artwear)
Warwick 'The Wizz' Capper was known for his high-flying, flamboyant play as a Swan and a Brisbane Bear. He was a club-leading goalkicker five times (4 for Sydney, 1 for Brisbane). He was nominated for Mark of the Year on several occasions and won the award in 1987, hanging on the back of Hawthorn's Chris Langford. Capper holds a share in the Nick Ryan trained two-year-old gelding named in his honour; the '39' referring to the number Capper wore in his time with Sydney and Brisbane. The horse won his maiden last start at Bendigo.
WIRRPANDA (Wandjina – Pass The Parcel)
David Wirrpanda played 227 games for the West Coast Eagles and was a integral part of their 2006 AFL Premiership. A very talented and highly skilled player, injury forced a slow start to his career managing only 12 of a possible 71 games in his first three seasons with the Eagles. When his career started to get on track, he became a reliable backman while having stints in the forward line, kicking over 20 goals in a season three times in his career. After a fantastic 2006 season, 'Wirra' was selected in the All-Australian team. Wirrpanda is also known for his community work in helping to improve the lives of young First Nations people, first and foremost through The David Wirrpanda Foundation (now Waalitj Foundation), which he launched in 2005.
BRERETON (Zoustar – Fuddle Dee Duddle)
Dermott Brereton was a Hawthorn champion and five-time Premiership player. He was a tough footballer and had a reputation as a big game player. He formed a potent forward line with Jason Dunstall, booting 427 goals over a thirteen-year span at the Hawks. He's a member of the Hawthorn team of the century and was inducted into the AFL Hall of Fame in 1999. He was often at the centre of a fracas and was known for his strong hip and shoulder shepherds. In the 1989 VFL Grand Final, Brereton collided with Cats player Mark Yeates. Appearing in intense pain, he continued to play the game out and contribute in the forward line booting three goals in the win. It was later revealed he had sustained broken ribs, a lacerated kidney and was suffering from internal bleeding. He now works in the football media for Fox Footy.
NADAL (Xtravagant (NZ) – Moshki)
Rafael 'Rafa' Nadal will go down as one of the greatest to ever step foot on a tennis court. His list of achievements are long and illustrious. The left-hander has won 22 Grand Slam titles including an incredible 14 French Open titles, a dual Olympic Gold Medallist, second all-time in career earnings at over USD$134 million, above 80% winning percentage and one of the most popular tennis players of all time. He has also had some epic battles with fellow champions Roger Federer and Novak Djokovic over his career. Horses are not the only thing Rafa lends his name to. Centre court of the Barcelona Open is named Pista Rafa Nadal. Roland Garros installed a steel statue of the French Open legend in 2021. He even has an asteroid named after him. Popular bloke.
---
Join us for VRC Community Race Day where we are offering the opportunity for all racegoers to have their photo taken with the 2023 Lexus Melbourne Cup before the Cup takes off around Australia and overseas for the Lexus Melbourne Cup Tour. The Cup will be available in Saintly Place Glass Foyer between 1-1:45pm and in The Club Stand Lobby between 12-12:45pm for VRC Members. Tickets selling fast, don't miss out!
Hero Image Credit: Getty Images
System.Web.HttpException (0x80004005): Error executing child request for handler 'System.Web.Mvc.HttpHandlerUtil+ServerExecuteHttpHandlerAsyncWrapper'. ---> System.NullReferenceException: Object reference not set to an instance of an object.
   at ASP._Page_Views_Partials_googleAd_cshtml.Execute() in C:\home\site\wwwroot\Views\Partials\googleAd.cshtml:line 4
   at System.Web.WebPages.WebPageBase.ExecutePageHierarchy()
   at System.Web.Mvc.WebViewPage.ExecutePageHierarchy()
   at System.Web.WebPages.WebPageBase.ExecutePageHierarchy(WebPageContext pageContext, TextWriter writer, WebPageRenderingBase startPage)
   at System.Web.Mvc.RazorView.RenderView(ViewContext viewContext, TextWriter writer, Object instance)
   at System.Web.Mvc.BuildManagerCompiledView.Render(ViewContext viewContext, TextWriter writer)
   at Umbraco.Web.Mvc.ProfilingView.Render(ViewContext viewContext, TextWriter writer) in D:\a\1\s\src\Umbraco.Web\Mvc\ProfilingView.cs:line 25
   at System.Web.Mvc.ViewResultBase.ExecuteResult(ControllerContext context)
   at System.Web.Mvc.ControllerActionInvoker.InvokeActionResult(ControllerContext controllerContext, ActionResult actionResult)
   at System.Web.Mvc.ControllerActionInvoker.InvokeActionResultFilterRecursive(IList`1 filters, Int32 filterIndex, ResultExecutingContext preContext, ControllerContext controllerContext, ActionResult actionResult)
   at System.Web.Mvc.ControllerActionInvoker.InvokeActionResultFilterRecursive(IList`1 filters, Int32 filterIndex, ResultExecutingContext preContext, ControllerContext controllerContext, ActionResult actionResult)
   at System.Web.Mvc.ControllerActionInvoker.InvokeActionResultFilterRecursive(IList`1 filters, Int32 filterIndex, ResultExecutingContext preContext, ControllerContext controllerContext, ActionResult actionResult)
   at System.Web.Mvc.ControllerActionInvoker.InvokeActionResultFilterRecursive(IList`1 filters, Int32 filterIndex, ResultExecutingContext preContext, ControllerContext controllerContext, ActionResult actionResult)
   at System.Web.Mvc.ControllerActionInvoker.InvokeActionResultFilterRecursive(IList`1 filters, Int32 filterIndex, ResultExecutingContext preContext, ControllerContext controllerContext, ActionResult actionResult)
   at System.Web.Mvc.ControllerActionInvoker.InvokeActionResultWithFilters(ControllerContext controllerContext, IList`1 filters, ActionResult actionResult)
   at System.Web.Mvc.Async.AsyncControllerActionInvoker.<>c__DisplayClass3_6.<BeginInvokeAction>b__4()
   at System.Web.Mvc.Async.AsyncControllerActionInvoker.<>c__DisplayClass3_1.<BeginInvokeAction>b__1(IAsyncResult asyncResult)
   at System.Web.Mvc.Async.AsyncResultWrapper.WrappedAsyncResult`1.CallEndDelegate(IAsyncResult asyncResult)
   at System.Web.Mvc.Async.AsyncResultWrapper.WrappedAsyncResultBase`1.End()
   at System.Web.Mvc.Async.AsyncControllerActionInvoker.EndInvokeAction(IAsyncResult asyncResult)
   at System.Web.Mvc.Controller.<>c.<BeginExecuteCore>b__152_1(IAsyncResult asyncResult, ExecuteCoreState innerState)
   at System.Web.Mvc.Async.AsyncResultWrapper.WrappedAsyncVoid`1.CallEndDelegate(IAsyncResult asyncResult)
   at System.Web.Mvc.Async.AsyncResultWrapper.WrappedAsyncResultBase`1.End()
   at System.Web.Mvc.Controller.EndExecuteCore(IAsyncResult asyncResult)
   at System.Web.Mvc.Controller.<>c.<BeginExecute>b__151_2(IAsyncResult asyncResult, Controller controller)
   at System.Web.Mvc.Async.AsyncResultWrapper.WrappedAsyncVoid`1.CallEndDelegate(IAsyncResult asyncResult)
   at System.Web.Mvc.Async.AsyncResultWrapper.WrappedAsyncResultBase`1.End()
   at System.Web.Mvc.Controller.EndExecute(IAsyncResult asyncResult)
   at System.Web.Mvc.Controller.System.Web.Mvc.Async.IAsyncController.EndExecute(IAsyncResult asyncResult)
   at System.Web.Mvc.MvcHandler.<>c.<BeginProcessRequest>b__20_1(IAsyncResult asyncResult, ProcessRequestState innerState)
   at System.Web.Mvc.Async.AsyncResultWrapper.WrappedAsyncVoid`1.CallEndDelegate(IAsyncResult asyncResult)
   at System.Web.Mvc.Async.AsyncResultWrapper.WrappedAsyncResultBase`1.End()
   at System.Web.Mvc.MvcHandler.EndProcessRequest(IAsyncResult asyncResult)
   at System.Web.Mvc.MvcHandler.System.Web.IHttpAsyncHandler.EndProcessRequest(IAsyncResult result)
   at System.Web.Mvc.HttpHandlerUtil.ServerExecuteHttpHandlerAsyncWrapper.<>c__DisplayClass3_0.<EndProcessRequest>b__0()
   at System.Web.Mvc.HttpHandlerUtil.ServerExecuteHttpHandlerWrapper.<>c__DisplayClass5_0.<Wrap>b__0()
   at System.Web.Mvc.HttpHandlerUtil.ServerExecuteHttpHandlerWrapper.Wrap[TResult](Func`1 func)
   at System.Web.Mvc.HttpHandlerUtil.ServerExecuteHttpHandlerWrapper.Wrap(Action action)
   at System.Web.Mvc.HttpHandlerUtil.ServerExecuteHttpHandlerAsyncWrapper.EndProcessRequest(IAsyncResult result)
   at System.Web.HttpServerUtility.ExecuteInternal(IHttpHandler handler, TextWriter writer, Boolean preserveForm, Boolean setPreviousPage, VirtualPath path, VirtualPath filePath, String physPath, Exception error, String queryStringOverride)
   at System.Web.HttpServerUtility.ExecuteInternal(IHttpHandler handler, TextWriter writer, Boolean preserveForm, Boolean setPreviousPage, VirtualPath path, VirtualPath filePath, String physPath, Exception error, String queryStringOverride)
   at System.Web.HttpServerUtility.Execute(IHttpHandler handler, TextWriter writer, Boolean preserveForm, Boolean setPreviousPage)
   at System.Web.HttpServerUtility.Execute(IHttpHandler handler, TextWriter writer, Boolean preserveForm)
   at System.Web.HttpServerUtilityWrapper.Execute(IHttpHandler handler, TextWriter writer, Boolean preserveForm)
   at System.Web.Mvc.Html.ChildActionExtensions.ActionHelper(HtmlHelper htmlHelper, String actionName, String controllerName, RouteValueDictionary routeValues, TextWriter textWriter)
   at System.Web.Mvc.Html.ChildActionExtensions.Action(HtmlHelper htmlHelper, String actionName, String controllerName, RouteValueDictionary routeValues)
   at Our.Umbraco.DocTypeGridEditor.Web.Extensions.HtmlHelperExtensions.RenderDocTypeGridEditorItem(HtmlHelper helper, IPublishedElement content, String editorAlias, String viewPath, String previewViewPath, Boolean isPreview)
   at ASP._Page_app_plugins_doctypegrideditor_render_DocTypeGridEditor_cshtml.Execute() in C:\home\site\wwwroot\app_plugins\doctypegrideditor\render\DocTypeGridEditor.cshtml:line 34
   at System.Web.WebPages.WebPageBase.ExecutePageHierarchy()
   at System.Web.Mvc.WebViewPage.ExecutePageHierarchy()
   at System.Web.WebPages.WebPageBase.ExecutePageHierarchy(WebPageContext pageContext, TextWriter writer, WebPageRenderingBase startPage)
   at System.Web.Mvc.RazorView.RenderView(ViewContext viewContext, TextWriter writer, Object instance)
   at System.Web.Mvc.BuildManagerCompiledView.Render(ViewContext viewContext, TextWriter writer)
   at Umbraco.Web.Mvc.ProfilingView.Render(ViewContext viewContext, TextWriter writer) in D:\a\1\s\src\Umbraco.Web\Mvc\ProfilingView.cs:line 25
   at System.Web.Mvc.HtmlHelper.RenderPartialInternal(String partialViewName, ViewDataDictionary viewData, Object model, TextWriter writer, ViewEngineCollection viewEngineCollection)
   at System.Web.Mvc.Html.PartialExtensions.Partial(HtmlHelper htmlHelper, String partialViewName, Object model, ViewDataDictionary viewData)
   at System.Web.Mvc.Html.PartialExtensions.Partial(HtmlHelper htmlHelper, String partialViewName, Object model)
   at ASP._Page_Views_Partials_grid_editors_Base_cshtml.Execute() in C:\home\site\wwwroot\Views\Partials\grid\editors\Base.cshtml:line 20