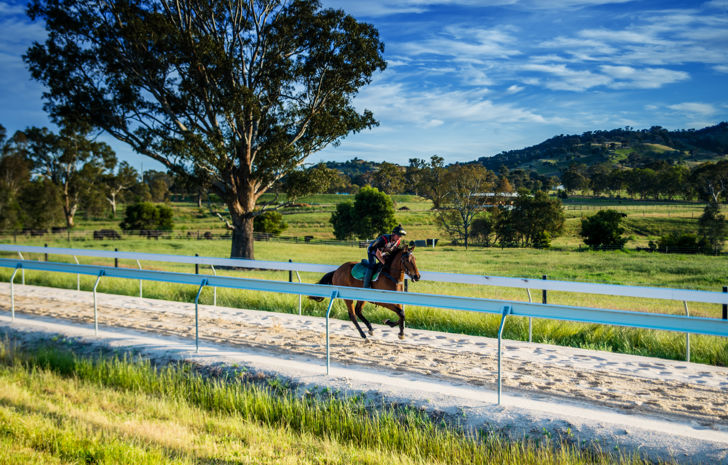 From the city to the country
9 December 2021
•
Written by
Michael Manley
Dual training facilities are now becoming more common for many trainers, as they seek to offer their horses more variety in their care.
The core of a trainer's philosophy is to have happy horses. Many believe that training them from different venues, including a country-based one, is a key ingredient in keeping them that way.
At Flemington, there are several trainers who use dual training facilities, and they regard it as an essential arm of their business.
The constant phrase they use when they are referring to having a country training base in addition to their Flemington stables is that it gives them the opportunity "to have the best of both worlds".
To operate two training bases, however, involves intrinsic planning and financial investment. It is also a lesson in patience, as time is needed to develop the massive infrastructure on their properties before they can use it.
In the past decade, both the Lindsay Park stable and Danny O'Brien Racing have done the above, reaping the rewards while retaining a strong presence at Flemington.
New Lindsay Park head trainer Ben Hayes and his brother JD represent a third generation of the Hayes training dynasty and one that has used dual facilities for more than 50 years. For the past 10 years, they have operated out of their Euroa base in northern Victoria in conjunction with their Flemington stables.
Danny O'Brien always wanted to have a beachside arm to his business and purchased land at Thirteenth Beach near Geelong in 2005, only ten years after he had taken out a training licence.
Another Flemington trainer, Saab Hasan, has just added a country arm to his Flemington base.
Hasan has been training at Flemington for 20 years and always wanted a country supplement stable for his business but doubted it could happen.
In the past year, he has been able to use Crown Valley Lodge, Tabilk, which is 90 minutes north of Melbourne in the Goulburn Valley.
Ben and JD Hayes are the recipients of the foresight shown by father David who purchased the land at Euroa over 20 years ago with the idea of replicating what was at the original Lindsay Park at Angaston in South Australia.
David Hayes' father Colin was the first large trainer to transplant his base from a city facility to a country facility in the 1960s, making it the first major off-course facility of modern times.
Just as David reaped the benefits of his father's foresight at Lindsay Park, Angaston, Colin Hayes' grandsons will also do so from his planning.
David spent $24 million over a decade developing the Euroa property which opened in 2011 for training.
The property contains five galloping tracks and every other training essential such as treadmills, swimming pools and water-walkers.
Ben Hayes said they took everything they loved out of their original Lindsay Park property and transported it to Euroa.
"It's about keeping horses happy. We've got the facility. We've got deep sand tracks for slow work, an uphill track and a grass track, swimming pools, and irrigated day paddocks. We can vary their work so much," Hayes said.
"Flemington is still extremely important to us. The way we look at it, we have the best of both worlds.
"Usually, our horses will go to Flemington from Euroa two or three days before they will run. Some horses are better off being trained in town and some in the country.
"It's all about keeping horses happy. Moving a horse from one venue to another is like giving them a holiday."
Hayes said their staff either lived on the property or in Euroa, and the township was a big supporter of their stable.
So much so, that JD Hayes was recently captain-coach of the Euroa football team, the town in which the majority of their staff live.
Danny O'Brien began his career as a trainer in the mid-1990s at Flemington, but there was one thing he always wanted – a beach facility.
He found it in 2005 when he purchased a property at Thirteenth Beach near Barwon Heads, within 2km of the famed patch of beach there.
"I was aware of the area. It's just the perfect position and it's ideal on so many fronts," O'Brien said.
Since he opened his Thirteenth Beach stables, the results have flowed for O'Brien with victories in the 2019 Lexus Melbourne Cup with Vow And Declare and the 2019 Kennedy Oaks with Miami Bound, to mention only two.
It wasn't only about acquiring the training facility, but it also was about O'Brien stamping how he wanted to train and developing it to suit his training style.
O'Brien said building the property and its infrastructure was a slow burn, but he was prepared for that as it was something he needed to get right.
The 65-hectare private training complex features 2000-metre sand and turf tracks, which includes a 1000-metre uphill straight.
Danny O'Brien Racing at Thirteenth Beach, Barwon Heads. (Courtesy Danny O'Brien Racing)
O'Brien said having the facility gave him the chance to train his staying horses in a European fashion.
"As a result, we don't have to run them as much. We keep them close to distances we feel they are advantaged at. There's no point running horses over unsuitable distances. Our work here gives them the fitness base to run over longer trips at the start of their campaigns.
"We can put different work into the horses here. The staying horses do a lot of work up and down Thirteenth Beach. We can give them big cardio work which they can't do in the city.
"Having the beach nearby is also a big plus. Horses love it on the beach. It helps to keep them fit and happy. They are sound physically and mentally."
O'Brien has also added 25 boxes at Geelong in addition to his 50 boxes at Flemington and another 50 at Barwon Heads.
Staff at these complexes are all locals and live at nearby Barwon Heads, Armstrong Creek, Torquay or in Geelong.
Saab Hasan, another trainer in the Flemington family, had watched other trainers with dual facilities, hoping that he could one day do the same. Last year, his wish came true, and he finally got his own country property to train from.
Hasan bought half of Crown Valley Lodge, Tabilk, a year ago, and has since been developing it as a training facility.
At Flemington, Hasan trains a team of around 12 to 14 horses and said he couldn't grow as a trainer with those numbers. He believes that having the property is already making a difference to his results.
"It's been in the back of my mind since I started training. I always thought horses need a natural environment."
At Tabilk, he has an undercover barn that can house 56 horses, and he is loving the overview he can now have of his horses.
"I've got full control of their training. Why I'm successful is that my horses are spelling and resting to my satisfaction.
"It also gives me the opportunity to swap horses around. I can keep them fresh. If they're unhappy in one stable, I can make the switch," he said.
Perhaps it is the break from routine that's required at city tracks that sees horses thrive in a country setting, or maybe it is the fresh air and wide, open spaces. Whatever it is, it is no doubt the advantage of having a city and country base.