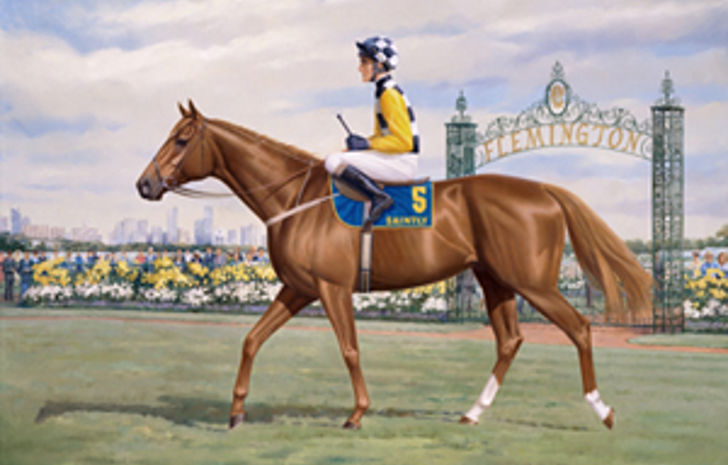 From the files: Memorable moments from Super Saturdays past
9 March 2022
•
Written by
Andrew Lemon
The VRC's Joe McGrath recalls some of the most memorable moments from Super Saturdays past, and historian Andrew Lemon provides the facts about the Newmarket and the famous Flemington Straight Six.
Rubitano's Newmarket Handicap (2002)
As a finish to any race at Flemington let alone a Newmarket Handicap (G1), Rubitano's victory was spectacular. No doubt a nightmare for on-course broadcaster Greg Miles, and the race-day judging panel headed by Lynden Tymms, two lengths separated the first ten placings across the line. Rubitano, ridden by Stephen Baster and trained by Brian Mayfield-Smith, got up by a short half head over North Boy (Tony McEvoy and Scott Seamer) and Mistegic (Lee Curtis and Glen Boss). Not for some time had any Group race let alone a Group 1, provided such a finish.
Lonhro's Australian Cup (2004)
If you weren't a Lonhro fan before the 2004 VRC Australian Cup (G1), you probably were after it. Ridden by dual Melbourne Cup winning jockey, Darren Beadman, the son of Octagonal started an even-money ($2) favourite. Hopelessly pocketed inside the Clock Tower, Beadman was running out of options to get the entire into clear space. Easing off the heels of all runners, Lonhro found his way to the outside and seemingly took over proceedings to show an extraordinary turn of foot and get up by a neck over three-year-old Delzao and Caulfield Cup winner, Elvstroem. Beadman would openly admit, if not for the extraordinary qualities of the horse, he would not have won. Some would suggest it was the epitome of The Great Escape. 
Makybe Diva wins Australian Cup in record time (2005)
After Makybe Diva had secured her second Melbourne Cup victory in 2004 she undertook an evolution of sorts. That transition was from handicapper to weight-for-age performer. A change of stable from David Hall to Lee Freedman brought with it a change of environment, and this seemed to work wonders. While always a threat in weight-for-age races, she didn't quite 'seal the deal', so to speak, and appeared better suited in the staying handicap races where weight would be determined by ability, not age, sex and distance. So when Makybe Diva took on a crack weight-for-age field at Flemington in the 2005 Australian Cup (G1), it was a mild surprise that she would win the race. But when she smashed the course record in a time of 1:58.73, you realised this horse had stepped up another notch or two.
There have been many top performers run over 2000 metres at Flemington in the modern era, the likes of Bonecrusher, Vo Rogue, Northerly, Sunline and Let's Elope, but none have come near her race time recorded this day. Makybe Diva would prove she was no one-hit wonder at weight-for-age by securing The BMW (G1) at Rosehill at her next start and the W.S. Cox Plate (G1) later in the year, one start before her career-defining third Melbourne Cup.  
Hailstorm hits Flemington on Super Saturday (2010)
One of the more bizarre events happened at Flemington on Super Saturday 2010. As the horses paraded out onto the track before the time-honoured Newmarket Handicap (G1), an almighty cold front collided with a high-pressure band across the course. As this occurred the most prolific hail storm proceeded to drop across Flemington Racecourse. The meeting was put back an hour before Chief Steward Terry Bailey postponed the remainder of the meeting to the following Saturday.
The damage to property across Melbourne, let alone Flemington, was enormous with many property and car insurance claims forthcoming. The day saw amazing acts of horsemanship, none more evident than John 'Patto' Patterson catching Newmarket Handicap winner Wanted 'galloping' down the underground tunnel towards unsuspecting passers-by. As one media commentator and dual Melbourne Cup winning jockey said, 'It is singularly one of the greatest pieces of horsemanship you would ever see anywhere. The situation could have been disastrous if not for Patto.' 
Black Caviar's Newmarket (2011)
Black Caviar's victory in the Newmarket Handicap (G1) was extraordinary. At only her 10th race start, Black Caviar would be asked to carry 58kg in the famous sprint down the Flemington straight. Maybe Mahal (56.5kg) was the greatest weight-carrying mare to win the race back in 1978, and Black Caviar would need to be every bit as good as the former Bart Cummings-trained galloper.
In customary fashion, regular race rider Luke Nolen put the acid on her opposition a long way out from home, forcing all runners out of their comfort zones. Some were reported to have lost their action. Black Caviar's victory in the time of 1:07.36 demoralised a quality field and convinced all in attendance that she was the real deal. A queue of people snaking across the lawn after the last race to grab an autograph with trainer Peter Moody and jockey Luke Nolen, was clear evidence that this was 'the people's horse'.
Hay List's Newmarket Handicap (2012)
Hay List is best remembered as the perennial bridesmaid to champion undefeated sprinter Black Caviar, arguably the greatest sprinter to have raced at Flemington in 180 years. But in 2012 he had his chance to prove his own credentials when taking on a capacity field in Australia's most revered sprint. Carrying top weight of 58.5kg, you had to go as far back as Gold Stakes (1960 – 9st 6lbs or 60kg) to find a greater weight-carrying performance.
In any other era, Hay List would have won everything. He was a little unlucky that the best sprinter of all time, Black Caviar, was born at the same time.
The VRC Newmarket Handicap and the Straight Six
Traditionally the Victoria Racing Club's richest sprinting handicap race, the Newmarket Handicap has been run every March since 1874 down the straight course at Flemington. The VRC introduced the race to boost the annual autumn meeting and, with the Australian Cup, it has remained the great race of the autumn carnival. It has sometimes been called the Melbourne Cup of sprint racing.
At times fields as large as thirty-seven lined up across the track and charged down the straight, though in some years as few as nine horses have competed. The maximum allowable today is twenty-four. The distance of six furlongs was modified slightly in 1973 to 1200 metres when Australian racing changed to the metric system.
It is a race that requires courage and skill to win. As the only straight six course in Australia it offers a true test of our best sprinting thoroughbreds, and most of the champion sprinters in Australian racing history figure among its winners and placegetters. As early as 1894 one turf journalist wrote that "year after year the winner has presented himself or herself in the person of an undoubted racehorse". And in 1938 it was truly described as "Not only the principal sprint race of Australia but one of the most important events of the Australian Turf".
Did you know?
The Newmarket was the brainchild of Captain Frederick Charles Standish, the same VRC Committeeman who was credited with the idea for the Melbourne Cup when he served on the Victoria Turf Club in 1861.
Captain Standish thought a "short and merry" race would add interest to the VRC's autumn program and he was certainly right. Some of the turf's greatest names have won the race and the sight of up to 24 powerful thoroughbreds dashing up both sides of the straight is always one of racing's heart-stopping moments. This was never more evident than in 2002 when less than a long head separated Rubitano from the next five placegetters. The race was short and merry but also fierce and desperately tight.
An elegant man and a keen punter who was allegedly "addicted to the delights of the sideboard", Captain Standish was also Chief Commissioner of Police and legend has it he suspended the hunt for the Kelly gang the day weights were released for the Melbourne Cup.
It would seem the good Captain didn't mind doing things a little differently. One suspects he would have approved of Super Saturday.
System.Web.HttpException (0x80004005): Error executing child request for handler 'System.Web.Mvc.HttpHandlerUtil+ServerExecuteHttpHandlerAsyncWrapper'. ---> System.NullReferenceException: Object reference not set to an instance of an object.
   at ASP._Page_Views_Partials_googleAd_cshtml.Execute() in C:\home\site\wwwroot\Views\Partials\googleAd.cshtml:line 4
   at System.Web.WebPages.WebPageBase.ExecutePageHierarchy()
   at System.Web.Mvc.WebViewPage.ExecutePageHierarchy()
   at System.Web.WebPages.WebPageBase.ExecutePageHierarchy(WebPageContext pageContext, TextWriter writer, WebPageRenderingBase startPage)
   at System.Web.Mvc.RazorView.RenderView(ViewContext viewContext, TextWriter writer, Object instance)
   at System.Web.Mvc.BuildManagerCompiledView.Render(ViewContext viewContext, TextWriter writer)
   at Umbraco.Web.Mvc.ProfilingView.Render(ViewContext viewContext, TextWriter writer) in D:\a\1\s\src\Umbraco.Web\Mvc\ProfilingView.cs:line 25
   at System.Web.Mvc.ViewResultBase.ExecuteResult(ControllerContext context)
   at System.Web.Mvc.ControllerActionInvoker.InvokeActionResult(ControllerContext controllerContext, ActionResult actionResult)
   at System.Web.Mvc.ControllerActionInvoker.InvokeActionResultFilterRecursive(IList`1 filters, Int32 filterIndex, ResultExecutingContext preContext, ControllerContext controllerContext, ActionResult actionResult)
   at System.Web.Mvc.ControllerActionInvoker.InvokeActionResultFilterRecursive(IList`1 filters, Int32 filterIndex, ResultExecutingContext preContext, ControllerContext controllerContext, ActionResult actionResult)
   at System.Web.Mvc.ControllerActionInvoker.InvokeActionResultFilterRecursive(IList`1 filters, Int32 filterIndex, ResultExecutingContext preContext, ControllerContext controllerContext, ActionResult actionResult)
   at System.Web.Mvc.ControllerActionInvoker.InvokeActionResultFilterRecursive(IList`1 filters, Int32 filterIndex, ResultExecutingContext preContext, ControllerContext controllerContext, ActionResult actionResult)
   at System.Web.Mvc.ControllerActionInvoker.InvokeActionResultFilterRecursive(IList`1 filters, Int32 filterIndex, ResultExecutingContext preContext, ControllerContext controllerContext, ActionResult actionResult)
   at System.Web.Mvc.ControllerActionInvoker.InvokeActionResultWithFilters(ControllerContext controllerContext, IList`1 filters, ActionResult actionResult)
   at System.Web.Mvc.Async.AsyncControllerActionInvoker.<>c__DisplayClass3_6.<BeginInvokeAction>b__4()
   at System.Web.Mvc.Async.AsyncControllerActionInvoker.<>c__DisplayClass3_1.<BeginInvokeAction>b__1(IAsyncResult asyncResult)
   at System.Web.Mvc.Async.AsyncResultWrapper.WrappedAsyncResult`1.CallEndDelegate(IAsyncResult asyncResult)
   at System.Web.Mvc.Async.AsyncResultWrapper.WrappedAsyncResultBase`1.End()
   at System.Web.Mvc.Async.AsyncControllerActionInvoker.EndInvokeAction(IAsyncResult asyncResult)
   at System.Web.Mvc.Controller.<>c.<BeginExecuteCore>b__152_1(IAsyncResult asyncResult, ExecuteCoreState innerState)
   at System.Web.Mvc.Async.AsyncResultWrapper.WrappedAsyncVoid`1.CallEndDelegate(IAsyncResult asyncResult)
   at System.Web.Mvc.Async.AsyncResultWrapper.WrappedAsyncResultBase`1.End()
   at System.Web.Mvc.Controller.EndExecuteCore(IAsyncResult asyncResult)
   at System.Web.Mvc.Controller.<>c.<BeginExecute>b__151_2(IAsyncResult asyncResult, Controller controller)
   at System.Web.Mvc.Async.AsyncResultWrapper.WrappedAsyncVoid`1.CallEndDelegate(IAsyncResult asyncResult)
   at System.Web.Mvc.Async.AsyncResultWrapper.WrappedAsyncResultBase`1.End()
   at System.Web.Mvc.Controller.EndExecute(IAsyncResult asyncResult)
   at System.Web.Mvc.Controller.System.Web.Mvc.Async.IAsyncController.EndExecute(IAsyncResult asyncResult)
   at System.Web.Mvc.MvcHandler.<>c.<BeginProcessRequest>b__20_1(IAsyncResult asyncResult, ProcessRequestState innerState)
   at System.Web.Mvc.Async.AsyncResultWrapper.WrappedAsyncVoid`1.CallEndDelegate(IAsyncResult asyncResult)
   at System.Web.Mvc.Async.AsyncResultWrapper.WrappedAsyncResultBase`1.End()
   at System.Web.Mvc.MvcHandler.EndProcessRequest(IAsyncResult asyncResult)
   at System.Web.Mvc.MvcHandler.System.Web.IHttpAsyncHandler.EndProcessRequest(IAsyncResult result)
   at System.Web.Mvc.HttpHandlerUtil.ServerExecuteHttpHandlerAsyncWrapper.<>c__DisplayClass3_0.<EndProcessRequest>b__0()
   at System.Web.Mvc.HttpHandlerUtil.ServerExecuteHttpHandlerWrapper.<>c__DisplayClass5_0.<Wrap>b__0()
   at System.Web.Mvc.HttpHandlerUtil.ServerExecuteHttpHandlerWrapper.Wrap[TResult](Func`1 func)
   at System.Web.Mvc.HttpHandlerUtil.ServerExecuteHttpHandlerWrapper.Wrap(Action action)
   at System.Web.Mvc.HttpHandlerUtil.ServerExecuteHttpHandlerAsyncWrapper.EndProcessRequest(IAsyncResult result)
   at System.Web.HttpServerUtility.ExecuteInternal(IHttpHandler handler, TextWriter writer, Boolean preserveForm, Boolean setPreviousPage, VirtualPath path, VirtualPath filePath, String physPath, Exception error, String queryStringOverride)
   at System.Web.HttpServerUtility.ExecuteInternal(IHttpHandler handler, TextWriter writer, Boolean preserveForm, Boolean setPreviousPage, VirtualPath path, VirtualPath filePath, String physPath, Exception error, String queryStringOverride)
   at System.Web.HttpServerUtility.Execute(IHttpHandler handler, TextWriter writer, Boolean preserveForm, Boolean setPreviousPage)
   at System.Web.HttpServerUtility.Execute(IHttpHandler handler, TextWriter writer, Boolean preserveForm)
   at System.Web.HttpServerUtilityWrapper.Execute(IHttpHandler handler, TextWriter writer, Boolean preserveForm)
   at System.Web.Mvc.Html.ChildActionExtensions.ActionHelper(HtmlHelper htmlHelper, String actionName, String controllerName, RouteValueDictionary routeValues, TextWriter textWriter)
   at System.Web.Mvc.Html.ChildActionExtensions.Action(HtmlHelper htmlHelper, String actionName, String controllerName, RouteValueDictionary routeValues)
   at Our.Umbraco.DocTypeGridEditor.Web.Extensions.HtmlHelperExtensions.RenderDocTypeGridEditorItem(HtmlHelper helper, IPublishedElement content, String editorAlias, String viewPath, String previewViewPath, Boolean isPreview)
   at ASP._Page_app_plugins_doctypegrideditor_render_DocTypeGridEditor_cshtml.Execute() in C:\home\site\wwwroot\app_plugins\doctypegrideditor\render\DocTypeGridEditor.cshtml:line 34
   at System.Web.WebPages.WebPageBase.ExecutePageHierarchy()
   at System.Web.Mvc.WebViewPage.ExecutePageHierarchy()
   at System.Web.WebPages.WebPageBase.ExecutePageHierarchy(WebPageContext pageContext, TextWriter writer, WebPageRenderingBase startPage)
   at System.Web.Mvc.RazorView.RenderView(ViewContext viewContext, TextWriter writer, Object instance)
   at System.Web.Mvc.BuildManagerCompiledView.Render(ViewContext viewContext, TextWriter writer)
   at Umbraco.Web.Mvc.ProfilingView.Render(ViewContext viewContext, TextWriter writer) in D:\a\1\s\src\Umbraco.Web\Mvc\ProfilingView.cs:line 25
   at System.Web.Mvc.HtmlHelper.RenderPartialInternal(String partialViewName, ViewDataDictionary viewData, Object model, TextWriter writer, ViewEngineCollection viewEngineCollection)
   at System.Web.Mvc.Html.PartialExtensions.Partial(HtmlHelper htmlHelper, String partialViewName, Object model, ViewDataDictionary viewData)
   at System.Web.Mvc.Html.PartialExtensions.Partial(HtmlHelper htmlHelper, String partialViewName, Object model)
   at ASP._Page_Views_Partials_grid_editors_Base_cshtml.Execute() in C:\home\site\wwwroot\Views\Partials\grid\editors\Base.cshtml:line 20