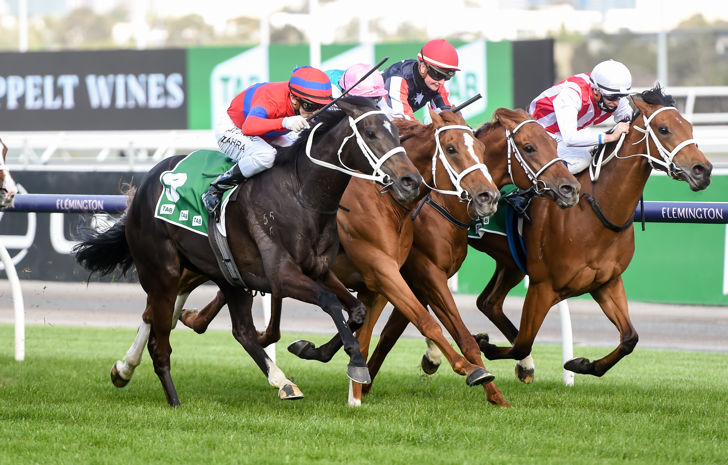 Further increased investment in Flemington Spring Features
16 August 2021
•
Written by
VRC
Over the last few weeks the Victoria Racing Club (VRC) has worked closely with Racing Victoria (RV) to assess Spring prize money levels and welcomes further increased investment in key Flemington spring races worth $1.75 million, building on prizemoney growth announced earlier this year.
Fifteen races at Flemington will offer prizemoney of $1 million or more this season, setting a new benchmark for racing at Headquarters, including 14 Group 1 races – the highest number of Group races to offer prizemoney of $1 million or more by any racecourse in Australia.
Three races at Flemington have received a $250,000 increase in prizemoney including feature Group 1 races the Group 1 PFD Food Services Makybe Diva Stakes (1600m) and the Group 1 TAB Turnbull Stakes (2000m). Both will now be worth $1 million.
Group 3 The Lexus Bart Cummings (2500m), which offers valuable ballot exemption for the winner into this year's Lexus Melbourne Cup, has also received a prizemoney increase and will offer $750,000.
The pinnacle spring race for fillies and mares, the Group 1 TAB Empire Rose Stakes (1600m) will now offer a prizemoney bonus of $1 million for the winner if they have also won one of 12 lead up races (see table below), including three races at Flemington. These are the Group 2 Furphy Let's Elope Stakes (1400m), the Group 2 Rose of Kingston (1400m) and the Group 2 TAB Edward Manifold Stakes (1600m).
VRC Chief Executive Officer Steve Rosich said the prizemoney increases reflect Flemington's standing as the best racecourse in Australia.
"Backed by tradition and hard-earned Group status, these prizemoney increases reflect the quality of horses who have participated in our feature races year after year and reward the trainers and owners who choose to compete at Flemington," Mr Rosich said.
"Flemington is definitely the place to be for top tier racing and fifteen races worth $1 million or more including fourteen Group 1 races helps to confirm this position."
BONUS RACES ELIGIBLE FOR THE $1 MILLION TAB EMPIRE ROSE BONUS:
| | | | |
| --- | --- | --- | --- |
| Group  | Race name | Distance (meters) | 2021 Winner |
| Group 1 | NZ Breeders Stakes | 1600 | Avantage |
| Group 1 | Coolmore Classic | 1500 | Krone |
| Group 1 | Tatts Tiara | 1400 | Tofane |
| Group 2 | Furphy Let's Elope Stakes | 1400 | N/A |
| Group 2 | Rose of Kingston | 1400 | N/A |
| Group 2 | TAB Edward Manifold Stakes | 1600 | N/A |
| Group 2 | Stocks Stakes | 1600 | N/A |
| Group 3 | Ladies Vase | 1600 | N/A |
| Group 1 | Thousand Guineas | 1600 | N/A |
| Group 3 | Tesio Mares Mile | 1600 | N/A |
| Group 3 | Fillies Classic | 1600 | N/A |
| Group 1 | TAB Empire Rose Classic | 1600 | N/A |
SPRING RACES WITH INCREASED PRIZEMONEY AT FLEMINGTON:
| | | | | | |
| --- | --- | --- | --- | --- | --- |
| Race day | Group | Race name | Distance (meters) | Prizemoney 2020-21 ($) | Prizemoney 2021-22 ($) |
| Sofitel Girls' Day Out | Group 1 | PFD Food Services Makybe Diva Stakes | 1600 | 750,000 | 1,000,000 |
| TAB Turnbull Stakes Day | Group 1 | TAB Turnbull Stakes | 2000 | 500,000 | 1,000,000 |
| TAB Turnbull Stakes Day | Group 3 | The Lexus Bart Cummings | 2500 | 500,000 | 750,000 |
| Penfolds Victoria Derby Day | Group 1 | Kennedy Cantala | 1600 | 1,500,000 | 2,000,000 |
| Penfolds Victoria Derby Day | Group 1 | TAB Empire Rose Stakes | 1600 | 1,000,000 | 1,000,000 + 1,000,000 bonus |
| Penfolds Victoria Derby Day | Group 3 | Network 10 Carbine Club Stakes | 1600 | 250,000 | 500,000 |
| Penfolds Victoria Derby Day | Group 3 | Lexus Hotham Stakes | 2500 | 200,000 | 300,000 |
| Kennedy Oaks Day | Group 3 | Network 10 Red Roses | 1100 | 200,000 | 300,000 |
| Mackinnon Stakes Day | Group 3 | Queen Elizabeth | 2600 | 200,000 | 300,000 |
| Mackinnon Stakes Day  | Group 1 | Darley Sprint Classic | 1200 | 1,500,000 | 2,000,000 |