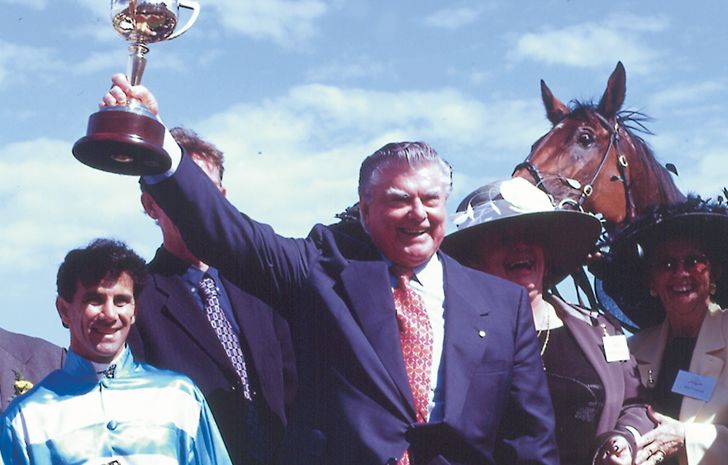 Golden memories
28 October 2021
•
Written by
VRC
In 1999, Rogan Josh provided legendary trainer Bart Cummings with his 11th Melbourne Cup victory. Wendy Green, a school teacher from Darwin, was a part-owner. Her journey to see her horse win, and then subsequent trip home sharing the trophy along the way, became legendary.
On only her second-ever visit to Flemington (her first being just days earlier on Derby Day), Wendy Green's horse, the popular Rogan Josh, claimed the 1999 Melbourne Cup. Bred by Wendy's father, Tom Forrest, Rogan Josh was raced by Wendy and her son, John Miller.
The gelding began his racing career in Western Australia where he won four of his first five starts.
As a five-year-old under trainer Colin Webster, Rogan Josh recorded another four wins in Perth before heading to the 1998 Pinjarra Cup, which he won by a nose. This was followed by a win in the Group 3 Bunbury Cup. After a narrow loss in the 1999 Perth Cup followed by an equally narrow loss in the 1999 Bunbury Cup, Rogan Josh was transferred to the Cups' King, Bart Cummings, and set on the Cups' trail. Cummings liked the fact that Rogan Josh was lightly raced even though he was now a seven-year-old.
Rogan Josh ran a bold fourth to Sky Heights in the 1999 Caulfield Cup with Chris Munce on board.
Ridden by John Marshall in the Group 1 Mackinnon Stakes on Victoria Derby Day 1999,  Rogan Josh caused an upset with a strong victory. This elevated him to second favourite for the Melbourne Cup where again with John Marshall aboard, he proved too strong for Godolphin's Central Park and gave Bart an historic 11th Melbourne Cup victory.
Wendy and her family's joy at the win encapsulated the spirit of the great race, even if her dad told her when making her victory speech, "Don't show off, don't make a fool of yourself, and keep it short."
Like most Australians, Wendy had watched or listened to the Melbourne Cup all her life and embraced it as a celebration of national identity. "It really is symbolic of the dreams of many people in Australia and, for me, epitomises the broader sense of who we are as Australians. That's what makes it special," she said.
The Cup's journey back to Wendy's hometown of Darwin became part of the legend, as she and her husband, Robert, transported it home in the boot of their car. People they met along the way sampled a piece of history as Wendy and Robert proudly showed off their prize to truckies, bus drivers, hotel owners and patrons. A guard of honour was formed and it was even used as a christening font in Tennant Creek for a young boy, fittingly named Rogan Josh. Since that first trip, Wendy's Cup has continued to travel and she loves the stories collected and people she has met because of it.
The Cup has visited retirement villages, birthday parties, christenings, family gatherings, school libraries and the local pub. In fact, it was so often out of home that Bart Cummings used to lament that 'someone will steal it one day'. Wendy never thought so, once commenting, "I think that people share the awe of it and understand that, on some level, no single person ever owns it completely."
An inspiration to aspiring horse owners, Wendy was simply a determined racing enthusiast who achieved the ultimate dream and experienced things that could have never been imagined. "When I look at the Cup, I see the faces of people who have held it and shared their stories. It holds such significance in the hearts and minds of racing people."
Wendy Green has been a valued member of the Lexus Melbourne Cup Tour team sharing her story annually with people across the land.
Image: Bart Cummings lifts the Melbourne Cup after Rogan Josh won in 1999.  This was win number 11 of a record 12 for the trainer.(Symonetta Kouzmin)
Image Owner Wendy Green with 1999 Melbourne Cup winning horse Rogan Josh. (Nicole Garmston / Newspix)