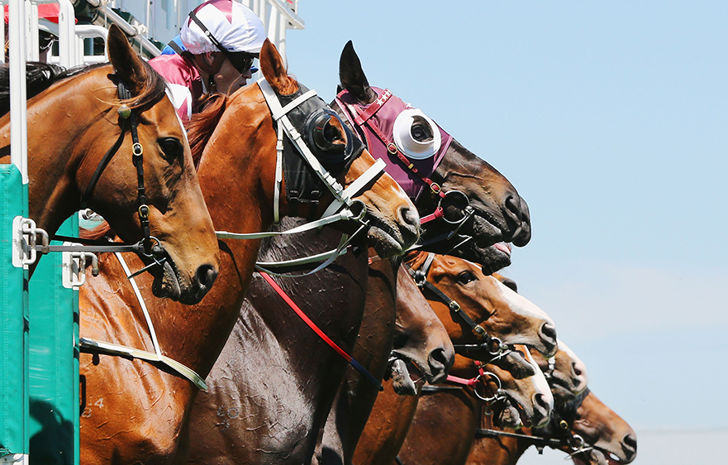 Head start
18 February 2020
•
Written by
Brad Bishop
David Hayes calls it "finishing school". Others liken them to the practice matches played before the start of a football season. No matter what you call them, jump outs and trials are crucial in the education and training of racehorses
Jump outs are a crucial part of racehorse training. More serious than trackwork, but not as strenuous as a race, David Hayes says: "It's basically a dress rehearsal for the races and how many they need depends on the horse."
"Some horses, you'll give one jump out and they're fit and ready to go, but another horse might be big and they might need three jump outs. Some horses just need a bit more practice.
"There's no set reason why or how you use them."
The Victoria Racing Club's jump outs generally happen at Flemington on Friday, but can also be on Thursday or Monday (depending on when a particular public holiday might fall) or if they need to be held at a secondary venue, normally Werribee.
They are almost always 800 metres, but one thing that does change each week is the part of the track they are conducted on. One week they could be from the 800m mark to the winning post (on what is called the inside grass or the steeple track); the next they are down the back straight; and the next from the 1200m to the 400m mark.
On special occasions, generally eight days before a Group 1 race down the straight on the course proper, there will be jump outs for horses targeting those races whose trainers would like to give them a look at that strip of turf.
Jump outs are generally fields of anywhere between four and eight and they commence in much the same manner as a race, with barrier stalls used.
But that's where similarities end with trainers and jockeys to determine how strenuous each jump out is for any particular horse.
The first jump out is merely an educational tool, to familiarise them with the process. A little more is asked of them at jump out two, which is normally two weeks after the first one.
Sometimes a horse will jump out merely to gain a barrier certificate after having encountered an issue on race day and will be pulled up once they have successfully negotiated the start.
"Unlike at the races, you don't have to try [to win] in a jump out," journalist Warren Huntly said.
"So there isn't an absolute way to assess them and, like most things in racing, the way people view them is quite subjective."
Hall of Fame trainer Hayes, who now prepares his team with son Ben and nephew Tom Dabernig, supplies a large proportion of the jump out population at Flemington. He considers them crucial, irrespective of whether a horse is prepared for its debut or is a hardened campaigner with many preparations behind them. "We do gallops at Lindsay Park at Euroa and can trial them, but we basically do gallop education there, get them right up to trialling and then send them to the jump outs," Hayes said.
"I normally give them an easy jump out at Flemington first; that's just for them to have a look around and get to know the place, then the second trial I give them is a bit more serious, to see if they're ready to go to the races.
"That's for younger horses. With older horses, we use it for fitness and atmosphere because they can get a bit lazy in their gallops. A jump out can be used for race simulation, but without the racing."
Jump outs differ slightly from what are called trials, which have a more official element to them. In trials, placings, margins and times are officially recorded by authorities.
There is a lot more guesswork required around jump outs, which can make them tricky to assess from a form perspective.
"Unlike on race day, you don't know what weight they're carrying, you don't know what shoeing they've got on, what saddle they're wearing and you don't know what the stable's intentions are," Huntly said.
"You also need to look closely because a horse that might wear blinkers on race day might not have them on in the jump out.
"That's what makes it so speculative. There are so many things you don't know, but the main thing now is it's great to be able to see them."That is something the VRC and Melbourne Racing Club have led the way on. Though official trial results have been a part of form guides for several years now and vision available on Racing.com, jump outs do not yet appear in form guides. Vision is available, with all Victorian clubs required to publish them online.
That makes it harder for Hayes to sneak one under the guard of punters, like he did in 2005 when I Got Chills sizzled in jump outs before winning the Maribyrnong Trial by 4.5 lengths on debut after being backed from $14 into $5.
But Hayes would not dare sacrifice doing the right thing by the horse for the sake of trying to get an extra point or two on race day.
"The jump outs now are virtually the same thing that has been happening for years, the exception being they are now televised," Hayes said.
"I certainly wouldn't have got the same price about I Got Chills had they been back then. It's pretty hard to hide a horse now if you want to give them two or three jump outs or trials, which is what you need to do.
"If I was taking a horse to the races straight off Lindsay Park, it would be fine to race, but I couldn't be too confident. They need to go to finishing school."