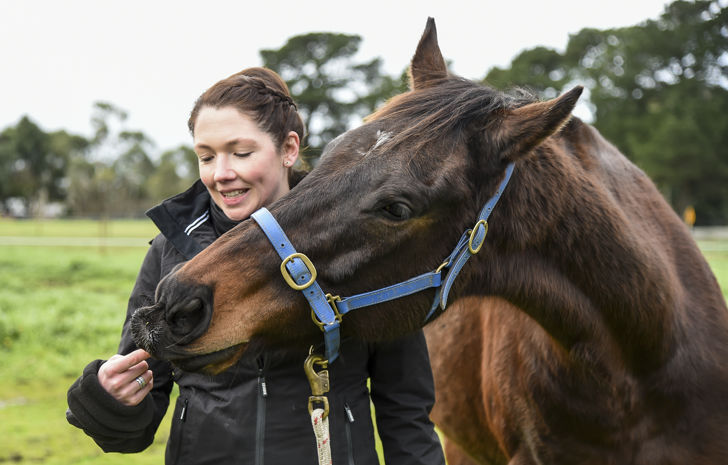 Here for the Horses
10 May 2022
•
Written by
Patrick Bartley
When Jen Hughes arrived in Australia from London, having grown up in Glasgow, she brought a wealth of knowledge, experience and passion that has helped to shape the way the Victorian thoroughbred industry prioritises equine welfare.
Jen Hughes came to Australia seven years ago for a project to compare British and Victorian anti-doping strategies and ended up staying to work with former Victorian detective Tim Robinson to assist in the introduction of intelligence based practices.
Hughes had spent five years working in integrity with the British Horseracing Authority, and had valuable experience in the development of an intelligence system that would prove pivotal in monitoring and responding to any breaches of the Rules of Racing.
"It was interesting, because when I came to Australia it was only for a period of time to experience a different racing jurisdiction, learn from them and hopefully contribute from our learnings in the UK too.
"I made the decision to stay in Victoria full time as I could see a lot of opportunity in the industry. It turned out to be a great decision when my dream role in equine welfare was advertised a few years later." Hughes said.
Coupled with her professional experience and academic studies in equine science, Hughes' personal background in racing stood her in good stead to take on the role of general manager of equine welfare at Racing Victoria.
"Dad owned a few shares of horses that were racing in Scotland and then Mum who was an English teacher and volunteered driving an ambulance for wildlife in distress wasn't wholly convinced on the merits of racing horses.
"So I've been brought up on both sides of the fence when it comes to racing," Hughes said.
In the past five years, there has been a quantum leap in horse welfare and the role it plays in Australia, thanks in no small part to Hughes and her team. Their approach embraces the reality that no one project or initiative will improve post-racing equine welfare efforts on its own, but the combination of various programs and educational opportunities will ensure there are pathways for every horse leaving the Victorian racing industry.
"It's a simple approach. We watch out for horses on three levels: before, during and after their racing careers".
"While our head vet, Dr Grace Forbes is responsible for the racing side of the horses' life, we're across the three categories concentrating more on what happens off the racecourse," Hughes said.
There are a number of key initiatives that Hughes and her team, which currently consists of seven people has launched so far. These include the RESET Program, the Off The Track (OTT) Community, Full Circle, Retrainer Capacity Expansion Grant Program, Equine Business Grant Program, COVID-19 subsidies for RV Acknowledged Retrainers, and the establishment of an Equine Welfare Advisory Council (which includes four independent animal welfare experts).
All programs have made an impact, but the RESET program is one of the earliest established initiatives and has really filled a gap. It provides direct support for those horses that are sound and have good prospects, but have not been successful in transitioning to a second career outside of racing so far.
"Some racehorses rehome themselves, they are the ones immediately snapped up  for equestrian. However, this isn't the reality for all horses, and why RESET provides an important opportunity for those horses that have struggled to transition to a new home the chance to find their calling post-racing," she said.
Hughes acknowledges that there are still some in the industry that do break the rules and fail to do everything they should to keep the horse happy and content, but she stresses that it is a very small group.
"Of course, it's this tiny minority that brings everyone else down, and I know breeders, owners and trainers, or for that matter, everyone doing the right thing is bitterly disappointed when stories of poor welfare come to the surface," she said.
Encouraging more people to join the online OTT Community is something that Hughes is excited about, with the aim of understanding more about what horses are doing in their careers post-racing and how programs can be developed to support them.    
"It's exciting when you develop a plan and start to see the industry buying in and wanting to be a part of it.  We are building a framework around the good work participants were already doing and developing initiatives that support them and plug any gaps" she said.
However, Hughes stresses that her work is far from done and highlighted that retirement farms are the next step in an ongoing process. Acknowledged Retirement Farms will be introduced, as the post-racing framework continues to develop.
It is this relentless drive to identify, scrutinise and improve all aspects of the horse's lifecycle that has made Hughes so instrumental in advancing the equine welfare approach in Australia.
"We know this quest for improved equine welfare is a long play, we need to establish programs and initiatives that will stand the test of time and be sustainable for the racing industry long after I'm working at Racing Victoria. " she said.
For this reason, Hughes has undertaken a Masters in International Animal Welfare, Ethics and Law, to advance her own knowledge in pursuit of delivering the best possible welfare outcomes for Victorian horses.
For more information on Racing Victoria's latest Equine Welfare initiatives, including those discussed in this article, go to ottcommunity.com.au