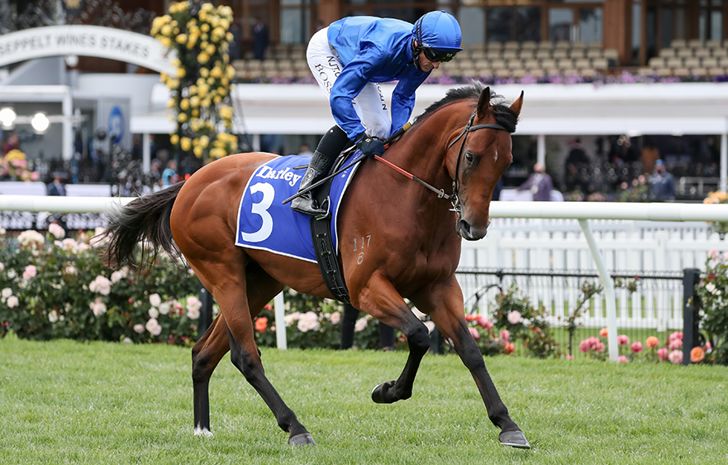 High Stakes
27 October 2021
•
Written by
VRC
Sean Keogh has transitioned from life as a jockey to training the next generation of winning horses for the Godolphin stable.
Sean Keogh doesn't know where his passion for horses and racing came from. The Dublin-born assistant trainer at Godolphin's Flemington operation had the urge to learn to ride when he was seven or eight. At 13, he got his first summer job mucking out stables. When he was given the chance to ride some of the racehorses there, too, he was hooked.
"Back when I began riding, nobody in my family knew a horse from its mane to its tail! But I kept banging on about wanting to ride, and a friend of a friend of my grandfather had showjumpers. I eventually got the chance to ride them, and I got the bug. There was no racing history in my family – I was an outlier," said Keogh.
"But my family supported my interest. They saw my dedication – I was up and at the stables by 6am every Saturday to work. So, they sent me off to the Academy to follow my passion and now my family are very involved in racing. They stay up late into Saturday night in Ireland to watch the Aussie racing and my parents have travelled to race meets in Dubai, Hong Kong and Australia. They've well and truly taken racing on board now."
At 15, Keogh left home to study at the Racing Academy and Centre of Education at the Curragh. He studied with the prolific trainer, Dessie Hughes, and after qualifying as a jockey he travelled to races across Ireland before building his racing experience by moving to the United States. 
"I saw going to America as an opportunity to improve my riding and I spent a year on the east coast in Pennsylvania and Delaware. It opened my eyes to the global scene and after America, I heard about opportunities in Australia," said Keogh.
He arrived Down Under in 2009, and after backpacking his way around the country for 12 months, Keogh initially worked with Bart and James Cummings.
"I hadn't ridden for about 18 months and so I applied to be a senior stablehand. I worked on the ground for a long time before Bart and James realised I could ride. When they were short of riders at one time, I told James I was a jockey and then I started working more trackwork," he said.
In 2017, Keogh joined Godolphin's Osborne Park stables in the foothills of the Blue Mountains before moving to Melbourne. His partner is a track rider with Godolphin, and they live on-site in a cottage at Carbine Lodge.
During Carnival time Godolphin has about 40 horses in work, and this year Keogh is hoping to enjoy another Stakes Day success after last year's Group 1 Darley Sprint Classic win by Godolphin's Bivouac. He keeps a close eye on each horse's progress and some weeks he travels up to 1,000kms to see the Godolphin horses in action on the track.
"It is fascinating and very rewarding to see our horses develop. Some of the horses coming through the stable now I would have been riding trackwork four or five years ago. Now their progeny is in the stables. Seeing the full circle of what we do in the thoroughbred industry is very rewarding. This is me – I want to work with horses the whole way through my life," said Keogh.
Keogh said Godolphin has a number of talented runners who could all place well this Spring Carnival, such as Kallos, who won the Group 2 Danehill Stakes this year. He also has hopes of a strong performance by three-year-old Ingratiating who recently ran third in the Group 1 Ladbrokes Manikato Stakes at Moonee Valley.
Looking ahead to Mackinnon Stakes Day, Keogh says Godolphin's Colette could get a run. After suffering a hoof abscess recently, she recovered to win the Group 2 Tristarc Stakes at Caulfield in mid-October.
"We'd like to run a Group 1 Empire Rose Stakes with her on Derby Day," said Keogh.
"She's a very classy mare, strong, a specialist in the wet and when she gets those conditions, she's extremely hard to beat."