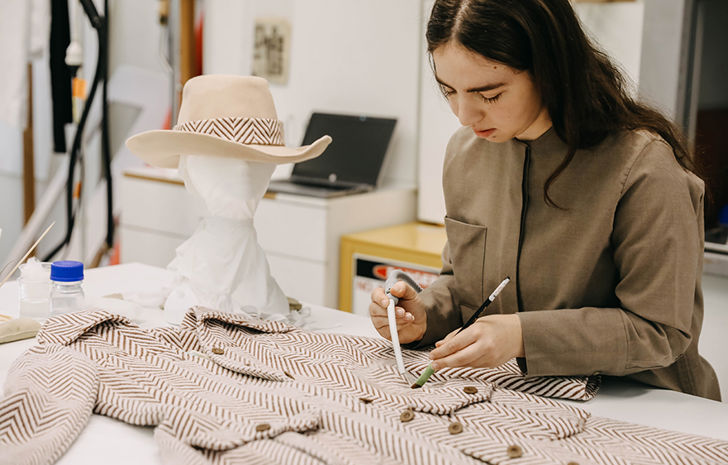 Historic Melbourne Cup Carnival outfit donated to the Victoria Racing Club
30 October 2019
•
Written by
VRC
Five decades after it was worn to the Melbourne Cup by Vogue cover girl Maudie James, an iconic 1960s outfit has been donated to the Victoria Racing Club (VRC).
Top model Maudie was flown to the 1969 Melbourne Cup Carnival by The Australian Women's Weekly, in association with Dupont International and Qantas.
The 20-year-old was a special guest and judge of Fashions on the Field, and made headlines on account of her striking outfit which was made specifically for her by Melbourne-based designer Kenneth Pirrie and milliner Claire Furey.
Consisting of a brown wool blend short sleeve round neck top, brown and cream chevron print wool blend gaucho pants, matching chevron print wool blend coat, belt and cowboy-style wool felt hat, the ensemble highlights the revolutionary mod fashion trends of the 1960s and was one of the attention-grabbing trackside looks at the 1969 Melbourne Cup Carnival.
Prior to attending, Maudie told The Australian Women's Weekly: "I think a long coat is very nice. We are all so fed up with cold legs and goose-pimples."
The outfit has been donated to the VRC by Melbourne woman Marilyn Dawson, who was gifted the outfit whilst working for the designer Kenneth Pirrie in the 1960s and 70s.
"I loved working in the office," Mrs Dawson said.
"The outfit was just sitting there after Maudie wore it and Kenneth said 'why don't you take it?'
"I wore it to the Melbourne Cup years later and my daughter has also worn it. She was going to enter Fashions on the Field in it, on a stifling hot day, but she arrived too late!"
The ensemble has undergone minor restoration work at the University of Melbourne's Grimwade Conservation Services.
Assistant Conservator Victoria Thomas said the garment was in remarkably good condition given it has been worn by several generations.
"It had minor signs of wear, pilling and some discolouration internally, but overall it's in great condition, especially considering how long the hem is," Ms Thomas said.
She spent more than 15 hours restoring the garments over several weeks to ensure they are ready for display.
"First we perform a dry surface clean which involves a really gentle suction using our dental aspirator vacuum. Then we go through and manually pick out any other evidence of pest infestation.
"We've also done a little bit of wet surface cleaning on some of the spot discolouration. For the loss compensation we used a textile that's sympathetic with the original material in colour and fibre content, and put that in place with stitching methods.
"For the hat, because it's been worn and stored we did need to do a bit of reshaping, that involved introducing a gentle humidification and manually reshaping it, putting some gentle clamps in place until we got the nice round brim that is evident in the pictures of Maudie wearing the hat.
"The PVC in the belt is another thing that is very common from the era but is now presenting a lot of conservation issues across collections because of how it degrades, it becomes brittle and cracks because of the conditions and the inherent properties of the material. We've inserted a patch behind the belt to support it with adhesive so it looks good on display."
Ms Thomas said the outfit was interesting to work on, given its connection to Melbourne's fashion history.
"It has significance to fashion history, but also social history. It's been handed down, it's been worn again and again and I think it will be a really interesting object for the public to see," she said.
VRC Executive General Manager Customer Engagement Caroline Ralphsmith said it was important to preserve the outfit for future generations to admire.
"The Melbourne Cup Carnival has always offered up iconic fashion moments and it's fantastic to celebrate these show-stopping looks that helped elevate Cup Week on the world stage," Ms Ralphsmith said.
"The 1960s were a revolutionary decade and that was reflected in the mod fashion we saw at Flemington, as famously seen on Jean Shrimpton in 1965.
"Maudie's outfit is a perfect example of how fashion changed in just a few years, from Jean's swinging sixties shift dress to Maudie's more masculine, layered styling in 1969.
"We would like to thank Marilyn Dawson for retaining the outfit all these years and for generously donating it to the Club, for generations of fashion lovers to admire, enjoy and hopefully take inspiration from when planning their Melbourne Cup Carnival outfits."
The complete outfit will be displayed for media at the Myer Fashions on the Field Launch at Flemington tomorrow.
It will then go on show in the Flemington Heritage Centre, alongside other stylish items including the 2018 Myer Fashions on the Field National Winner's outfit.
The Flemington Heritage Centre is open weekdays by appointment and on select race days.