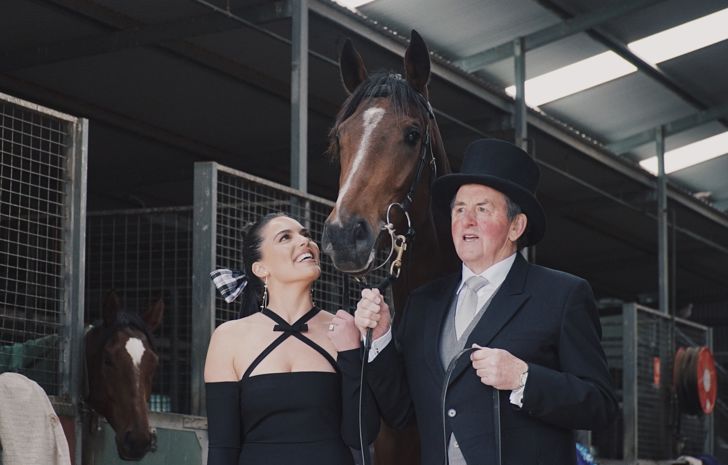 Iconic Australian brands unite for Penfolds Victoria Derby Day
1 July 2021
•
Written by
VRC
The Victoria Racing Club (VRC) today announced Australian winemaker Penfolds as the new Victoria Derby Day partner.
The four-year sponsorship agreement includes the naming rights to Australia's oldest classic race, the Group 1 Victoria Derby, and the first day of the world-renowned Melbourne Cup Carnival, Victoria Derby Day.
Today, Penfolds becomes the third naming rights sponsor for the Victoria Derby in its illustrious 166-year-history.
VRC Chairman Neil Wilson said the Club is delighted to welcome Penfolds as the new Victoria Derby Day partner.
"As custodians of what is widely regarded by race lovers as the best day's racing in Australia, the Victoria Racing Club is incredibly proud to link the Victoria Derby with a global brand that is as iconic and time-honoured as Penfolds. The new partnership extends one of the longest VRC partner relationships to more than 40 years with Penfolds owner, Treasury Wine Estates," Mr Wilson said.
"Victoria Derby Day traditionally attracts the largest crowd on any Australian racecourse every year and this year we are eagerly anticipating the return of spectators to Flemington Racecourse to enjoy Penfolds Victoria Derby Day, and mark the moment enjoying a Penfolds wine.
"Penfolds Victoria Derby will go from strength to strength. We are thrilled to partner with Penfolds as they affirm their status as a global luxury icon."
Penfolds owner, Treasury Wine Estates, is delighted to build its association with one of the world's greatest race clubs and showcase luxury Australian wine on an international stage.
"If you go back in time, Penfolds has an historic connection to racing dating as far back to the 1930s. What better way to celebrate a special, memorable moment in time, than with a glass of Penfolds," Treasury Wine Estates Chief Executive Officer Tim Ford said.
"Today's announcement takes place in a year that also enables us to celebrate 70 years of our flagship Grange – a wine that is poured to mark genuine moments and celebrations.
"Although it's a day traditionally associated with black and white, we look forward to adding a splash of red to the celebrations on Penfolds Victoria Derby Day."
The new partnership will see Penfolds take up a marquee position in Flemington's exclusive Birdcage Enclosure, become Official Wine Partner of the VRC and Melbourne Cup Carnival, design a special Penfolds experience for VRC members and curate wine lists in all venues across course including the world-class Club Stand.
About Penfolds:
Since 1844, Penfolds has played a pivotal role in the evolution of wine making with a history and heritage that profoundly reflects Australia's journey from colonial settlement to the modern era. Penfolds collection of benchmark wines were established in a spirit of innovation and the constant and endless pursuit of quality, evidenced from the secret bottling of Grange in 1951 and the unbroken line of vintages of what is now arguably Australia's most iconic red wine. Today, the collection continues to display the distinctive and consistently recognisable Penfolds 'House Style'; the ultimate expression of Penfolds time-honoured tradition of sourcing the best fruit from the best regions. Historic blends, significant milestones and heritage vineyards have been honoured by a lineage of custodians whose courage and imagination, precision and humility have ensured Penfolds remains true to its original values while remaining relevant for current and future generations. The stories and philosophies behind each label bring a timeless quality, making Penfolds wines special and compelling for collectors and drinkers the world over.
About the VRC and Melbourne Cup Carnival:
Since its establishment in 1864, the VRC has been instrumental in the development of Australian and Victorian racing. As custodians of Flemington Racecourse, the VRC host the Melbourne Cup Carnival, Australia's pre-eminent sporting and cultural event. While a racing event at its core, the Carnival transcends traditional sporting events with its unique combination of sport, fashion, entertainment, hospitality and business. Although the 2020 Melbourne Cup Carnival was run behind closed doors for the first time in its more than 160-year history it retained its place in the hearts of Australians with more than half the adult population choosing to celebrate Australia's premier racing carnival in their own way off course, achieving record engagement and reaching a global audience of over 750 million. The 2019 Melbourne Cup Carnival generated $434.5 million in gross economic benefit to Victoria alone, which is unrivalled by any other Australian sporting event. The VRC is planning to safely host a crowd of 60,000-plus patrons on each day of the 2021 Melbourne Cup Carnival, kicking off with Penfolds Victoria Derby Day on Saturday 30 October. The VRC hopes the Melbourne Cup Carnival will deliver another huge economic stimulus to many of the industries that hurt so much during the pandemic, including the hospitality, event management and retail sectors.
About Penfolds Victoria Derby Day:
Regarded as one of the most prestigious days of racing in Australasia, Penfolds Victoria Derby Day features a card of nine Group races, four at the elite Group 1 level offering $1 million or more in prizemoney. The feature Group 1 Penfolds Victoria Derby is worth more than $2 million and is Australia's premier staying classic for three-year-olds. The $2 million Kennedy Cantala is a time-honoured Group 1 mile race, while the Group 3 Lexus Hotham Handicap provides horses with a last chance to qualify for the Lexus Melbourne Cup with the race a ballot-exempt event. The Group 1 Empire Rose Classic over 1600m and the Group 1 Coolmore Stud Stakes over 1200m are the season's grand finals for mares over a mile and three-year-old sprinters, respectively. A day for racing purists, Penfolds Victoria Derby Day is a day where racegoers embrace the traditional black and white colour scheme. Men dress in style in a traditional morning suit with a traditional blue cornflower on the lapel.