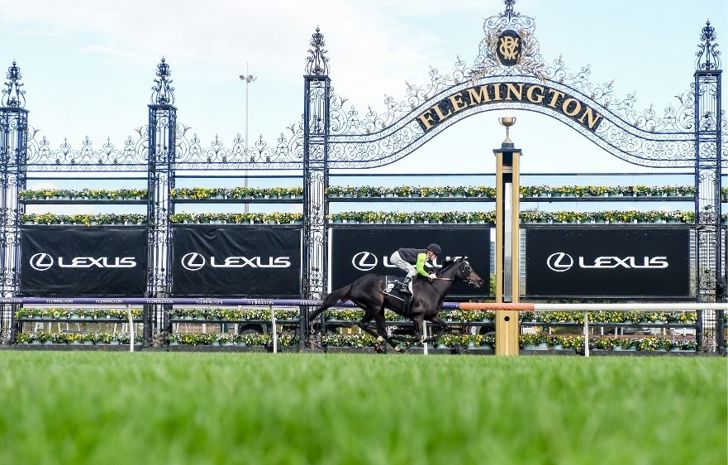 In the realm of glory
2 September 2021
•
Written by
Patrick Bartley
With a golden ticket into the 2021 Lexus Melbourne Cup via her win in the Andrew Ramsden Stakes, coupled with trainers who are no stranger to winning the great race, Realm Of Flowers looks like one to watch this November.
During the cut and thrust of the 2018 Sydney Easter yearling sales, noted bloodstock agent James Bester was anxious about one lot that was going under the hammer early on the first day.
He had inspected the filly on several occasions, and the daughter of So You Think impressed more and more as he visited the youngster's box.
However, Bester was to be denied Lot 26, the So You Think/Astral Flower yearling, as Arrowfield Stud, the breeders of the horse, required more money and passed her in.
Bester found the yearling to be sound with a good body and a spectacular pedigree that he knew well.
"The stud wanted $200,000 so I rang a group of clients and friends to make up the ownership of her. Eventually, we settled on $180,000 and we secured her," Bester said.
The filly was soon sent to Coolmore to be broken in and the feedback was that everyone who had sat on the filly's back was given the feel of a good horse.
Now came the time to name the filly, and an idea dawned on Bester when he took his 10-year-old daughter Emily to a movie in the city called The Nutcracker and the Four Realms.
"I sat there and thought well, she's out of Astral Flower, I'll make it Realm Of Flowers."
It seemed a fitting name, and once it was settled upon, the excitement grew.
However, like so many racing stories, Realm Of Flowers' journey to the racecourse was slightly inhibited according to co-trainer Sam Freedman.
"To be honest, she showed us nothing, absolutely nothing. Then one day in a trial she showed a bit, and then she showed us a bit more. We took her to the races at Werribee and that's when we thought, 'she's got what it takes,'" Freedman said.
After a successful three-year-old campaign, Realm Of Flowers managed to win this year's Andrew Ramsden Stakes at Flemington, which provides the winner a ticket to start in the Melbourne Cup – an exciting invitation for her owners, and a relief, for her trainers and those in her team.
"She was in Sydney and was unlucky in the Sydney Cup," Bester said. "Sam suggested she go to Queensland for a holiday before the spring and I said what about we duck her back to Melbourne and run in the Ramsden and we'll still have time for her to go to Queensland.
"Anthony and Sam agreed, and the rest is history. Within a day or so of the Ramsden she was on a float to Queensland for the winter," he said.
"I was all in favour of her going north because I remember the great horse trainer, Vincent O'Brien, sending his better horses from the harsh winter into the sunny months of Italy in a bid to have them healthy and primed and out of the way of a shivering winter," Bester said.
Sam Freedman said that Realm Of Flowers had been a work in progress as a three-year-old when sent to Adelaide for some rich Group races.
"We sent her over there to a trainer named Paula Trenwith who's always looked after our travelling horses, and I think her stay with her made her grow up and mature.
"We usually just stay a night or two, but with COVID we feared the border would shut in our faces and we wouldn't be able to get in or out, so staying there [a little longer] proved a great advantage in the long run," he said.
The Freedmans both agree that Realm Of Flowers is the model racehorse. She goes on to the float as if she's been doing it all her life and there's never a hair out of place.
"Robby Scarlett comes down and rides her (track work) and they've certainly built up an affinity with each other, but I can't tell you how stress-free it is to have a beautiful mare that does everything you ask," Freedman said.
The filly is looked after around the clock by Leanne Fielding who is constantly by her side.
"She's just an amazing mare to do anything with. She's waiting (head over the box door) in the morning, we saddle her up and she goes out and does the work that we assign her. She never misses a beat. She comes back in and is unsaddled and hosed without moving a hair," the young co-trainer explained.
"She then eats her breakfast and she's done for the day. You can't ask any more ... that cycle is repeated each day."
Realm Of Flowers had a working holiday in the Queensland sunshine for a month. Rarely out of work, the mare was allowed to potter around and Freedman said she's responded beautifully.
The extraordinary talents of the Freedman family alone are worth marvelling at. Sam's father Anthony has been connected with five Melbourne Cup winners – Makybe Diva (twice), Doriemus, Tawrrific and Subzero.
"Dad has been very close to some great stayers so he'll know how to navigate her into a Melbourne Cup. It is a luxury not having to worry or panic about getting Realm Of Flowers into the Cup as she's got her place now and it's just a matter of having her ready on the first Tuesday in November," he said.
For James Bester it's another chance at winning the world's most important staying race. Last year Bester's other stayer, Persan, also won the Andrew Ramsden Stakes and went on to run in the Melbourne Cup.
"It was all a bit rushed last year, sort of a minute-to-midnight decision to go to the Melbourne Cup. This year Persan will run in the Bart Cummings and hopefully he too can successfully get a free pass into the Cup," he said.
Realm Of Flowers' work rate is increasing by the day. While her quest for Cup success is some months away, the father-son Freedman combination is pleased that Bester followed his instincts and purchased Lot 26 all those years ago at a Sydney yearling sale.