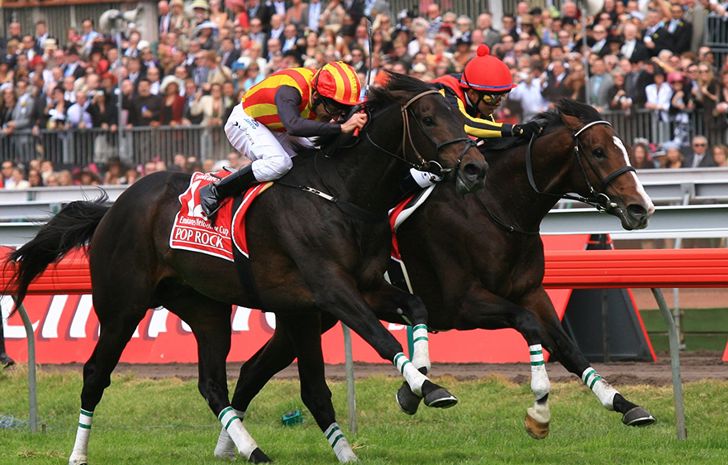 Japan's Guineas influence a throwback to 2006 Melbourne Cup
2 March 2022
•
Written by
Andrew Hawkins
One of the enduring memories of the modern Lexus Melbourne Cup is the gripping heads-up, heads-down battle over the final furlong in 2006 which was so succinctly summed up by racecaller Greg Miles as, "Japan one-two!"
Katsuhiko Sumii trainees Delta Blues and Pop Rock, the second and third Japanese runners ever in the race that stops the nation™, came right away from their rivals to fight out an enthralling finish. Delta Blues sustained a very long run under Yasunari Iwata, Pop Rock emerged as the fresh horse on the scene with two-time Cup winner Damien Oliver aboard, and at different times over the last 200m, both looked the winner.
At the line, though, it was Delta Blues by a nose over Pop Rock to take the prize and to usher in a new era for the Melbourne Cup.
Coming a year after Makybe Diva emerged as a legend, the 2006 Melbourne Cup could rightly have been written off as a return to reality after that historic threepeat.
And yet anyone who was trackside on the first Tuesday in November in 2006 will never forget the drama of Japan's domination that day. The first proper photo finish since the Might And Power and Doriemus head-bobber in 1997, the 2006 Cup ushered in a string of tight finishes: think Viewed and Bauer in 2008 or Dunaden and Red Cadeaux in 2011.
While it may have seemed unfathomable that, 15 years on, another Japanese-trained Melbourne Cup winner has not emerged, a repeat of sorts may be on the cards for the opening day of the Flemington Racing Spectacular in the day's feature, the $1 million Group 1 Australian Guineas (1600m).
On Saturday, though, Japan's influence will be seen through a breeding lens instead as Penfolds Victoria Derby winner Hitotsu tackles Sydney star Profondo in a salivating clash of classic winners.
Both colts were bred by John Messara under his Arrowfield Pastoral banner and represent a potent mix of Japanese stallions crossed with mares out of Arrowfield's legendary Redoute's Choice.
Profondo is a son of one of the most influential stallions of recent years, late Japanese superstar Deep Impact.
In his 13 years at stud before his death in 2019, Deep Impact produced - to date - 54 Group 1 winners in eight different countries, including four in Australia.
They include Kennedy Cantala winners and now Victorian-based stallions Fierce Impact and Tosen Stardom as well as Japanese-trained raider Real Impact.
However, the Richard Litt-trained Profondo - the latest of the four to emerge onto the scene - potentially appears the best of the bunch.
A veteran of only three starts, Profondo's victory in the Group 1 Spring Champion Stakes (2000m) at Randwick in October stamped the three-year-old as one of the most exciting talents anywhere in the country.
A $1.9 million Magic Millions yearling, he has turned heads from a young age and his Melbourne debut on Saturday shapes as one of the highlights of a tremendous card.
Intriguingly, Deep Impact is quite closely linked to the story of the 2006 Melbourne Cup.
Either side of his successful Australian sojourn, Delta Blues was facing the might of Deep Impact, finishing a 14-length 10th to the champion in the Group 1 Tenno Sho (Spring) over 3200m in April before finishing a decent sixth in the Group 1 Arima Kinen over 2500m in December.
That was Deep Impact's final start, in which he drew away for a three-length victory to cap a career in which he won 12 of his 14 starts.
That Arima Kinen also marked the first and only time that Pop Rock came up against Deep Impact, impressing by finishing second to the Japanese hero.
In the other corner is Penfolds Victoria Derby winner Hitotsu, a son of emerging Japanese sire Maurice.
While Deep Impact's reputation solely came from his performances on home soil, Maurice built on his standing as a three-time Group 1 winner in Japan by taking out three of Hong Kong's premier races to stamp himself as 'the Beast from the East'.
In an incredible effort for a first-crop sire, Maurice has three of the 18 acceptors in the Australian Guineas. Sharp Response is set to represent Julius Sandhu, while first emergency Maurice's Medad could run for Bjorn Baker should he gain a start.
However, it is the Ciaron Maher and David Eustace-prepared Hitotsu that is considered the leading contender of the trio as one of just two Group 1 winners for Maurice to date.
In just three runs in the spring, he went from a Donald maiden win to a Caulfield Guineas fifth before producing a tremendous staying performance to take out the Penfolds Victoria Derby.
Staying trips remain on his radar this preparation, but his effort in the Caulfield Guineas suggests that he is more than capable of performing at a mile fresh.
Should Profondo and Hitotsu come away to fight out the Australian Guineas on Saturday, it will be a fitting throwback to one of the great Flemington finishes of them all, likely just the second chapter of many as Japan's influence in racing and breeding continues to grow.
Image caption: Delta Blues and Pop Rock fought out the finish to the 2006 Melbourne Cup. Credit: Vince Caligiuri 
System.Web.HttpException (0x80004005): Error executing child request for handler 'System.Web.Mvc.HttpHandlerUtil+ServerExecuteHttpHandlerAsyncWrapper'. ---> System.NullReferenceException: Object reference not set to an instance of an object.
   at ASP._Page_Views_Partials_googleAd_cshtml.Execute()
   at System.Web.WebPages.WebPageBase.ExecutePageHierarchy()
   at System.Web.Mvc.WebViewPage.ExecutePageHierarchy()
   at System.Web.WebPages.WebPageBase.ExecutePageHierarchy(WebPageContext pageContext, TextWriter writer, WebPageRenderingBase startPage)
   at System.Web.Mvc.RazorView.RenderView(ViewContext viewContext, TextWriter writer, Object instance)
   at System.Web.Mvc.BuildManagerCompiledView.Render(ViewContext viewContext, TextWriter writer)
   at Umbraco.Web.Mvc.ProfilingView.Render(ViewContext viewContext, TextWriter writer) in D:\a\1\s\src\Umbraco.Web\Mvc\ProfilingView.cs:line 25
   at System.Web.Mvc.ViewResultBase.ExecuteResult(ControllerContext context)
   at System.Web.Mvc.ControllerActionInvoker.InvokeActionResult(ControllerContext controllerContext, ActionResult actionResult)
   at System.Web.Mvc.ControllerActionInvoker.InvokeActionResultFilterRecursive(IList`1 filters, Int32 filterIndex, ResultExecutingContext preContext, ControllerContext controllerContext, ActionResult actionResult)
   at System.Web.Mvc.ControllerActionInvoker.InvokeActionResultFilterRecursive(IList`1 filters, Int32 filterIndex, ResultExecutingContext preContext, ControllerContext controllerContext, ActionResult actionResult)
   at System.Web.Mvc.ControllerActionInvoker.InvokeActionResultFilterRecursive(IList`1 filters, Int32 filterIndex, ResultExecutingContext preContext, ControllerContext controllerContext, ActionResult actionResult)
   at System.Web.Mvc.ControllerActionInvoker.InvokeActionResultFilterRecursive(IList`1 filters, Int32 filterIndex, ResultExecutingContext preContext, ControllerContext controllerContext, ActionResult actionResult)
   at System.Web.Mvc.ControllerActionInvoker.InvokeActionResultFilterRecursive(IList`1 filters, Int32 filterIndex, ResultExecutingContext preContext, ControllerContext controllerContext, ActionResult actionResult)
   at System.Web.Mvc.ControllerActionInvoker.InvokeActionResultWithFilters(ControllerContext controllerContext, IList`1 filters, ActionResult actionResult)
   at System.Web.Mvc.Async.AsyncControllerActionInvoker.<>c__DisplayClass3_6.<BeginInvokeAction>b__4()
   at System.Web.Mvc.Async.AsyncControllerActionInvoker.<>c__DisplayClass3_1.<BeginInvokeAction>b__1(IAsyncResult asyncResult)
   at System.Web.Mvc.Async.AsyncResultWrapper.WrappedAsyncResult`1.CallEndDelegate(IAsyncResult asyncResult)
   at System.Web.Mvc.Async.AsyncResultWrapper.WrappedAsyncResultBase`1.End()
   at System.Web.Mvc.Async.AsyncControllerActionInvoker.EndInvokeAction(IAsyncResult asyncResult)
   at System.Web.Mvc.Controller.<>c.<BeginExecuteCore>b__152_1(IAsyncResult asyncResult, ExecuteCoreState innerState)
   at System.Web.Mvc.Async.AsyncResultWrapper.WrappedAsyncVoid`1.CallEndDelegate(IAsyncResult asyncResult)
   at System.Web.Mvc.Async.AsyncResultWrapper.WrappedAsyncResultBase`1.End()
   at System.Web.Mvc.Controller.EndExecuteCore(IAsyncResult asyncResult)
   at System.Web.Mvc.Controller.<>c.<BeginExecute>b__151_2(IAsyncResult asyncResult, Controller controller)
   at System.Web.Mvc.Async.AsyncResultWrapper.WrappedAsyncVoid`1.CallEndDelegate(IAsyncResult asyncResult)
   at System.Web.Mvc.Async.AsyncResultWrapper.WrappedAsyncResultBase`1.End()
   at System.Web.Mvc.Controller.EndExecute(IAsyncResult asyncResult)
   at System.Web.Mvc.Controller.System.Web.Mvc.Async.IAsyncController.EndExecute(IAsyncResult asyncResult)
   at System.Web.Mvc.MvcHandler.<>c.<BeginProcessRequest>b__20_1(IAsyncResult asyncResult, ProcessRequestState innerState)
   at System.Web.Mvc.Async.AsyncResultWrapper.WrappedAsyncVoid`1.CallEndDelegate(IAsyncResult asyncResult)
   at System.Web.Mvc.Async.AsyncResultWrapper.WrappedAsyncResultBase`1.End()
   at System.Web.Mvc.MvcHandler.EndProcessRequest(IAsyncResult asyncResult)
   at System.Web.Mvc.MvcHandler.System.Web.IHttpAsyncHandler.EndProcessRequest(IAsyncResult result)
   at System.Web.Mvc.HttpHandlerUtil.ServerExecuteHttpHandlerAsyncWrapper.<>c__DisplayClass3_0.<EndProcessRequest>b__0()
   at System.Web.Mvc.HttpHandlerUtil.ServerExecuteHttpHandlerWrapper.<>c__DisplayClass5_0.<Wrap>b__0()
   at System.Web.Mvc.HttpHandlerUtil.ServerExecuteHttpHandlerWrapper.Wrap[TResult](Func`1 func)
   at System.Web.Mvc.HttpHandlerUtil.ServerExecuteHttpHandlerWrapper.Wrap(Action action)
   at System.Web.Mvc.HttpHandlerUtil.ServerExecuteHttpHandlerAsyncWrapper.EndProcessRequest(IAsyncResult result)
   at System.Web.HttpServerUtility.ExecuteInternal(IHttpHandler handler, TextWriter writer, Boolean preserveForm, Boolean setPreviousPage, VirtualPath path, VirtualPath filePath, String physPath, Exception error, String queryStringOverride)
   at System.Web.HttpServerUtility.ExecuteInternal(IHttpHandler handler, TextWriter writer, Boolean preserveForm, Boolean setPreviousPage, VirtualPath path, VirtualPath filePath, String physPath, Exception error, String queryStringOverride)
   at System.Web.HttpServerUtility.Execute(IHttpHandler handler, TextWriter writer, Boolean preserveForm, Boolean setPreviousPage)
   at System.Web.HttpServerUtility.Execute(IHttpHandler handler, TextWriter writer, Boolean preserveForm)
   at System.Web.HttpServerUtilityWrapper.Execute(IHttpHandler handler, TextWriter writer, Boolean preserveForm)
   at System.Web.Mvc.Html.ChildActionExtensions.ActionHelper(HtmlHelper htmlHelper, String actionName, String controllerName, RouteValueDictionary routeValues, TextWriter textWriter)
   at System.Web.Mvc.Html.ChildActionExtensions.Action(HtmlHelper htmlHelper, String actionName, String controllerName, RouteValueDictionary routeValues)
   at Our.Umbraco.DocTypeGridEditor.Web.Extensions.HtmlHelperExtensions.RenderDocTypeGridEditorItem(HtmlHelper helper, IPublishedElement content, String editorAlias, String viewPath, String previewViewPath, Boolean isPreview)
   at ASP._Page_app_plugins_doctypegrideditor_render_DocTypeGridEditor_cshtml.Execute()
   at System.Web.WebPages.WebPageBase.ExecutePageHierarchy()
   at System.Web.Mvc.WebViewPage.ExecutePageHierarchy()
   at System.Web.WebPages.WebPageBase.ExecutePageHierarchy(WebPageContext pageContext, TextWriter writer, WebPageRenderingBase startPage)
   at System.Web.Mvc.RazorView.RenderView(ViewContext viewContext, TextWriter writer, Object instance)
   at System.Web.Mvc.BuildManagerCompiledView.Render(ViewContext viewContext, TextWriter writer)
   at Umbraco.Web.Mvc.ProfilingView.Render(ViewContext viewContext, TextWriter writer) in D:\a\1\s\src\Umbraco.Web\Mvc\ProfilingView.cs:line 25
   at System.Web.Mvc.HtmlHelper.RenderPartialInternal(String partialViewName, ViewDataDictionary viewData, Object model, TextWriter writer, ViewEngineCollection viewEngineCollection)
   at System.Web.Mvc.Html.PartialExtensions.Partial(HtmlHelper htmlHelper, String partialViewName, Object model, ViewDataDictionary viewData)
   at System.Web.Mvc.Html.PartialExtensions.Partial(HtmlHelper htmlHelper, String partialViewName, Object model)
   at ASP._Page_Views_Partials_grid_editors_Base_cshtml.Execute()