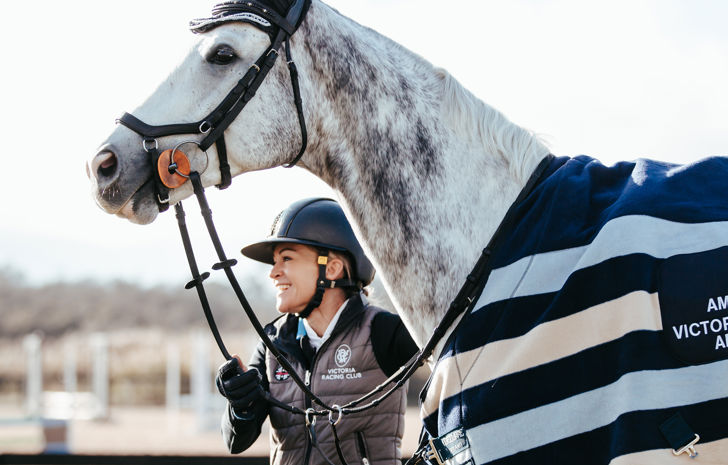 Jumping for joy
13 July 2022
•
Written by
Mick Sharkie
Amanda Ross loves all of her roles, including being a professional event competitor and equestrian coach, but her role as VRC ambassador raising awareness of the incredible capability of the thoroughbred after their retirement from racing is one that she is very passionate about.
Amanda Ross is busy. Not stressed out, busy, but happily busy. 'Doing things' busy, 'doing things she loves' busy. And as she chats about horses and life and moving property, she merrily bounces through conversation with a smile on her face.
It's easy to imagine her horses bouncing just as happily across the ground on a dressage arena or over a jump; her enthusiasm is contagious.
As well as being a former Olympian, Ross is an equestrian coach, a professional elite level competitor in her own right and a VRC ambassador. Ross is a woman with plenty on her plate, but the main course is always her horses.
"I love it," she said simply.
"I love the horses, the challenge of competing, look it's not always easy and it has its challenges but I get to work with beautiful horses every day, I'm very lucky."
In February this year Ross was one of dozens of championship level riders that descended on Boneo Park on the Mornington Peninsula for the Australian Jumping Championships, one of the premier events on the Australian equestrian calendar.
The 2022 championships were really the 2021 championships, COVID saw to continued rescheduling until the event eventually fell on its February date.
Championship classes were contested in senior, young rider, junior, and children's age groups, with speed and future stars divisions also decided across the four-day competition. Racing Victoria sponsored the Off The Track Championship, eventually taken out by Sarah Weiss and Waratone, a 13-year-old gelding by Mossman that achieved his on track peak when runner-up in the Group 2 Adelaide Cup in 2013.
Ross contested the senior class with her horse RLE Poynstown Will, or Vendi for short. Will was imported from Ireland and has been a reliable and consistent performer at the top level.
And champion jockey Jamie Kah was there too, as she tried her luck in the competition.
"I've actually done some coaching with Jamie," said Ross.
"She's a good jumping rider and she sticks to them like glue. She loves competing and is often at the events. Peter Moody's wife Sarah is also a regular competitor. Robert Palm who was a long-time thoroughbred pre-trainer and eventer before getting his thoroughbred training license won the Australian Ruby Series at the event. There are usually a few racing people around."
Although she made her name as an eventer when she competed at the Sydney Olympics in 2000, Ross has recently made the switch to jumping, which is a bit like specialist test match cricketer switching to T20; it's the same sport but the discipline is very different.
"I think having been an eventer for so long I got to the point where I'd done just about every event in Australia. My ambition has always been to compete at the elite world championship or Olympic level, so to motivate myself again I decided to make the switch to jumping," she explained.
Vendi needed a change too. Originally an eventer he was due for a change of routine and under Ross' tutelage he reached World Cup level within three months; not bad for a 13-year-old.
"I was learning something every day and being challenged every day and so was Vendi. We weren't getting that in eventing. Riders tend to stay in their lanes in this sport, I'm glad I changed lanes and tried something new."
There's a new in man Ross' life too. A handsome grey-haired lad that has knocked Ross head over heels the first time she laid eyes on him, and he's a son of the unbeaten European champion Frankel. The pair were introduced by Mornington trainer Amy Yargi.
"Amy and I are old friends; we did pony club together. Some of my students spotted this beautiful grey horse one morning and were telling me all about him, all they could identify him by was the 'strange name' on the saddlecloth," said Ross.
"I called Amy and we got talking about him, Switching To Win was his race name. When he was finished on the track, I bought him and now he's called Romeo. He is a delight, he's my absolute boyfriend!"
Ross and Romeo are now working together, building confidence for a new career as a showjumper with an eye on some ambitious goals.
"He's incredibly balanced and is quite a careful jumper. Thoroughbreds realistically speaking won't cut it with those elite level European warmbloods, but you never know. I won't put a cap on him or what he can do, who knows maybe a World Cup, maybe an Olympics."
And away from the arena Ross will continue to raise awareness of the incredible capability of the thoroughbred in her role as VRC ambassador.
"I spoke recently at the Committee Room at Flemington and people were amazed to hear that although most racehorses retire at six or seven, they can go on competing at 17 or 18 as an elite level horse," she said.
"Thoroughbreds have a big future once they retire from racing. I'm privileged to share those stories and spread the word."
System.Web.HttpException (0x80004005): Error executing child request for handler 'System.Web.Mvc.HttpHandlerUtil+ServerExecuteHttpHandlerAsyncWrapper'. ---> System.NullReferenceException: Object reference not set to an instance of an object.
   at ASP._Page_Views_Partials_googleAd_cshtml.Execute() in C:\home\site\wwwroot\Views\Partials\googleAd.cshtml:line 4
   at System.Web.WebPages.WebPageBase.ExecutePageHierarchy()
   at System.Web.Mvc.WebViewPage.ExecutePageHierarchy()
   at System.Web.WebPages.WebPageBase.ExecutePageHierarchy(WebPageContext pageContext, TextWriter writer, WebPageRenderingBase startPage)
   at System.Web.Mvc.RazorView.RenderView(ViewContext viewContext, TextWriter writer, Object instance)
   at System.Web.Mvc.BuildManagerCompiledView.Render(ViewContext viewContext, TextWriter writer)
   at Umbraco.Web.Mvc.ProfilingView.Render(ViewContext viewContext, TextWriter writer) in D:\a\1\s\src\Umbraco.Web\Mvc\ProfilingView.cs:line 25
   at System.Web.Mvc.ViewResultBase.ExecuteResult(ControllerContext context)
   at System.Web.Mvc.ControllerActionInvoker.InvokeActionResult(ControllerContext controllerContext, ActionResult actionResult)
   at System.Web.Mvc.ControllerActionInvoker.InvokeActionResultFilterRecursive(IList`1 filters, Int32 filterIndex, ResultExecutingContext preContext, ControllerContext controllerContext, ActionResult actionResult)
   at System.Web.Mvc.ControllerActionInvoker.InvokeActionResultFilterRecursive(IList`1 filters, Int32 filterIndex, ResultExecutingContext preContext, ControllerContext controllerContext, ActionResult actionResult)
   at System.Web.Mvc.ControllerActionInvoker.InvokeActionResultFilterRecursive(IList`1 filters, Int32 filterIndex, ResultExecutingContext preContext, ControllerContext controllerContext, ActionResult actionResult)
   at System.Web.Mvc.ControllerActionInvoker.InvokeActionResultFilterRecursive(IList`1 filters, Int32 filterIndex, ResultExecutingContext preContext, ControllerContext controllerContext, ActionResult actionResult)
   at System.Web.Mvc.ControllerActionInvoker.InvokeActionResultFilterRecursive(IList`1 filters, Int32 filterIndex, ResultExecutingContext preContext, ControllerContext controllerContext, ActionResult actionResult)
   at System.Web.Mvc.ControllerActionInvoker.InvokeActionResultWithFilters(ControllerContext controllerContext, IList`1 filters, ActionResult actionResult)
   at System.Web.Mvc.Async.AsyncControllerActionInvoker.<>c__DisplayClass3_6.<BeginInvokeAction>b__4()
   at System.Web.Mvc.Async.AsyncControllerActionInvoker.<>c__DisplayClass3_1.<BeginInvokeAction>b__1(IAsyncResult asyncResult)
   at System.Web.Mvc.Async.AsyncResultWrapper.WrappedAsyncResult`1.CallEndDelegate(IAsyncResult asyncResult)
   at System.Web.Mvc.Async.AsyncResultWrapper.WrappedAsyncResultBase`1.End()
   at System.Web.Mvc.Async.AsyncControllerActionInvoker.EndInvokeAction(IAsyncResult asyncResult)
   at System.Web.Mvc.Controller.<>c.<BeginExecuteCore>b__152_1(IAsyncResult asyncResult, ExecuteCoreState innerState)
   at System.Web.Mvc.Async.AsyncResultWrapper.WrappedAsyncVoid`1.CallEndDelegate(IAsyncResult asyncResult)
   at System.Web.Mvc.Async.AsyncResultWrapper.WrappedAsyncResultBase`1.End()
   at System.Web.Mvc.Controller.EndExecuteCore(IAsyncResult asyncResult)
   at System.Web.Mvc.Controller.<>c.<BeginExecute>b__151_2(IAsyncResult asyncResult, Controller controller)
   at System.Web.Mvc.Async.AsyncResultWrapper.WrappedAsyncVoid`1.CallEndDelegate(IAsyncResult asyncResult)
   at System.Web.Mvc.Async.AsyncResultWrapper.WrappedAsyncResultBase`1.End()
   at System.Web.Mvc.Controller.EndExecute(IAsyncResult asyncResult)
   at System.Web.Mvc.Controller.System.Web.Mvc.Async.IAsyncController.EndExecute(IAsyncResult asyncResult)
   at System.Web.Mvc.MvcHandler.<>c.<BeginProcessRequest>b__20_1(IAsyncResult asyncResult, ProcessRequestState innerState)
   at System.Web.Mvc.Async.AsyncResultWrapper.WrappedAsyncVoid`1.CallEndDelegate(IAsyncResult asyncResult)
   at System.Web.Mvc.Async.AsyncResultWrapper.WrappedAsyncResultBase`1.End()
   at System.Web.Mvc.MvcHandler.EndProcessRequest(IAsyncResult asyncResult)
   at System.Web.Mvc.MvcHandler.System.Web.IHttpAsyncHandler.EndProcessRequest(IAsyncResult result)
   at System.Web.Mvc.HttpHandlerUtil.ServerExecuteHttpHandlerAsyncWrapper.<>c__DisplayClass3_0.<EndProcessRequest>b__0()
   at System.Web.Mvc.HttpHandlerUtil.ServerExecuteHttpHandlerWrapper.<>c__DisplayClass5_0.<Wrap>b__0()
   at System.Web.Mvc.HttpHandlerUtil.ServerExecuteHttpHandlerWrapper.Wrap[TResult](Func`1 func)
   at System.Web.Mvc.HttpHandlerUtil.ServerExecuteHttpHandlerWrapper.Wrap(Action action)
   at System.Web.Mvc.HttpHandlerUtil.ServerExecuteHttpHandlerAsyncWrapper.EndProcessRequest(IAsyncResult result)
   at System.Web.HttpServerUtility.ExecuteInternal(IHttpHandler handler, TextWriter writer, Boolean preserveForm, Boolean setPreviousPage, VirtualPath path, VirtualPath filePath, String physPath, Exception error, String queryStringOverride)
   at System.Web.HttpServerUtility.ExecuteInternal(IHttpHandler handler, TextWriter writer, Boolean preserveForm, Boolean setPreviousPage, VirtualPath path, VirtualPath filePath, String physPath, Exception error, String queryStringOverride)
   at System.Web.HttpServerUtility.Execute(IHttpHandler handler, TextWriter writer, Boolean preserveForm, Boolean setPreviousPage)
   at System.Web.HttpServerUtility.Execute(IHttpHandler handler, TextWriter writer, Boolean preserveForm)
   at System.Web.HttpServerUtilityWrapper.Execute(IHttpHandler handler, TextWriter writer, Boolean preserveForm)
   at System.Web.Mvc.Html.ChildActionExtensions.ActionHelper(HtmlHelper htmlHelper, String actionName, String controllerName, RouteValueDictionary routeValues, TextWriter textWriter)
   at System.Web.Mvc.Html.ChildActionExtensions.Action(HtmlHelper htmlHelper, String actionName, String controllerName, RouteValueDictionary routeValues)
   at Our.Umbraco.DocTypeGridEditor.Web.Extensions.HtmlHelperExtensions.RenderDocTypeGridEditorItem(HtmlHelper helper, IPublishedElement content, String editorAlias, String viewPath, String previewViewPath, Boolean isPreview)
   at ASP._Page_app_plugins_doctypegrideditor_render_DocTypeGridEditor_cshtml.Execute() in C:\home\site\wwwroot\app_plugins\doctypegrideditor\render\DocTypeGridEditor.cshtml:line 34
   at System.Web.WebPages.WebPageBase.ExecutePageHierarchy()
   at System.Web.Mvc.WebViewPage.ExecutePageHierarchy()
   at System.Web.WebPages.WebPageBase.ExecutePageHierarchy(WebPageContext pageContext, TextWriter writer, WebPageRenderingBase startPage)
   at System.Web.Mvc.RazorView.RenderView(ViewContext viewContext, TextWriter writer, Object instance)
   at System.Web.Mvc.BuildManagerCompiledView.Render(ViewContext viewContext, TextWriter writer)
   at Umbraco.Web.Mvc.ProfilingView.Render(ViewContext viewContext, TextWriter writer) in D:\a\1\s\src\Umbraco.Web\Mvc\ProfilingView.cs:line 25
   at System.Web.Mvc.HtmlHelper.RenderPartialInternal(String partialViewName, ViewDataDictionary viewData, Object model, TextWriter writer, ViewEngineCollection viewEngineCollection)
   at System.Web.Mvc.Html.PartialExtensions.Partial(HtmlHelper htmlHelper, String partialViewName, Object model, ViewDataDictionary viewData)
   at System.Web.Mvc.Html.PartialExtensions.Partial(HtmlHelper htmlHelper, String partialViewName, Object model)
   at ASP._Page_Views_Partials_grid_editors_Base_cshtml.Execute() in C:\home\site\wwwroot\Views\Partials\grid\editors\Base.cshtml:line 20