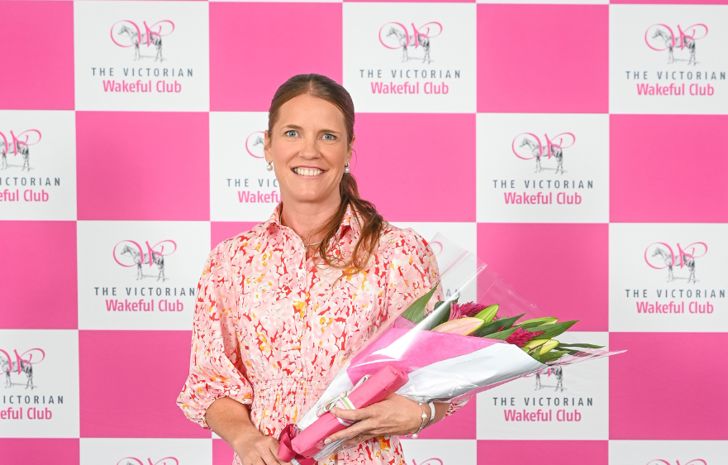 Keeping up the pace with Penny Penfold
8 June 2023
•
Written by
Brad Waters
The Lexus Melbourne Cup is the ultimate equine staying test, but emulating Penny Penfold's working week would present a strong examination of stamina.
Penny Penfold manages the day-to-day affairs of seven racing clubs in Victoria's west as the manager of the Wimmera Racing Club, which covers eight racing clubs in the busy region.
Penfold covers thousands of kilometres each year travelling from her home in Horsham, ironically not one of the clubs she manages, driving to venues such as Ararat and Warracknabeal.
She oversees the running of more than thirty race days every season, organising attractions such as musical performers or a face painter for the kids or securing thousands of dollars in sponsorship or grants to upgrade the various venues.
Penfold's amazing efforts convinced the prestigious Wakeful Club to recognise her with its Spirit Of Racing Award at its International Women's Day event at Sandown Racecourse in March.
Penfold said she found receiving her award in front of hundreds of women a tricky task.
"I was so honoured," Penfold said.
"Even getting up on stage and accepting the award, that was hard work for me.
"I'm just there doing something I love and work with great people."
Penfold's journey in racing began simply in 2008.
She answered an ad in a local Horsham newspaper soon after returning to Australia with her South African husband Alan, who she met while living in Scotland following her graduation with an Honours degree in business.
"I opened the local paper and there was a racing and events co-ordinator's job in there and I thought, 'hey, I can do that,' applied and got it," Penfold said.
Looking back at that time, Penfold was amazed with how the number of women in racing administration roles has grown in the ensuing 15 years.
"When I first started, there was myself, Penny Reeve and Karen Van Kempen in administration but since, it's grown hugely and we're giving the boys a nudge in numbers," Penfold said.
Penfold immediately dived into a whirlwind of various tasks, all crucial to clubs with differing needs.
Some of Penfold's clubs such as St Arnaud, Wycheproof and Nhill only race once a year. Therefore they have contrasting priorities to venues that host more racing like Ararat and Warracknabeal.
Race days, jumpout mornings, non-racing activities and financial jobs all need Penfold's attention.
"I joke with some people that I've got my payroll hat on but the same afternoon I'll be putting together jumpout fields, then I'm going to committee meetings," she said.
"There's everything from running the race days and putting together everything that goes along with it like staffing, food vendors, contractor management, putting together entertainment.
"There's also the racing side of things like sponsorships, dealing with participants and all that side of things as well.
"Spring and the country cup season are quite hectic but I get through."
Penfold marvels when people ask how she fits in everything, especially while raising her children Hilton and Hazel, aged eleven and seven, respectively.
Penfold even pushes her limits in her limited spare time, previously training and competing in Ironman competitions and open water swims.
COVID halted Penfold's endurance racing but she still spends time each day keeping fit.
"I think I'm just one of those people that just loves to be challenged and achieve something," Penfold said.
"I think I like the journey to achieve Penfold had a simple reason for her success.
The support of family, friends, colleagues, and the various committees of the clubs get her through.
"It's pretty busy, there's no doubt about that, but the committees I work with are an awesome bunch of very passionate and community-minded people," Penfold said.
"Most are there because they love racing and the others are there because they love the community and want to see the community thrive.
"I'm lucky in that respect to be surrounded by good people.
"Yes, I work hard, but I'm able to do a lot of work out of my home office, which is great with two young kids.
"My husband is incredibly understanding and supportive. Somehow, we get through."
Country racing also 'gets through' year by-year as well despite fire, flood and other problems popping up at all clubs from time to time.
COVID was the last obstacle to confront country racing but Penfold marvelled at how the industry has rebounded from the pandemic's economic threat.
Penfold had no doubt country racing could continue to thrive.
"I was a little bit cautious coming back from COVID, how we would be bounce back from an event and attendance point of view," Penfold said.
"I think most of my clubs, and other clubs in the state, have had very positive results off the back of the spring, which has been really good.
"In general, I think country racing is going well. I'm certainly happy with where my clubs are going."