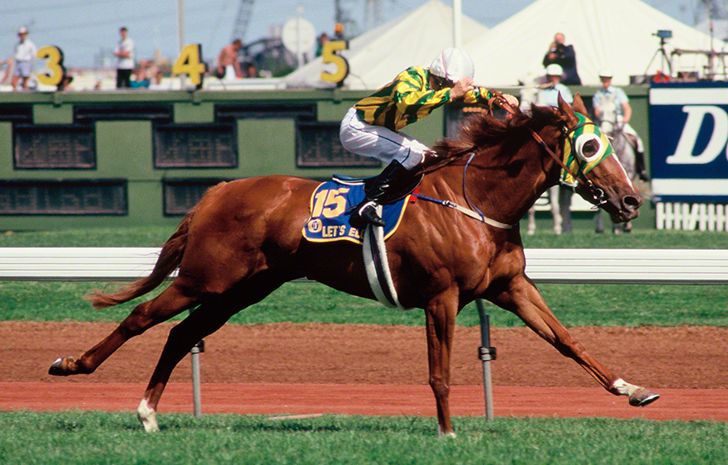 King sets new targets
27 October 2021
•
Written by
Joe McGrath
Steven King burst onto the racing scene in 1991 and enjoyed a glittering career in the saddle. Since his retirement in 2017, he's been quietly working on a new career path, with much more to give to the racing industry.
For former jockey Steven King there is not much he hasn't achieved in racing. More than 1600 winners globally; 49 at Group 1 level; a Caulfield-Melbourne Cup double in 1991 aboard Hall of Famer Let's Elope; a Cox Plate (2003); two Victoria Derbies (1991 and 2002); a Hong Kong International Sprint (1999) and just about every other race worth winning on the Australian racing calendar.
He's won a Scobie Breasley Medal (1997); a Melbourne Metropolitan Premiership (1996- 97) and ridden five winners at a metropolitan race meeting, twice, including Flemington (6 November 1993) and Sandown (3 April 1997). He's even the father of Lachie, who won last year's Victoria Derby aboard Johnny Get Angry.
But, for a former jockey who is used to the highly competitive world of being a jockey, arguably his greatest challenge lies ahead. This time as a trainer.
At the September Racing Victoria board meeting, 51-year-old King was granted a trainer's licence. And will be training from 'a few' boxes within the Steve Richards Flemington stable. A humble offering on the surface, but if you could jump in the mind of a steely determined son of a former jockey, this is the way he likes it. A dead-set challenge, where starting at the bottom is just a part of life.
Talking with King in recent months, you get the impression that on the thirtieth anniversary of his greatest race triumph on Let's Elope, for this former star jockey, it's another chapter complementing his ongoing love and passion with racing.
"I have always been a jockey who has been interested in the whole development of the horse.
"All roads lead to the decision to take out my own trainer's licence.
"After I retired (in 2017) from race riding, I approached Lloyd Williams (seven-time
Melbourne Cup-winning owner) and broached the idea of becoming a foreman at Macedon Lodge, working for Rob Hickmott.
"I learned a lot from Rob and Lloyd preparing all those quality horses for Melbourne Cups, and then I moved to Flemington to work with Steve Richards as assistant trainer.
"I now think the time is right for me to go out on my own. I have half a dozen horses heading my way already, and I am looking forward to the challenge."
Steven King is the son of a former jockey in Alby King. He wasn't really heading down a riding track until he tried out with trainer Johnny Meagher at Epsom at the end of year 10 back in the late 1980s. He was taught to ride by Billy Warke Jr.
He was schooled, more or less, by the Melbourne Cup-winning maestro, surrounded by some of the best mentors in the business including Pat Carey, Des O'Keeffe, David Charles, and Frank Muratore. He was restrained from getting ahead of himself and even today, you sense King knows fortunes can change very quickly in this game and you never want to get too comfortable.
"Being apprenticed to John Meagher set me on the right path to success. He was a great trainer but he was a very good mentor. He was very much about taking boys and turning them into men.
"He really instilled the sense of discipline and the need to be reflective and have the ability to learn from your mistakes.
"He was all about improvement and being successful."
King had to earn his stripes, and while an apprentice to Meagher he had to go through his grades, so to speak, before taking the next step.
"I rode a lot around the Gippsland and South Gippsland areas and outrode my provincial claim before I rode my first winner in the Melbourne metropolitan area.
"John made you ride work six mornings a week, and I suppose I developed a strong work ethic from those days," he added.
For King, his availability at the track and no doubt natural ability drew the attention of other trainers. Before long, doors started to open.
"I now think the time is right for me to go out on my own. I have half a dozen horses heading my way already and I am looking forward to the challenge."
"I was getting good opportunities, but when John Meagher moved from Epsom to Flemington, the doors really opened ... in particular with Bart (Cummings).
"I rode a little bit for Bart in the early part, as I got on well with Leon Corstens (Bart's Melbourne foreman at the time), and before long I was getting offered better rides," he added.
But this newfound connection with Bart was only the beginning of the most influential chapter in King's career. Enter Let's Elope. A big, long-striding daughter of Nassipour, King was asked to ride the very relaxed mare.
"When I rode her in trackwork, to be honest, she was not that impressive.
"She was quite a lazy track worker and only did what was asked of her, but when I got to ride her in the Turnbull Stakes leading towards the Cups, I saw a different horse.
"I gave her one tap to encourage her to come into the race about three furlongs from home (600m), and I don't think I had felt that sort of acceleration on a horse.
"She found three lengths in a blink and won running away. I knew she was pretty special at that point," King added.
The next start was in the Caulfield Cup, and the pressure, if it wasn't already, was starting to build.
"With Let's Elope you didn't want to be looking for runs up on the inside of horses.
"I only wanted to be making one run on her and get to the outside.
"She was beautifully relaxed and if given room she would let down beautifully. "She handled Caulfield but was better suited on the bigger track at Flemington.
"Her record there was pretty impressive (four wins from six starts)."
With a growing résumé including a Turnbull Stakes and a Caulfield Cup, the doors were well and truly opening for King. At only 21 years of age, he was aboard the hottest staying prospect in the land, which led to a win on Star of the Realm in the Victoria Derby for his former master, John Meagher, on the first day of the 1991 Melbourne Cup Carnival. King was starting to make a statement.
"I remember Cup Day well ... it was my twenty-second birthday.
"I can recall thinking, 'Everything will be alright as long as I do my job'.
"On the outside, Bart was as relaxed as he was at any other meeting.
"He didn't change his persona just for Cup Day and he didn't try to load me up with instructions.
"I gained a lot of confidence from that ... he more or less said, 'you know the horse' ... so, I took it he had the confidence in me to get the job done."
And therein presents the biggest three-and- a-half minutes in the career of Steven King. Working for John Meagher and being amongst some of the best racing brains in the business, King was of a mindset, 'if I just do my job…. all will be okay'. Everyone was on the journey.
"There is no doubt ... there is pressure on a day like that.
"The crowd is enormous and you have to relax your horse.
"Jumping from barrier ten, I got a great run in transit and she relaxed beautifully throughout.
"I looked to make my move at about the three to four furlong (600m to 800m) mark.
"There was a bit of tightening at the top of the straight, but I wasn't fully aware of what was going on behind me.
"I just looked to get her into the clear so she could unleash her (by now) customary strong finish.
"As I went to the line, I couldn't believe what had just happened," King reflected.
But as quick as Steven King began to exhale after the toughest and most gruelling race of his life, the blood quickly drained from his face.
"As I went past the post, Shane Dye pulled up alongside me on Shiva's Revenge (second) and said, 'You'll lose this on protest'.
"I really didn't know what had happened, but I knew Dyesy was a good talker and I was pretty young at the time.
"I came back to the Mounting Yard, and before I knew it Shane had filed a protest on behalf of the second horse, which was a stablemate of the winner.
"I suppose I thought, 'If the last three-and-a- half minutes were big, how's the next twenty going to be?'
"I gained confidence running into Kevin Moses a few minutes later in the jockeys' room who told me the trouble started elsewhere, and I was just the 'icing on the cake'.
"Pat Lalor was the VRC Chief Steward and after a fairly lengthy hearing, he dismissed the protest and the placings remained," King said.
For those who can recall the race day presentation, there's one shot of Steven King moving his hands across his face, seemingly wiping away the stress with relief only he could explain. What might his career have been if he was the first jockey to lose the Melbourne Cup on protest? How could he recover from that?
And for Cummings, it brought him Cup number nine with another three to follow.
Asked what the Melbourne Cup has meant to him, King was empathic with his response: "Everything. It's the Melbourne Cup ... it's the history ... it's the biggest race in this country and one of the biggest in the world."
For King, the road has brought opportunity all through hard work. He learned early on that you don't get far without focus and dedication. For a man who has ridden household names such as Let's Elope, Makybe Diva, Star of The Realm and Encosta De Lago, and ridden in international racing jurisdictions Hong Kong,
Singapore, Dubai and the United Kingdom, he is well prepared for the highs and lows of what the next stage might bring.
"I am excited to have acquired boxes at Flemington and I am looking forward to the next chapter in my career.
"I'm not ready to pull up stumps; I've got plenty more to offer the racing industry.
"I have no illusions it will be tough, but I have been down that road before and am ready for what those challenges might bring," King added.
If determination is a pre-requisite, it won't be long before Steven King finds his name in the headlines – once again.
CAULFIELD AND MELBOURNE CUP WINNERS
1906 Poseidon
1937 The Trump
1939 Rivette
1954 Rising Fast
1962 Even Stevens
1966 Galilee
1982 Gurner's Lane
1991 Let's Elope
1995 Doriemus
1997 Might and Power
2001 Ethereal
FOLLOWING IN HIS FOOTSTEPS
Going into any feature race can be a bit tense, but when you are the parents of a jockey who is two-and-a-half minutes away from Group 1 glory, it is well and truly nerve-wracking.
Last spring tested Steven and Leanne King on all fronts.
As Johnny Get Angry progressed towards the Victoria Derby, there were thoughts of what might happen and what might be. With son Lachie regularly riding the Denis Pagan-trained Johnny Get Angry, there was always going to be interest from other jockeys to get the ride.
"There's always a chance you lose a ride going into a big race like that," King Sr stated.
"The older jockeys circle a bit, and you need to hold your nerve.
"He looked like a great Derby prospect and to Denis' credit, he stuck with Lachie being a young rider on the way through.
"There was plenty of interest once he finished third at the Valley, but when Lachie was presented with his opportunity he grabbed it with both hands.
"We talked about the ride all the way up to race day.
"I tried not to overload him with advice, but we worked through plan A and plan B.
"The horse looked like he would always benefit from the big track and the longer distance (2500m).
"Leanne and I were a mess when he won. It was an amazing day that will stay with me forever.
"It's a great feeling winning a big race as a rider, but as a parent, it is pretty special.
"We were all so pleased for Lachie, and of course, Denis," King added.
Image: Steven King and Let's Elope won the Caulfield-Melbourne Cup double in 1991. (VRC Collection)
Steven's son Lachie was overwhelmed when he won his first Group 1 in the 2020 AAMI Victoria Derby.