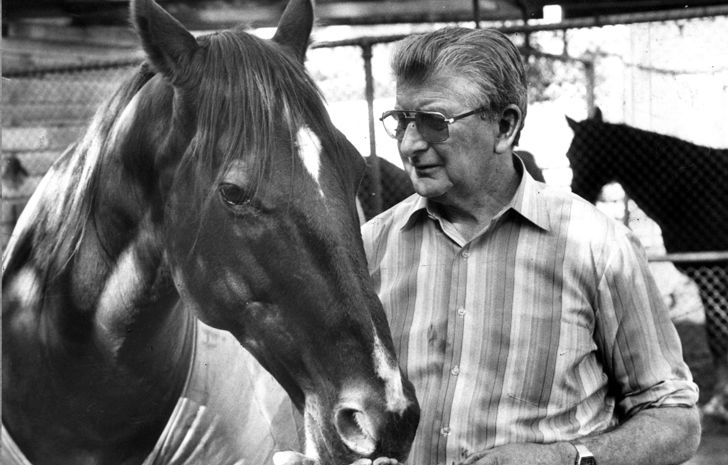 Legends behind the race names
25 February 2022
•
Written by
VRC
As trainers, jockeys, owners, breeders, saddlery proprietors, bookmakers and club administrators the Hoysteds became synonymous with Australian racing.
Bob Hoysted began his career working for his illustrious father, trainer Fred Hoysted, before branching out on his own as a public trainer in 1956.
He prepared many fine horses during the succeeding 20 years but none better than the great Manikato. In 1978, Hoysted took over the training of Manikato after the death of his brother Bon.
Over the next five seasons, Manikato won five William Reid Stakes, the Marlboro Cup (now the Sir Rupert Clarke Stakes), Caulfield Guineas, three C.F. Orr Stakes, four Futurity Stakes, two George Ryder Stakes, the Doomben 10,000, and the Queen Elizabeth Cup at Caulfield in the presence of the Queen in 1981.
Other outstanding horses trained by Hoysted were River Rough, which won two Pure Pak (now Salinger) Stakes and two Lightning Stakes; Rose of Kingston, winner of the AJC Champagne Stakes, VRC Oaks, AJC Derby and SAJC Derby; VRC Oaks winner, Spirit of Kingston; Blue Diamond Stakes winners Aare and Love A Show; as well as Sydeston, winner of the Caulfield Cup, Moonee Valley Cup and Sandown Cup.
Hoysted also made an outstanding contribution to the racing industry as President of the Australian Trainers' Association for 12 years. Hoysted was inducted into the Hall of Fame in 2008.
(from racing.com)
The TAB Shaftesbury Avenue Handicap
1991 winner of the Newmarket Handicap, Shaftesbury Avenue (58kg) carried the highest weight to victory since Gold Stakes (9st6lbs – 60kg) in 1959. His solid list of victories included weight-for-age events and important handicaps. He was the eighth horse that Bart Cummings trained to win the Newmarket.
Darley Blamey Stakes
The Blamey Stakes is named after Sir Thomas Albert Blamey, Australia's only native born Field Marshal who was a member of the Victoria Racing Club Committee from 1947 until his death in 1951. The Blamey Stakes was first run in 1955 over 10 furlongs and remained at that distance until 1972. Since 1973 the Blamey Stakes has been run over 1600m.
Roy Higgins Quality
Roy Higgins was one of the finest jockeys to ever ride in Australia. His passing on Saturday 8 March 2014 left a hole in the fabric of Australian racing, as a true gentleman of the sport was lost. But his champion feats on the track, his dedication to his beloved sport of racing and his kind and generous spirit will forever live on.
Born in Koondrook, Victoria, 5 June 1938, Roy Higgins was raised in Deniliquin, NSW, where he took an apprenticeship in 1953 to local horse trainer Jim Watters.
After establishing himself in the country he headed to Melbourne where he began a legendary career. Some of the highlights include:
riding 2312 winners, including 108 Group 1 winners
winning the Melbourne Jockeys Premiership 11 times, his first in the 1964/65 season
winning the Melbourne Cup twice on Light Fingers (1965) and Red Handed (1967), two Cox Plates on Sir Dane (1974) and Gunsynd (1972), a Caulfield Cup on Big Philou (1969) and two Golden Slippers on Storm Queen (1966) and Tontonan (1973)
becoming an inaugural inductee into the Australian Racing Hall of Fame in 2001 and being made patron in 2006
commentating on TV and radio following his retirement in 1984
helping to establish Northern Lodge, Northern Melbourne institute of TAFE's educational thoroughbred breeding property, where he was a respected mentor and advisor. He also formed the Roy Higgins and Wylie Dalziel Racing syndication company.
Valued contributor and ambassador for the Lexus Melbourne Cup Tour
Furphy Ale Frances Tressady Stakes
The race is named after the brilliant filly Frances Tressady who in 1923 won the Victoria Derby/VRC Oaks double as well as finishing fifth in the Melbourne Cup. In 2014, Melbourne Cup winning jockey Michelle Payne won the race on Five All.
Image caption (Header):Trainer Bob Hoysted with Manikato. (News Limited)
System.Web.HttpException (0x80004005): Error executing child request for handler 'System.Web.Mvc.HttpHandlerUtil+ServerExecuteHttpHandlerAsyncWrapper'. ---> System.NullReferenceException: Object reference not set to an instance of an object.
   at ASP._Page_Views_Partials_googleAd_cshtml.Execute() in C:\home\site\wwwroot\Views\Partials\googleAd.cshtml:line 4
   at System.Web.WebPages.WebPageBase.ExecutePageHierarchy()
   at System.Web.Mvc.WebViewPage.ExecutePageHierarchy()
   at System.Web.WebPages.WebPageBase.ExecutePageHierarchy(WebPageContext pageContext, TextWriter writer, WebPageRenderingBase startPage)
   at System.Web.Mvc.RazorView.RenderView(ViewContext viewContext, TextWriter writer, Object instance)
   at System.Web.Mvc.BuildManagerCompiledView.Render(ViewContext viewContext, TextWriter writer)
   at Umbraco.Web.Mvc.ProfilingView.Render(ViewContext viewContext, TextWriter writer) in D:\a\1\s\src\Umbraco.Web\Mvc\ProfilingView.cs:line 25
   at System.Web.Mvc.ViewResultBase.ExecuteResult(ControllerContext context)
   at System.Web.Mvc.ControllerActionInvoker.InvokeActionResult(ControllerContext controllerContext, ActionResult actionResult)
   at System.Web.Mvc.ControllerActionInvoker.InvokeActionResultFilterRecursive(IList`1 filters, Int32 filterIndex, ResultExecutingContext preContext, ControllerContext controllerContext, ActionResult actionResult)
   at System.Web.Mvc.ControllerActionInvoker.InvokeActionResultFilterRecursive(IList`1 filters, Int32 filterIndex, ResultExecutingContext preContext, ControllerContext controllerContext, ActionResult actionResult)
   at System.Web.Mvc.ControllerActionInvoker.InvokeActionResultFilterRecursive(IList`1 filters, Int32 filterIndex, ResultExecutingContext preContext, ControllerContext controllerContext, ActionResult actionResult)
   at System.Web.Mvc.ControllerActionInvoker.InvokeActionResultFilterRecursive(IList`1 filters, Int32 filterIndex, ResultExecutingContext preContext, ControllerContext controllerContext, ActionResult actionResult)
   at System.Web.Mvc.ControllerActionInvoker.InvokeActionResultFilterRecursive(IList`1 filters, Int32 filterIndex, ResultExecutingContext preContext, ControllerContext controllerContext, ActionResult actionResult)
   at System.Web.Mvc.ControllerActionInvoker.InvokeActionResultWithFilters(ControllerContext controllerContext, IList`1 filters, ActionResult actionResult)
   at System.Web.Mvc.Async.AsyncControllerActionInvoker.<>c__DisplayClass3_6.<BeginInvokeAction>b__4()
   at System.Web.Mvc.Async.AsyncControllerActionInvoker.<>c__DisplayClass3_1.<BeginInvokeAction>b__1(IAsyncResult asyncResult)
   at System.Web.Mvc.Async.AsyncResultWrapper.WrappedAsyncResult`1.CallEndDelegate(IAsyncResult asyncResult)
   at System.Web.Mvc.Async.AsyncResultWrapper.WrappedAsyncResultBase`1.End()
   at System.Web.Mvc.Async.AsyncControllerActionInvoker.EndInvokeAction(IAsyncResult asyncResult)
   at System.Web.Mvc.Controller.<>c.<BeginExecuteCore>b__152_1(IAsyncResult asyncResult, ExecuteCoreState innerState)
   at System.Web.Mvc.Async.AsyncResultWrapper.WrappedAsyncVoid`1.CallEndDelegate(IAsyncResult asyncResult)
   at System.Web.Mvc.Async.AsyncResultWrapper.WrappedAsyncResultBase`1.End()
   at System.Web.Mvc.Controller.EndExecuteCore(IAsyncResult asyncResult)
   at System.Web.Mvc.Controller.<>c.<BeginExecute>b__151_2(IAsyncResult asyncResult, Controller controller)
   at System.Web.Mvc.Async.AsyncResultWrapper.WrappedAsyncVoid`1.CallEndDelegate(IAsyncResult asyncResult)
   at System.Web.Mvc.Async.AsyncResultWrapper.WrappedAsyncResultBase`1.End()
   at System.Web.Mvc.Controller.EndExecute(IAsyncResult asyncResult)
   at System.Web.Mvc.Controller.System.Web.Mvc.Async.IAsyncController.EndExecute(IAsyncResult asyncResult)
   at System.Web.Mvc.MvcHandler.<>c.<BeginProcessRequest>b__20_1(IAsyncResult asyncResult, ProcessRequestState innerState)
   at System.Web.Mvc.Async.AsyncResultWrapper.WrappedAsyncVoid`1.CallEndDelegate(IAsyncResult asyncResult)
   at System.Web.Mvc.Async.AsyncResultWrapper.WrappedAsyncResultBase`1.End()
   at System.Web.Mvc.MvcHandler.EndProcessRequest(IAsyncResult asyncResult)
   at System.Web.Mvc.MvcHandler.System.Web.IHttpAsyncHandler.EndProcessRequest(IAsyncResult result)
   at System.Web.Mvc.HttpHandlerUtil.ServerExecuteHttpHandlerAsyncWrapper.<>c__DisplayClass3_0.<EndProcessRequest>b__0()
   at System.Web.Mvc.HttpHandlerUtil.ServerExecuteHttpHandlerWrapper.<>c__DisplayClass5_0.<Wrap>b__0()
   at System.Web.Mvc.HttpHandlerUtil.ServerExecuteHttpHandlerWrapper.Wrap[TResult](Func`1 func)
   at System.Web.Mvc.HttpHandlerUtil.ServerExecuteHttpHandlerWrapper.Wrap(Action action)
   at System.Web.Mvc.HttpHandlerUtil.ServerExecuteHttpHandlerAsyncWrapper.EndProcessRequest(IAsyncResult result)
   at System.Web.HttpServerUtility.ExecuteInternal(IHttpHandler handler, TextWriter writer, Boolean preserveForm, Boolean setPreviousPage, VirtualPath path, VirtualPath filePath, String physPath, Exception error, String queryStringOverride)
   at System.Web.HttpServerUtility.ExecuteInternal(IHttpHandler handler, TextWriter writer, Boolean preserveForm, Boolean setPreviousPage, VirtualPath path, VirtualPath filePath, String physPath, Exception error, String queryStringOverride)
   at System.Web.HttpServerUtility.Execute(IHttpHandler handler, TextWriter writer, Boolean preserveForm, Boolean setPreviousPage)
   at System.Web.HttpServerUtility.Execute(IHttpHandler handler, TextWriter writer, Boolean preserveForm)
   at System.Web.HttpServerUtilityWrapper.Execute(IHttpHandler handler, TextWriter writer, Boolean preserveForm)
   at System.Web.Mvc.Html.ChildActionExtensions.ActionHelper(HtmlHelper htmlHelper, String actionName, String controllerName, RouteValueDictionary routeValues, TextWriter textWriter)
   at System.Web.Mvc.Html.ChildActionExtensions.Action(HtmlHelper htmlHelper, String actionName, String controllerName, RouteValueDictionary routeValues)
   at Our.Umbraco.DocTypeGridEditor.Web.Extensions.HtmlHelperExtensions.RenderDocTypeGridEditorItem(HtmlHelper helper, IPublishedElement content, String editorAlias, String viewPath, String previewViewPath, Boolean isPreview)
   at ASP._Page_app_plugins_doctypegrideditor_render_DocTypeGridEditor_cshtml.Execute() in C:\home\site\wwwroot\app_plugins\doctypegrideditor\render\DocTypeGridEditor.cshtml:line 34
   at System.Web.WebPages.WebPageBase.ExecutePageHierarchy()
   at System.Web.Mvc.WebViewPage.ExecutePageHierarchy()
   at System.Web.WebPages.WebPageBase.ExecutePageHierarchy(WebPageContext pageContext, TextWriter writer, WebPageRenderingBase startPage)
   at System.Web.Mvc.RazorView.RenderView(ViewContext viewContext, TextWriter writer, Object instance)
   at System.Web.Mvc.BuildManagerCompiledView.Render(ViewContext viewContext, TextWriter writer)
   at Umbraco.Web.Mvc.ProfilingView.Render(ViewContext viewContext, TextWriter writer) in D:\a\1\s\src\Umbraco.Web\Mvc\ProfilingView.cs:line 25
   at System.Web.Mvc.HtmlHelper.RenderPartialInternal(String partialViewName, ViewDataDictionary viewData, Object model, TextWriter writer, ViewEngineCollection viewEngineCollection)
   at System.Web.Mvc.Html.PartialExtensions.Partial(HtmlHelper htmlHelper, String partialViewName, Object model, ViewDataDictionary viewData)
   at System.Web.Mvc.Html.PartialExtensions.Partial(HtmlHelper htmlHelper, String partialViewName, Object model)
   at ASP._Page_Views_Partials_grid_editors_Base_cshtml.Execute() in C:\home\site\wwwroot\Views\Partials\grid\editors\Base.cshtml:line 20
Next race day